Hubby came home a little early tonight around 6.
Me to husband: "I made cheese!"
Husband stops in his tracks with a completely baffled look on his face: "You MADE cheese? Homemade CHEESE?!"
Me, with a big ol' grin and pretty darn proud of myself: "Yes! Cheese!"
Now, my husband hails from Switzerland. The land where they love their hard cheeses. I didn't make an Emmentaler cheese or any sort of fancy cheese.
But I did make Buttermilk Fresh Cheese. I found this recipe from Country Living magazine.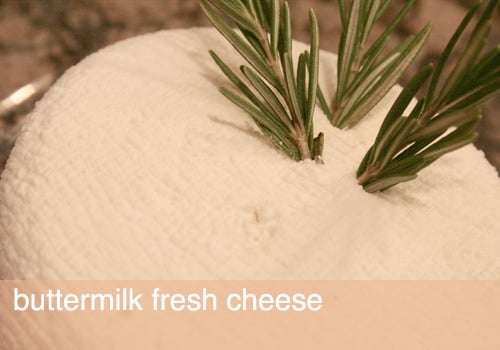 I LOVE cheese. Hard cheese, soft cheese, cream cheese, cheese, cheese, cheese. All cheese is good cheese.
And now I can add homemade cheese to the list! This recipe is SO easy to make, you just have to try it for yourself.
Ingredients for Homemade Cheese
All you need to make this simple homemade cheese is three ingredients:
1 quart Whole Milk
1 ½ cup Low-Fat Buttermilk
2 teaspoons Kosher Salt
How to Serve Homemade Cheese
I really love goat cheese on baguette slices with different toppings. So I think in the future, I can easily substitute the Buttermilk Fresh Cheese I made today for goat cheese when making my classic bruschetta with tomato topping and also with mushroom topping.
Here is a tomato bruschetta I made with this cheese.
With different toppings, it would be a great dish to bring to a party or to serve as an appetizer for your own dinner party.
Go make your own cheese today! It's SO easy!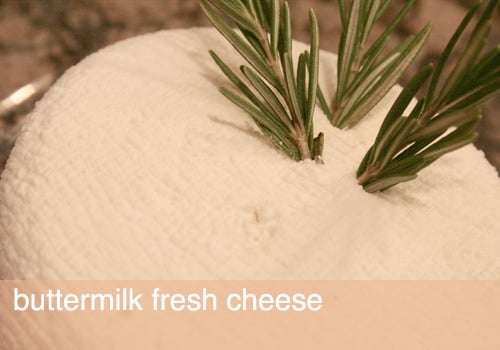 Ingredients
1

quart

whole milk

1 ½

cups

low-fat buttermilk

2

teaspoon

Kosher salt
Instructions
Line a colander or a medium strainer with 2 - 3 layers of cheesecloth squares. Set it in sink.

In a large heavy-bottomed pot over medium heat, combine all of the ingredients and cook until the mixture reaches about 180 degrees F. It will separate into white curds and translucent whey, which takes about 8 minutes. Ladle contents into the prepared colander and drain completely.

Gather corners of cheesecloth together, then gently twist to press out the excess whey. Serve immediately, or cool to room temperature before serving, about 10 minutes.
Notes
If you want cheese with a firmer consistency, transfer the cheese still in cloth to a small flat-bottomed plate and let it stand in the refrigerator until cool, about 10 minutes. Unwrap and gently invert onto plate, discard cloth, and tent cheese with plastic wrap. Chill until 10 minutes before serving.
This simple homemade cheese will keep for up to 2 days in the refrigerator, but is best eaten the day of.
Tried this recipe?
Please leave a star rating and comment! Then snap a pic of your dish and share it on social media. Tag @UrbanBlissLife and #UrbanBlissLife!
Nutrition information is a general estimate. Actual nutrition details may vary depending on the exact foods & brands you use to make this recipe. It does not take into account any substitutions, toppings, or optional ingredients.