Turn any corner of your home into a home bar! Read on for some Home Bar Setup ideas, including storage tips, stocking up on the basics, and layout.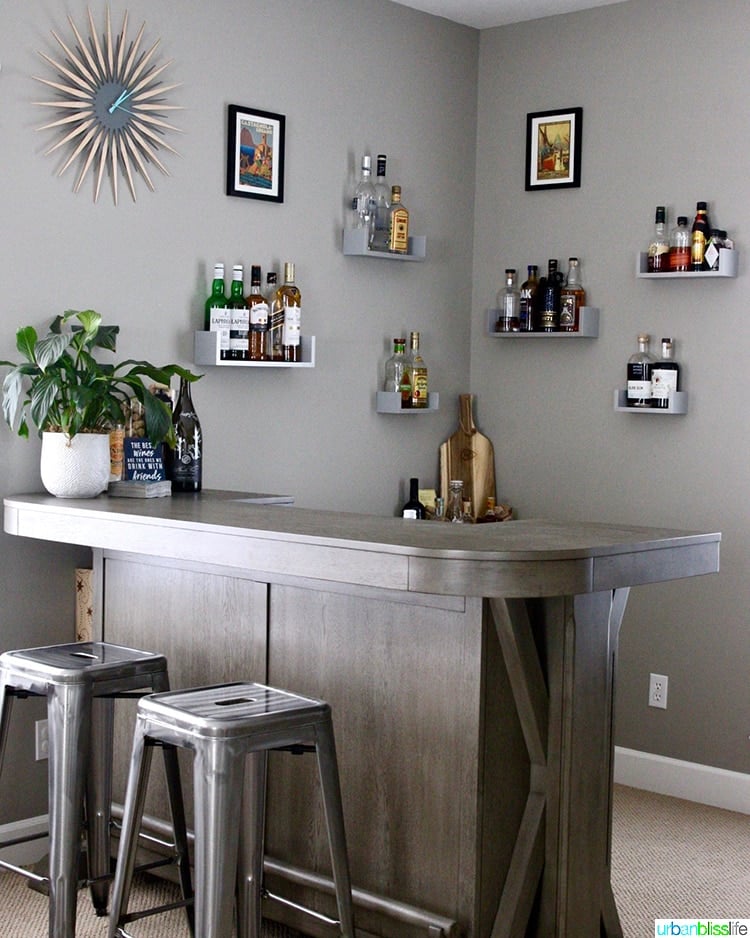 When we moved to our new home a few months ago, we finally had space that we could dedicate to a home bar/lounge area. A grown-ups only space where we could hang out with our friends downstairs while our tweens and teens hung out upstairs.
We were SO excited to set up our home bar that it is one of the first sections of our new home to be all put together. We're pretty happy with the way it turned out!
Home Bar Basics
In sharing our new home bar, I'm also going to help walk you through the basics of setting up your own home bar. This is for those of you who have room in your apartment or house for more than just a bar cart or a cabinet. Even a dedicated corner space in your living room will work!
Some basic questions you'll want to consider and have answered before you design your home bar:
Location: you want to locate the bar close to where you would normally hang out with friends. We set up our home bar in the corner space right next to our largest open living space. So we have easy access to it, but it's also in its own dedicated space.
Storage space: How much space will you need to store everything like glasses, alcohol, and accessories? Do you have wall space you can use, or do you want an all-encompassing piece of bar furniture?
Cost: How much are you willing and able to spend on your home bar? Setting up a budget beforehand is key!
Style: What's your design style? Are you & your spouse/partner/roommate(s) more modern or country? Do you like geometric lines or flowery flowy patterns? Do you want lots of bright colors or a more monochromatic look?
Entertainment: will there be a TV in your home bar area, or by it? Do you want music playing and if so, what's the best way to set up the sound system? For us, we have a television in the adjacent open space, and for music, we have a Google home.
Once you have these basics tackled, you can move on to the specifics of setting up your home bar.
Bar Cabinet or Table?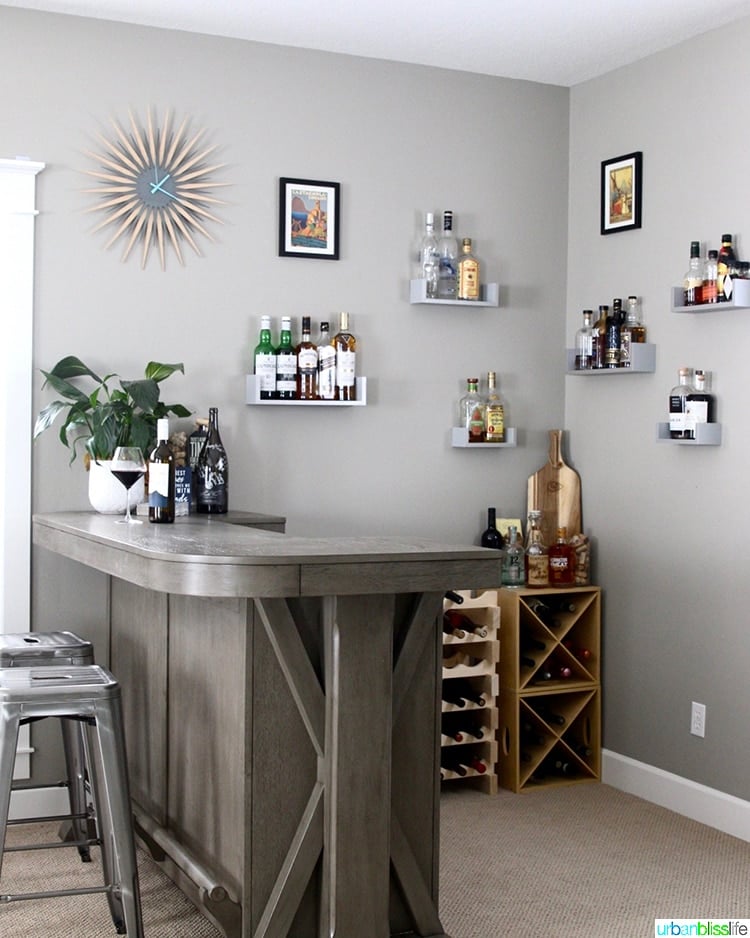 Since we had the space, we set up a large bar that we ordered from Wayfair. It came in two large pieces and was delivered, then took very little time to set up. You can order similar large home bars online if you have the space; I found most run between $500 and $1000, depending on the size, material, and features.
If you have less space, you can opt for a nice bar table or side bar hutch instead.
Use what you have: You can even turn existing furniture into your bar! In fact, there's a bookcase in our daughter's room that once served as our very first home bar in our first home. It then was transformed into a baby changing table. And now it's extra storage for her books. If you can use what you have, all the better!
Home Bar Seating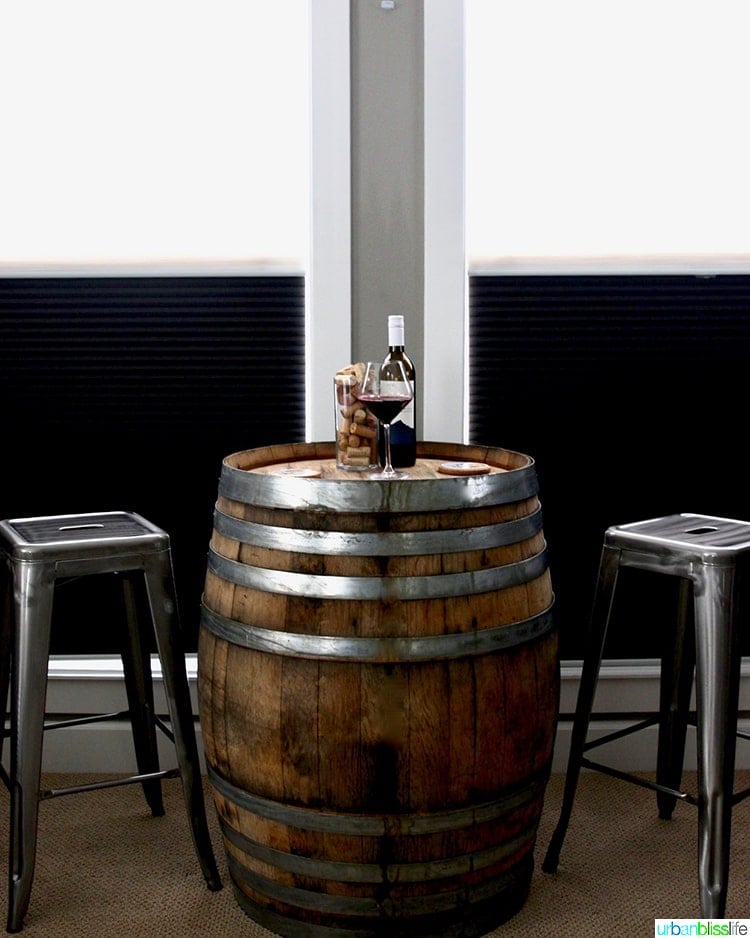 Layout and seating are two important components when setting up a home bar. You want enough seating for everyone, and you want guests to feel comfortable. You also want to make sure there is enough room between the furniture for guests to move around, and to mix and mingle.
We decided to start with tall steel backless bar stools. They are actually pretty comfortable! We already have some bright yellow ones in the kitchen, so these stools carry that design style into this side of the house.
Bar stools tend to be 29 inches or 30 inches high, but you will want to measure your bar table height to make sure you order the right stools.
Home Bar Storage Space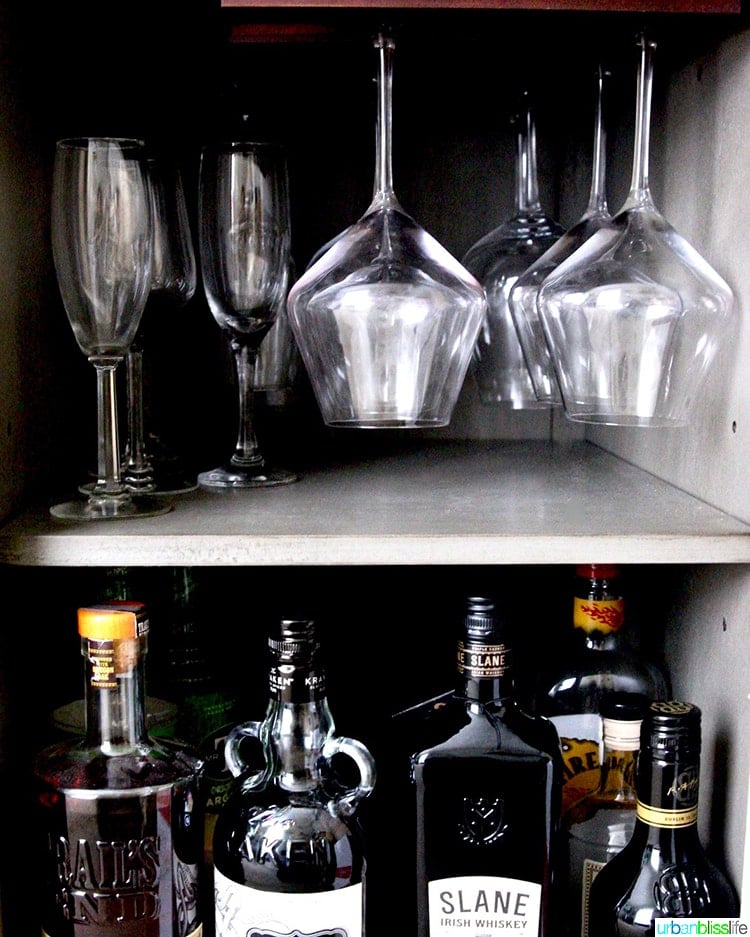 You will need to take into account storage space for the following bar items:
wine glasses
cocktail glasses
shot glasses
bottles of alcohol
accessories like wine stoppers, bottle openers, bar towels, straws and napkins
cocktail recipe books
wine and beer storage
Our bar has space on the bartender side for glasses and accessories. Then we store the bottles of alcohol on the bottom shelves behind the bar, since they are the heaviest items we store.
We also display some of our favorite/most used bottles of alcohol on wall shelves. We like how it adds another eye-catching design element, so it serves as form and function.
Stock Your Bar with the Basics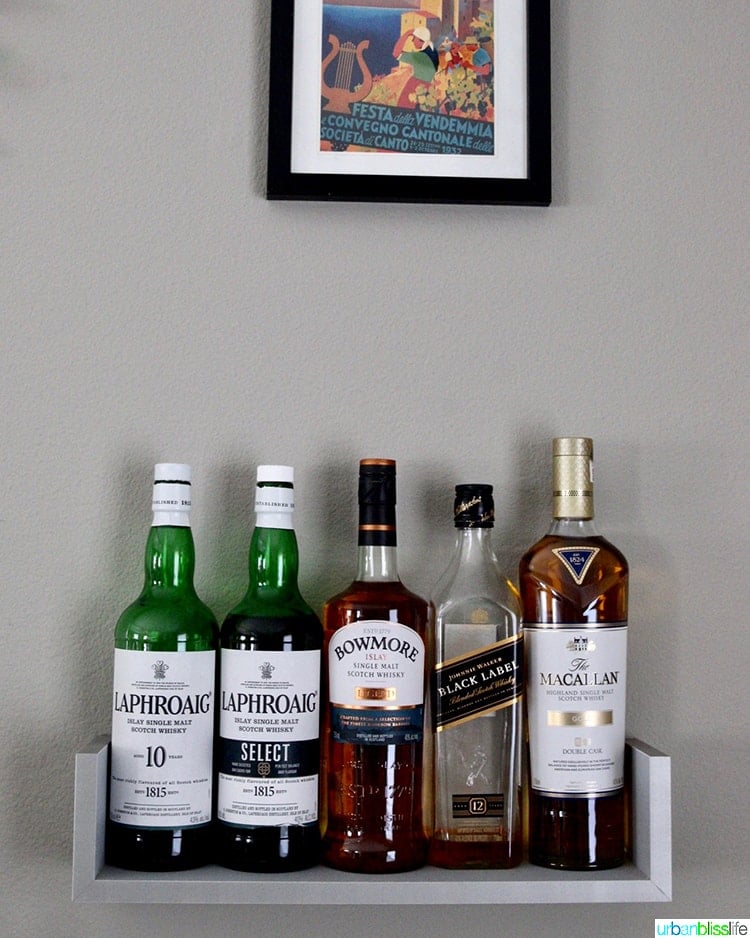 There are a few bottles of alcohol that serve as the foundation for most common cocktails. If you're just starting out, start with these liquors. I've linked to some of my favorite brands so you can stock up on the good stuff!
You will also want to stock up on cocktail enhancements like bitters, syrups, and shrubs.
Consider a Beverage Fridge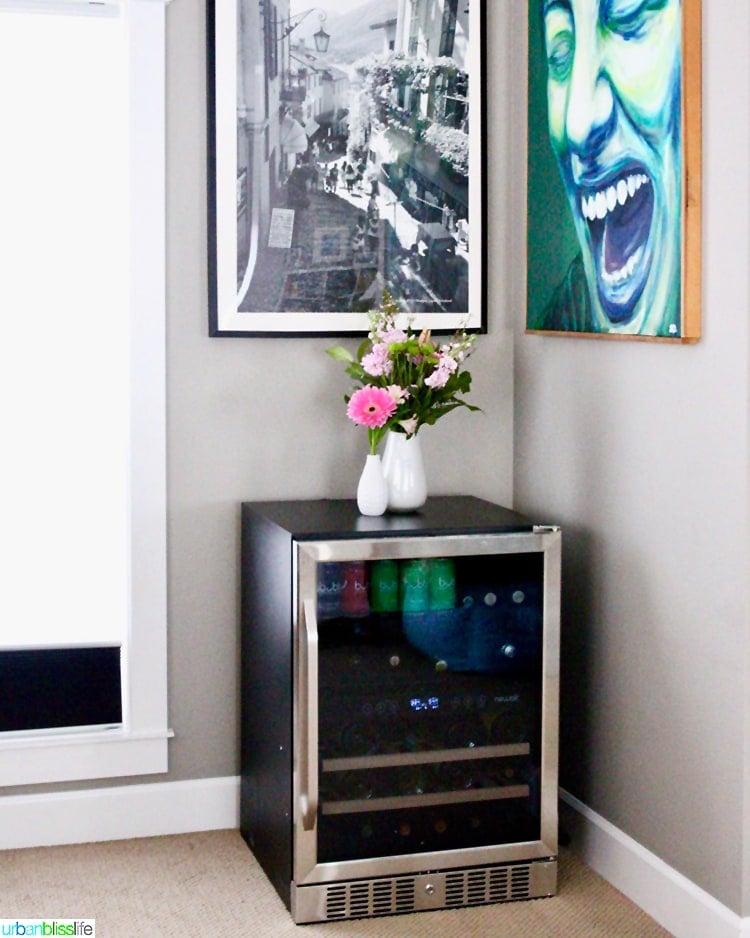 If you store a lot of wine, beer, and non-alcoholic beverages like we do, then I highly recommend considering investing in a beverage fridge. They do the best job in ensuring your drinks stay fresh at the proper temperature and are ready to serve. Be sure to read my article about Tips for Proper Wine Storage.
Beverage fridges come in all shapes, sizes, and costs. For cooled beverage storage, we love having our NewAir AWB-400DB Dual Zone Wine and Beverage Fridge right next to the bar.
This beautiful beverage cooler is where we store non-alcoholic drinks like sparkling waters, and club sodas for cocktails. The dual temperature zone allows us to store beer and cider in the top half. Then we store wine we'll want to drink sooner and not cellar in the bottom half of the cooler. It stores up to 20 wine bottles and 70 cans!
After receiving the NewAir wine fridge a while back, we were ecstatic to receive this beverage fridge for additional storage in our new home bar. Read on to learn how you can save 20% off your purchase of a NewAir beverage cooler!
Home Bar Decor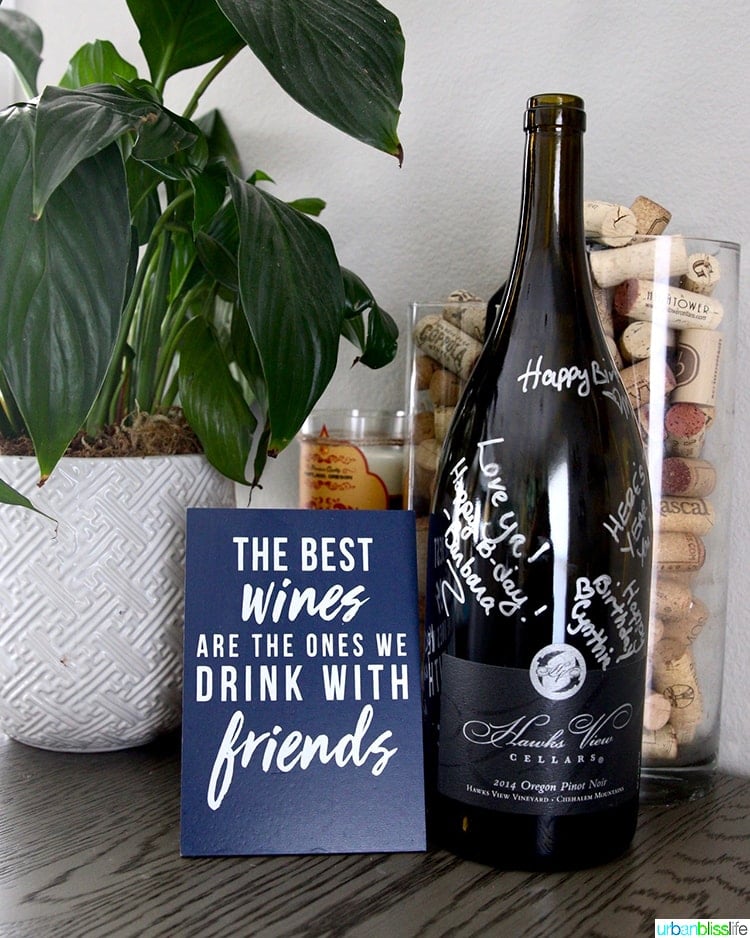 After you've got the home bar basics down, you'll want to add a few fun decorations and accessories.
I love adding personal touches, like the magnum wine bottle that friends signed on my 40th birthday wine tasting at Hawks View Cellars (pictured above).
We also keep our wine corks in tall clear bottles that serve as reminders of fun times with good friends.
And then there are a few fun accessories that I think really make the home bar experience:
wine glass writers, so guests can write their names or decorate their glasses with non-permanent, easy-to-wash off markers. No more mixing up glasses!
bar towels. A dear friend made the one pictured above for me, but I also love these bar towels.
handy bar guide with cocktail recipes.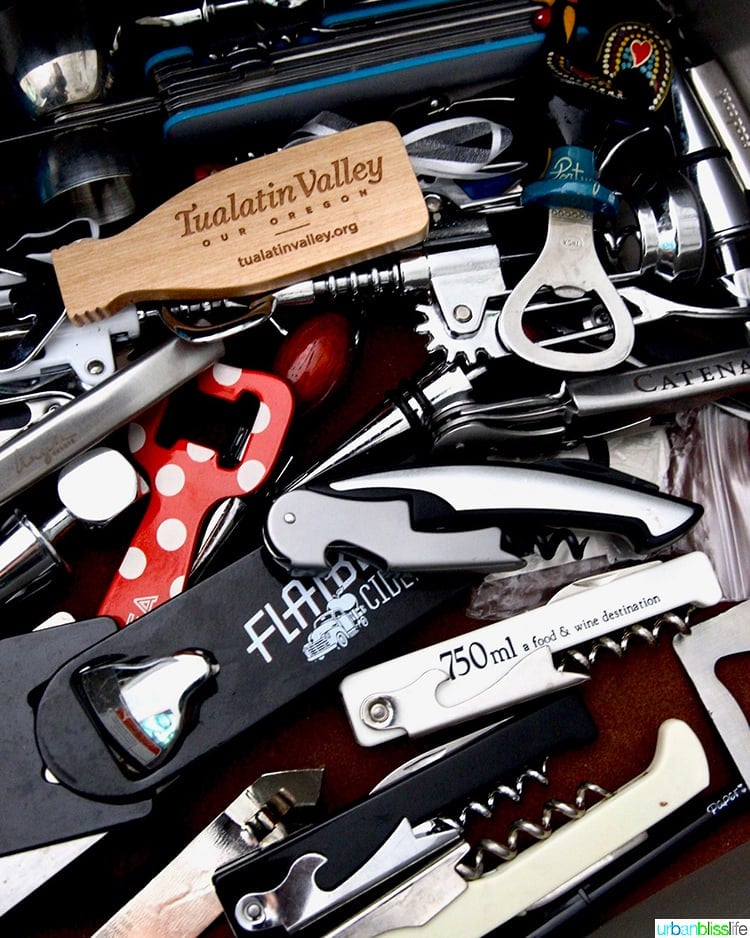 And don't forget bottle openers and corkscrews. Invest in a good corkscrew, or consider a Coravin.
In the end, have FUN setting up your home bar! Make it your own with decor and furniture that suits your style and fits well with the rest of your home. Live with it for a while before spending too much on new storage space or more alcohol; you may need less or more than you think you need.
Do you have a home bar or have you considered setting up space for a home bar? What are some Must Haves that you included or would include in your home bar?
NewAir Discount Code
Interested in my beverage fridge? You can get one for your own home at 20% off! Just use code 20BLISS online when purchasing the 70-Can, 20-Wine Bottle Dual Zone Wine & Beverage Fridge. This code is good through April 2020!

PIN IT: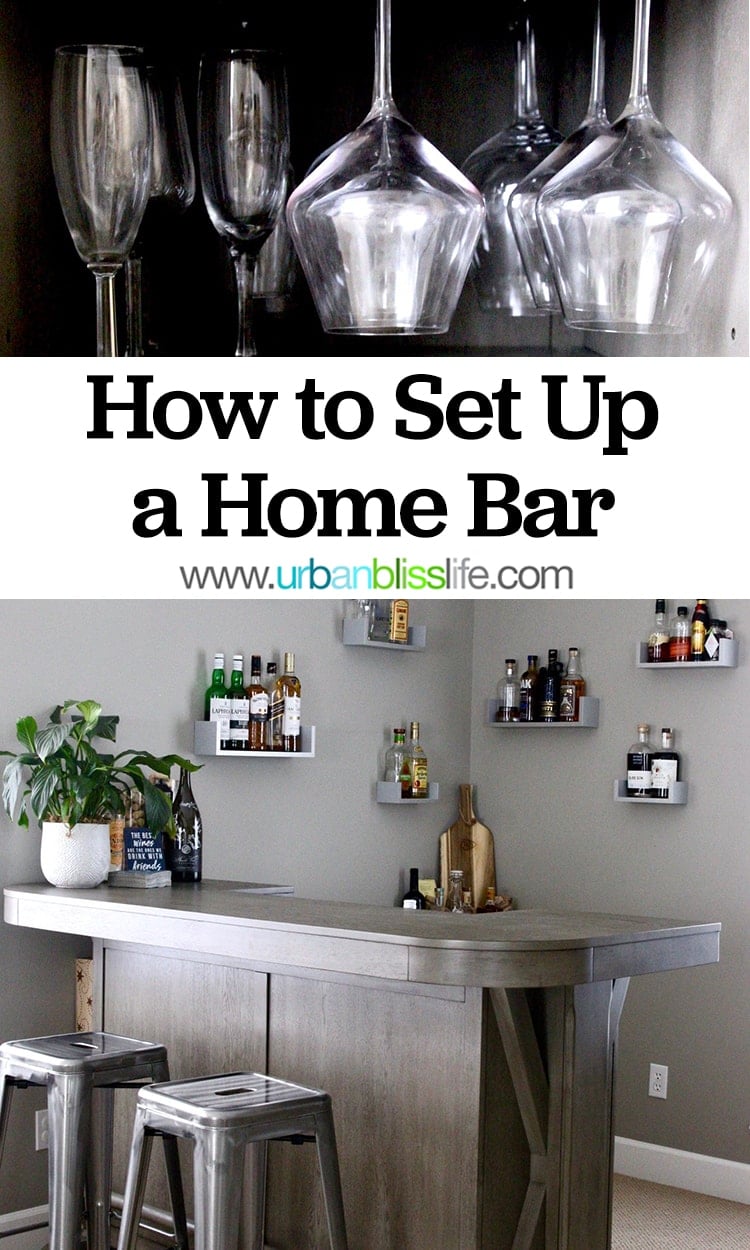 More Wine Bliss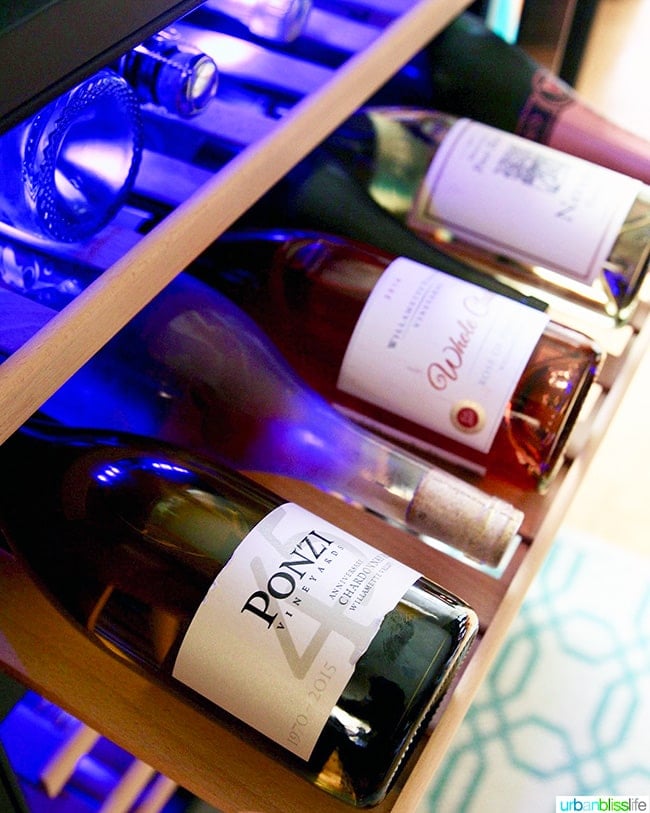 A Day in the Life of a Wine Judge
Disclosure: I received a NewAir beverage fridge from the company and this post contains affiliate links. As always, all opinions and photos are my own. This is the second NewAir fridge that I own, and I love them both!