"Mom, do people even KNOW that Thanksgiving happens before Christmas?"
Both of my kids asked me this question while we were out and about this weekend. They are concerned that Thanksgiving isn't being given the credit it deserves. My seven year old daughter, especially, has a hard time understanding why store shelves aren't stocked with Thanksgiving decorations.
If you can't tell from my kids' disbelief in the rest of the world, Thanksgiving is a pretty big deal in our family. My parents always host Thanksgiving, complete with larger than life meal that we all contribute to, with my dad leading the Thanksgiving prayer. While the kids are home from school, I always try to do some sort of activity with the kids that helps remind the kids of all we have to be grateful for, like this easy printable Thanksgiving wreath.
I agree with my kids: Thanksgiving really isn't being given the attention it deserves. So to help you dress up your Thanksgiving holiday this year, I've designed a bunch of printables that you can download and print for free!
Free Thanksgiving Printables
Food flags and circles are a great, easy way to spruce up your Thanksgiving dishes, from super side dishes to delicious desserts!
The circles can be cut into squares or into circles using a circle shape punch. You can tape them to toothpicks or lollipop sticks and adorn cupcakes, cheese platters, or even tie them around cute striped straws for drinks.
I also like to just spread them around the table as table decor.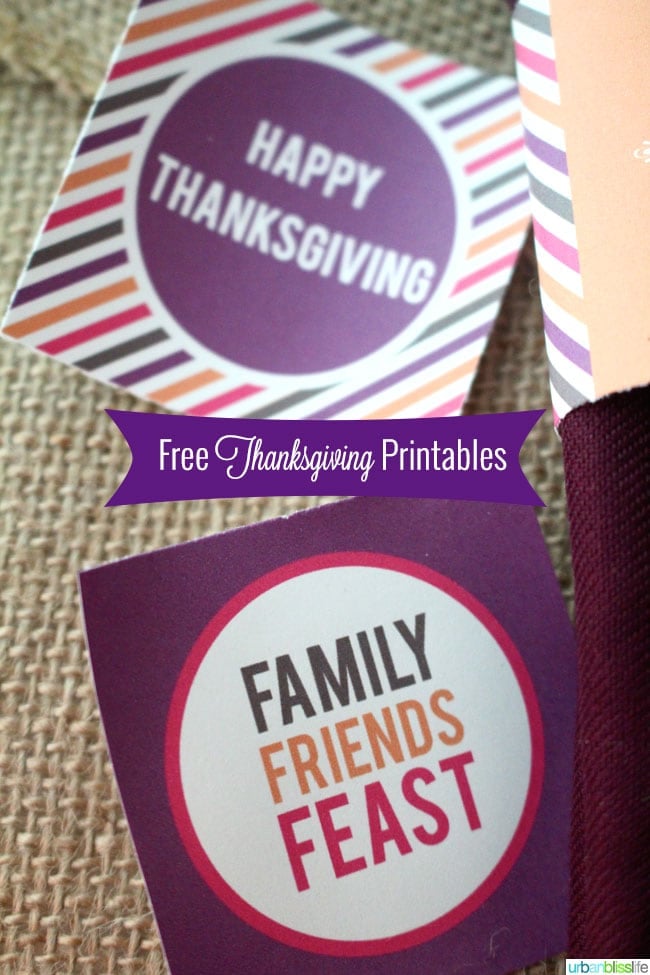 With this printable you get 12 food flags and four party circles. Download, print as many as you need, cut out the designs, and enjoy!
For a simple Thanksgiving activity, download my free Thanksgiving poster, then have each person write down a few things they are grateful for this year. You can either print it out on cardstock, or you can do what I did here: print it out onto cardstock, cut the edges to fit a frame that you have (I used an 8.5" x 11" frame, below), then provide a dry erase marker for people to use to write onto the glass.
Cute and simple!
Last week, I shared these free printable wine tags, while also giving you the down low on Columbia Crest Winery's latest wine releases. These are great year-round, but the colors are especially wonderful for Thanksgiving.
Finally, dress up your Thanksgiving table with these free printable napkin rings that can also serve as place settings.
You can find the printable napkin rings by visiting my friend Kim's blog, Today's Creative Blog. Be sure to check out all of the other printables on her site. She has a TON of awesome Thanksgiving printables!
Are you as excited for Thanksgiving as my kids are? What are your Thanksgiving traditions?