Newly opened Domaine Serene Wine Lounge in Lake Oswego offers westside wine lovers a cozy, upscale neighborhood spot.
Award-winning Oregon wine producer Domaine Serene continues to expand its luxury brand with a snazzy new wine lounge in Lake Oswego, Oregon.
The historically posh Portland suburb fits the winery's longtime reputation for higher-end wines and exquisite wine experiences. Yet this new outpost also allows Domaine Serene to show its lighter, playful side.
As President Ryan Harris said, "we're not about the 'rules' when it comes to wine. We want to make it really easy and enjoyable for everyone."
A wine lover's retreat
The 5,000 square foot wine lounge overlooks Millennial Park Plaza at the corner of First Street and Evergreen Street. The interior is beautifully designed to create several intimate gathering spots within the large space.
Guests are welcomed by a massive, glass-encased wine tower holding more than 3,000 bottles.
Stopping by for a quick glass after work? There are plenty of spots at the long bar, where you have a great view of the wine tower.
Numerous booths, low tables, high top half booths, and outdoor space are available, making the Domaine Serene Wine Lounge at Lake Oswego a great spot for date nights, girls' night out, and dinner parties.
The Library Room is a lovely open space that can be closed off for private parties. The walls are lined with climate-controlled wine lockers that members can reserve. Some of Domaine Serene's most famous members, NBA star Michael Jordan and celebrity chef Emeril Lagasse, have wine lockers here.
But you don't need to be an NBA star, celebrity chef, or even a wine club member to enjoy the new Domaine Serene Wine Lounge in Lake Oswego. The bar is open to all, and truly has a cozy neighborhood feel.
Where Food is Paired with Wine
At the Domain Serene Wine Lounge, Chef Cody Rodriguez creates an often-changing menu of innovative dishes created to pair well with the wines.
The Lake Oswego location offers a variety of dining experiences for guests. From casual walk-in guests who just want a quick bite and a glass of wine, to a multi-course, chef's menu dining experience, the Domaine Serene Wine Lounge in Lake Oswego offers a little something for everyone.
Currently open for dinner every night except Tuesdays, and lunch on Fridays and Saturdays. Harris mentioned plans down the road to expand their hours and menus. Since the majority of readers will likely be joining for an evening visit, I've included some dishes and wine pairings below from the dinner menu; all prices are for dinner time.
Small Plates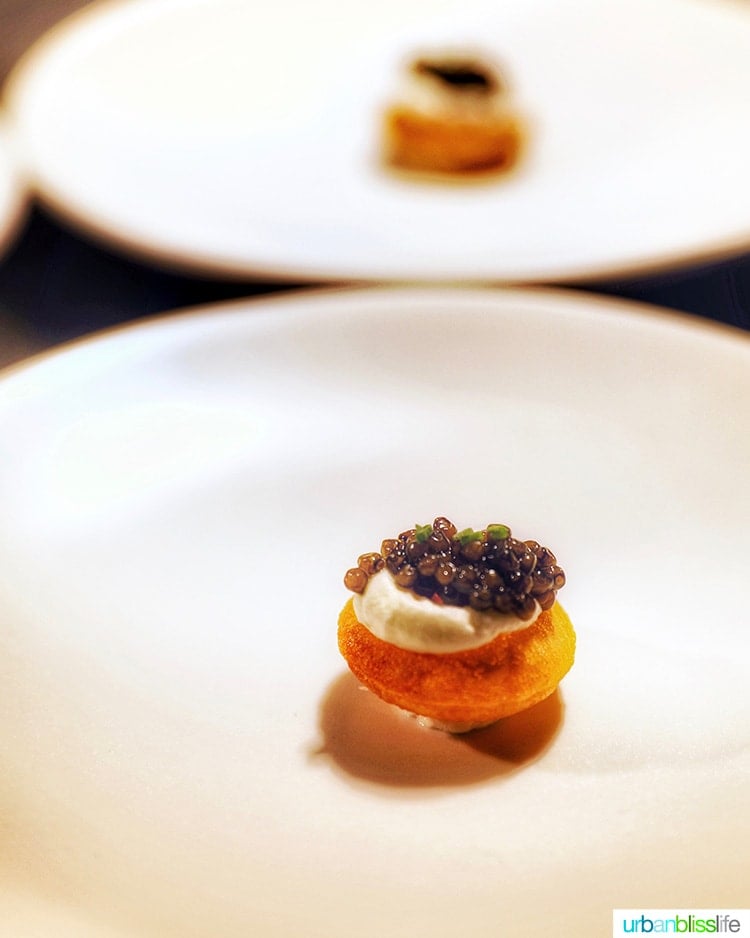 Guests can order several different plates to share from the Gather menu. The most extravagant on this menu is the caviar service for $135. It includes caviar with eggs, shallots, creme fraiche, blinis and rye crisps.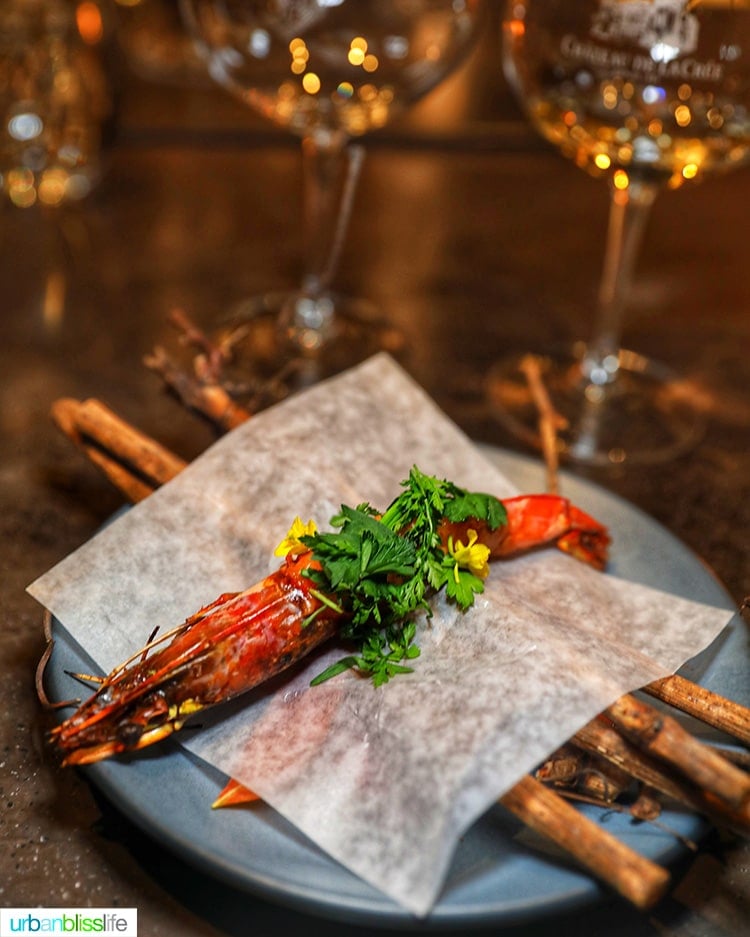 The Head On Prawn ($9) is beautifully prepared, with a slightly sweet almond tamarind glaze, and topped with herbs and lemon. We enjoyed this dish with a glass of 2014 Domaine Serene Récolte Grand Cru Chardonnay ($11).
Entrées
Note: the entrée sizes are larger than the dishes we sampled during our preview dinner.
The Meat and Potato ($18) is a nice slice of Cascade Farms strip loin, served on a warm stone along with beef fat confit potatoes.
If you like duck, then you must try the Duck à L'orange ($24). The juicy half duck breast is lined with a perfectly crisp skin and served with orange purée, candied orange, and watercress.
If you're in the mood for comfort food, try the Chicken ($26). This dish includes an organic mary's chicken breast & leg, beautifully prepared with miso butter and vine wood smoked rutabaga. So good!
The desserts at Domaine Serene Wine Lounge in Lake Oswego match the creativity and decadence you find in the small plates and entrées.
Wine Menu
Of course, this new wine bar is an amazing place to enjoy a beautiful glass or bottle of wine with friends.
Domaine Serene makes approximately 25,000 cases of wine per year. The wine lounge serves the winery's world class pinot noir and chardonnay from their Dundee, Oregon winery, as well as their Château de la Crée and Maison Evenstad in Burgundy.
One of the best ways to try Domaine Serene wines here is to order one of three wine flights.
The Estate Flight ($20) features three wines from the winery's Oregon vineyard estates. Order the Burgundy Flight ($30) and you can enjoy select wines from Domaine Serene's sister winery located in
the Santenay region of the historic Côte d'Or. Finally, the Harvest Flight ($30) gives you tastes of three exclusive wines.
The Wines By the Glass menu ranges from the Domaine Serene, Multi-Vintage 'r' Rosé ($12) to the 2016 Domaine Serene, 'Récolte Grand Cru'
Chardonnay ($36), which garnered 96 Points International Wine Report.
Dine at Domaine Serene Wine Lounge Lake Oswego
The Domaine Serene Wine Lounge in Lake Oswego opened on December 6th, and is still a hot spot for wine lovers near and far. I suggest making a reservation via their website for dinner.
300 First Street
Lake Oswego, Oregon 97034
https://domaineserenewineloungelo.com/
HOURS: Monday, Wednesday, Thursday 4-9PM
Friday and Saturday 11:30AM-10PM
Sunday 11:30AM-9PM
CLOSED TUES
PIN IT
More Wine Travel Articles
Where to Go Wine Tasting in California's Anderson Valley
Sonoma Wine Country: Jordan Estate Winery