What are the best wine pairings with salmon? Salmon pairs beautifully with different wines - both white wine and red wine - depending on the preparation and other ingredients in the dish. Here are some tried and true delicious wine pairings for your next salmon dinner.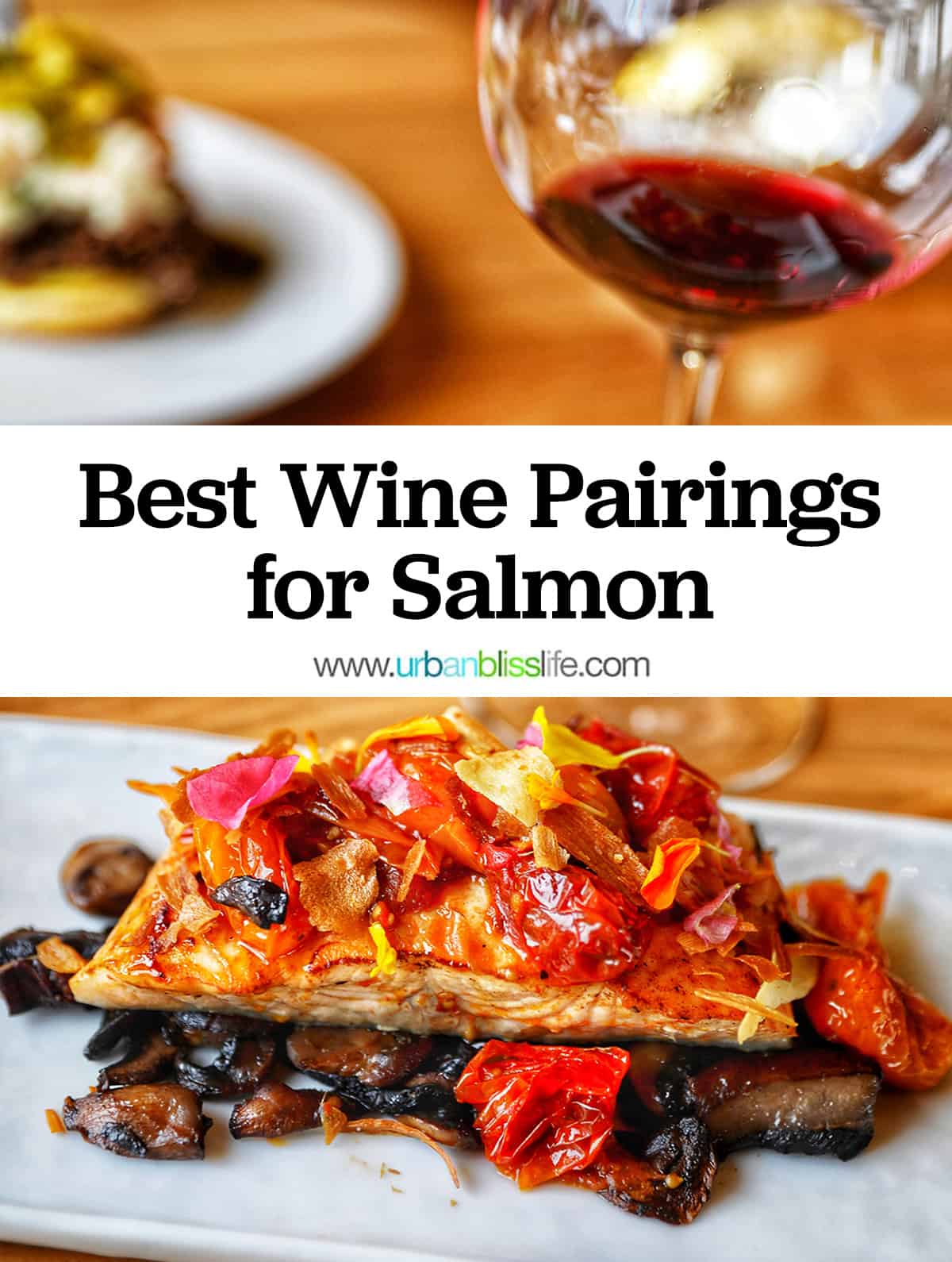 Salmon is a versatile and flavorful fish that is beloved by seafood enthusiasts around the world. Living in the Pacific Northwest, we love salmon, and have a lot of different salmon recipes on the blog.
Regardless of your cooking method - whether you're grilling, baking, or pan-searing this delectable fish - choosing the right wine to pair with salmon can significantly elevate your dining experience.
Salmon is a popular choice for wine pairing because it offers a unique combination of flavors and textures. Its rich and buttery texture pairs well with both white and red wines. And its versatility in preparation methods allows for a wide range of wine pairing options.
In this blog post, we'll explore the best wine pairings for salmon, helping you elevate your next seafood dinner to a whole new level of culinary delight.
Jump to:
🍷 Tips for pairing wine with salmon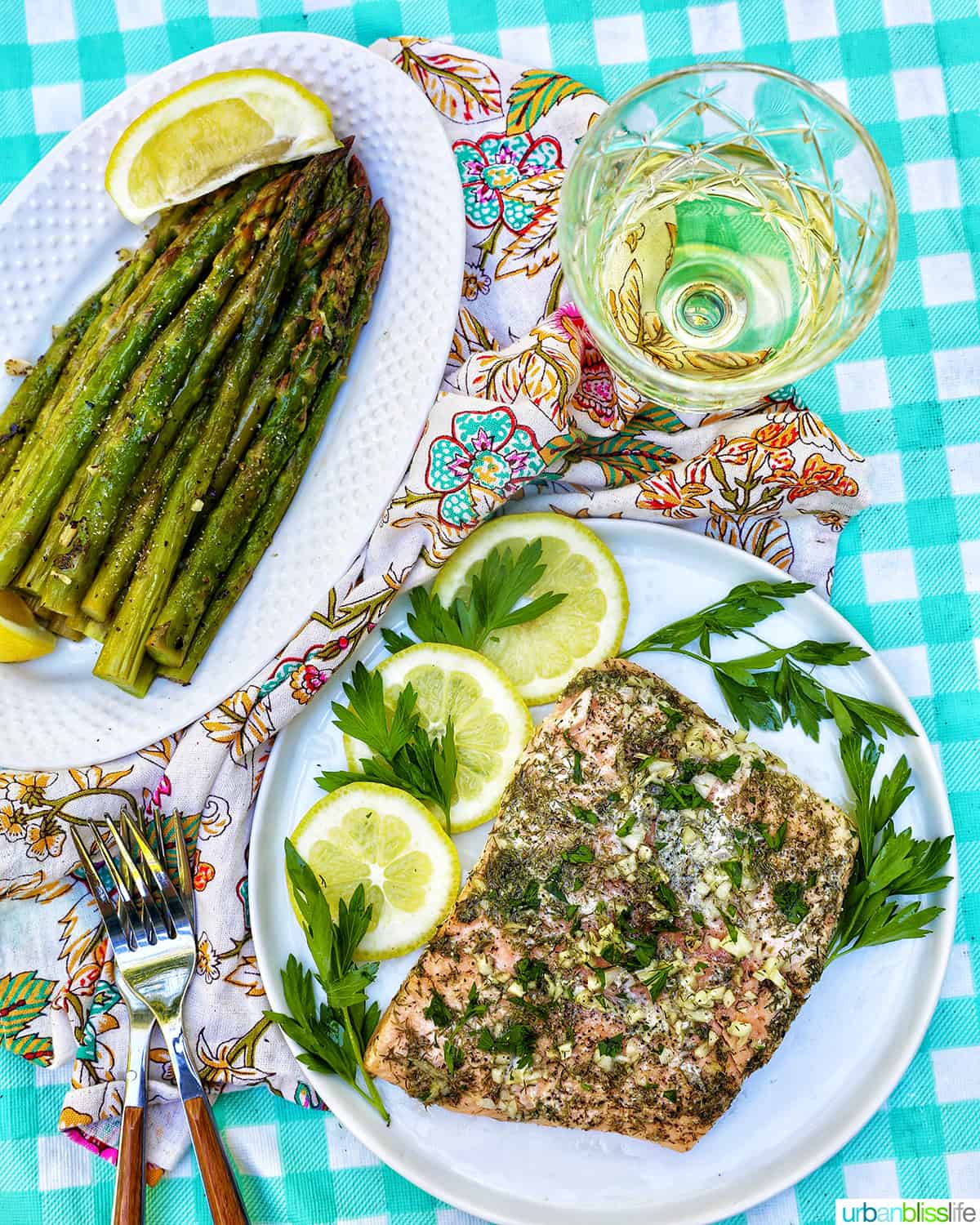 To determine if a wine will pair well with your salmon dish, consider the wine's acidity, body, and flavor profile.
In general, wines with bright acidity, such as Sauvignon Blanc and Pinot Noir, tend to work well. Light-bodied wines to medium-bodied wines are usually preferred to avoid overwhelming the delicate flavors of salmon.
Experimentation and personal preference also play a role, so don't hesitate to try different salmon pairings to find what you like best.
Pinot Noir with salmon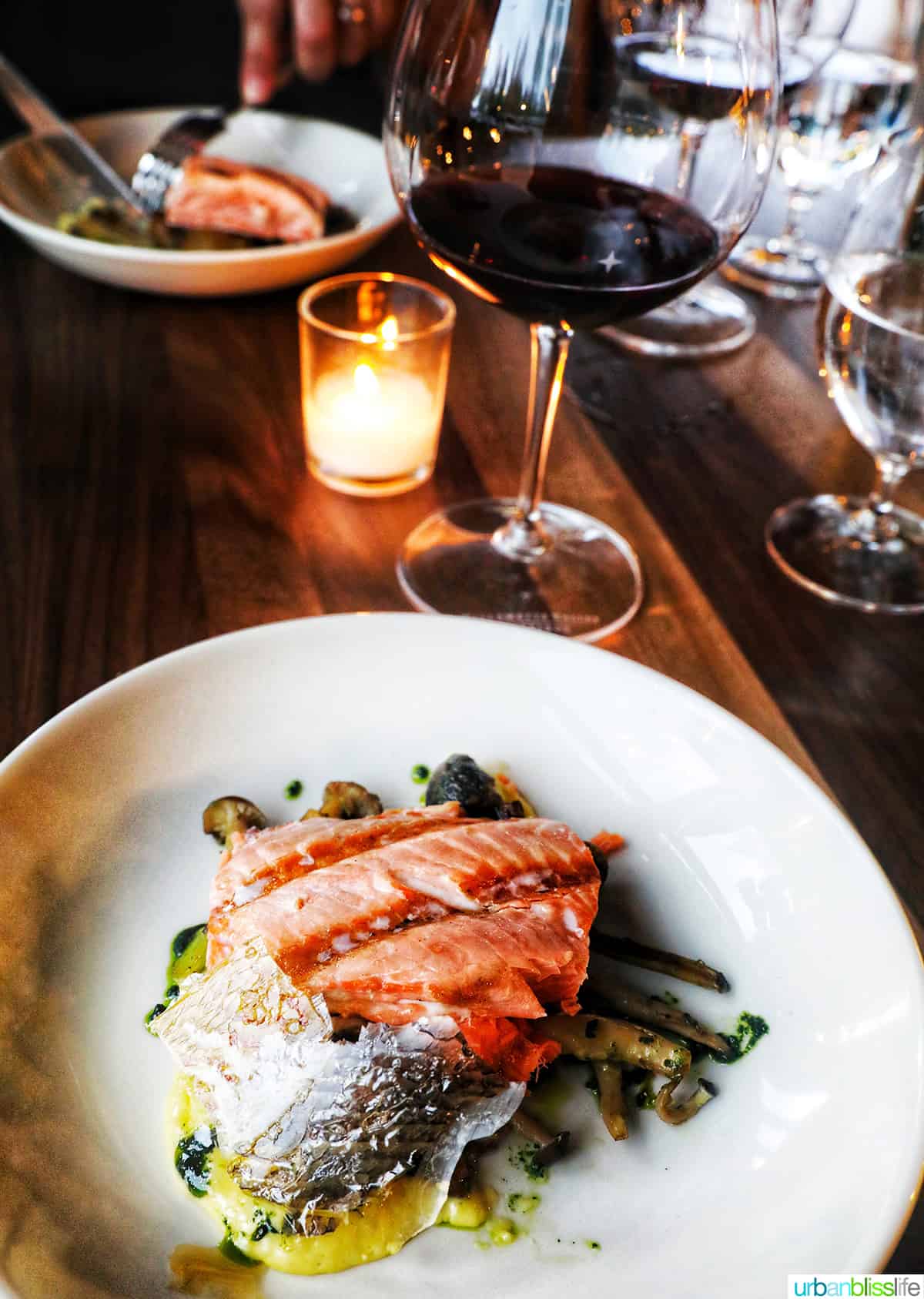 Pinot Noir is a classic pairing for salmon. It's often hailed as the ultimate companion for more meaty fish like salmon.
Its light to medium body, red fruit flavors, and subtle acidity make Pinot Noir an ideal choice to complement the rich, buttery texture and flavor of salmon.
The wine's bright acidity helps cut through the fish's natural oils, providing a harmonious balance on your palate. Whether your salmon is grilled, roasted, or even served as sushi or sashimi, a good Pinot Noir is always a great choice.
Recommended pairings: Try a California Pinot Noir for a fruity, robust option, or go for a Burgundian Pinot Noir for a more delicate and earthy profile.
👩🏻‍🍳 Try this rich Pasta Alla Salmone recipe with a glass of Pinot Noir.
Gamay with salmon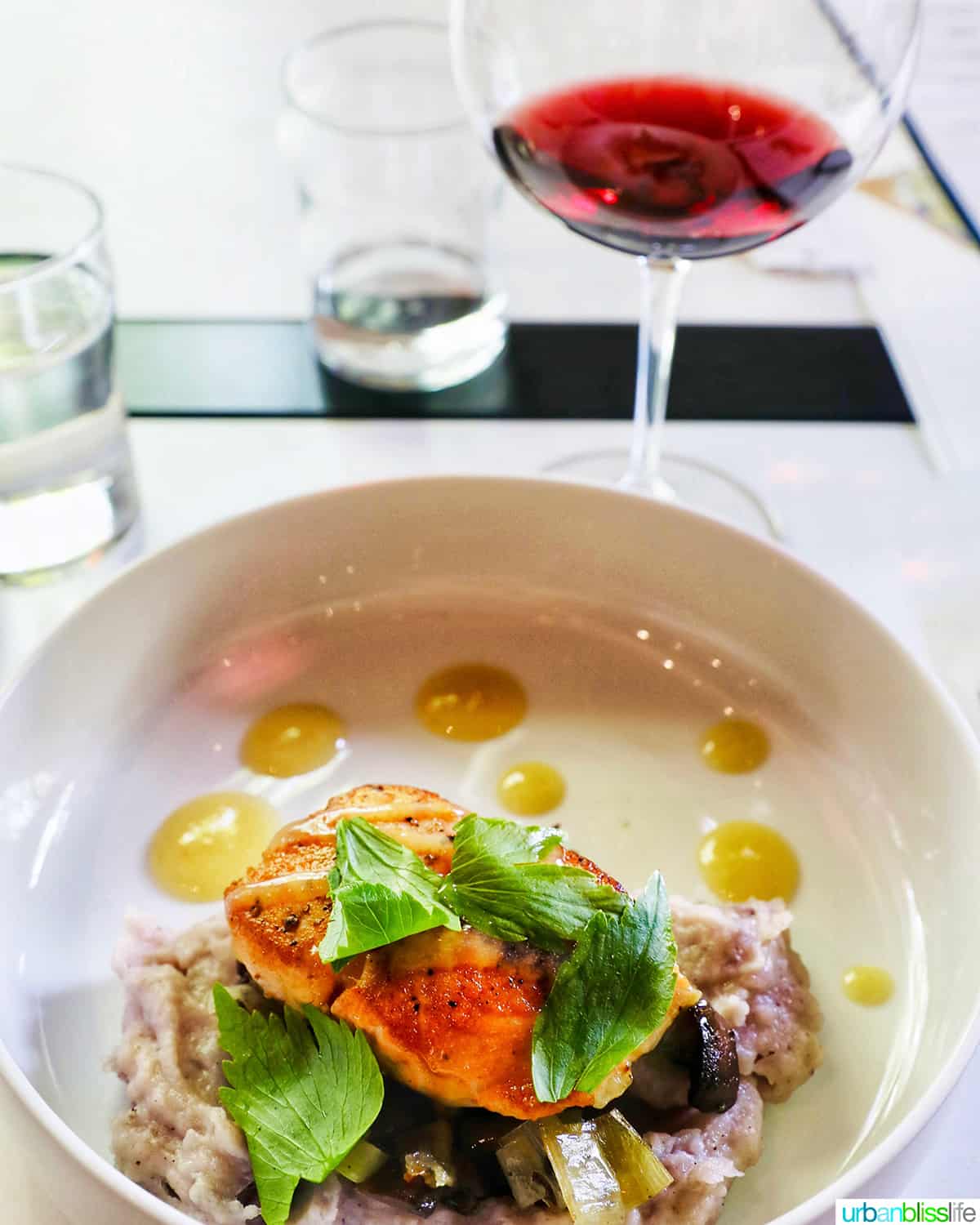 Gamay is generally a lighter wine, which makes it a good choice for salmon dishes prepared with lighter cooking methods. Try pairing it with salmon that is cooked through poaching, steaming, or grilling. These cooking techniques allow the natural flavors of the fish to shine and can complement the subtlety of Gamay.
Also, salmon dishes seasoned with herbs like thyme, rosemary, or tarragon are the perfect pairing for Gamay's herbaceous undertones. These herbal notes in the wine can accentuate the herbs used in the dish, enhancing the overall dining experience.
Some Gamay wines are served slightly chilled, which can be a refreshing choice for salmon, especially in warmer weather. Chilling the wine can enhance its acidity and make it more refreshing alongside the fish.
👩🏻‍🍳 Try pairing a Gamay wine with this recipe for Pan Seared Salmon with an Almond Basil Pesto.
Chardonnay with salmon
Full-bodied white wines like Chardonnay, especially those with a touch of oak aging, can be an excellent match for salmon. The wine's creamy texture and notes of vanilla and butter can harmonize with the fish's richness, creating a luxurious combination. Opt for a slightly oaked Chardonnay to avoid overwhelming the salmon's delicate flavors.
Recommended pairings: Look for Chardonnays from Oregon or California, particularly the Willamette Valley, Sonoma or Napa Valley, for a well-balanced match with salmon.
🍷 Chardonnay pairs well with this Salmon Pasta recipe.
Sauvignon Blanc and salmon
Sauvignon Blanc's zesty acidity and citrus notes provide a refreshing contrast to salmon's fatty profile. The dry white wine has undertones of fresh herbs and grass that can bring out salmon seasoned with herbs and citrus flavors. This pairing is particularly enjoyable with salmon dishes that incorporate a touch of lemon or dill.
Recommended pairings: New Zealand Sauvignon Blanc is renowned for its vibrant acidity and tropical fruit flavors, making it a great pairing for salmon.
🍷 Sauvignon Blanc pairs well with this Grilled Salmon with Lemon and Herbs recipe.
Rosé with salmon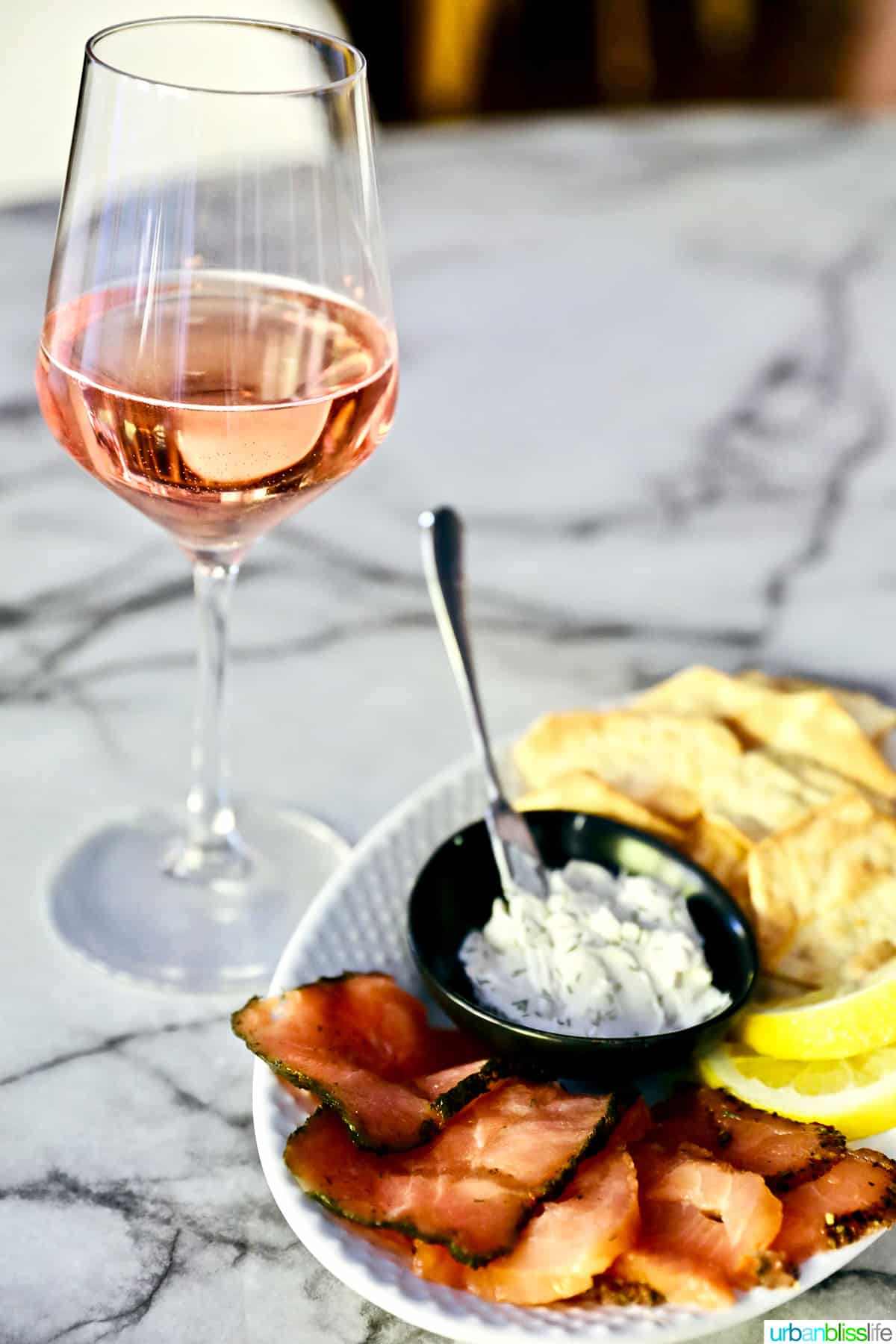 Rosé wines, with their versatility and diverse range of flavors, can be a delightful surprise alongside salmon. A dry rosé offers a refreshing and light counterpoint to the fish, making it a wonderful choice for outdoor gatherings and summer seafood feasts.
Recommended pairings: Opt for a Provence rosé or a Spanish Rosado for a crisp and fruity companion to your salmon.
🍷 We love rosé wine paired with a good Seacuterie Board!
Riesling with salmon
If you prefer your salmon with a sweeter touch, a semi-sweet or off-dry Riesling can be a delightful pairing.
The wine's honeyed notes and acidity can balance the fish's flavors beautifully. This is especially true when you're dealing with spicier or glazed salmon fillets.
Recommended pairings: Explore German or Alsace Rieslings, which offer a diverse range of sweetness levels to suit your preference.
🍷 Riesling pairs well with Air Fryer Teriyaki Salmon.
🚫 Wines to avoid pairing with salmon
While wine pairing is subjective and based on personal preferences, there are some combinations that may not work as well.
For instance, heavily tannic, full-bodied red wines, such as Cabernet Sauvignon, can clash with salmon's delicate flavors.
Additionally, extremely sweet wines may overpower the fish's taste. It's best to avoid sweet wines like Muscat unless you have a specific preference.
🍇 Wine pairing frequently asked questions
Is there a specific type of salmon that pairs best with wine?
The type of salmon, whether it's Atlantic, Pacific, sockeye, or coho, doesn't necessarily dictate the wine pairing. The preparation method and accompanying flavors are more critical factors to consider when choosing a wine. For example, grilled salmon may pair differently with wine than poached or smoked salmon.
Can I pair red wine with salmon, or is it white wine only?
While white wine is the most popular choice for salmon, you can pair light-bodied reds with salmon, especially if the salmon is prepared with robust and earthy flavors. A lighter red wine like Pinot Noir is often the best choice in this case, as its acidity complements the fish's richness.
Are there any specific wine regions known for producing wines that pair well with salmon?
Yes, several wine regions are known for producing wines that pair exceptionally well with salmon. Oregon makes excellent Pinot Noir and Chardonnay - both wines that pair deliciously with salmon. California's Sonoma and Napa Valley are also renowned for their Chardonnays and Pinot Noirs. New Zealand's Marlborough region produces outstanding Sauvignon Blancs, which are another great option for salmon.
Can you recommend a wine for a spicy salmon dish?
If you're preparing a spicy salmon dish, look for wines with a touch of sweetness to balance the heat. A semi-sweet or off-dry Riesling is an excellent choice. The wine's sweetness can help soothe the spiciness while its acidity complements the fish's flavors.
Selecting the perfect glass of wine to accompany your salmon dish can enhance the dining experience and elevate the flavors of both the wine and the food.
Whether you prefer the elegance of Pinot Noir, the richness of Chardonnay, the zest of Sauvignon Blanc, the versatility of Rosé, or the sweetness of Riesling, there are many different types of wine out there to suit your taste and make your salmon dinner a memorable occasion.
Experiment with different pairings to find your personal favorite. In addition to those mentioned above, I will add that I've also enjoyed a Chenin Blanc, Pinot Gris, Pinot Grigio, and a Gruner Veltliner with different salmon dishes over the years.
Cheers to discovering the perfect salmon and wine pairing!
Salmon recipes to try
🍷 Have you tried one or more of the wine & food pairings listed here? If so, leave a comment below and let us know how they paired together!