Yesterday was National Ice Cream Sandwich Day, so it was the perfect excuse to whip up a batch of Peanut Butter Cup Chocolate Chip Cookies for the occasion!
I decided to make the chewy, tasty using a combination of my absolute favorite chocolate chip cookie recipe and my own original peanut butter cup & chocolate chip cookie recipe. The hybrid cookie that resulted turned out delicious! It's like two of my favorite cookies in one!
The full recipe is posted below, but here are some helpful hints for the steps along the way.
One of the best things you can do to ensure rich, chewy cookies is to make sure you mix the first three ingredients - the butter, the brown sugar, and the granulated sugar - very well. Make sure the butter truly is softened -- not runny, and not still chilled, in any areas -- and mix in a stand mixer on low or the "2" setting for about 2 minutes. I usually scrap the sides down twice during this process to ensure everything's blended evenly.
Think of it as you building the foundation of your cookie. Don't rush it, because if you rush building the foundation, the whole house can go downhill from there, right?
When fully mixed, the color should be light, as in the photo below.
The next step in my peanut butter cup chocolate chip cookies is to mix the eggs in one at a time for even mixing, then the vanilla, then the baking soda mixture.
When adding the flour, add one cup at a time, very slowly. This not only helps with even mixing, but more important for neat freak bakers out there, it helps decrease the chances of flour flying back in your face because there's too much in the mixer at a time :)
You can use any type of peanut butter cup, but I prefer the Reese's Dark Chocolate Miniature Cups. Oh man, talk about bliss. These babies are divine.
Once you add the peanut butter cups and the chocolate chips, use your hands and grab about a tablespoonful of dough and plop it onto the prepared Silpat or greased cookie sheet. No need to make neat, smooth, round balls. This is how you get the nice ridges and texture with your cookies. They will flatten out just enough.
Halfway through the baking time, switch baking sheets and turn each one 180 degrees. This helps ensure your cookies will be baked evenly.
Ta-da! Eat these on their own, or make ice cream sandwich cookies as seen below. Enjoy!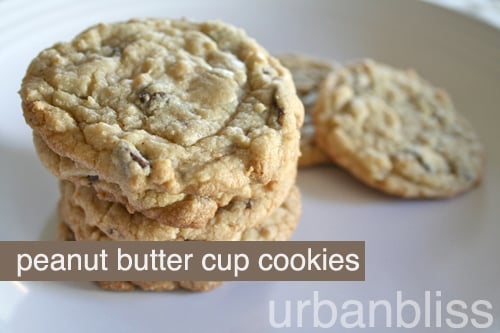 Ingredients
1

cup

2 sticks softened unsalted butter

1

cup

packed brown sugar

1

cup

granulated sugar

2

eggs

2

teaspoons

vanilla extract

1

teaspoon

baking soda

2

teaspoons

very hot water

3

cups

flour

14

mini peanut butter cups

roughly chopped into chocolate-chip-size pieces

⅓

cup

dark chocolate chips
Instructions
Preheat oven to 350 degrees.

In a stand mixer on low, thoroughly mix the softened butter, brown sugar, and granulated sugar for 2-3 minutes. Scrap the sides down a couple of times during the process to ensure even mixing.

Add the eggs, mixing in one at a time.

Add the vanilla extract. Again, scraping down the sides as you go to ensure even mixing.

In a small bowl, mix the baking soda with the hot water until the baking soda dissolves evenly. Then add to the rest of the mixture.

Gradually and gently add one cup of flour at a time, scraping down the sides of the mixing bowl in between each addition.

Add the peanut butter cups and the chocolate chips. Mix until just blended. Don't overmix!

Drop by tablespoonful onto greased cookie sheets (I use a Silpat on a perforated baking sheet).

Bake at 350 degrees for 10 minutes.

Set onto cooling racks and allow to cool for at least five minutes.
Tried this recipe?
Please leave a star rating and comment! Then snap a pic of your dish and share it on social media. Tag @UrbanBlissLife and #UrbanBlissLife!
Nutrition information is a general estimate. Actual nutrition details may vary depending on the exact foods & brands you use to make this recipe. It does not take into account any substitutions, toppings, or optional ingredients.