Each year, the Salud project provides thousands of vineyard workers and their families access to quality healthcare. Celebrating its 25th Anniversary, the project prepares for its big annual Salud Wine Auction.
When we enjoy a glass of Oregon Pinot Noir or other amazing wine, we might think of the winemaker's hand in creating that particular bottle. Yet, we all know that it takes many, many hands to create one bottle of wine, and because of the mobile nature of vineyard workers, most of those hands (and the bodies & minds attached to them) are not eligible for health insurance.
The Salud story
In 1991, in true Oregonian if-it-doesn't-exist-we'll-create-it-ourselves fashion, a handful of Oregon winery owners got together and founded ¡Salud! This mobile healthcare service provides access to quality healthcare to thousands of vineyard workers and their families each year.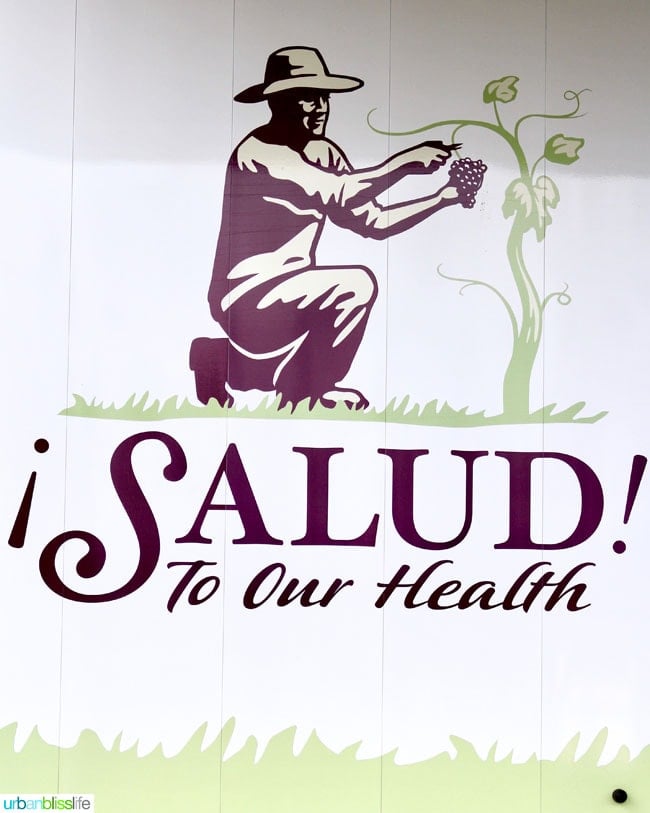 In addition to providing healthcare at various wellness clinics throughout the year, there are four mobile trucks that visit the dozens of different vineyards throughout the Willamette Valley. The newer trucks were actually specially designed by a local company to ensure they could drive into the vineyards and still hold fully functioning medical units inside.
Each year, ¡Salud! helps more than 4,000 people, with approximately 30% of those being children, and 12% being spouses of the vineyard workers. The majority of the workers they help are from Mexico or Guatemala; some of them don't speak English or speak limited English, and many of them (like me) find the healthcare system to be challenging to navigate.
¡Salud! offers a casual, comforting solution that brings healthcare right to these workers. It is staffed with four full-time bilingual/bicultural employees including two registered nurses, a health educator, and an administrative coordinator. During our media preview luncheon, we were fortunate Leda Garside, RN, BSN, MBA who is the ¡Salud! Services Manager (pictured above).
Mobile unit services
Inside each unit, workers have access to a number of health checks. This includes cholesterol, diabetes, and vision screenings, blood pressure checks, and flu and tetanus vaccinations. This also includes occupational health, nutrition, and mental health information.
If test results show that more advanced care, or specialists are needed, Tuality Healthcare can connect the workers with some of their partner agencies. They work with agencies such as Oregon Health & Science University School of Dentistry, Pacific University Physical Therapy, Pacific University College of Optometry, and Project Access NOW, and more.
I actually got to experience what it might be like to have a typical cholesterol check done. It was fast, the nurse was helpful and able to explain my results in an easily understandable manner. I found out that while I have slightly high regular cholesterol, my GOOD cholesterol - HDL - levels were off the charts. That was awesome to hear! The nurse explained exactly why that was good and why I didn't need to worry. Keep eating cholesterol lowering foods like avocados and salmon, kids! ;)
I was extremely impressed with our tour of the mobile unit, and learning about the comprehensive services offered by the ¡Salud! program. As you can imagine, running a program like this is not easy. It includes coordination of many partner agencies, and is not inexpensive to run.
Amazingly, all of these health services are funded 100% by donations and proceeds from special events. This includes proceeds from the main auction event each year.
Salud wine auction
Each year, there are two main Salud Wine Auction events that raise funds to benefit the ¡Salud! program. They are: the informal ¡Salud! Cuvee Tasting and Big Board Auction, and the more formal Gala and Auction dinner.
This year, 44 local wineries will share their 2015 Cuvées, which were made specifically for ¡Salud! These bottles are the very best of Oregon Pinot Noirs, and you can only enjoy them at these events – you will not find these in any store, restaurant, or even tasting rooms.
I was able to sample some past ¡Salud! cuvée wines at a media event at Ponzi Winery, including the 2012 Winderlea Vineyard Pinot Noir ¡Salud! Cuvée. This, along with the 2012 Trisaetum Winery Pinot Noir ¡Salud! Cuvée, was paired with our luncheon's first course: Tagliatelle Pasta with Grana Padano, snap peas, summer squash, and pesto.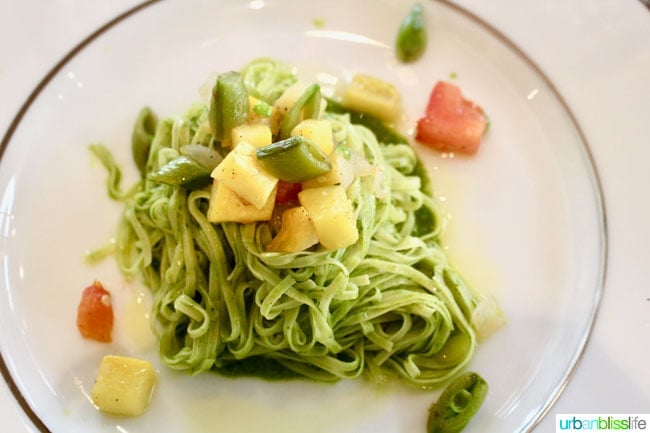 It's beautiful, isn't it? It tasted just as delicious as it looks!
Next we sampled the 2014 ROCO winery ¡Salud! Cuvee (co-owner Rollin Soles, pictured above), and the 2010 Ponzi Vineyards Pinot Noir ¡Salud! Cuvée.
These two wines were paired with our main course: Carlton Farms Pork Tenderloin with oven roasted potatoes, swiss chard, and demi-glace.
Many thanks to Thomas Ghinazzi, Culinary Director of The Dundee Bistro, for creating these delectable dishes for our luncheon!
The numbers
Last year, the Salud Wine Auctions raised $800,000. In total thus far, the auctions have raised more than $11.5 million over the past 25 years, with 90% of those funds coming directly through the annual auctions. Approximately 10% of funding has come through private donors and other special fundraising events throughout the year.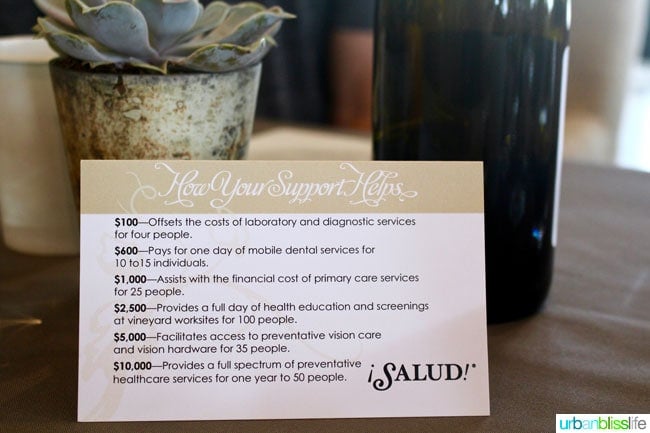 In gratitude
This luncheon and the tour of the Salud mobile units moved me in ways I did not anticipate. I am constantly impressed and in awe of how people simply see a need in their communities or industries, and they get right to work to fill that need. 25 years... can you imagine how revolutionary this project was 25 years ago among Oregon's infant wine industry, let alone today during our wine country boom? How many other healthcare services exist like this in the world for a large group of vineyard workers? None that I know of. I applaud all of the wineries who take part in supporting this project, who offer these services to their valuable workers - without whom none of the wines would be possible! - and to all of the staff and volunteers involved with ¡Salud! Thank you for all you do!
Attend Salud wine auction events
I look forward to attending the ¡Salud! Grand Cuvée Tasting and Big Board Auction and I hope you will consider attending as well. This is your opportunity to support one of the most impressive grassroots healthcare operations in town. Enjoy some of the absolute BEST Oregon Pinot Noirs that you won't be able to find anywhere else. Rub elbows with the Who's Who in the Oregon wine industry (because they will ALL be there, folks!). Plus, if you attend the Saturday night gala, you'll dine on some of the best local food at the Sentinel Hotel.
¡Salud! Grand Cuvée Tasting and Big Board Auction
Friday November 11
Ponzi Vineyards
3:00 - 6:00 pm
Casual Attire
25th Anniversary Celebration Gala and Auction
Saturday November 12
Sentinel Hotel
5:00pm
Black Tie Optional
Purchase Salud Wine Auction tickets here.
Many thanks to the ¡Salud! project with Tuality Healthcare and to Ponzi Vineyards, Trisaetum Winery, Roco Winery, and Winderlea Vineyards for the complimentary media tour and luncheon. Readers, you all know the drill: all opinions and photos are my own. If I don't believe in something, I don't write about it, plain and simple. I believe 100% in the Salud project. I hope you will look into ways you can support them locally or a program like theirs in your state.