Salted Caramel Chocolate Bars are decadent, delicious bites of buttery chocolate shortbread cookie topped with sugary caramel and tasty toasted pecans.
Salted Caramel Chocolate Bars have a crunchy, buttery, salty, shortbread cookie bar base with a sweet, sugary caramel topping. Add some tasty toasted pecans (or non-toasted works too!) on top, and you've got a cookie bar that is packed with decadent flavors.
How to make Salted Caramel Chocolate Bars
Here's how to make these Salted Caramel Chocolate Bars.
After sifting dry ingredients together in a large bowl, beat together the butter, sugar, and sea salt in another bowl.
Then, I combine the creamed butter mixture with the dry ingredients using a hand mixer.
The hand-mixed ingredients create the shortbread cookie base, and after pressing this mixture into the bottom of a square glass baking dish, you bake it in a 350 degree oven for 21-23 minutes.
While the shortbread bars are baking, start to make the chocolate caramel. The bottom right photo above shows the approximate color you want the sugar mixture to get to before taking it off the heat and adding the chopped bittersweet chocolate. Be sure to watch the caramel carefully because it can go from not-yet-done to overdone quite quickly!
Once both the shortbread base and the chocolate caramel are done and slightly cooled, you pour the chocolate caramel over the shortbread cookie base and allow the caramel to set at room temperature.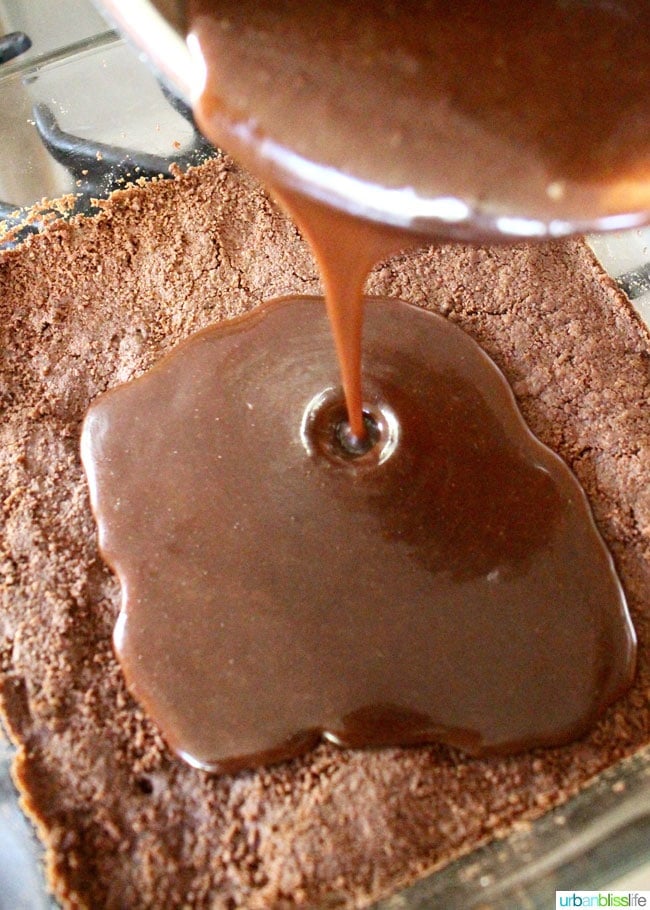 Then sprinkle pecan pieces or toasted pecan pieces over the caramel (before it sets). Since I can't have many pecans because of a food intolerance (I know: and it's fall! Pecan pie season!), I divided my batches in half: half with pecans and half without. Both are equally delicious!
Once the caramel and pecans have set, use a Brownie Spatula to make the task of lifting the bars out of the baking dish easier. You may not think you need a brownie spatula, but once you've used one, you may wonder why you've suffered through using regular spatulas for so long.
The perfect dessert for all occasions
These Salted Caramel Chocolate Bars are perfect for:
after-school snacks
brunch squad weekend dessert bites
late night fire pit red wine at-home date nights after the kids go to bed
teacher and staff gifts (check out some food gift packaging ideas!)
dessert for any night ending in "y"
I really loved the crunch of the shortbread because it's not too crunchy and it's not too soft.
There is a whole lot of chocolate going on in this dessert, which for me, makes it an ideal fall comfort dessert!
Ingredients
For the Shortbread Base
1

cup

136 grams all-purpose flour

1

?4 cup

21 grams unsweetened cocoa powder

1

stick

8 tablespoons; 4 ounces; 113 grams unsalted butter, cut into chunks, at room temperature

1

?3 cup

67 grams sugar

1

?4 teaspoon fine sea salt
For the Caramel Topping
1

cup

200 grams sugar

2

tablespoons

water

1

tablespoon

light corn syrup

1

?2 cup

120 ml heavy cream, at room temperature (or slightly warmed in a microwave)

2

tablespoons

1 ounce; 28 grams unsalted butter, cut into 3 pieces and very soft

1

?4 teaspoon fleur de sel or a good-size pinch of fine sea salt

2

ounces

57 grams bittersweet chocolate, finely chopped

About 1?2 cup

60 grams pecans, toasted and coarsely chopped
Instructions
Center a rack in the oven and preheat it to 350 degrees F. Generously butter (or spray) an 8-inch square pan.
To make the shortbread base:
Whisk together the flour and cocoa powder.

Working with a stand mixer fitted with the paddle attachment, or in a large bowl with a hand mixer, beat the butter, sugar and salt together on medium speed until smooth, about 2 minutes. Turn off the mixer, add the dry ingredients all at once and beat on low until the dough comes together. This will take a little longer than you might expect, so don't get discouraged. Give the dough a few last turns with a flexible spatula and scrape it out into the pan. Using your fingertips, pat the dough evenly over the bottom of the pan; press down and make sure to get the dough into the corners.

Bake the shortbread for 21 to 23 minutes, rotating the pan after 10 minutes, or until it is slightly darker around the edges and just starting to pull away from the sides of the pan; it will not feel completely firm if poked gently. Transfer the pan to a rack and allow the shortbread to cool completely.
To make the caramel topping:
Put a heatproof bowl close to the stovetop, along with a small bowl of cold water and a pastry brush (preferably silicone).

Put the sugar, water and corn syrup in a small saucepan or skillet and bring to a boil over medium-high heat. Allow the ingredients to bubble away, brushing down the sides of the pan with cold water if there are spatters and swirling the pan a couple of times once you start seeing some color, until the caramel turns a pale to medium amber. (Don't let it get as dark as mahogany.) Lower the heat, stand away from the pan and add the cream, followed by the butter and salt — ingredients that might cause the caramel to roil. Remove the pan from the heat, drop in the chocolate and, using a silicone spatula or wooden spoon, stir to blend.

Pour the hot caramel over the shortbread and sprinkle with the nuts. Allow to set at room temperature.

When the caramel is firm, run a table knife around the sides of the pan, care- fully unmold the cookie onto a rack and turn it over onto a cutting board. Using a long thin knife, cut 21 bars (cut into 3 strips and then cut each strip into 7 bars). Alternatively, leave the cookie whole and cut individual bars as needed.
Notes
Storing
When the caramel is fully set, the cookies (cut or intact) can be wrapped in plastic and refrigerated for up to 5 days. Remove them from the refrigerator about 10 minutes before serving.
Tried this recipe?
Please leave a star rating and comment! Then snap a pic of your dish and share it on social media. Tag @UrbanBlissLife and #UrbanBlissLife!
Nutrition information is a general estimate. Actual nutrition details may vary depending on the exact foods & brands you use to make this recipe. It does not take into account any substitutions, toppings, or optional ingredients.
More Cookie Recipes