Two of the most popular Thai dishes are often confused for one another. Here we break down the differences between these two traditional dishes: Pad See Ew vs Pad Thai.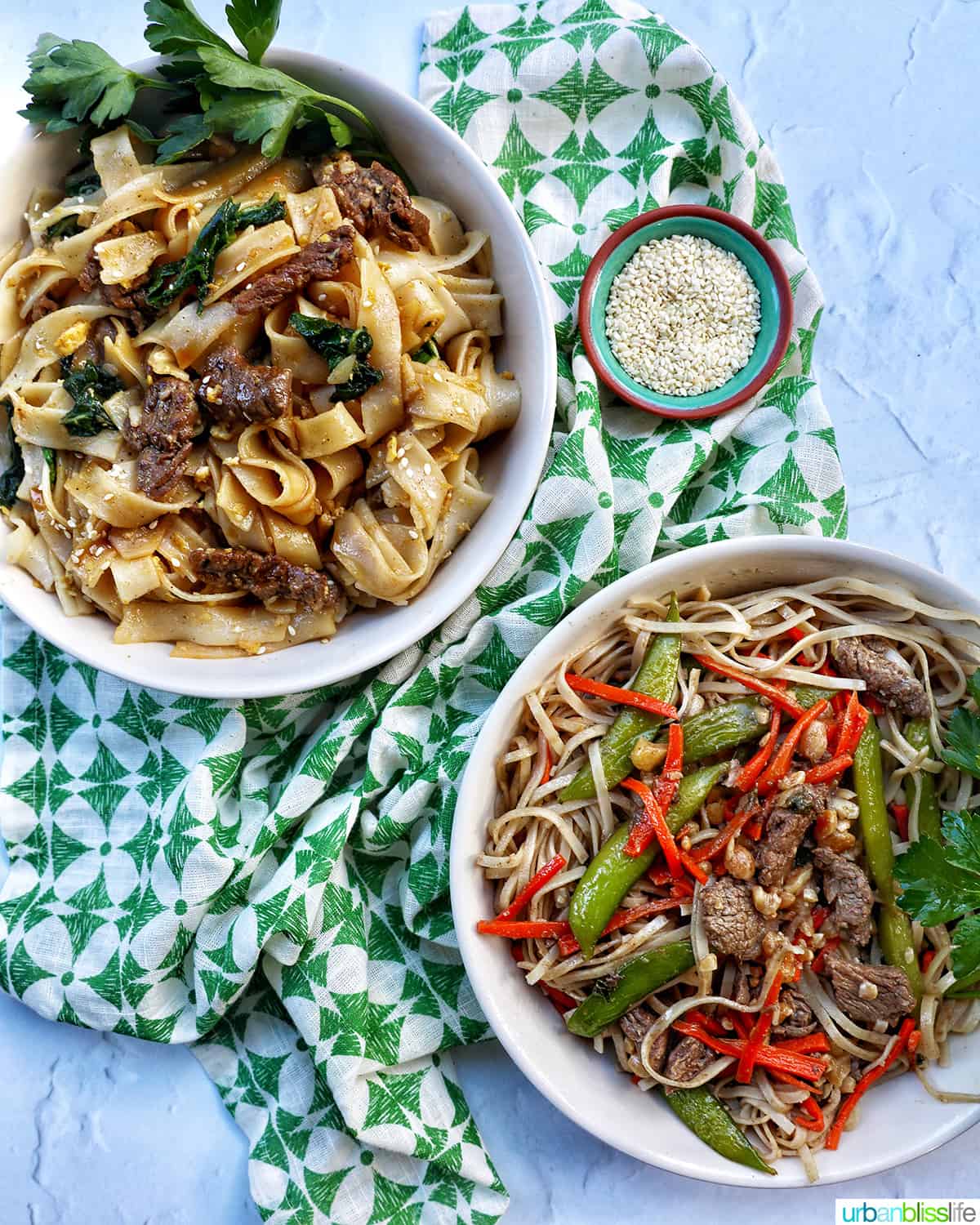 Pad Thai and Pad See Ew are two of the most popular noodle dishes served in Thai restaurants around the world.
There are some similarities between the two Thai dishes. There's a Chinese influence in the origin of both of these Thai noodle dishes. Both have a similar flavor profile. So chances are, if you like one, you will most likely also enjoy the other. However, there are some key differences that make each dish unique.
Let's talk about the differences between Pad See Ew vs Pad Thai.
Jump to:
First, let's talk about each dish separately.
What is Pad Thai?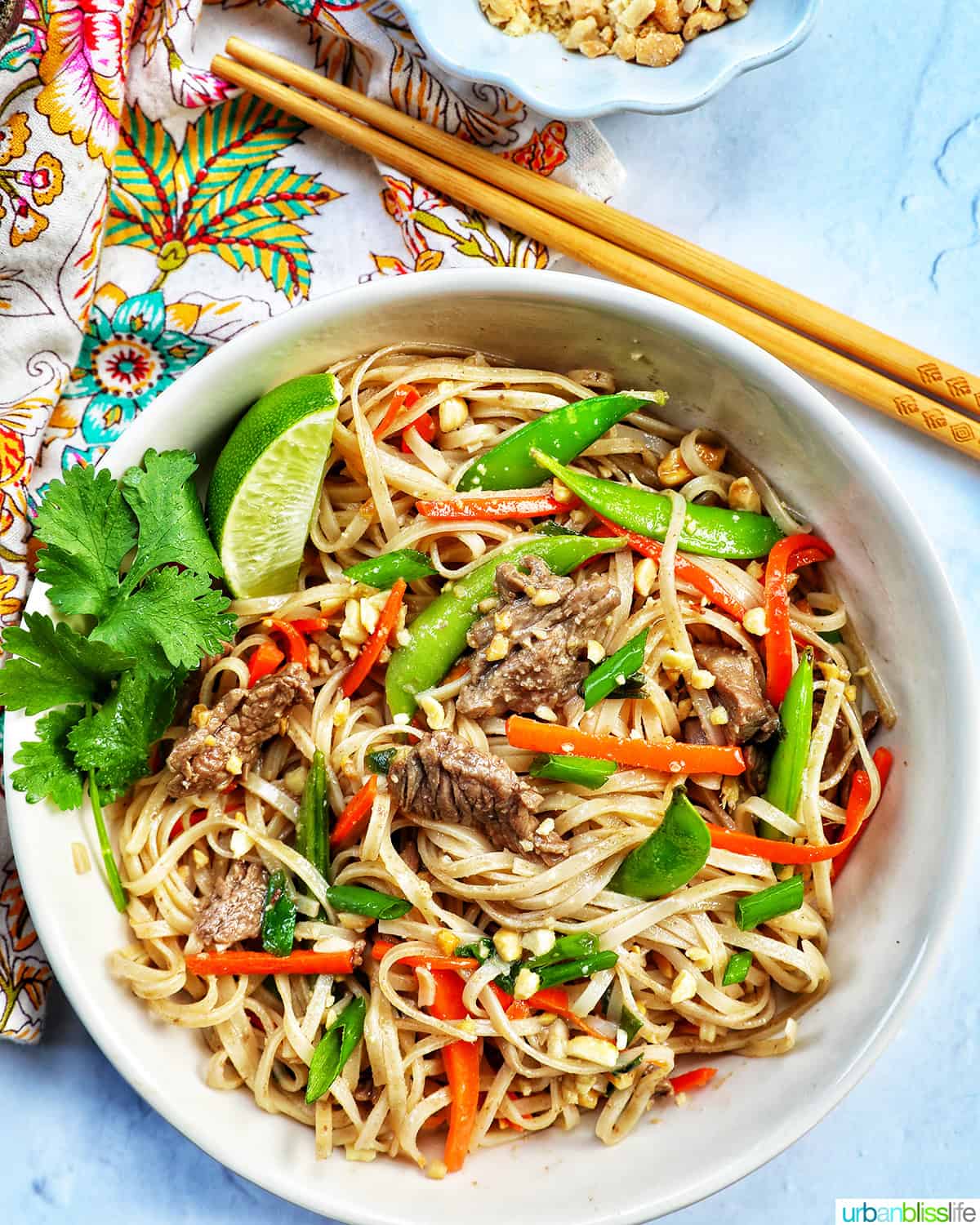 Pad Thai is the national dish of Thailand. It's a popular street food that is arguably the most popular Thai dish in the United States. It was invented in the 1930s as a way to stimulate nationalism among Thai people, and it quickly started being served in most restaurants throughout Thailand.
This traditional Thai dish has:
thin rice noodles
a protein (tofu, shrimp, or chicken, or beef are popular choices)
lots of thinly sliced or chopped vegetables
a tamarind-based sauce
It's easy to make Pad Thai at home. Try my Beef Pad Thai recipe, and read about the Best Pad Thai I ate in Thailand.
What is Pad See Ew?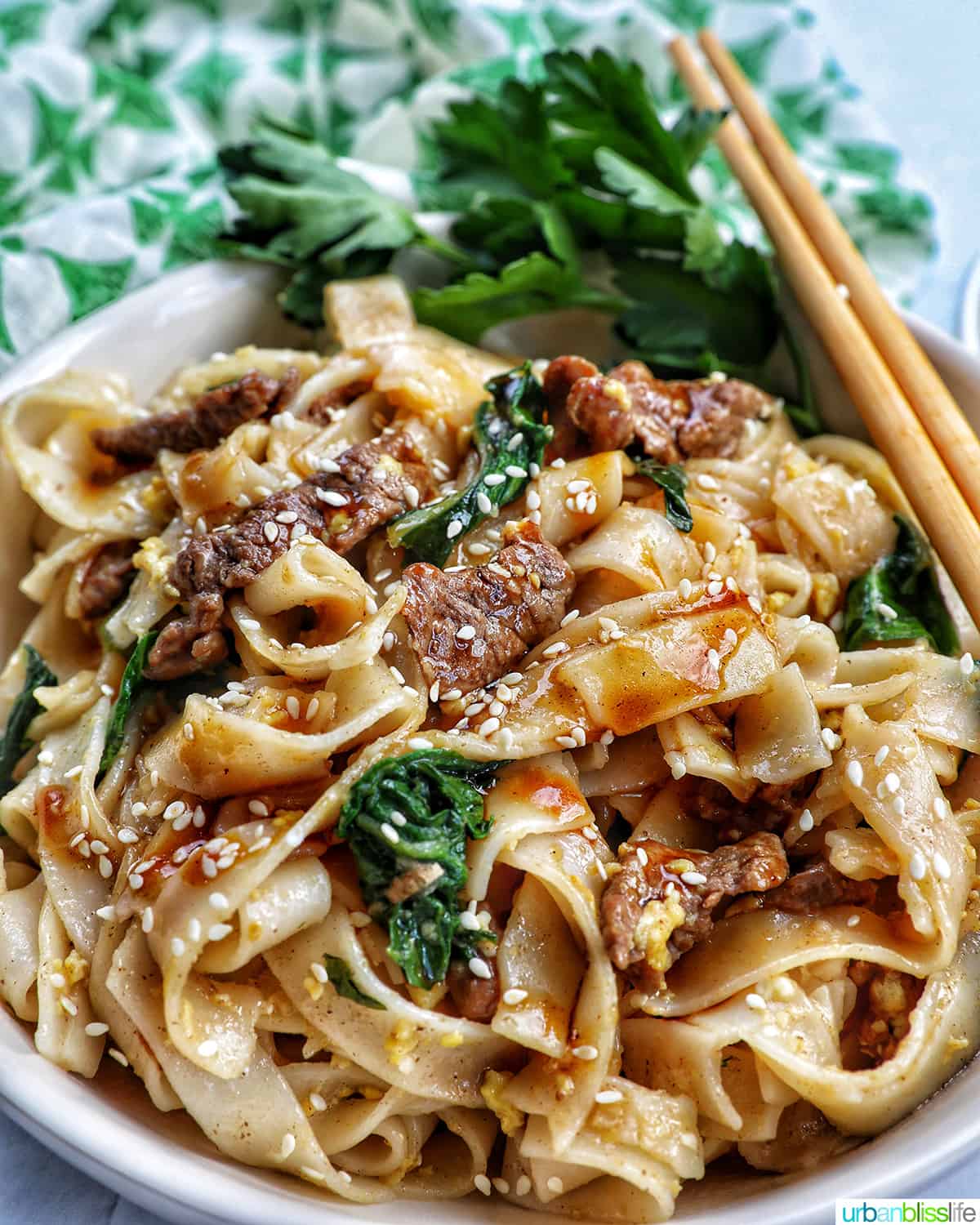 Pad See Ew is also a Thai noodle dish. It is also popular in Thailand and in Thai restaurants throughout the United States.
This popular Thai noodle dish is made with:
wider rice noodles
a protein (tofu, chicken, and beef are popular)
a soy sauce-based savory sauce
Chinese broccoli or bok choy
scrambled egg
Try my Beef Pad See Ew recipe and see just how easy it is to make this delicious Thai dish from scratch at home!
Pad See Ew vs Pad Thai
Here is a comparison of ingredients in Pad See Ew vs Pad Thai.
Protein
Both Pad Thai and Pad See Ew can be made with your choice of protein. You can use tofu for vegetarian noodle dishes. Seafood such as shrimp and crab are commonly used in both dishes. And chicken, pork, and beef are also common in both noodle dishes.
Vegetables
The vegetables used in Pad Thai vs Pad See Ew are slightly different, although you can technically make either of these dishes with almost any vegetable. Traditionally, Pad See Ew is made with Chinese broccoli (often substituted with bok choy). Pad Thai typically contains more vegetables than Pad See Ew, such as thinly sliced carrots, cabbage, bean sprouts, snap peas or snow peas, bell peppers, or even mushrooms.
Noodles
Perhaps the main difference that sets each dish apart is the type of noodles used. Pad See Ew is made with wide flat rice noodles. Pad Thai is made with thinner rice noodles.
Sauce
The sauces for these two Thai dishes are similar, with a few differences. Both include ingredients like oyster sauce, fish sauce, brown sugar, ginger, and garlic.
But Pad See Ew is traditionally made with a dark soy sauce, giving it a rich umami flavor that has more depth than Pad Thai. It's this soy sauce that's the base of Pad See Ew sauce, although you can substitute regular soy sauce. The wide rice noodles used in Pad See Ew help hold the richer sauce.
On the other hand, traditional Pad Thai is made with tamarind paste, which is not used in Pad See Ew sauce. Tamarind paste is sometimes tricky to find in regular grocery stores but easy to find in most Asian grocery stores. And you can use a dark or light soy sauce with Pad Thai. Lime juice is also used more in Pad Thai sauce than Pad See Ew.
Frequently Asked Questions
What's the best way to store leftovers?
For both Pad See Ew and Pad Thai, allow the dishes to cool to room temperature. Then place in an airtight container and refrigerate for up to three or four days.
Can I freeze Pad Thai? Can I freeze Pad See Ew?
While you can freeze both noodle dishes, both lose some flavor and texture when thawed and reheated. That said, you can freeze in a freezer safe airtight container for up to one month. To reheat from frozen: thaw completely in the refrigerator overnight, then reheat with a tablespoon of sesame oil or olive oil in a skillet until thoroughly heated through.
Can I reheat Pad Thai or Pad See Ew in the microwave?
You can reheat refrigerated leftover Thai noodles in a microwave. However, the noodles tend to be gummy and overly chewy when reheated this way. If you want to use the microwave, add a bit of water to the serving in a microwave safe dish and microwave in 45-second increments, stirring in between, until heated through.
🍽 Serving suggestions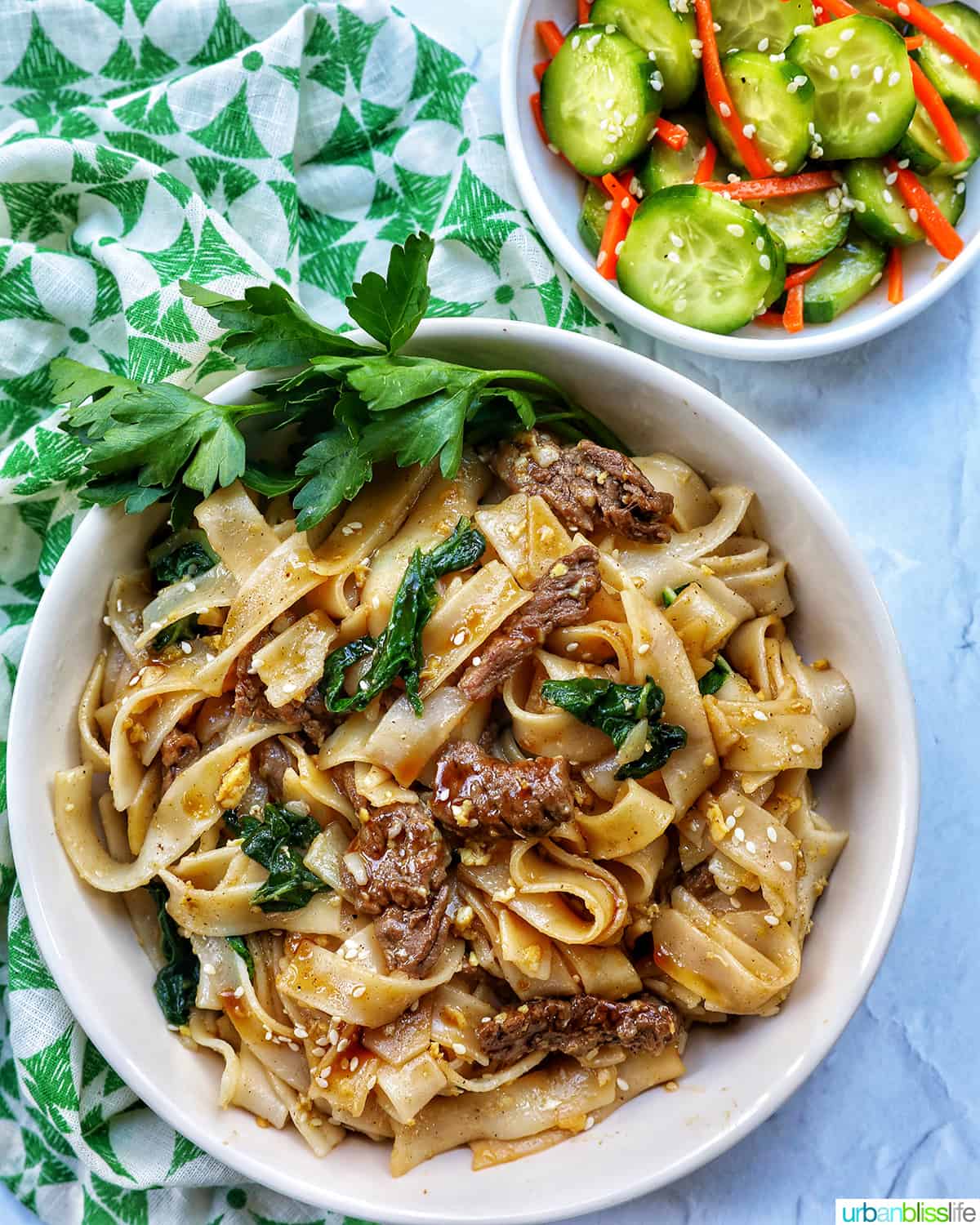 Both Pad Thai and Pad See Ew are delicious when served with Thai side dishes or other Asian-inspired dishes.
Try serving either noodle dish with:
🍷 Wine pairings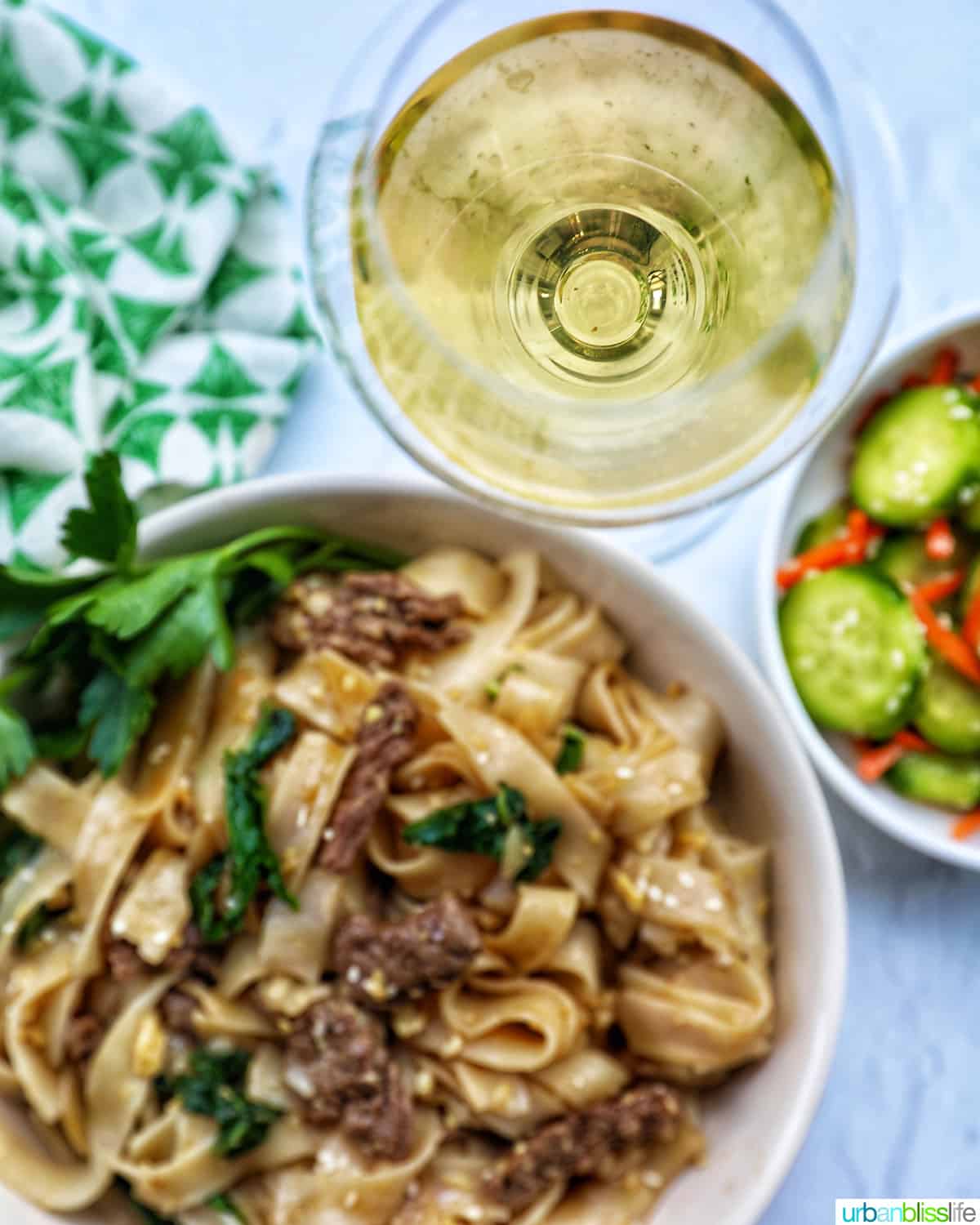 Both Pad See Ew and Pad Thai pair deliciously with light, bright refreshing white wines.
My top wine pairings for these Thai food dishes:
Sparkling wine - Almost any sparkling wine pairs well with Thai food. Try a Prosecco or Cava.
Chenin Blanc - Chenin Blanc wines usually have nice, bright acidity and are slightly sweet, which makes them ideal to pair with Thai cuisine.
Riesling - Choose an off-dry Riesling, which has bright acidity, tropical notes, and a little sweetness to help temper the spices often found in Thai food.
Pinot Grigio - If you want a white wine that's dry and still pairs well with Thai cuisine, try a Pinot Gris or Pinot Grigio. These wines have more subtle acidity and more citrus than tropical fruit notes.
Grüner Veltliner - This light, zesty, and acidic wine perfectly matches the flavors of Thai food.
For Pad See Ew in particular, I also suggest pairing an Oregon Pinot Noir. This dish has a richer sauce that pairs well with the bright fruit forward red wine.
Better than take-out recipes
Ready to make Pad Thai or Pad See Ew at home? Both of these dishes are fast, easy, and delicious to make from scratch in any home kitchen! You can make them in 30 minutes or less, and there are lots of alternative ingredient options for substitutions.
Did you make this recipe? Don't forget to leave a 5-Star 🌟🌟🌟🌟🌟 rating in the recipe card, and if you really loved it, please leave a comment further down on the page. Thank you!