This Orange Sorbet is one of the easiest summer treats to make. You only need a few ingredients to make this fresh, fruity, frozen dish.
During our recent Oregon-Idaho-Montana-Washington road trip, we visited quite a few fantastic eateries. One of my favorite food trends that seems to be continuing throughout the country is the boutique ice cream and frozen yogurt shop, focused on local ingredients and specialty flavors. In Missoula, we loved visiting Big Dipper Ice Cream, and while in Kalispell, Montana, we stopped in at Sweet Peaks Ice Cream.
It was so very hot in Kalispell. Too hot for dairy, apparently, for both of my kids. They immediately chose the orange juice sorbet, which was the only dairy free option at Sweet Peaks on this day, so that was my selection as well.
It was so tasty that the kids really wanted to make it when we got home.
And I can never say no to my kids' requests when it comes to trying new recipes from scratch in our kitchen.
Orange Sorbet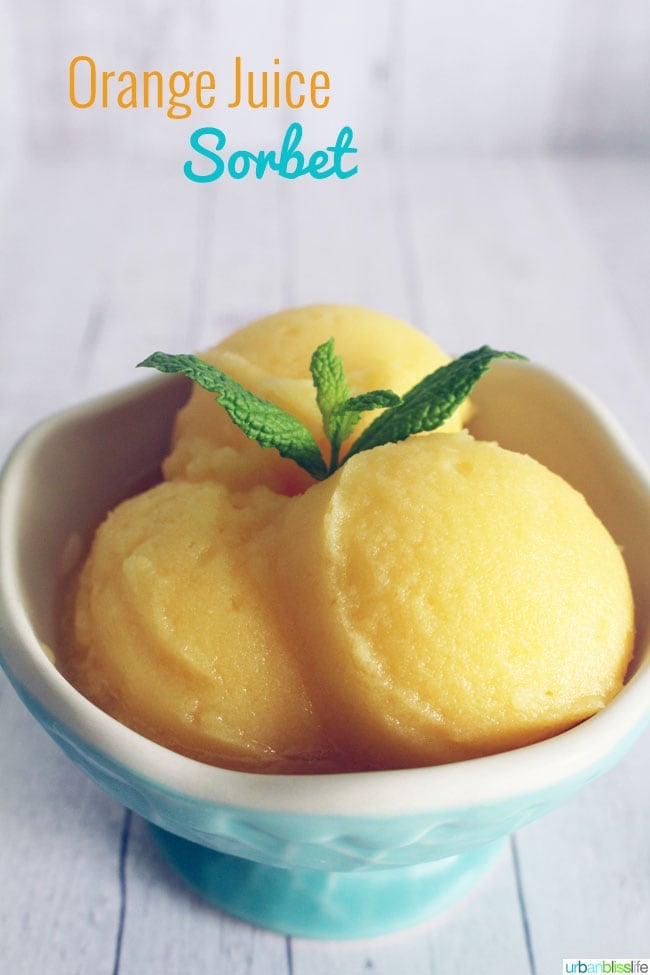 Our sorbet had less sugar but tasted just as sweet and summery as the orange juice sorbet my kids fell in love with in Montana.
Sorbet is one of the easiest summer treats to make in that it requires just a few ingredients, depending on the flavor you are going for. However, it can also be tricky: put too much sugar and your sorbet might come out slightly slushy-like; put too little sugar, and you might have a slightly icy sorbet. That said, if you're going to be THAT picky about sorbet instead of enjoying the flavor and coolness on a hot summer day, then my kids and I would be GLAD to take that imperfect sorbet off your hands. :)
We recreated the orange juice sorbet, and I have to say: it turned out pretty darn fantastic.
The orange juice was bright and citrusy and the simple syrup was just the right amount. There are some sorbet recipes out there that call for 6 cups of sugar (SIX! Whole cups of sugar! That's crazy talk, people!), but I have to say: we didn't use anywhere close to that much, and our sorbet did not turn out to be icy at all. It was just the right blend of ice, slush, sweetness, and citrus -- a nicely balanced sorbet.
Ingredients
1 ¼

cup

sugar

3

cups

water

2 1/14

cup

orange juice
Instructions
In a small sauce pot over medium-high heat, bring sugar and water to a boil, then turn down to low and simmer until the sugar is dissolved. This takes about 3-5 minutes. This creates a classic simple syrup that you can use in almost any sorbet recipe.

Remove simple syrup from heat and allow to cool.

Pour orange juice into a large bowl.

Once the simple syrup is cool, add to the bowl of orange juice and mix with a whisk gently until the sugar and orange juice are well blended.

Turn on your ice cream maker, pour the mixture through the top opening, and allow to do its magic according to manufacturer instructions. My ice cream maker turned the mixture into a lovely orange juice sorbet in 30 minutes.
Notes
Enjoy immediately, or store in an airtight container in the freezer for up to three weeks (if it will last that long without being gobbled up!).
You can go ahead and put up to three or four more cups of sugar if you really want to, but remember that the orange juice also has sugar in it. Trust me: you really don't need that much sugar to make a delightfully delicious sorbet!
By the way, if you're looking for a great ice cream maker, this is the ice cream maker that I use and love all the time (affiliate link).
Try it for yourself this weekend and enjoy!
Do you love sorbet as much as we do, and if so: what's your favorite flavor? If not, what's your fave ice cream flavor? If you don't like sorbet OR ice cream, then how on earth are we to be friends??? ;-) I'll give you a pass if you at least like frozen yogurt.