Looking for a perfect wine pairing with mushrooms? Try a big, bold Malbec wine!
I love cooking with mushrooms. Many times, I'll blend mushrooms with ground beef or ground turkey to help cut down on meat consumption. Recipes like my Teriyaki Low Carb Lettuce Wraps, Mexican Lasagna, and Loaded Pub Chips are some of my fave ways to cook with mushrooms.
Pairing wines with mushroom dishes can vary across the board. Depending on the lightness or heaviness of a dish, whether it has spice or cream... mushrooms pair well with a variety of wines, depending on the specific way it is prepared.
Jump to:
Pairing Malbec wine with mushrooms
If you're looking for a pairing for rich mushroom dishes, try a Malbec.
Malbec is a full-boded wine, abundantly found in Argentina. Its silky smooth texture and rich plum fruit flavors make it an excellent wine to pair with the earthy umami of mushrooms.
At the Malbec & Mushrooms Cook-Off for a Cause event in Portland, Oregon, three local chefs were tasked with creating the best mushroom dish to compliment the 2013 Catena Malbec.
Malbec & Mushrooms Cook-Off for a Cause
Plaza del Toro proved to be an excellent place to host the Malbec & Mushrooms Cook-Off for a Cause event. This private charity event featured Chef Dustin Koerner of Andina, Chef Chris Carriker of Bluehour, and Chef Carrie Merrill of John Gorham Restaurants.
All three talented chefs were tasked with developing mushroom-centric recipes that would pair well with the 2013 Catena Malbec. The chef of the winning dish would receive $3,000 to go toward his or her charity of choice; second place would receive $2,000 to the charity of his or her choosing; third place would get $1,000 toward his or her charity of choice.
Catena Malbec
The Catena family has been making wines in Argentina since Nicola Catena planted his first Malbec vineyard in 1902. Now, Nicola's granddaughter, Dr. Laura Catena, has taken the family's long history of winemaking to the next level. It was truly an honor to meet her at this event, and learn more about her family's wines.
The Malbec is absolutely delicious with strong, earthy food such as mushrooms. It's a deep garnet colored wine that has big fruit flavors and a silky smooth finish. It would stand up to a special occasion dish such as duck, rib eye steak, or rack of lamb.
In addition to the Malbec, Catena produces Chardonnay and Cabernet Sauvignon. All of their wines are distributed in the United States, and can be found in many restaurants and wine shops.
During the event, we were also give a taste of the Chardonnay, which is a lively, acidic white with bright citrus and floral notes.
Malbec wine pairing with mushrooms
We were each able to taste the three distinct dishes prepared by the chefs. I was blown away by how creative the chefs were in creating mushroom dishes that paired well with the Malbec.
Portland Chef Dustin Koerner of Andina made a Carapulcra con Puerco. This dish was comprised of Braised Pork Sirloin, Chicharron, with Carapulcra stew, Watercress and Citrus salad, and a Chanterelle and Lobster Mushroom Conserva.
When all was said and done, Chef Koerner's dish won second place. A $2,000 donation made in his name to his charity of choice, the Hacienda CDC.
Portland Chef Chris Carriker of Bluehour made a Porcini mushroom chip with cured duck, duck liver mousse, roasted maitakes, porcini and chanterelles. His dish was awarded with a $1,000 donation made in his name to The Feral Cat Coalition of Oregon.
The winning mushroom recipe
Congratulations to Portland Chef Carrie Merrill of John Gorham Restaurants for her winning dish: a Trio of Candy Cap Mushrooms.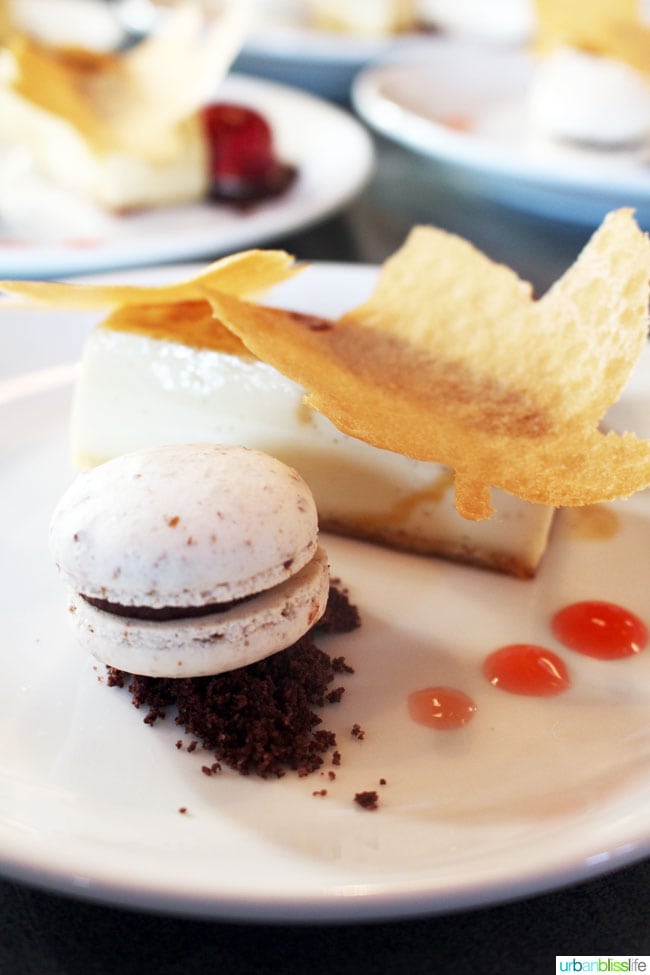 This stunning dessert consisted of a brûlée, macaron and the most beautiful, cherry red bon bon I have ever seen. I can attest: this truly was a delicious dessert deserving of the win.
Thanks to her win, $3,000 will be donated in Chef Merrill's name to Young Audiences of Oregon!
I normally only share original recipes that I create on this blog. However, I thought I would be remiss if I showed you all of these beautiful dishes without at least giving you ONE of the recipes.
Chef Carrie Merrill was very generous in sharing her recipe for the brulee portion of her winning Trio of Candy Cap Mushrooms dish. You'll definitely want a kitchen scale to weigh the ingredients. Paired with Catena Malbec, this could be a winning Valentine's Day dessert in your home as well!

Candy Cap Mushrooms Brulee
This winning recipe looks fancy and tastes amazing! It won the Catena Mushrooms Cook Off for a Cause event in Portland, Oregon.
PRINT
PIN
RATE
🤍 SAVE
Saved!
Ingredients
28

grams

Dehydrated Candy Cap Mushrooms

330

grams

Milk

670

grams

Heavy Cream

190

grams

Granulated Sugar

300

grams

Egg Yolk
Instructions
Bring Candy Cap Mushrooms and milk to a boil, turn off and let steep for 1 hour, then strain mushrooms

In the meantime measure out heavy cream in a medium sized container

Combine sugar and yolks together and set aside

Once the mushrooms are strained out, bring the milk back up to a boil

Temper hot milk in the yolk mixture then strain into the heavy cream

Pour into dishes and bake at 200 on a shallow sheet tray with a little bit of water for steam

Bake until brulee moves in one as on solid mass.
Tried this recipe?
Please leave a star rating and comment! Then snap a pic of your dish and share it on social media. Tag @UrbanBlissLife and #UrbanBlissLife!
Nutrition information is a general estimate. Actual nutrition details may vary depending on the exact foods & brands you use to make this recipe. It does not take into account any substitutions, toppings, or optional ingredients.