If you've ever wondered how to make an ombre cake, wonder no more! Here are step-by-step instructions for how to make one of these colorful, layered cakes of your own.
I made this cake for my daughter's recent birthday party, and I have to say: it was SO GOOD.
To make the cake, I adapted the cake recipe from Sweetapolita's Fluffy Vanilla Cake and used the frosting recipe from Add a Pinch's Classic Vanilla Buttercream Frosting recipe.
There are many, MANY cake recipes out there, so I thought for this post I would focus on the actual making of the ombre cake layers.
Here's how to create the layers of graduated color for an ombre effect.
What You Need
-Four 9" round baking pans. You can, of course, use more if you want to create more layers of colors.
-Parchment paper
-pencil
-scissors
-Powdered sugar
-Cake batter, using the recipe I linked to above or your own, divided equally into four medium bowls
-Wilton food gel coloring
-Toothpicks
-Patience
-Humor
-A whistle-while-you-work attitude
Okay, fine: those last three items are optional. However, they do make this somewhat time consuming process much more enjoyable! ;)
Step One: Trace
Place the baking pans onto parchment paper and, using a pencil, trace the outside of the bottom of each pan.
Step Two: Sugar Up the Pans
I usually wipe the inside bottom of each pan with a little pat of butter, just to keep the paper in place, then place one parchment paper circles onto the bottom of each pan.
Sprinkle each with a light dusting of powdered sugar. This helps ensure that the cake doesn't stick to the pan or the parchment paper. I have found that when I just use parchment paper on its own, the cakes tend to still stick. Plus: the powdered sugar adds a little extra sweetness to the cake, you know what I'm sayin'? ;)
Step Three: Icing
Once you've chosen the icing colors you would like to use, place a small toothpick full of color in one bowl. Then in the next, place double that amount of color. And so on, until you get a noticeable difference in color between the bowls. At first, they will look like this:
After you completely swirl the gel coloring into the batter as evenly as possible, it will look like this:
Step Four: Fill and Bake
Next, simply pour each bowl into a separate prepared baking pan. Bake according to your cake recipe's directions.
Then after each layer is done baking, remove the parchment paper and stack the layers from lightest to darkest. Most people put the lightest layer at the top and the darkest at the bottom, but you know what? You go with whatever order your heart tells you to, my friend.
I only put a thin layer of frosting between each cake layer, because I didn't want it to be TOO tall, and I wanted to have a nice outer layer of frosting.
I kept the decorations very simple on the outside: just the buttercream frosting (have I mentioned how much I love buttercream?) with rows of M & M's around the sides to match the interior cake layer coloring, and these adorable candles to match my daughter's My Little Pony Equestria Girls theme from Party Pail.
I was so happy with how this cake turned out. It was my first time making an ombre cake, and my whole family loved it. For us, it was well worth the extra effort!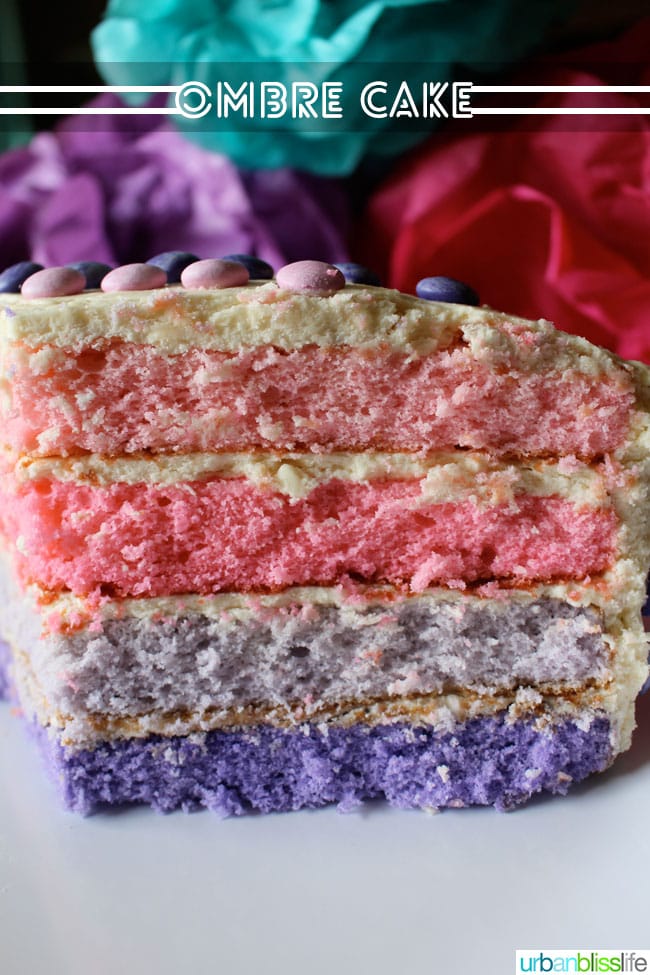 Have a great weekend, friends!
What colors would you use in an ombre cake? Have you made one before? Do you prefer buttercream frosting or fondant?