Succulent pork tenderloin is marinated in fall flavors then grilled to perfection in this recipe for Grilled Pork Tenderloin with Apples and Sage.
It was a bone chilling 35 degrees when I left for the gym before dawn the other day. Daylight was just starting to break through the darkness; the trees poked through the layers of fog as if they were stretching out their branches to greet the day.
I love the fall, but why is it so cold already?? I clearly could never live in Boston again, where 35 degrees in the coming months will be considered warm. My skin has been winterized enough to withstand mild Portland weather.
With the cold and the rain, our outdoor grill is now under cover. That doesn't mean we can't still enjoy the juicy bold flavors that only grilling can bring out. Earlier this week, during another rain-soaked, grey afternoon, I got to play with my latest kitchen toy: the Finex 15" Lean Grill Pan.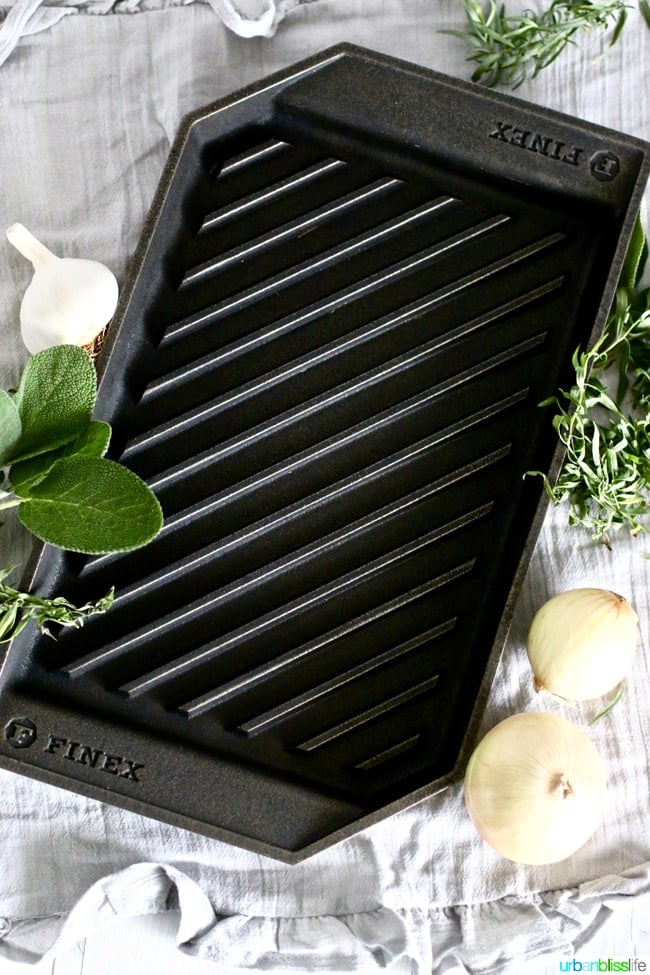 Isn't she SO pretty??! I love this grill pan so much already and can't wait to use it again for Sunday breakfast!
I decided to whip up some grilled pork tenderloin for this pan's inaugural adventure.
Grilled Pork Tenderloin with Hard Cider, Apples and Sage
I started by marinating the pork tenderloin in a mixture of hard cider, olive oil, fresh sage, garlic, salt and pepper.
Then I cut up some Granny Smith apples (but you can use any local firm apple for this), and grilled them up just enough to get some nice grill marks on each slice.
The grilled apples filled my kitchen with an AMAZING scent of fall!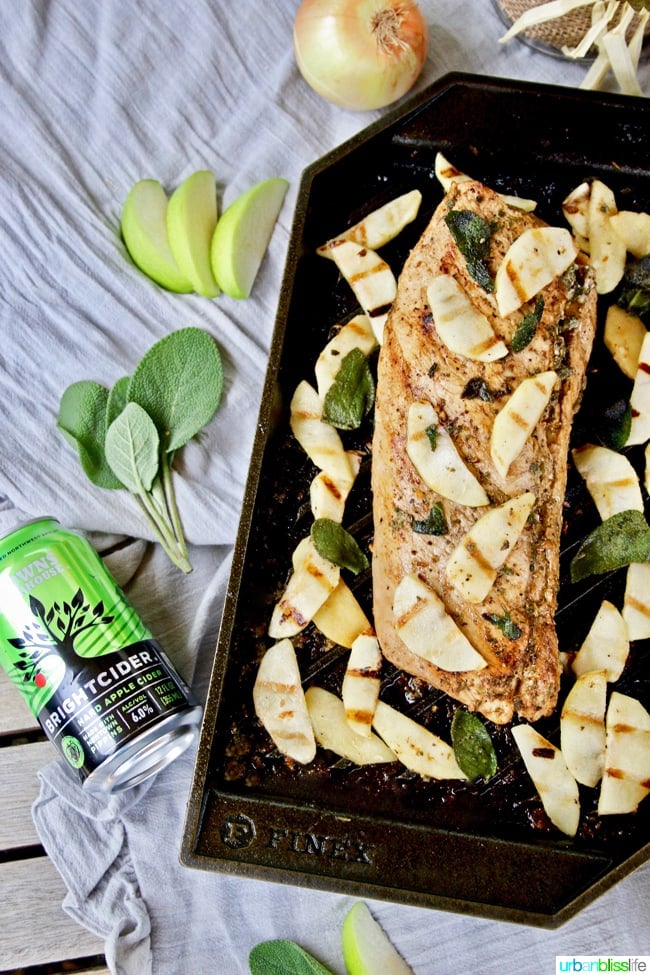 After removing the apples, I replaced them with the pork tenderloin on the grill pan.
I love how my new Finex Lean Grill Pan slats are wider than most grill pans -- they're true BBQ width! This made it super easy to clean afterward - not to mention, the domed drainage base channels excess fat away from the food, leaving the meat full of flavor without the fat.
The pork grilled up BEAUTIFULLY!
After the pork has nicely browned on each side, I finished cooking the pork by moving the grill pan directly to the oven.
Toward the end, I added fresh sage and the apples back to the grill while the cooked pork was resting, to allow the flavors to all meld together nicely for a few minutes.
This is an awesome grilled pork tenderloin dish to make on a cold fall or winter night. The hard cider combined with the fresh grilled apples makes this dish SING of fall flavors! And the sage adds an earthy savory touch to each bite.
And the best part: you get the big, juicy flavors of grilling but can do so indoors, with a grill pan!
Grilled Pork Tenderloin with Hard Cider, Apples and Sage Recipe
Ingredients
Instructions
Add hard cider, olive oil, sage, and garlic in a large ziplock bag, and add the pork tenderloin. Marinate in the refrigerator for at least 1 hour.

Meanwhile, slice the apples.

Heat a grill pan over your stove over medium heat. Brush 1 Tablespoon olive oil over grill pan.

Using tongs, add apple slices to grill pan and grill each side until you get nice grill marks (takes just about 1-1 minutes per side). Remove apple slices and set aside on a plate.

Heat oven to 400 degrees.

After the pork has marinated for at least 1 hour, remove and grill for about 6-7 minutes on each side.

Once each side is nicely browned, move grill pan to the oven and roast for about 10 more minutes.

Remove from oven and let rest for 10 minutes before slicing. Serve immediately.
Tried this recipe?
Please leave a star rating and comment! Then snap a pic of your dish and share it on social media. Tag @UrbanBlissLife and #UrbanBlissLife!
Nutrition information is a general estimate. Actual nutrition details may vary depending on the exact foods & brands you use to make this recipe. It does not take into account any substitutions, toppings, or optional ingredients.
Thanks to Finex Cookware for partnering with me on this post! All opinions and photos are, as always, my own.