Your dog will love these watermelon blueberry yogurt frozen dog treats! And you'll love how easy they are to make!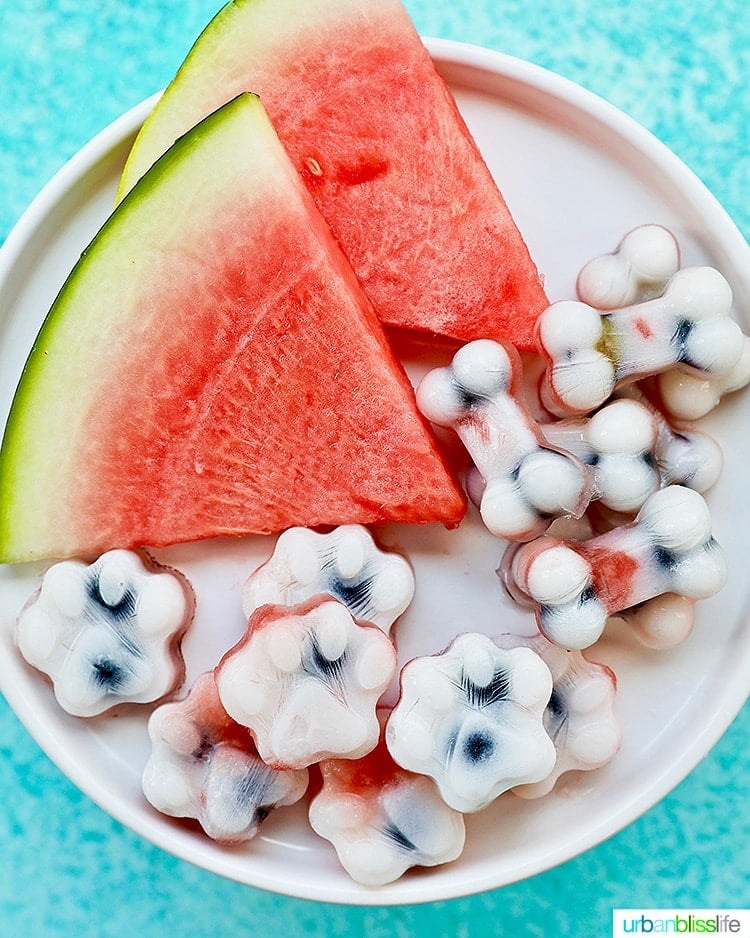 We love making homemade dog treats for our pups.
Many of you know that we currently have a sweet, snuggable 11-month old Black Lab Retriever named Ace. You can follow his @UrbanBlissDog adventures over on Instagram!
Ace has SO much energy, and needs a lot of food because he just burns through it all.
Frozen Dog Treats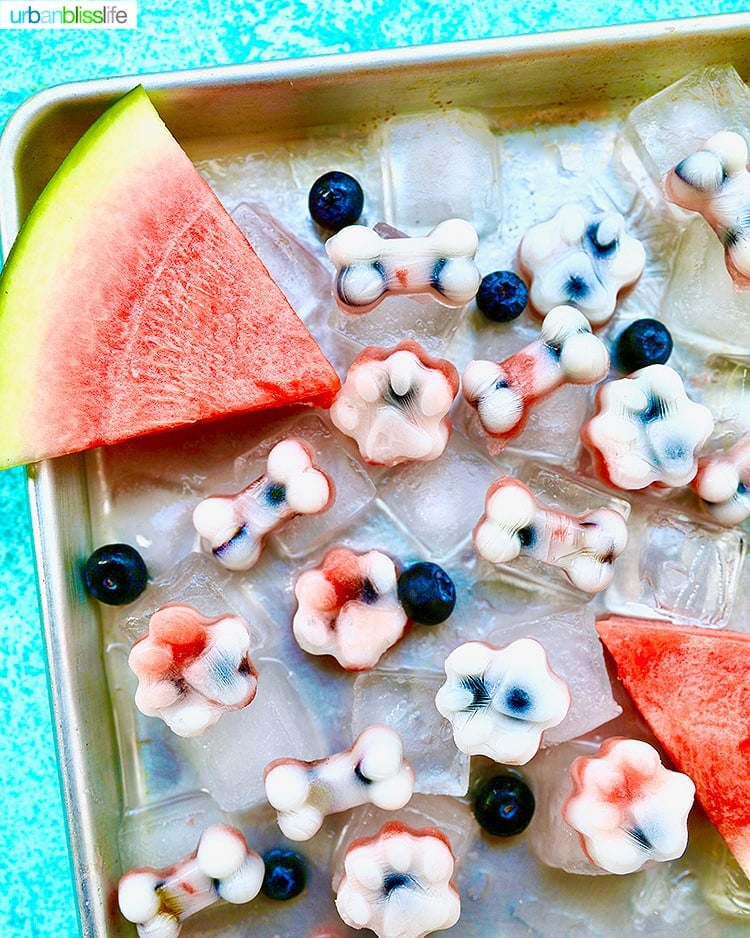 We've always been a dog family, and we've always loved making homemade gourmet dog treats. Our former dogs loved the Frozen Peanut Butter Dog Treats.
When our old pup Kirby had to go grain-free, we would make these Peanut Butter Pumpkin Grain-Free Dog Treats.
If you're looking for a fun birthday treat to celebrate your pup's birthday or other holidays, try these Peanut Butter Pupcakes. Or make this fun Dog Pretzels recipe!
Can I give my dog watermelon?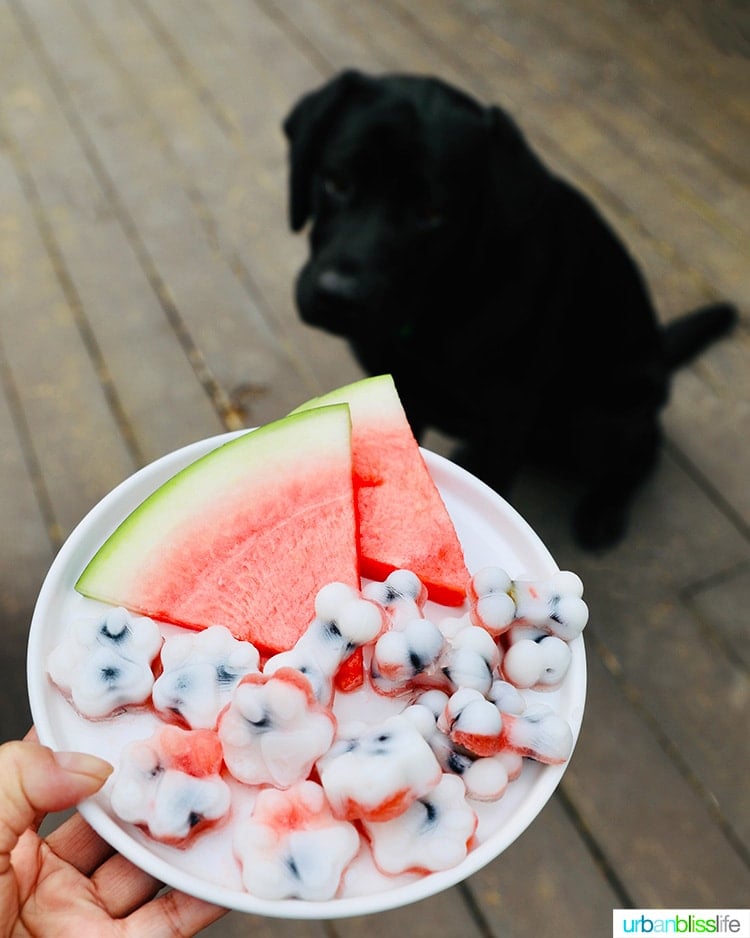 Yes! Watermelon is a healthy all-natural treat for your dog! Just be sure to buy the seedless watermelon.
Watermelon consists of 92% water. Especially during warmer months, fresh cut watermelon can be a yummy snack to help ensure your dog remains hydrated.
Are blueberries okay for my dog to eat?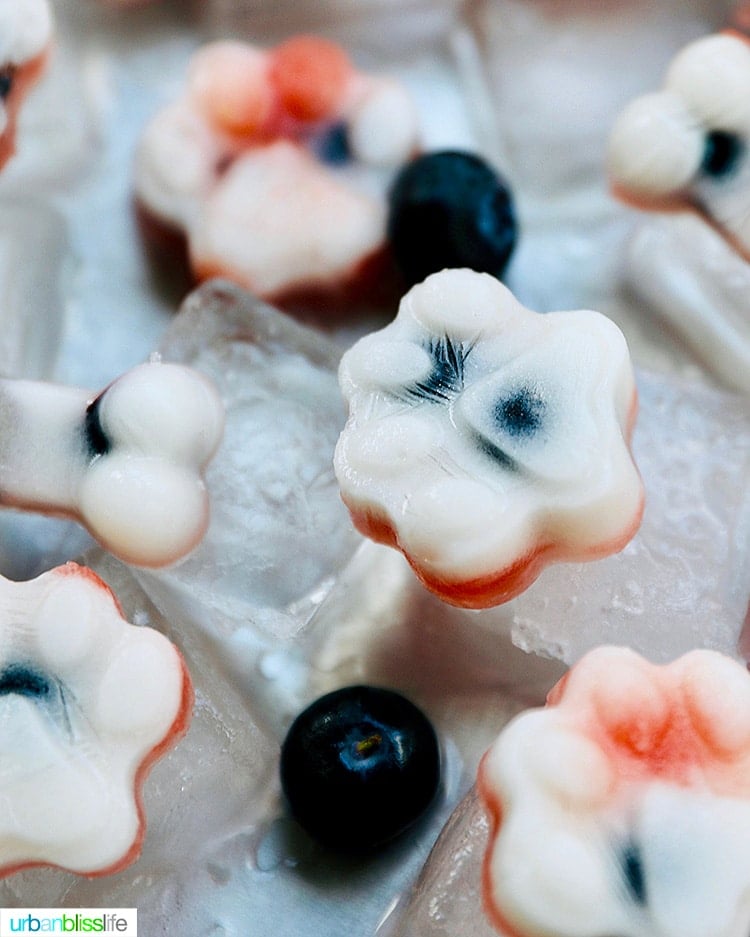 Like watermelon, blueberries are a healthy fruit that dogs can snack on. Rich in antioxidants, Vitamin C, fiber, and low in sugar, most dogs will enjoy snacking on blueberries now and then.
Can my dog eat yogurt?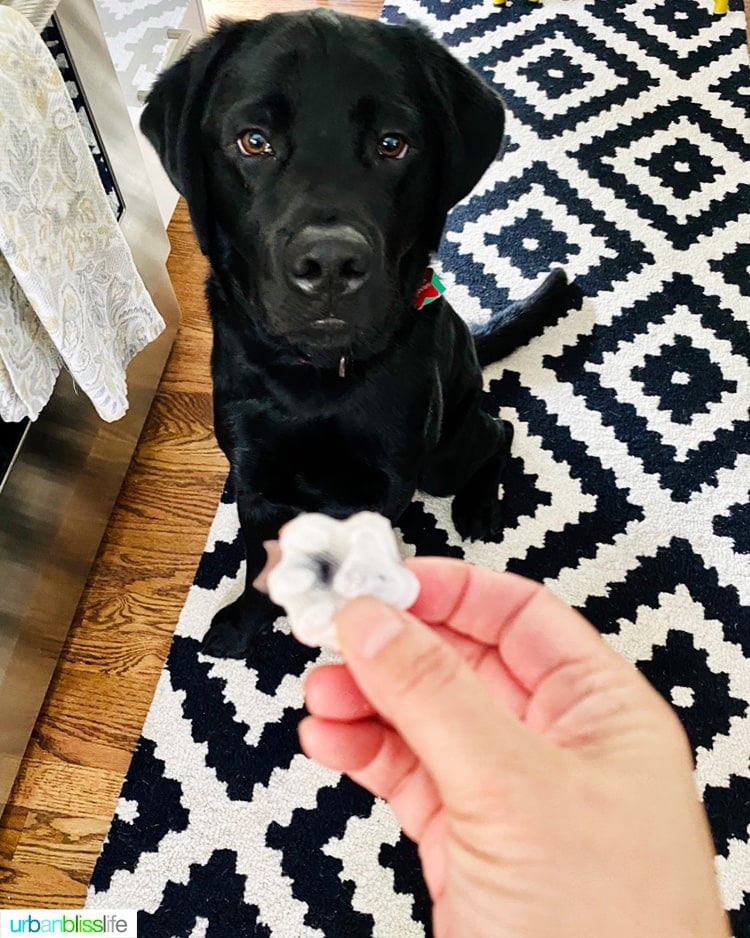 Most dogs are able to tolerate a small amount of yogurt. Yogurt tends t be high in calcium and protein. It can also act as a probiotic, which can be good for your dog's digestive system.
However, there are some important factors you should be aware of before feeding your dog yogurt.
Make sure you do NOT feed your dog any yogurt that contains xylitol. This is an artificial sweetener often found in human food that is toxic for dogs!
You will also want to only feed your dog plain yogurt with no added sugar.
Once you confirm that the yogurt is plain with no added sugar, and does NOT contain xylitol, then you most likely can safely feed your dog a small amount of that yogurt.
VERY IMPORTANT NOTE: please be sure to speak with your dog's vet whenever you introduce any new foods to your pet's diet. Every dog is different, and your special dog may or may not be able to tolerate some of the same food other dogs can.
How do you make watermelon dog treats?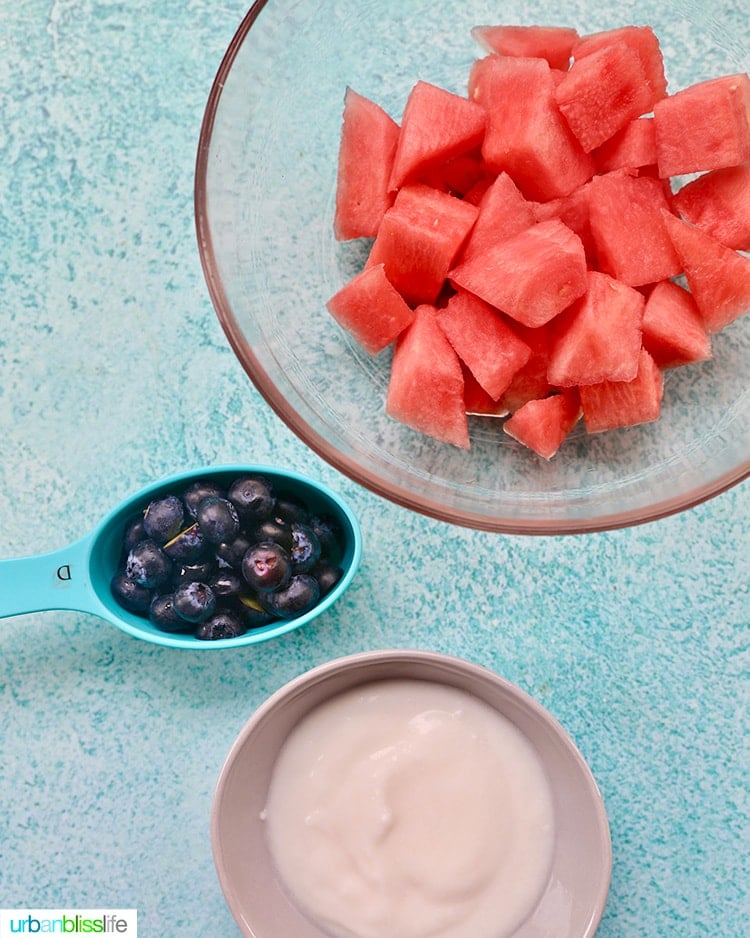 Start by measuring out the ingredients. You just need watermelon, blueberries, and plain yogurt (see printable recipe card below for full measurements and instructions).
Then blend the watermelon in a blender.
Spoon yogurt into each mold, just enough to cover the bottom.
Place 1-3 blueberries in each mold on top of the yogurt.
Slowly pour pureed watermelon into each mold. Fill up to the top.
Carefully place molds into the freezer for at least two hours, until all of the treats are fully frozen.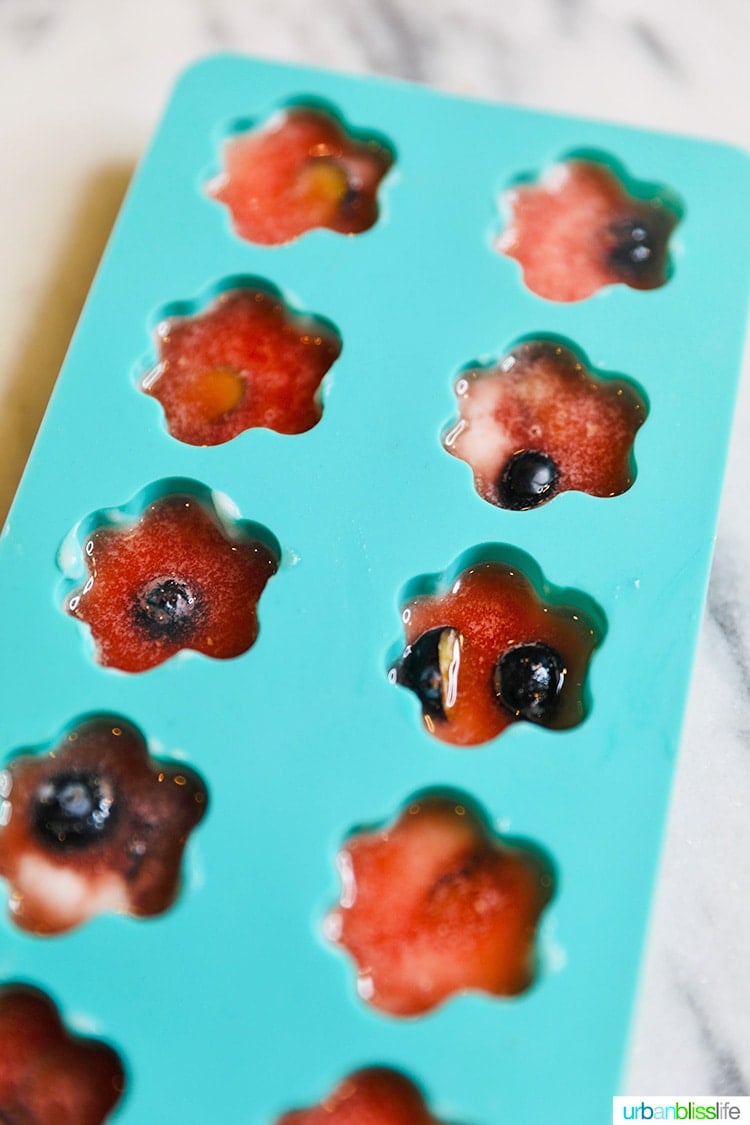 When you're ready to serve, simply pop individual treats out of the mold and feed to your pup!
Watch the YouTube video of how to make these homemade dog treats!
Urban Bliss Life Recipe Tips
Some tips to help you make these yummy homemade frozen dog treats:
Use seedless watermelon and puree until it's the consistency of a slushie.
Blueberries are small and most don't need to be cut up. However, if you have a particularly small breed dog, you may want to cut them in half just to be safe.
Transferring the watermelon puree into a smaller measuring cup with pour spout or any other small jug with pour spout will help prevent spills. If you try to pour directly from the large blender pitcher, you're more likely to spill over the molds too quickly.
Depending on the size of your molds, you may or may not have ingredients leftover. Simply assemble them into plain ice cube trays for more frozen treats for your dog!
More homemade dog treat recipes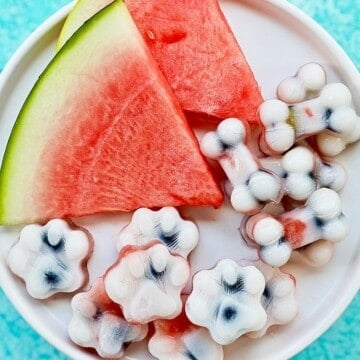 Frozen Watermelon Dog Treats
These frozen dog treats have yummy and healthy watermelon, blueberries, and yogurt. So easy to make!
PRINT
PIN
RATE
🤍 SAVE
Saved!
Ingredients
2

cups

chopped seedless watermelon

¼

cup

blueberries

1

cup

plain yogurt
Instructions
Puree the watermelon in a blender, and set aside.

Spoon a small amount of yogurt Into each mold, just enough to cover the bottom.

Place 1-2 blueberries in each mold.

Pour watermelon puree into each mold just until it reaches the top.

Freeze for at least two hours. Once frozen, gently pop each frozen dog treat out of the molds, then feed to your dog.
Notes
Remember that every dog is different. Some dogs have more delicate tummies and/or require different types of food. Please be sure to check with your dog's vet if you are unsure whether your dog can eat the ingredients in any dog treat recipe.
You may have some of each ingredient leftover, or you may need more, depending on the size of your silicone molds and the amount you are making. As is, this recipe makes approximately 28-35 frozen dog treats, using the dog paw silicone mold and the dog bone silicone mold pictured here.
Once frozen, you can gently pop the frozen dog treats out of the molds and place into a freezer safe container. Cover, and keep frozen for up to 2 months. Take out a few treats at a time when you are ready to treat your awesome dog.
Tried this recipe?
Please leave a star rating and comment! Then snap a pic of your dish and share it on social media. Tag @UrbanBlissLife and #UrbanBlissLife!
Nutrition information is a general estimate. Actual nutrition details may vary depending on the exact foods & brands you use to make this recipe. It does not take into account any substitutions, toppings, or optional ingredients.
PIN IT: