Happy Election Day!
I love elections, and over the years I love watching my kids get more and more interested in the process. Tonight, my seven year-old exclaimed, "I wish I could vote!"
Indeed. Everyone in this great country has the ability to make a difference. Make no mistake: casting your vote DOES matter!
During the last Presidential Election, my kids colored a free printable US Election Map that I designed. When the states were called on the news as Democrat or Republican for each state, the kids would color in that state.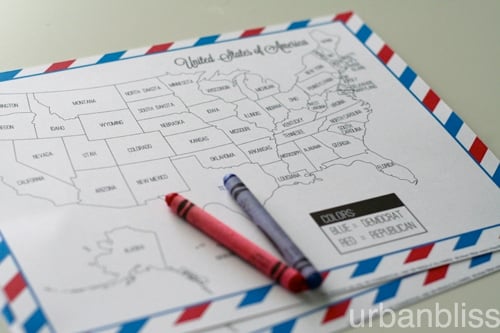 Even though it's the mid-term election, you and your kids can still get into the election spirit together with this free printable Election Map as they call the hotly contested senate seats for each state!
CLICK HERE TO DOWNLOAD THE

FREE ELECTION MAP

from Urban Bliss Life

Happy Election Day, fellow US voters!
CLICK HERE TO DOWNLOAD THE

FREE ELECTION MAP

from Urban Bliss Life