From grab-and-go snacks to a lovely dinner overlooking the pier, you'll find lots of variety in this Food Guide for What to Eat at Disneyland's Pixar Pier.
Pixar Pier Restaurants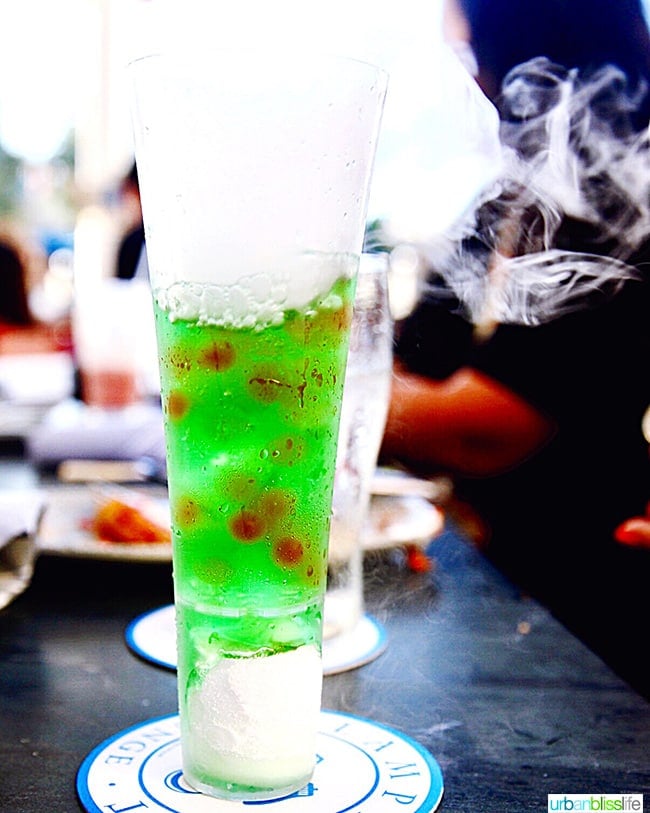 Along with almost guaranteed fun, it's a sure bet that you won't go hungry visiting Disneyland, either.
Disneyland's Pixar Pier destination, one of the newer areas at Disneyland California Adventure, features four distinct neighborhoods. Each neighborhood is centered around a different theme based on a Disney Pixar movie. You can read all about Disney's Pixar Pier neighborhoods, attractions, and rides in my previous blog post.
Throughout Pixar Pier, you'll find several food and beverage options - from grab-and-go treats to the sit-down Lamplight Lounge.
Jump to:
Lamplight Lounge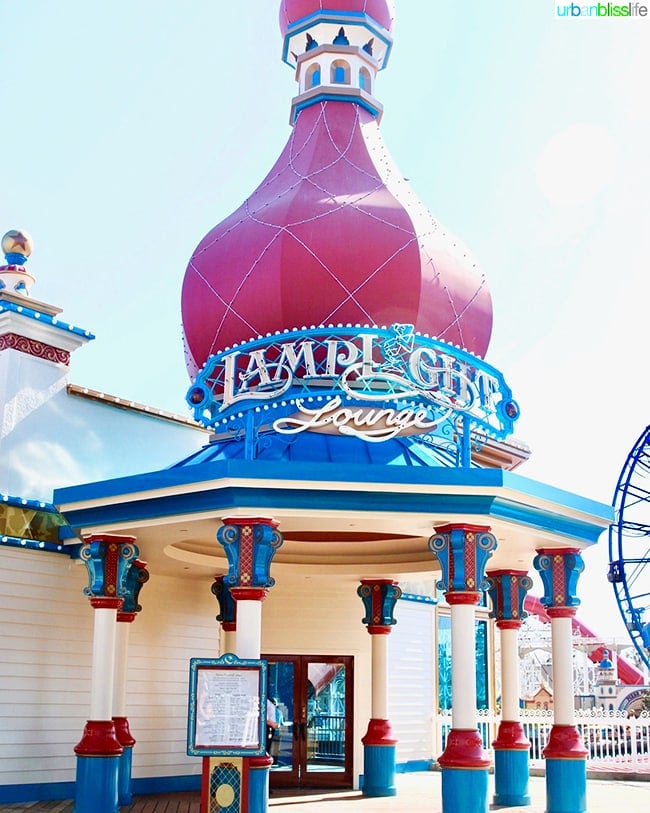 At the entrance of Pixar Pier is the section's large sit-down restaurant" the Lamplight Lounge. With its impressive ornate columns outside and Pixar sketches throughout the restaurant, the space retains a gastropub-meets-Disney feel.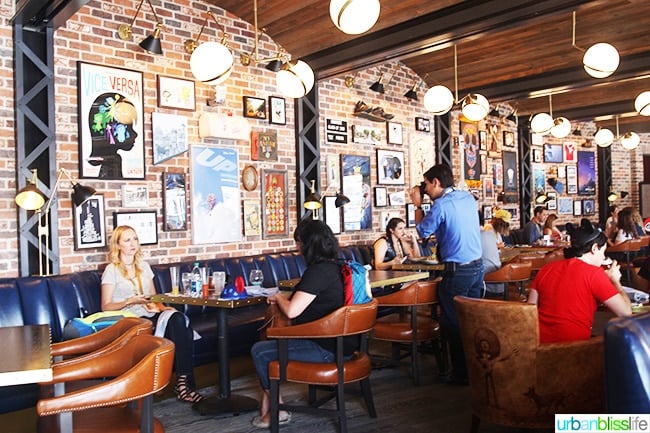 There's plenty of seating indoors and outside at the Lamplight Lounge. If you are seated outside, you can have a great view of the whole Pixar Pier, depending on where you are sitting.
Lamplight Lounge drinks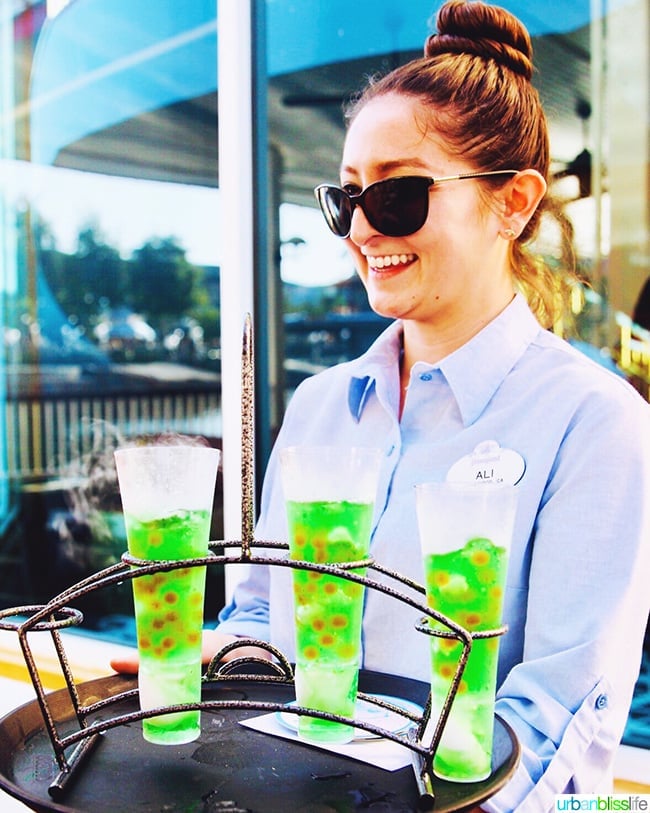 As you can imagine, many of the food and drinks here have ties to Pixar movies and characters. The non-alcoholic bubbling drink above is the Infinity Fuzz ($7), a nod to Buzz Lightyear. The dry ice underneath the drink causes the Powerade® Mountain Berry Blast, Apple Juice and Cherry Pearls to bubble up for several minutes. It's definitely a show-stopping drink!
Starters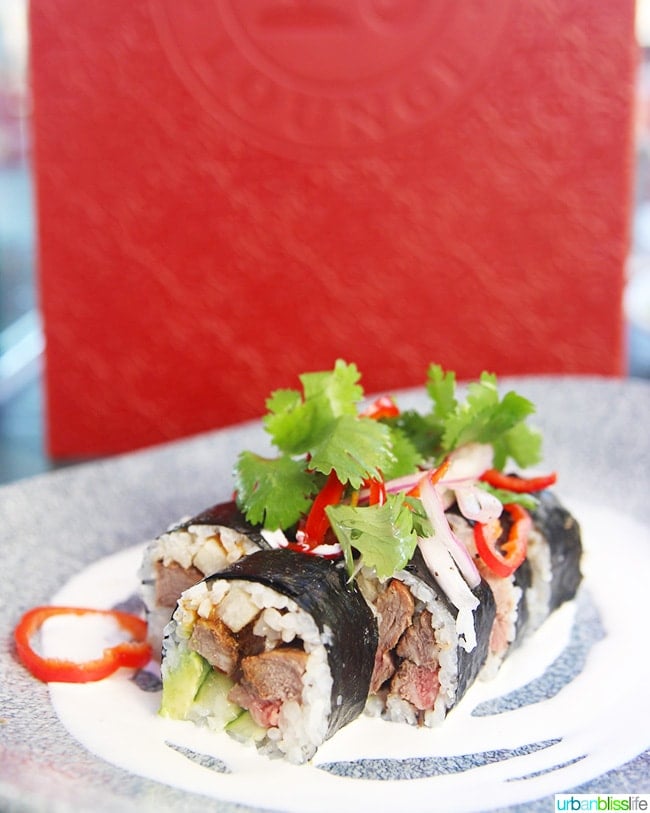 For a shared starter, or even for your meal, the Carne Asada Roll ($17) is an unexpected twist on a sushi roll. Stuffed with Grilled New York Strip Steak, Fresno Chili Salsa, Escabèche, Toasted Nori, and drizzled with Crema, it's a delicious dish that is mild enough for everyone to love.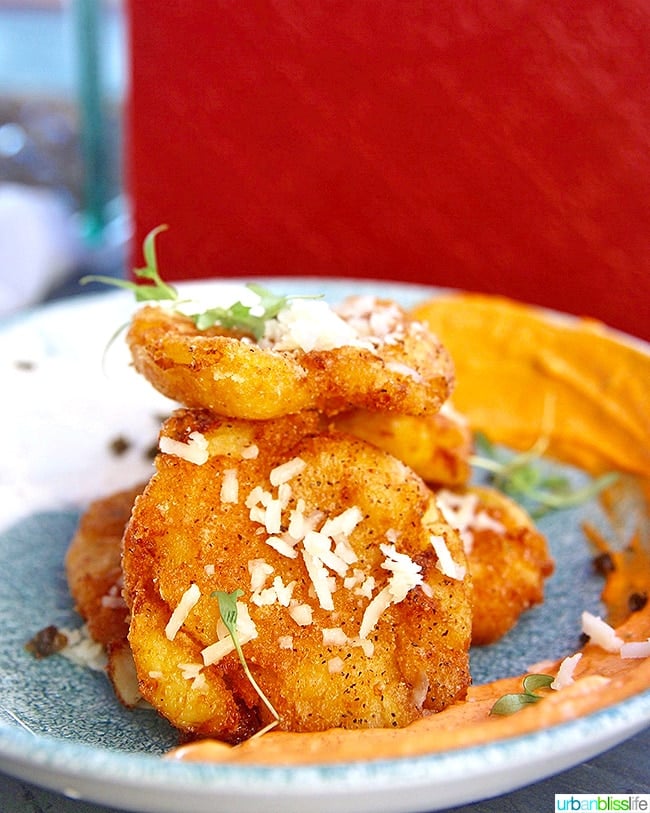 Another yummy starter are the Potato Skins ($14). These are crispy smashed Yukon Gold Potatoes with Brown Butter-Caper Yogurt, Smoked Paprika Aïoli, and Manchego Cheese.
Entrées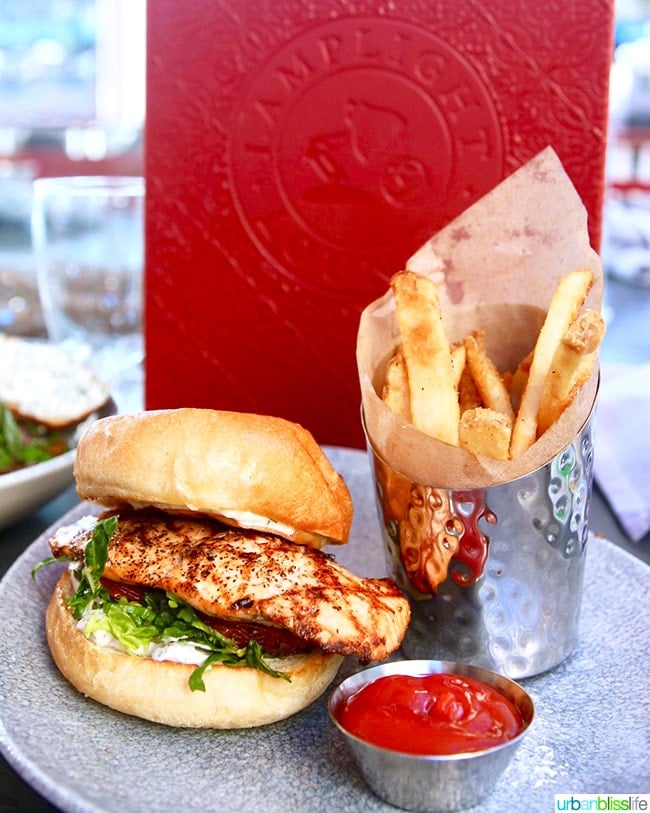 For a main dish, I really enjoyed my Salmon PLT ($23). Grilled Salmon with crispy Pancetta, Romaine Lettuce, Roasted Plum Tomato, Lemon-Bacon Aïoli, and Toasted Focaccia served with Malted Fries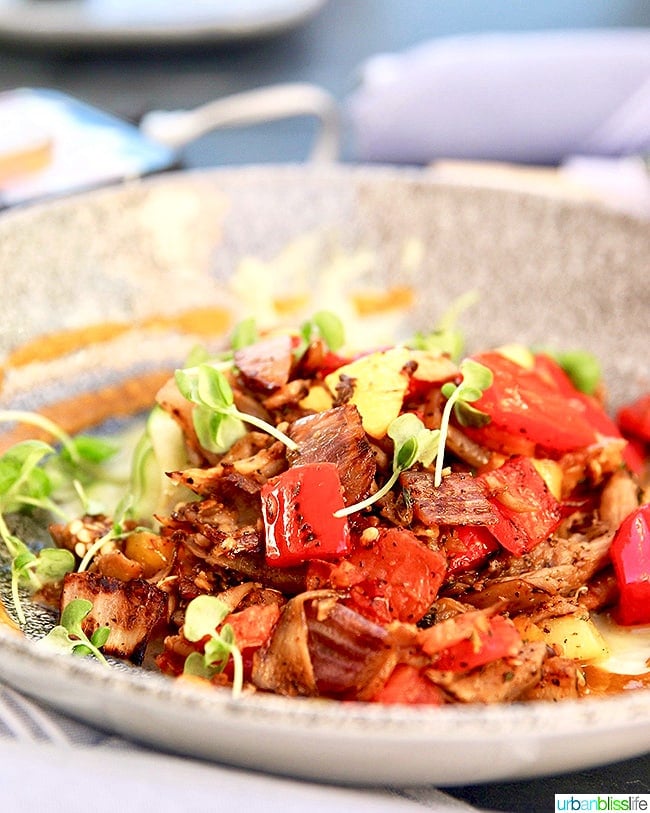 The Ratatouille ($19) dish is an elevated version of this traditional French countryside dish. With Roasted Eggplant and Bell Pepper Ragoût with Zucchini Noodles, Burrata Cheese, Mushrooms, Smoked Tomato Sauce, and Basil Aïoli, it's a beautiful and delicious entrée.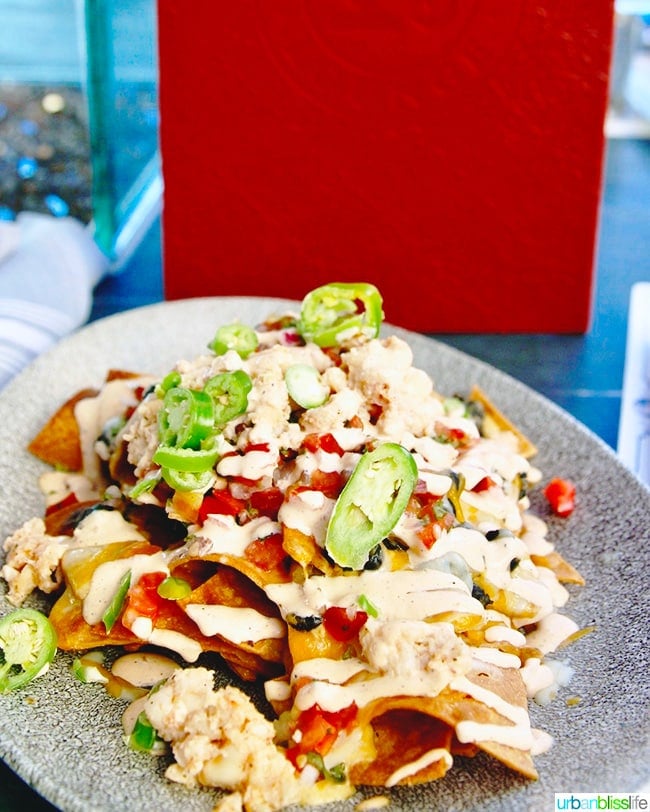 Those of you who dined here before Pixar Pier may recall The Cove's famous lobster nachos. Well, the Lobster Nachos ($20) is the only dish to return from the original menu, and it's just as popular at the Lamplight Lounge as it was back in the day.
This is a huge pile of chips topped with warm Lobster with Black Beans, Aged Cheddar-Oaxaca Cheese Sauce, Pico de Gallo, and drizzled with Chipotle Crema. It's listed in the Starters section and is a fantastic starter to share among friends and family, but this can also easily be your main dinner, too.
Dessert
For dessert, go for the warm, fluffy Donuts ($9), which come with chocolate and raspberry dipping sauces. Such a sweet way to end a meal at the Lamplight Lounge!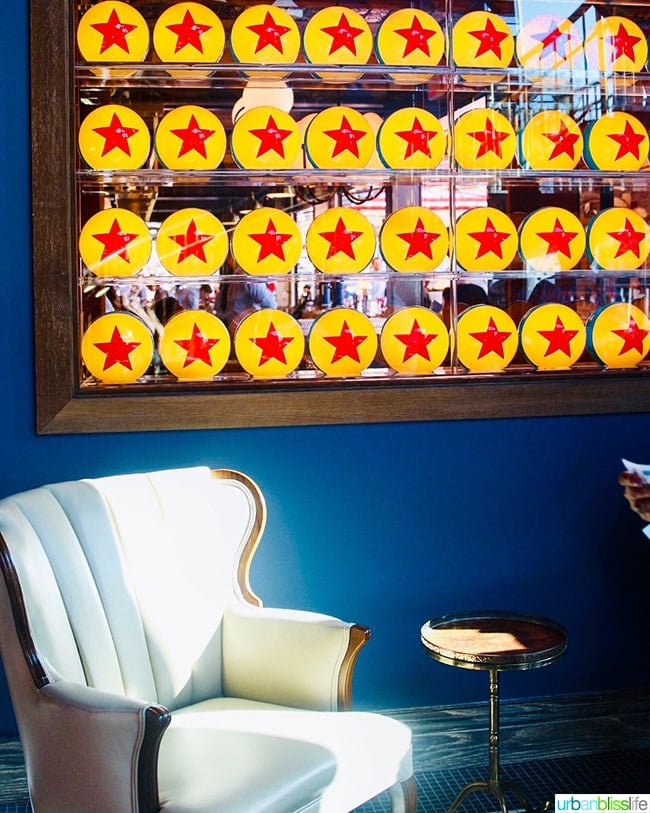 Disney lovers of all ages will adore the special Disney Pixar touches throughout the restaurant. Because this is the largest formal restaurant in Pixar Pier, and a popular new restaurant for Disney lovers to visit, I highly recommend you make reservations in advance of your trip. You can make reservations as early as up to 60 days in advance!
To see the full menu and to make reservations, visit the Disneyland Resort website or call (714) 781-DINE (714 781-3463).
Poultry Palace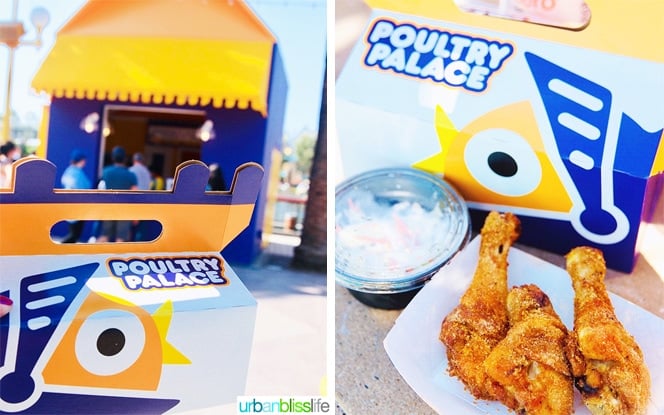 I have to admit: the Pixar connection stumped me on this one. What does the Poultry Palace have to do with any of the Pixar movies? Can you guess without jumping ahead?
Apparently, it's based on the Toy Story Toons short 'Small Fry.' Do you remember that one?
At Poultry Palace, I ordered a Drumstick Box with coleslaw. The breading feels very 1980s to me and I loved every bite of this chicken! The slaw wasn't bad either. I think the next time, I'll have to try the Chili-Lime Corn on the Cob too. Doesn't that sound so yummy?
Señor Buzz Churros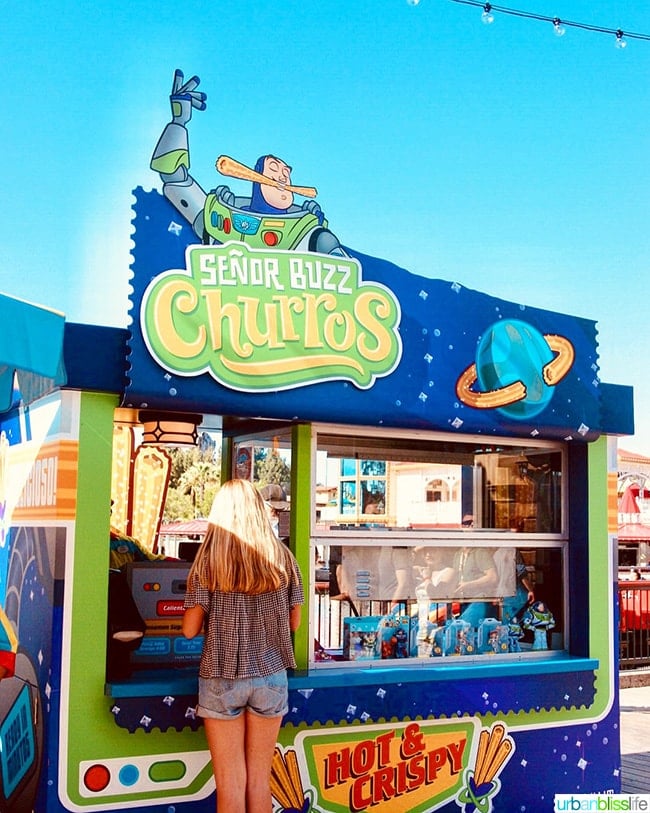 I love churros. I can't NOT eat churros if they are nearby. So while checking out the Toy Story Boardwalk and Pixar Promenade, I couldn't help but stop at Señor Buzz Churros stand for a churros... or two!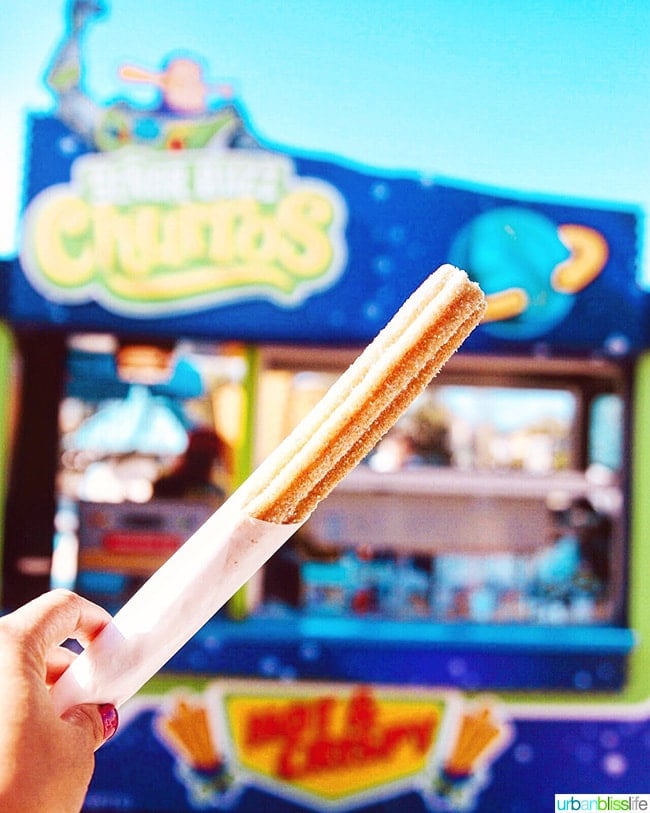 There's a spicy Caliente Churro and a sweet Cinnamon Sugar Galaxy Churro. I opted for the intergalactic sparkly sugary cinnamon churro and it did not disappoint. Fried nicely to give it a slight crunch with a buttery sugary coating. It was so good! And it's super portable so you can eat it on your way to your next Pixar Pier adventure.
Angry Dogs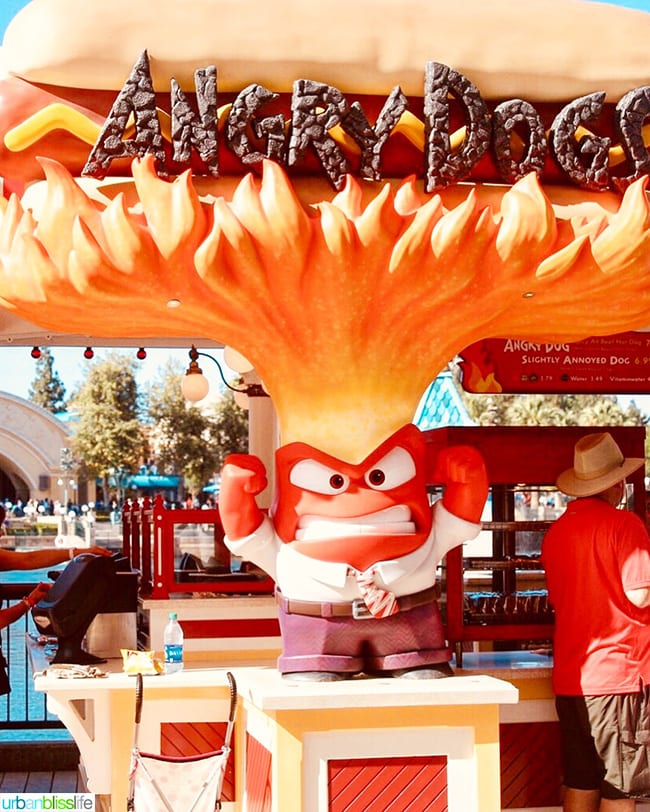 If you're looking for something with a little heat, you will love the spicy all-beef Angry Dog hot dog, which is served with a small bag of "Hot Fries." Or, for those who prefer a milder flavor, enjoy the not-so-spicy Slightly Annoyed Dog (I love the name!!) served with potato chips.
Adorable Snowman Frosted Treats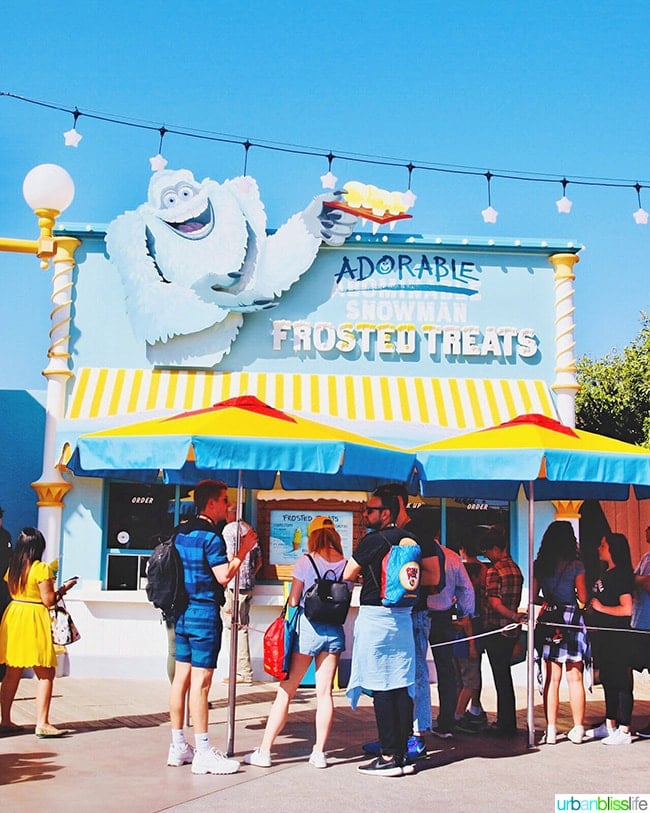 Need to cool off on a hot day running around Disneyland? At Pixar Pier, stop by the Adorable Snowman Frosted Treats booth near the entrance of the pier. You and your kids will all love the various soft serve flavors. Choose from It's Lemon!, It's Snow-Capped Lemon! (lemon soft serve dipped in white chocolate), It's Chocolate!, and It's Vanilla! (those last two are self-explanatory, right?).
If you're feeling super adventurous and want an Instagram-worthy treat, definitely try the Pixar Pier Frosty Parfait. It's lemon soft-serve layered with blue-raspberry slush.
Jack-Jack Cookie Num Nums
Here you'll find some of Jack-Jack's favorite cookies: Jack-Jack Cookie Num Num (a warm chocolate chip cookie), the IncrediCookie (a gluten-friendly blackberry jam-filled cookie) and the Jack-Jack Shortbread Cookie. Pair your yummy num num cookie with strawberry, chocolate, soy, 2%, or vanilla almond milk.
Bing-Bong's Sweet Stuff
Did you watch the Disney Pixar movie Inside Out? This shop has classics like saltwater taffy, lollipops, flavored popcorn, and rainbow cotton candy, as well as cake pops and candy apples. The treats are, of course, all inspired by different fave Pixar characters.
Disclosure: Disneyland hosted me at the Pixar Pier opening for the purposes of this coverage. As always, all opinions, experiences, and photos are my own.