Get ready to cook and bake some of the best fall apple recipes! This collection includes sweet and savory apple recipes.
Fall brings so many delicious sweet and savory seasonal ingredients to the table. Pumpkin recipes are everywhere (these Pumpkin Cream Cheese Muffins are amazing!). Brussels sprouts take center stage. But if I were to choose one fave fall ingredient, it would be apples!
Apples are absolutely one of my favorite fall ingredients to cook with and to bake with. The possibilities are endless!
But before we get in the kitchen and start making these recipes, let's first look at the best apples for cooking and the best apples for baking.
Which apples are best for cooking?
Gala apples are my family's favorite apples. We almost always have some in our house! These red apples don't brown as quickly as some other apples do (I'm looking at you, Braeburn apples!). That means they're great for using in fresh salads or in cooked dishes like Pork Tenderloin with Apples, Cider, and Sage.
Which apples are best for baking?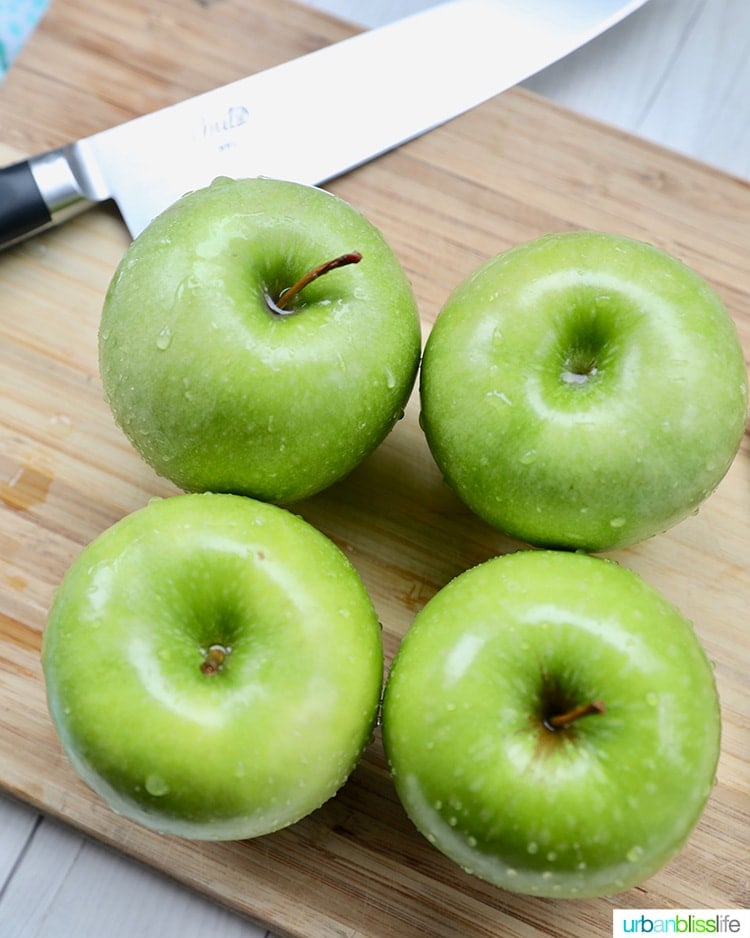 Hands down, my favorite apples to use in most baking recipes are Granny Smith green apples.
Granny Smith apples have a delicious tart flavor that adds a nice balance to the sweetness of fall baking. And more importantly, these green apples tend to hold their shape during baking. They are less likely to turn to mush under the heat.
Honeycrisp apples also tend to retain their structure during baking. These apples are were developed by the University of Minnesota in the 1960s, making them a relative newcomer to the apple world. They have a balanced honey sweet and tart flavor and are nice and crisp. Perfect for baking in pies, especially!
Fuji apples are some of the sweetest apples you'll find on the market. This makes them a delicious candidate for baking in galettes, pies, tarts, crisps, and more.
Apple Breakfast Recipes
Fall weekends call for these Fluffy Apple Cinnamon Pancakes.
These apple cinnamon muffins with shredded carrots and zucchini are a healthier, super tasty fall breakfast or brunch! A great way to sneak some veggies into your day - and your kids won't even notice the veggies!
Crunchy, buttery apple fritters with caramel apple dipping sauce are a decadent weekend breakfast or brunch!
Apple cinnamon donuts are the ultimate fall treat! Dunk them in your morning coffee or enjoy them after a day at the pumpkin patch.
Apple Dinner Recipes
Pork tenderloin grilled with apples and hard cider, along with rich herbs, is a satisfying fall dinner recipe.
Pork Chops with an Apple Cider Glaze make a satisfying, delicious dinner!
Apple Side Dishes
This Roasted Brussels Sprouts with Apples and Pomegranate dish is a bright, healthy vegan side dish that balances fall's best comfort food. This is a great healthy Thanksgiving side dish, too!
Apple Whiskey Hand Pies are easy to make, and the apple whiskey with crispy pastry will warm you right up on a chilly fall day!
With a buttery shortbread crust and a crunchy sugary topping, these Apple Pie Bars are a fun and delicious way to enjoy the cinnamon apple flavors of fall's classic dessert!
Apple pie with booze, in shot form? Yes, please! This adult dessert is a fun, creative after-dinner or party dessert.
Looking for a healthy after-school snack? These Chewy Apple Granola Bars are a delicious and nutritious fall treat you and your kids will love!
One-skillet Apple Cranberry Crisp is a sweet, crunchy fall dessert. A great dessert to serve a crowd, or at the campfire.
What's better than apple pie? MINI Apple Pies! More crust to filling ratio means more yumminess all around.
What are your favorite apples to cook and bake with?
Which of these fall apple recipes do you want to make first?
More fall recipes
PIN IT:
This post was originally published on October 28, 2013. It has been updated with new photos, text, and newer recipes on October 2, 2020.