The Eatery at Grant House offers elevated comfort food in a cozy, historic home just across the river from Portland, Oregon.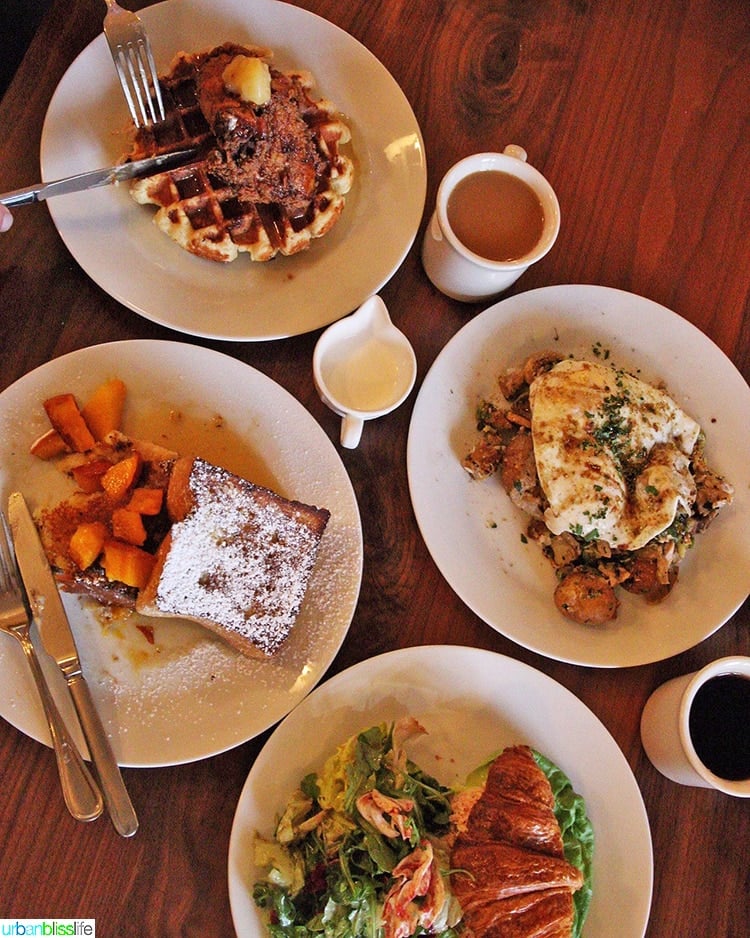 A few months ago, my husband and I ventured across the I-5 bridge to enjoy Sunday brunch in Vancouver, Washington.
I have to admit: we rarely cross the river, especially for food, and especially on a weekend morning. But in the past couple of years, The Couve (as it's affectionately/non-affectionately called, depending on who you ask) has seen a rise in restaurants worthy of mention alongside those with Oregon addresses.
Eatery at the Grant House is one of them.
Eatery at the Grant House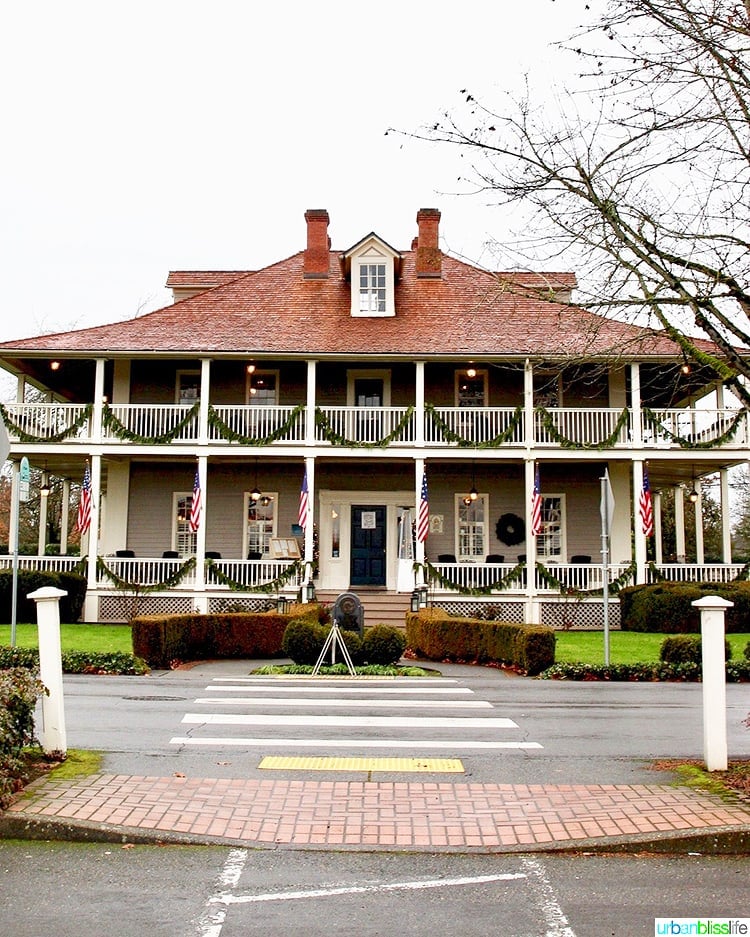 Located just off I-5 within Fort Vancouver on Officers Row, the Grant House was built in 1849 originally to house the commanding officer.
The house is an impressive colonial structure, with a large wrap-around porch with outdoor seating during warmer weather. The inside is calm, cozy, and perfect for intimate dining with dear friends and family. There is also event space available for private parties. Guests can park in an outdoor lot located across the street from the house.
Executive Chef Capers Ogletree runs the kitchen at Eatery at the Grant House. He focuses on featuring fresh, local ingredients on the restaurant's breakfast, lunch, and dinner menus. The menus do change with each season, or as needed depending on what's available.
Here's a brief look at what my husband and I enjoyed during our Sunday brunch.
Brunch Menu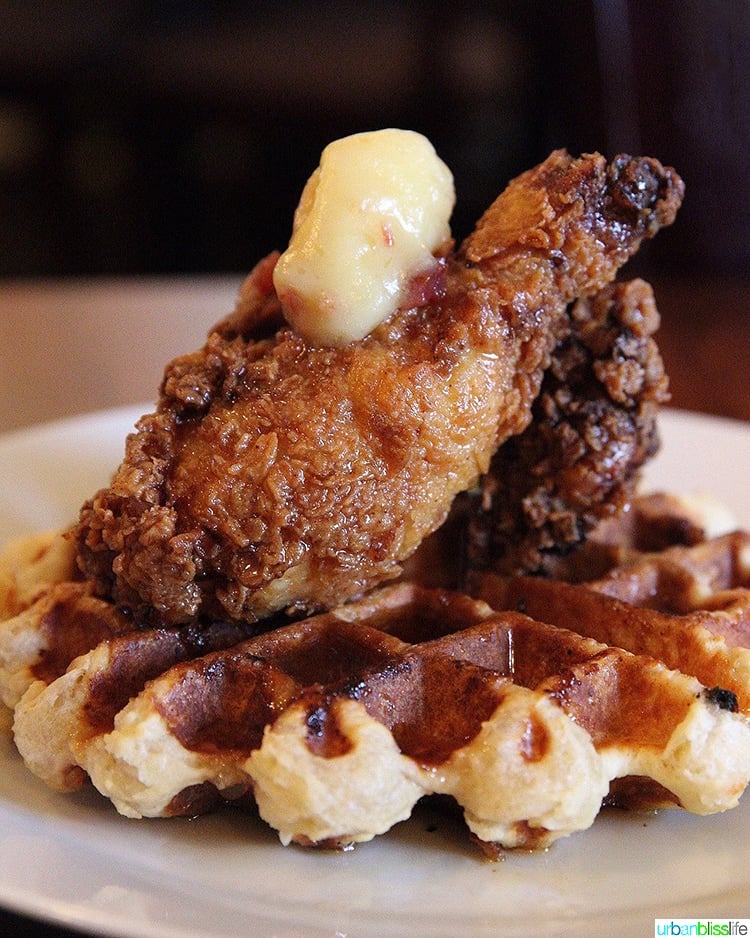 If you follow Urban Bliss Life regularly, you know that if there is fried chicken on the menu, I will most likely order that. I love fried chicken.
The fried chicken and waffle ($16) at Eatery is everything you want this dish to be for brunch. The chicken is crispy and buttery on the outside, and moist and tender on the inside. The waffle is made with a delightful crunch and the maple butter brings all of the yumminess together.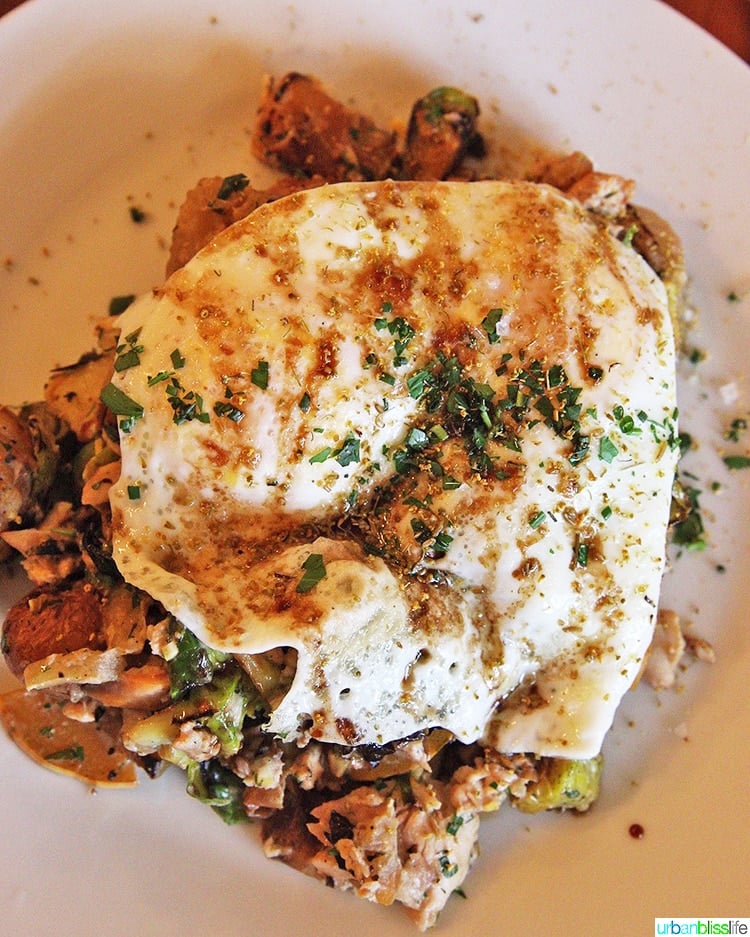 If you're in the mood for an equally hearty dish with lots of veggies, go for the smoked trout hash ($16). The plate is piled with smoked trout, potatoes, peppers, winter vegetables, dill yogurt sauce, and topped with two eggs.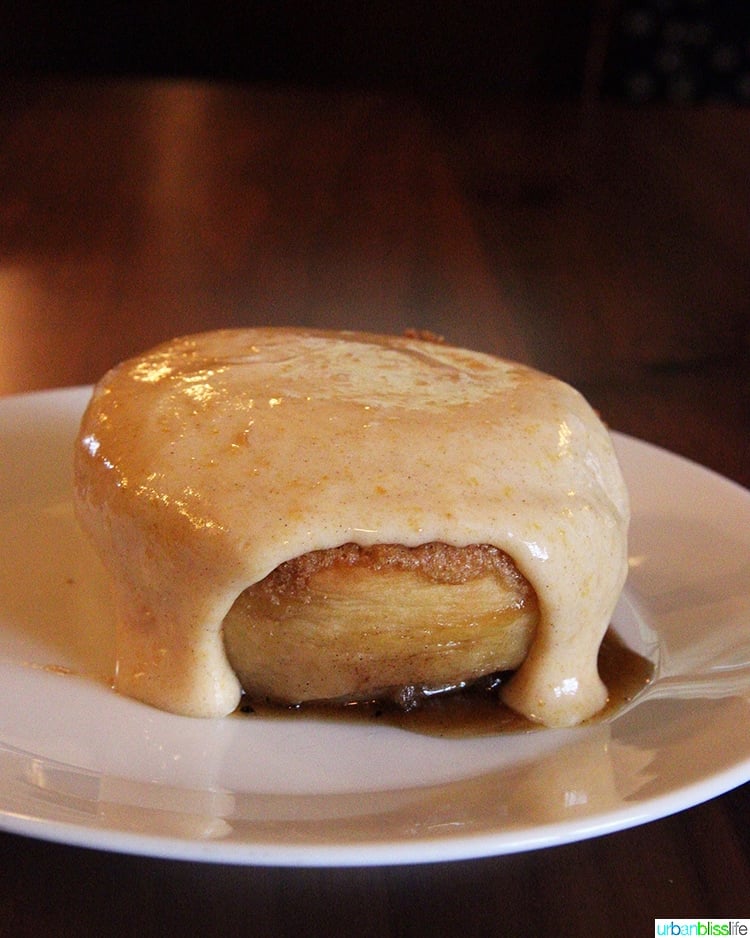 My husband's favorite dish that we tried was the seasonal cinnamon roll. I don't see it on the current menu, but it's definitely worthy of a mention in case it makes a comeback.
The sweet house made cinnamon roll was topped with a generous pouring of pumpkin cream cheese icing over it. Because of my dairy allergy, only had a small bite, but I concur with my husband: it was delicious!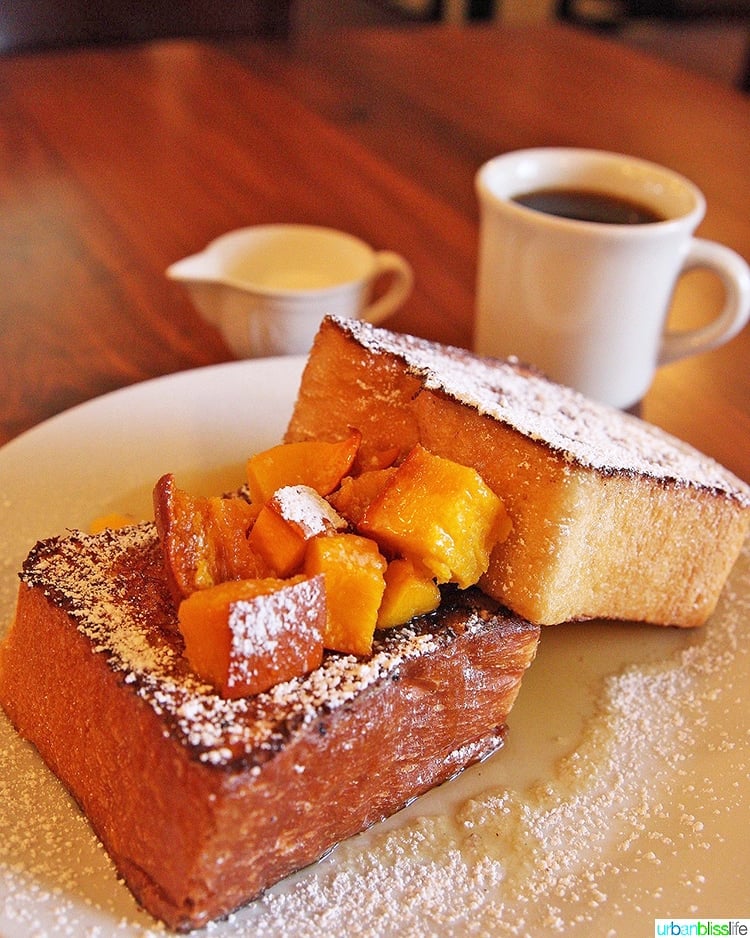 There's also usually a seasonal stuffed French toast on the menu. Currently, there is a lemon cream cheese stuffed French Toast for $11. Like the other items on the brunch menu, this is a satisfying meal on its own, packed with flavor.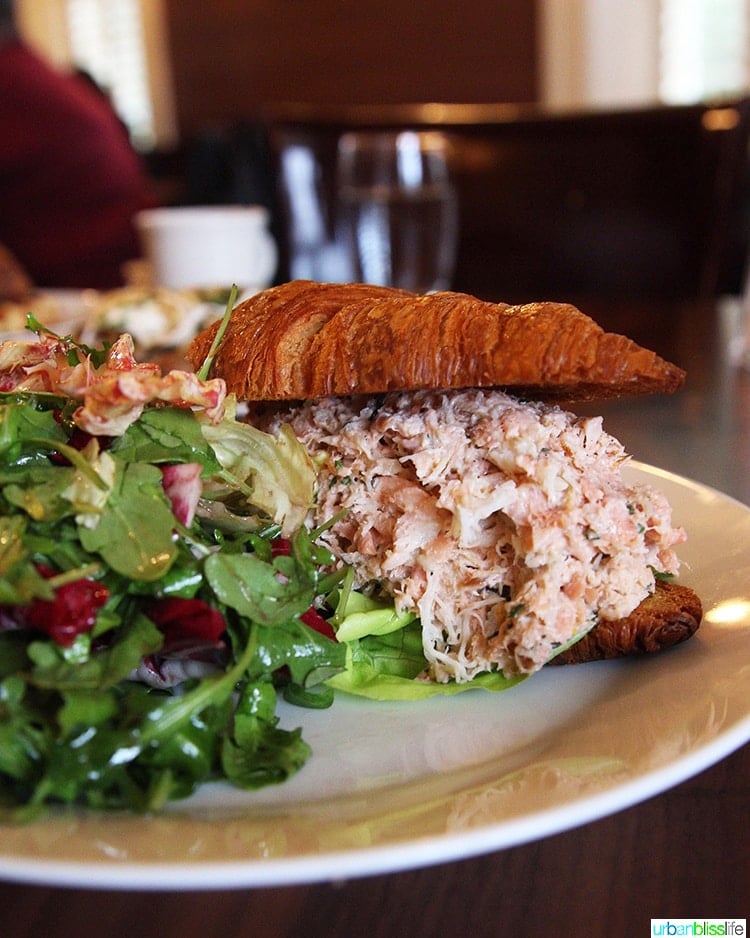 If you're looking for a brunch item that is more lunch than breakfast, try the Crispy Steelhead Sandwich ($14). When we dined here, this was served as a croissant sandwich with remoulade, house pickles, butter lettuce with seasoned potatoes or farm greens.
Again, the specifics of each dish may change depending on availability.
DESSERT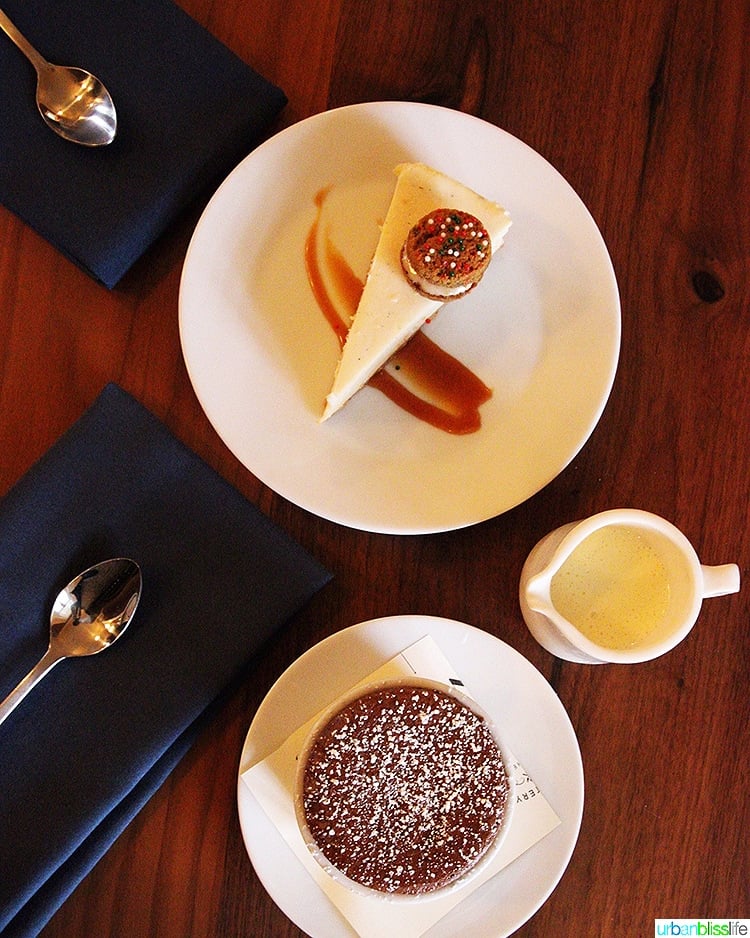 Dessert is also seasonal here. We enjoyed a delightful cheesecake ($8) and chocolate souffle ($8).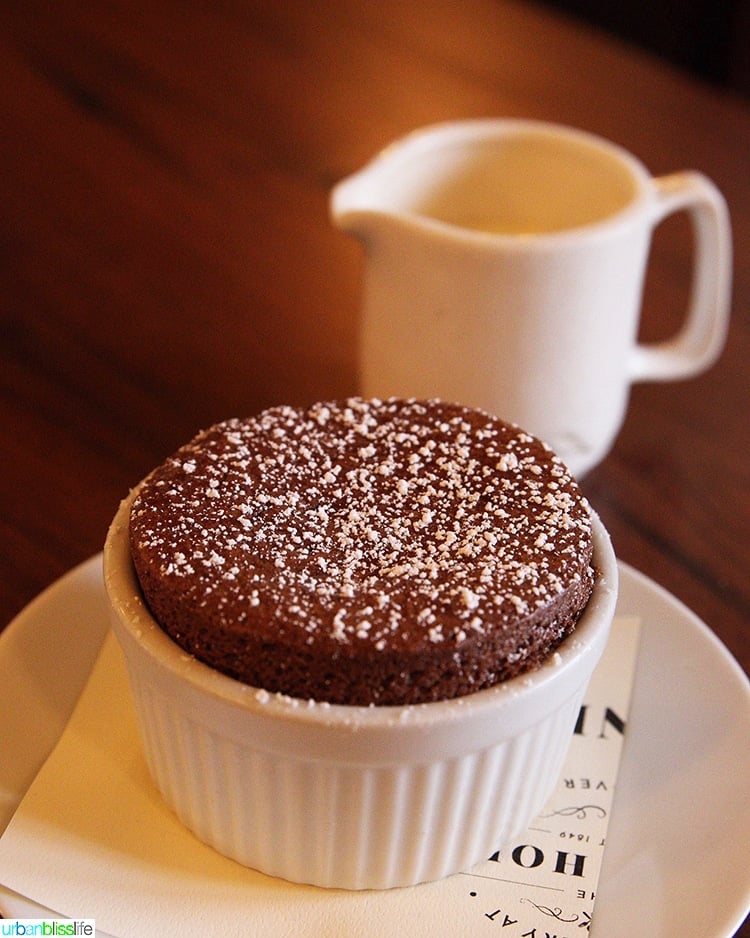 On the current dessert menu, I'd love to try the S'mores Pot de Creme ($8). With house made marshmallow and graham cookie, it would be the perfect summertime treat to enjoy while sitting outside on Eatery's porch patio!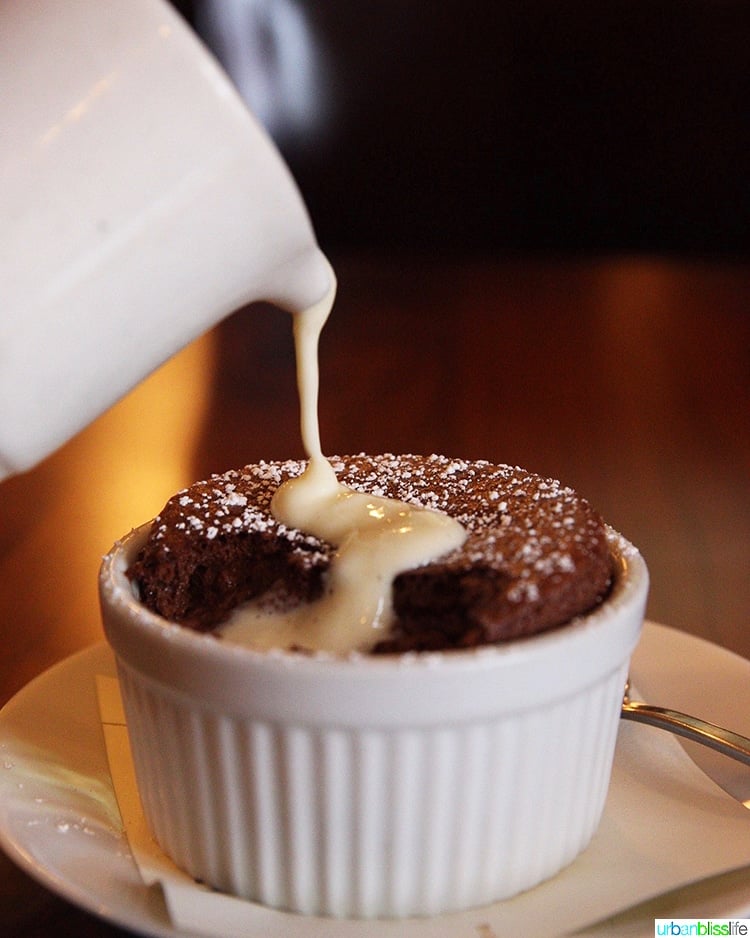 That's a glance at the meal we enjoyed during our time at Eatery at the Grant House.

Other dishes of note that I have heard are worthy of trying: the Crispy Cod Sandwich ($15; lunch menu) and the Grant House Double Smash Burger ($15; lunch menu).
Dine at Eatery at Grant House
I really enjoy dining at Eatery at the Grant House. The short drive across the river from Portland, Oregon is worth it. I love that they take reservations, and that the restaurant has plenty of seating in its many indoor rooms and outdoor porch space. The food is the kind of comfort food that fills you up without weighing you down too much, and there's definitely something for everyone here. The staff is warm, welcoming, and accommodating, and I think you'll enjoy dining here with good friends and family, as I did.
Eatery at the Grant House
1101 Officers Row
Vancouver, WA 98661
Phone: (360) 906-1101
Email: info@thegranthouse.us
Website: https://eateryatthegranthouse.com/

HOURS:
LUNCH: Tuesday - Friday 11am - 3pm
DINNER: Tuesday - Saturday 5 - 9pm
BRUNCH: Saturday & Sunday 10am - 3pm
HAPPY HOUR: Tuesday - Friday 4-6pm
PIN IT:
This meal was compliments of Eatery at the Grant House, with no expectation or requirement to post a review. As always, all opinions and photos are my own.
More Foodie Travel Bliss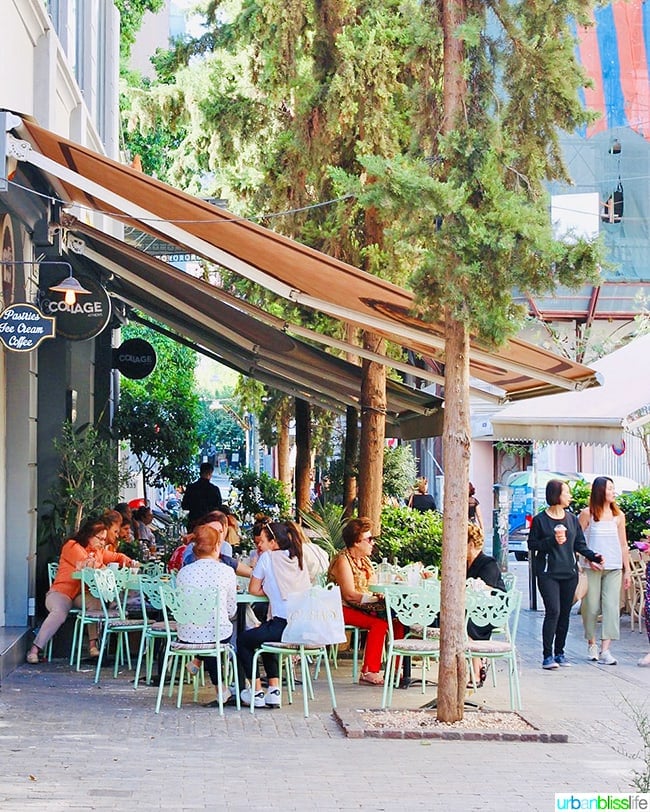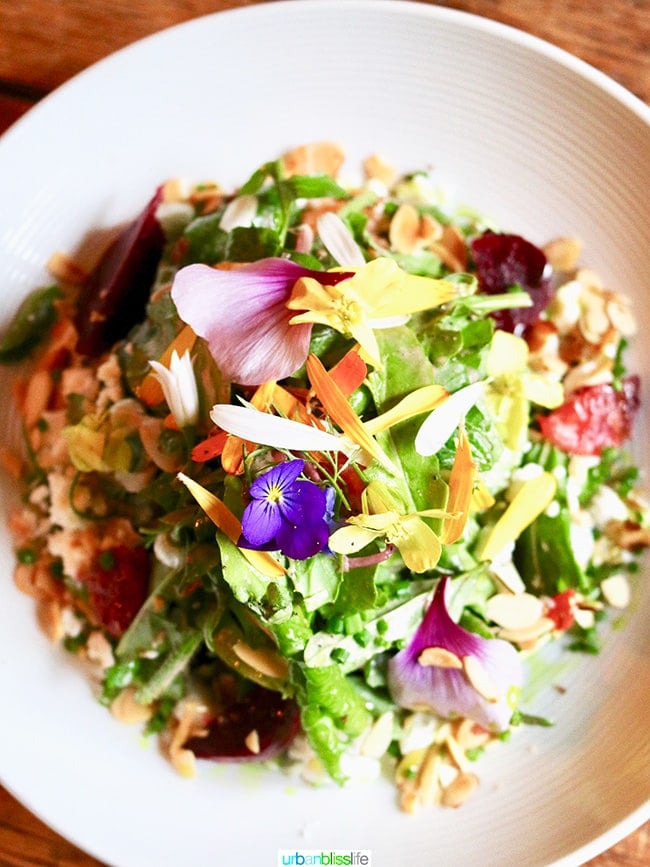 Where to Eat in Mendocino County, CA: The Bewildered Pig