Grays is a spacious, modern restaurant that serves up sophisticated Pacific Northwest-inspired menus.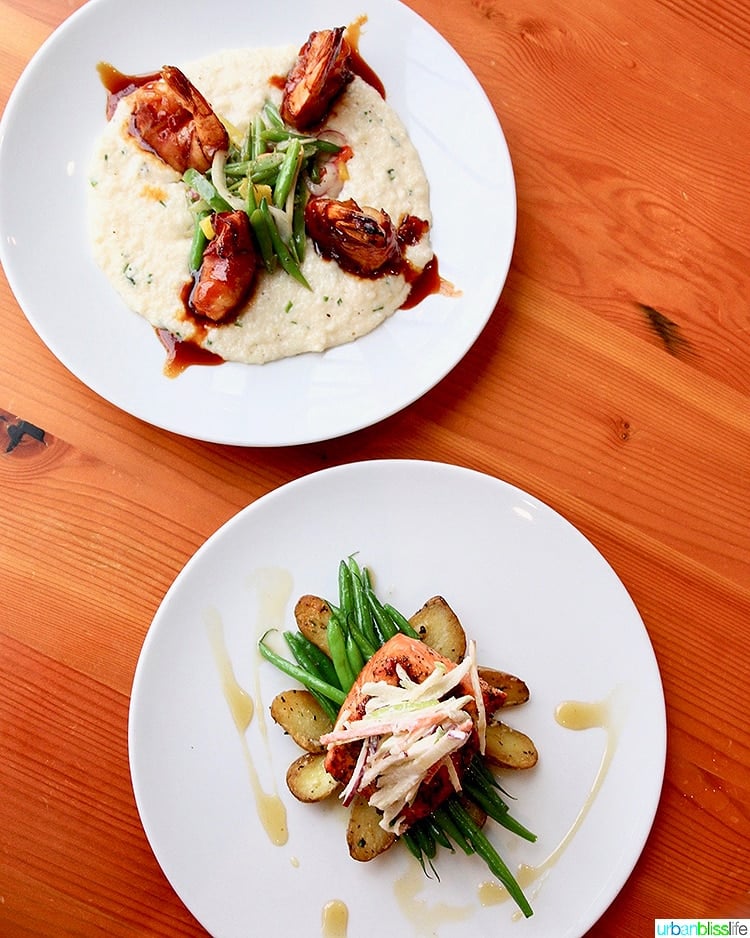 Cross the river from Portland, Oregon to Vancouver, Washington, and you'll see the subtle transformation of a city that has been working to rise from the shadow of its bigger city sister. The Vancouver area has been transformed, with more than 50 new restaurants, cafes, and bars opening up in just the last couple of years. And now the Vancouver waterfront boasts a walkable pier to enjoy the sunset.
The food and wine scene in The Couve is also heating up. I wrote previously about the Eatery at Grant Park. From that peaked curiosity, I continue this exploration of the Vancouver, Washington food scene with a look at Grays restaurant.
Grays Restaurant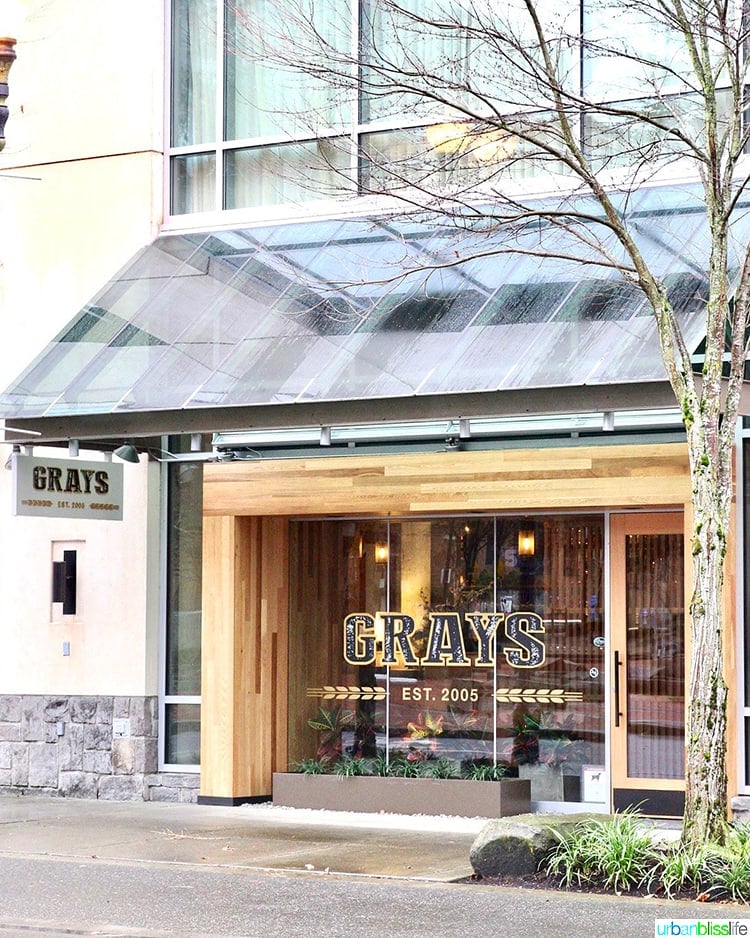 During my travels, I've noticed that hotel restaurants are truly coming into their own and, in many cities, expertly battling and rising above stand alone restaurants.
Grays is located on the first floor of the Hilton Vancouver, but I can see why it's a restaurant frequented by locals. The downtown location directly across from the park is convenient, with ample, inexpensive street parking.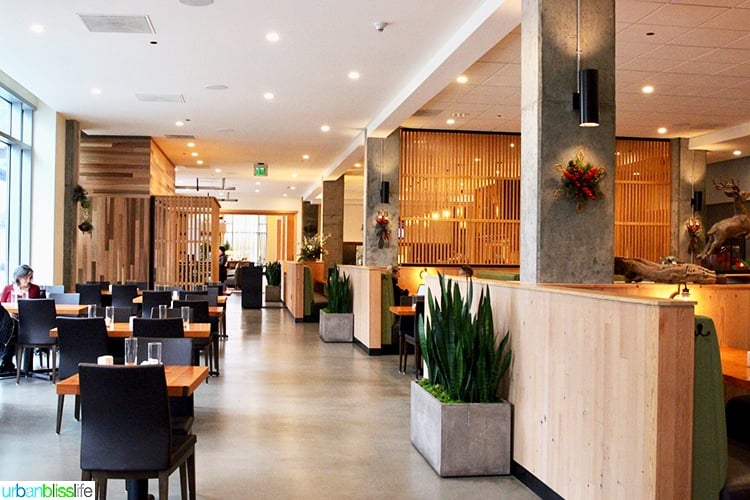 A $1.7 million redesign afforded Grays additional seating, including 70 patio seats around two fire pits. The private dining rooms were overhauled and more space meant more opportunity for expanded menu options.
Lunch at Grays
I had the opportunity to enjoy a leisurely lunch with a dear friend at Grays a few months ago. Here's a look at some of the dishes and drinks we enjoyed during our lunch at Grays.
NOTE: these are the ingredients and prices available at the time we dined here. As with all menus, Grays menu is subject to change.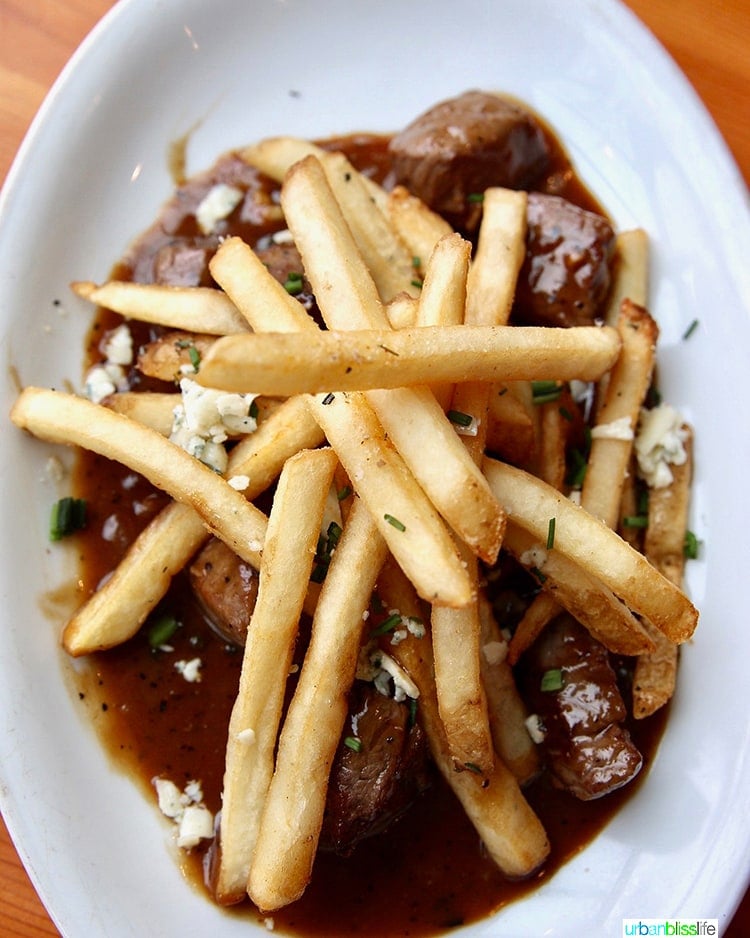 We kicked off our meal with Steak Bite Frites ($13) with peppercorn demiglaze and smoked gorgonzola. I love steak frites (it's my husband's favorite meal, too), and thought this appetizer version was brilliant. The ratio of steak bites to fries is just right, and the peppercorn demiglaze has a robust flavor without being too filling.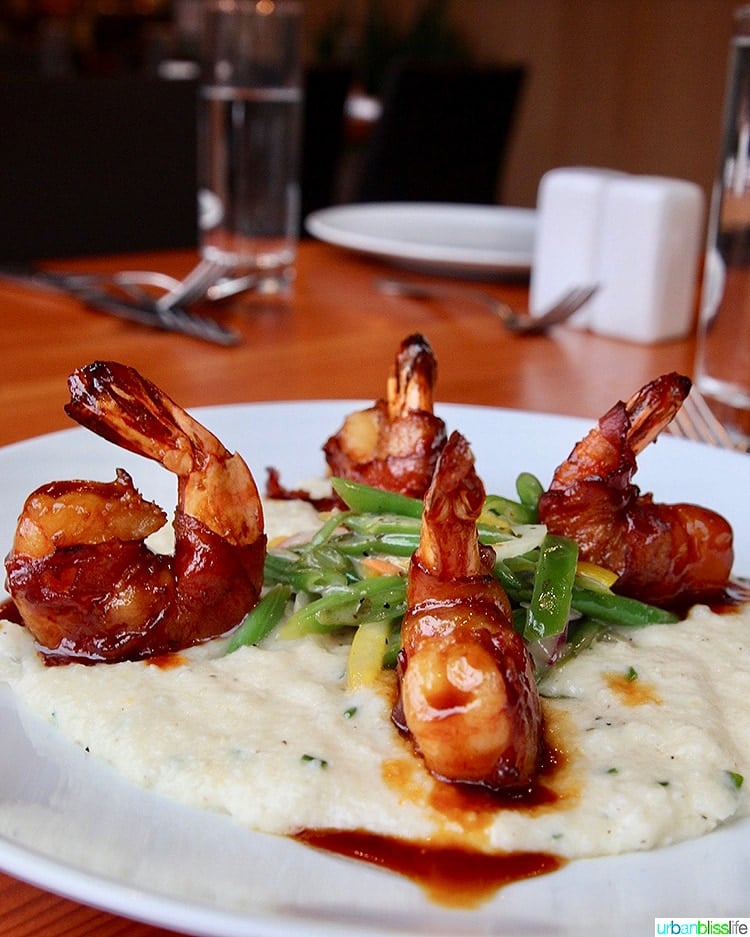 For our main course, I ordered the Bacon Wrapped Prawns ($20) because OF COURSE I DID. As Ron Swanson says, "That's my number one favorite food wrapped around my number three favorite food." Although, shrimp is my #1 and bacon is my #3. I digress.
The bacon-wrapped prawns at Grays are glazed with a sweet hard cider syrup and served with cheesy grits and string bean salad. It's truly the perfect combination of flavors and textures in one plate. I love this dish so much, and just writing about it again makes me want to hop in the car and head over there to enjoy this for lunch today!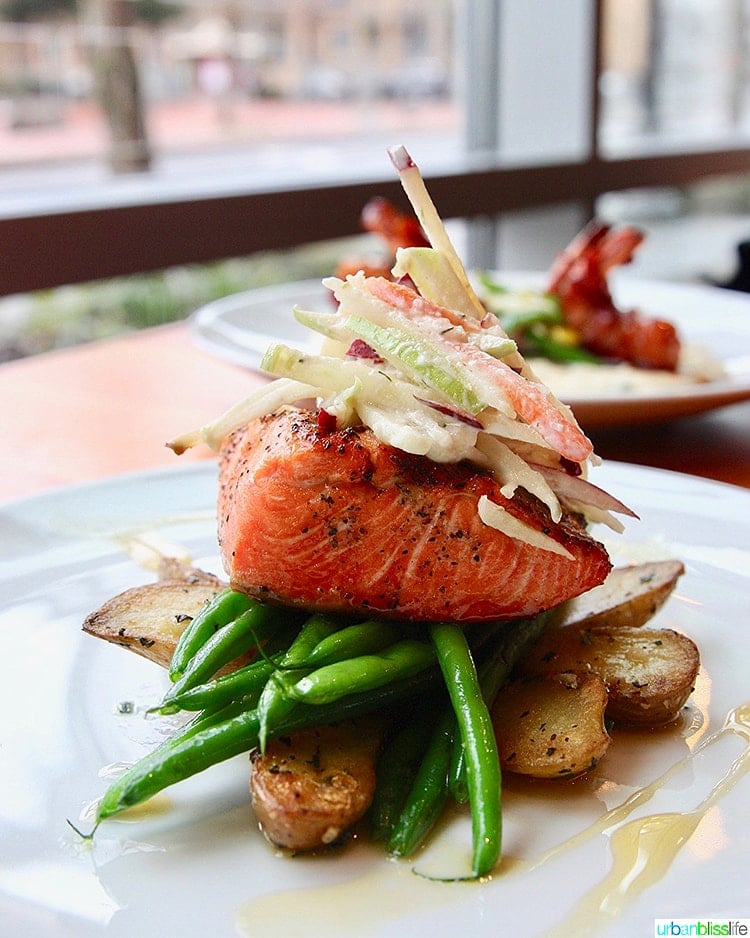 My friend ordered the Grilled King Salmon ($24), which was also beautifully presented as it was delicious. Served with a honey dijon glaze, granny apple slaw, fingerling potatoes, rosemary pesto, and green beans, this was another example of a fantastic combo of meat, starch, and veggies in one dish. Chef Troy Lucio truly knows how to honor Pacific Northwest seafood in the most appetizing ways.
Dessert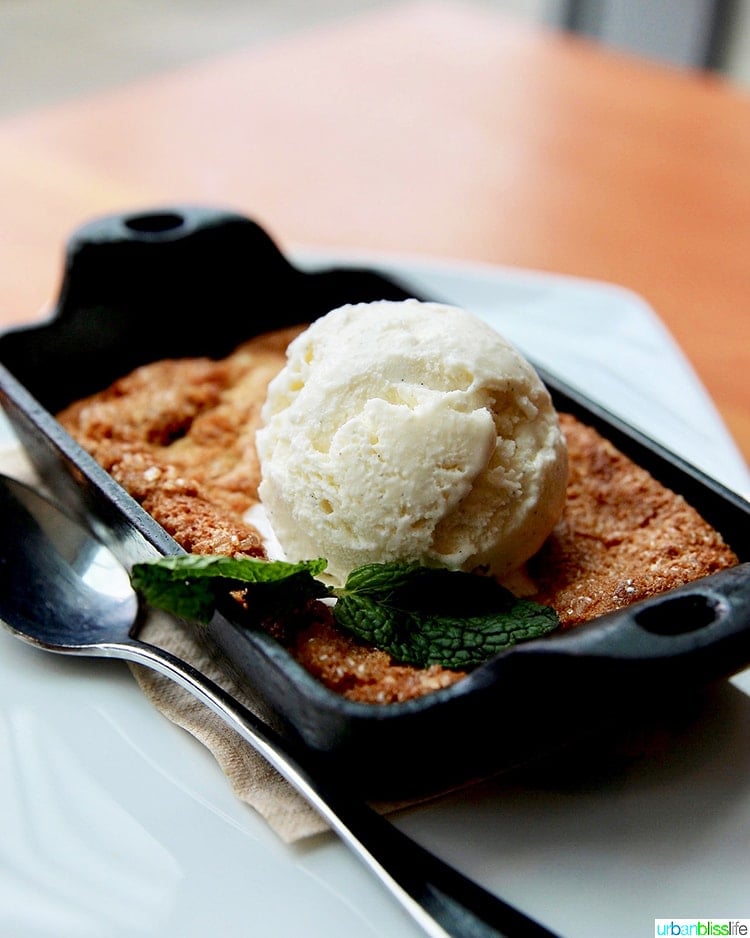 The desserts at Grays restaurant are comforting and sweet. We tried to Skillet Cookie which was served warm in a cast iron skillet and topped with a scoop of vanilla ice cream. It was the ideal sweet treat to end our meal, along with some hot coffee.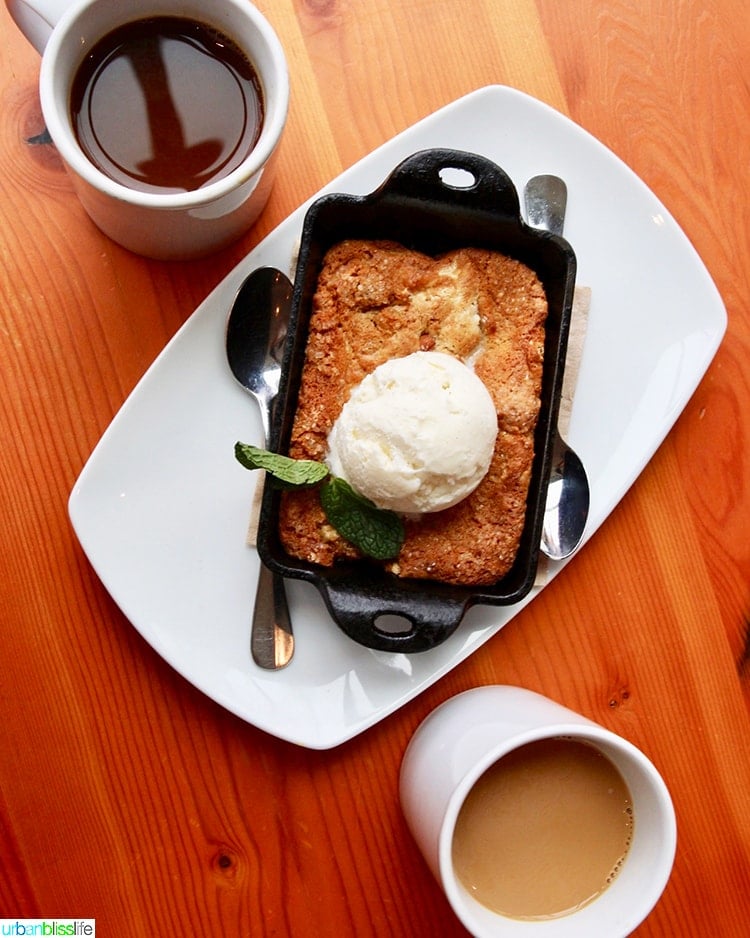 Cocktails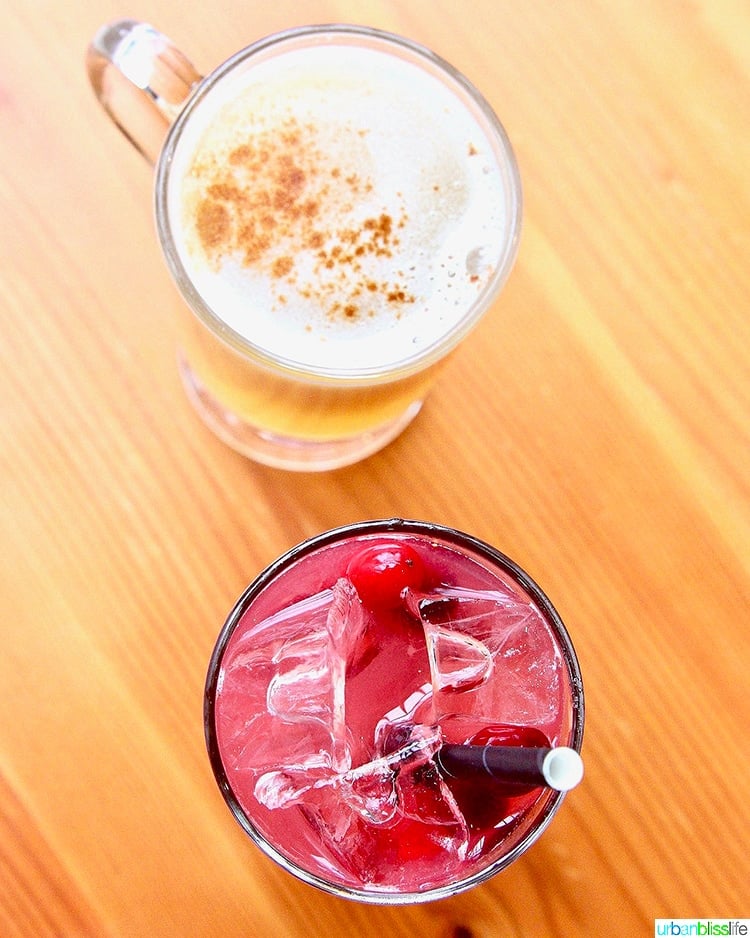 The bar menu at Grays also expanded with last year's redesign. When we visited, we enjoyed two seasonal craft cocktails: Warm Spiced Pear Cider and Cranberry Ginger Sangria. The bar menu definitely reflects the weather and the ingredients that are in-season, so I can't wait to see what they have on the menu this spring & summer!
Eat at Grays Restaurant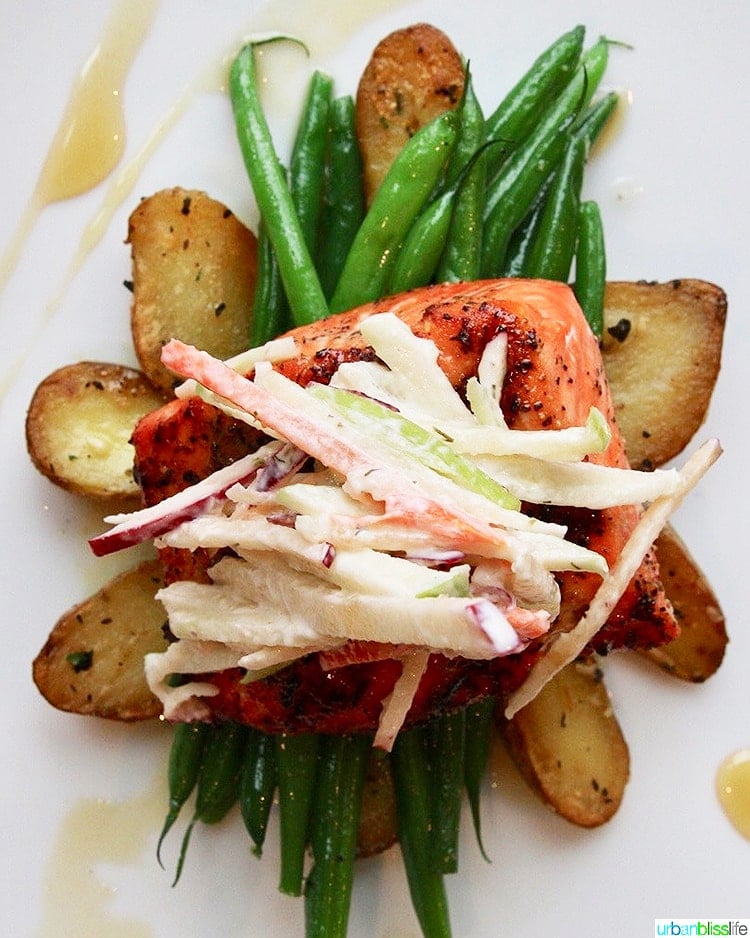 Grays surpassed my expectations. The restaurant goes above and beyond in terms of the level of service, the gorgeous Pacific Northwest-style interiors, and the upscale food and drink. It feels and shines on its own, showing that it's so much more than just another hotel restaurant. Worth a drive across the river, in my opinion!

Grays
Inside the Hilton Vancouver
301 W 6th Street
Vancouver, WA 98660, USA
HOURS:
Breakfast6:30 am-11.00 am
Lunch 11.00 am-2.00 pm
Dinner 5.00 pm-10.00 pm
Phone: +1 360-828-4343
Email: graysatthepark@hilton.com
Website: graysatthepark.com
More Vancouver Washington restaurants
PIN IT: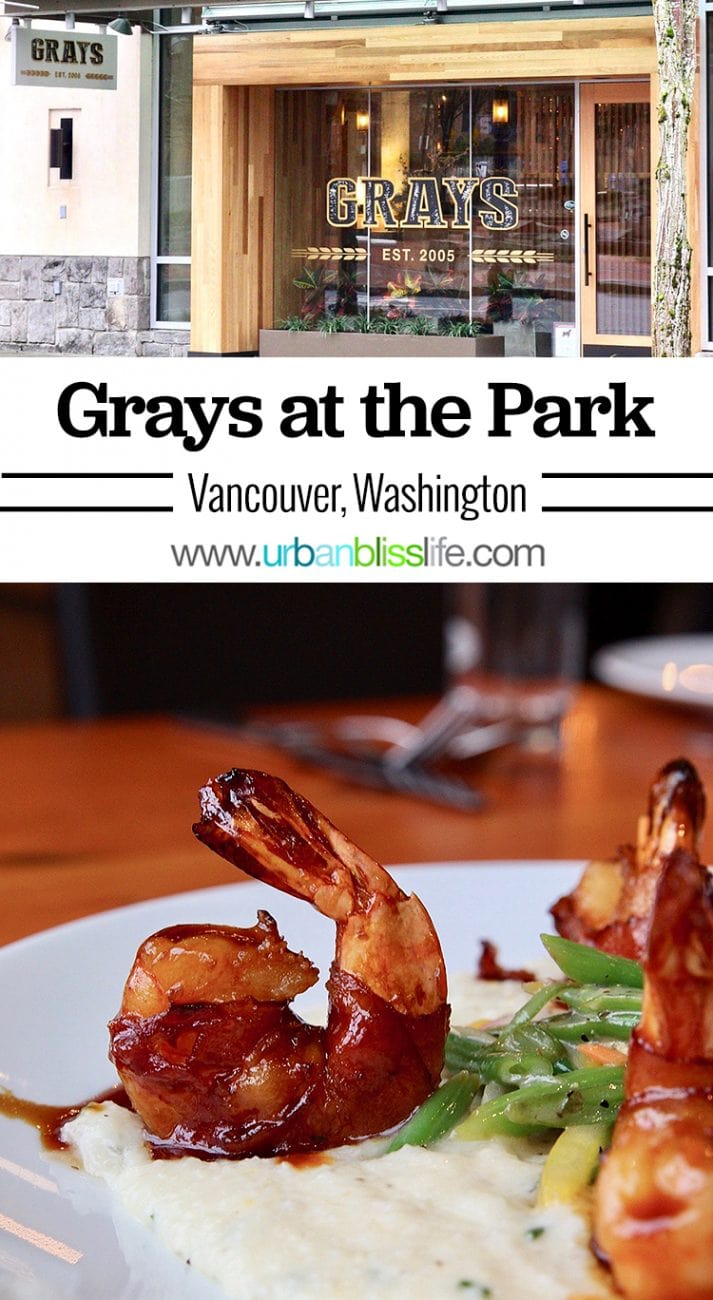 More Foodie Travel Bliss: