Not sure what to do with those overripe bananas on your kitchen counter? Try one of these delicious and easy recipes for overripe bananas! From breakfast recipes to dessert recipes, here you'll find so many yummy ways to enjoy those overripe bananas before they go bad.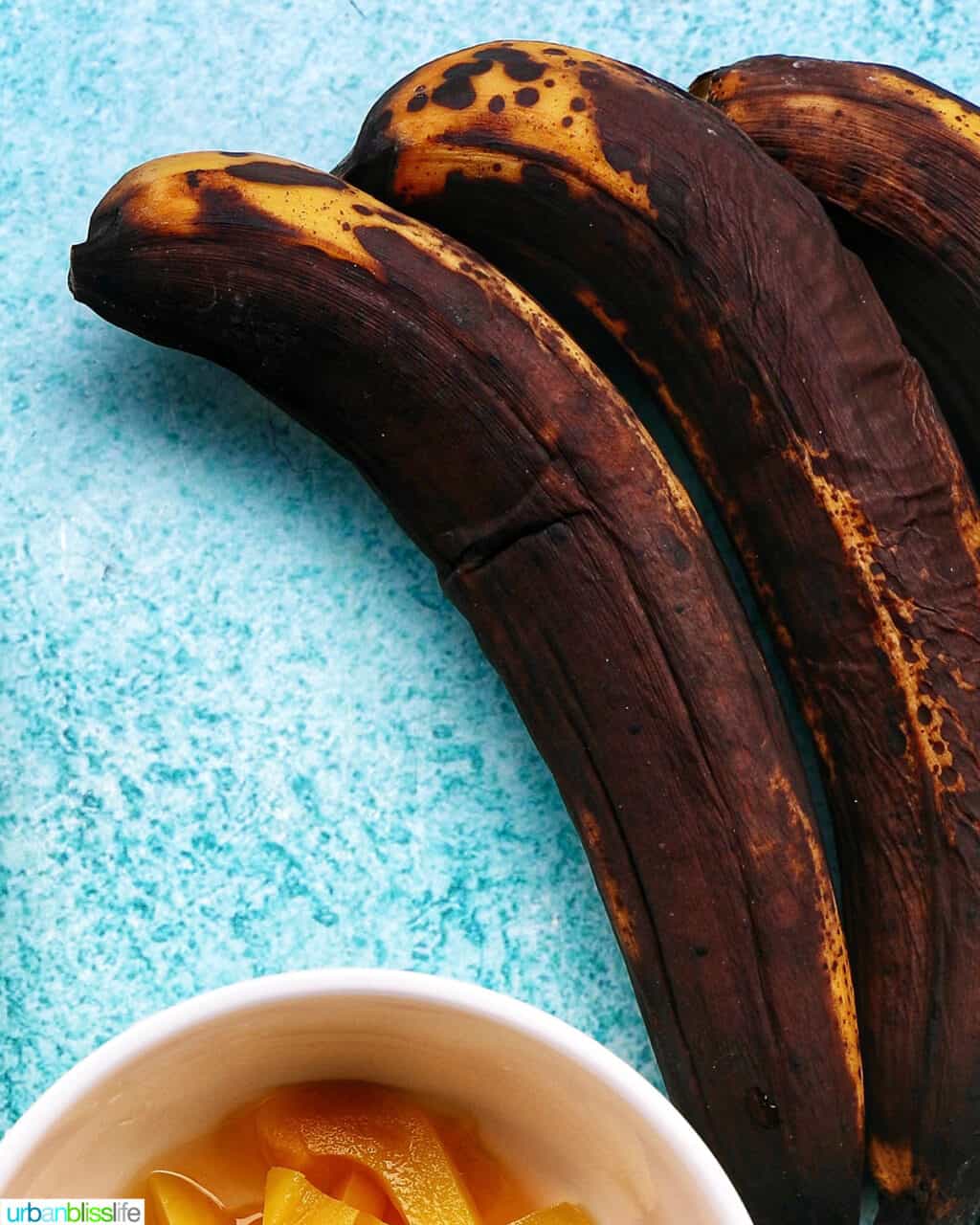 If your family loves bananas like mine does, you likely still end up with two or three - at least - bananas that become overripe too quickly to eat them.
But before you toss those bananas in the compost bin, check out this collection of easy recipes for ripe bananas.
When banana peels have turned brown or are starting to turn brown, and are too ripe to eat on their own, the bananas are perfect to use in baking recipes!
Jump to:
🍌 Why you should use overripe bananas
As bananas ripen, the starches in bananas turn to sugar. This makes them sweeter and, combined with a softer texture, makes them wonderful to use in baked goods.
Overripe bananas mash well and are easy to incorporate into baking recipes, like our Banana Crumb Coffee Cake recipe. That recipe is a longtime reader fave, and one that I personally bake on a monthly basis at home for my own family.
👩🏻‍🍳 Overripe banana FAQs
I get a lot of reader questions, especially about baking recipes. So here are some common FAQs when it comes to recipes using ripe or overripe bananas.
🍞 How ripe should bananas be for banana bread?
Bananas should be as overripe as possible without being rotten. You can use bananas in banana bread anytime after the peels have turned brown.
🟤 What is the fastest way to ripen bananas?
Place bananas in a paper bag, fold the top over gently, and place in a cool dark area, such as a pantry or drawer. The bananas should ripen in about 24 hours, depending on their condition at the time you place them in the bag.
🧊 How to freeze ripe bananas
Peel the bananas, discard (or compost) the peels, then slice bananas into 1-inch slices. Place the slices in a single layer on a baking sheet lined with wax paper or parchment paper, then freeze for 1 to 2 hours. Once banana slices are completely frozen, place them into a freezer bag and freeze for up to 6 months.
🚫 Can bananas be too overripe to use?
If a banana has mold, it is no longer safe to use in baking. However, as long as you don't see any mold growth on an overripe brown or blackened banana peel, you can use it in baking.
🍌 Easy recipes using ripe bananas
If you have some overripe bananas on your kitchen counter, don't throw them out! Try one of these delicious and easy recipes for overripe bananas!
🧁 More easy baking recipes
If you try one of the recipes above, let us all know how it turned out by leaving a comment below! You might also want to try one of these easy dessert recipes:
Did you make this recipe? Don't forget to leave a 5-Star 🌟🌟🌟🌟🌟 rating in the recipe card, and if you really loved it, please leave a comment further down on the page. Thank you!