Warm, delicious, indulgent baked Cinnamon Sugar Donuts are the perfect sweet treats! Enjoy these with a hot cup of coffee and your favorite Sunday morning social media scrolls.
Donuts are amazing culinary creations. Fluffy, buttery, sugary pillows of yummy goodness. Dessert for breakfast.
They're the sweet special bites that my family doesn't dare indulge in on a regular basis, but we love to enjoy together as once-in-a-while weekend breakfast treats!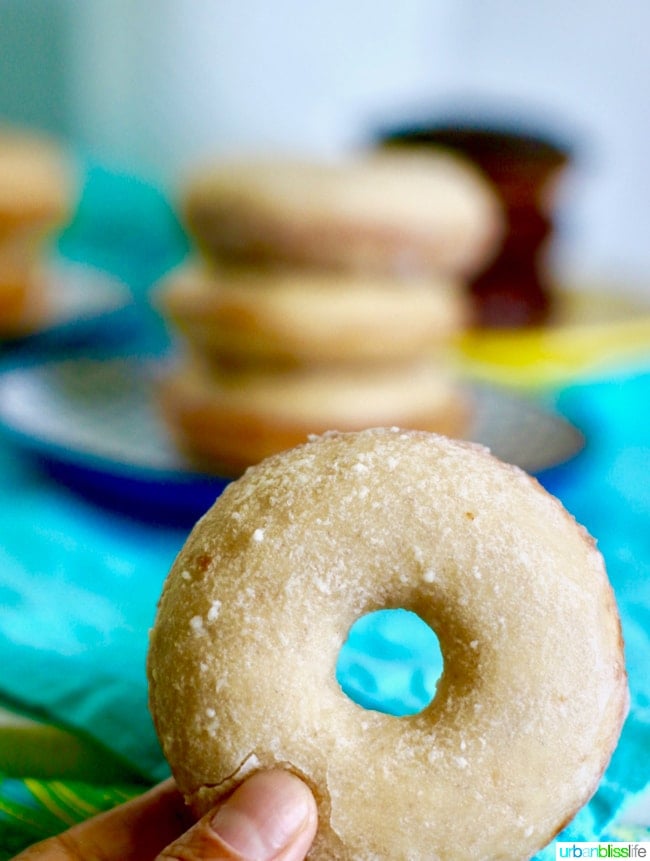 And donuts, believe it or not, are SO easy to make at home! My kids love when we break out the donut pan and spend a Sunday morning baking up these bad boys.
While I love making my healthier (but still SUPER tasty!) Paleo, Dairy-Free, Gluten-Free donuts, sometimes a girl's just gotta have A REAL DONUT. Ya know? Enter my Cinnamon Sugar Donuts!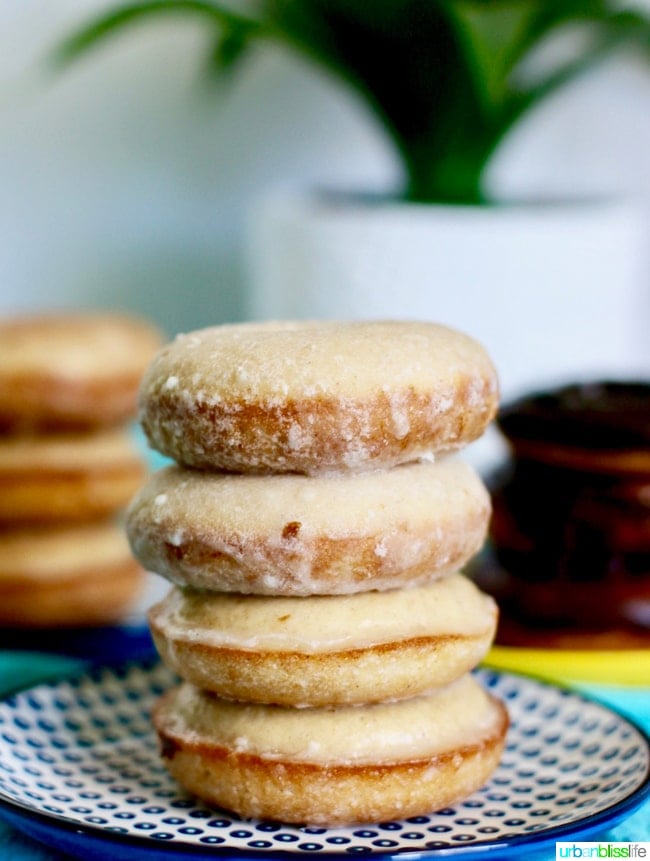 Real sugar. AP flour. Three different glazes. Sugar on sugar. Indulge!
This recipe is baked versus fried, so it's a little healthier than most donut recipes.
If you're looking for an AMAZINGLY DELICIOUS, crowd pleasing donut recipe to treat your friends and family - this is IT!
Baked Cinnamon Sugar Donuts
This donut recipe is super simple.
I've adapted an old Food Network recipe, tweaked it over the years, and this is the recipe my family loves, loves, LOVES.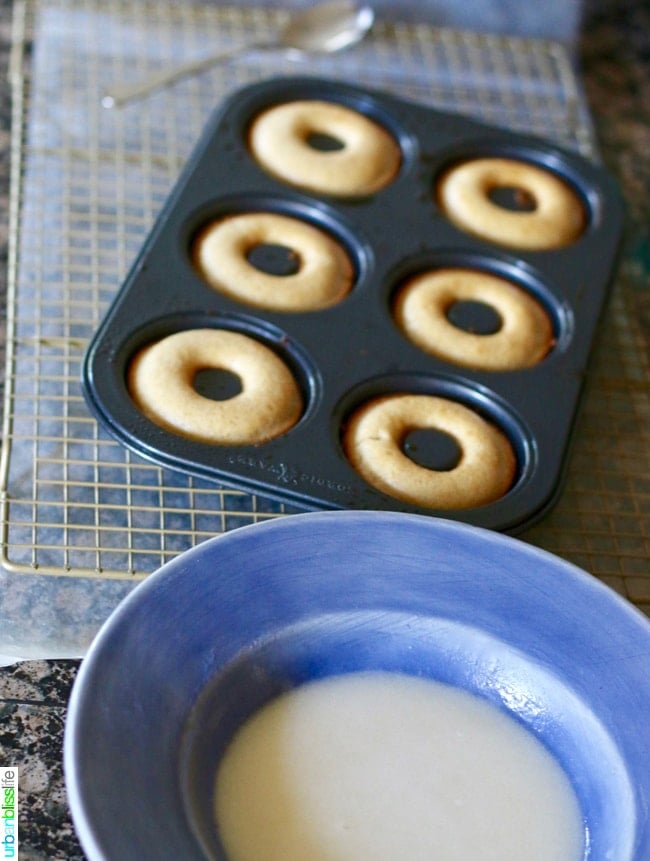 If you don't yet own a donut pan or two, I highly recommend getting one. They're usually just around $10-15 each, and they last forever.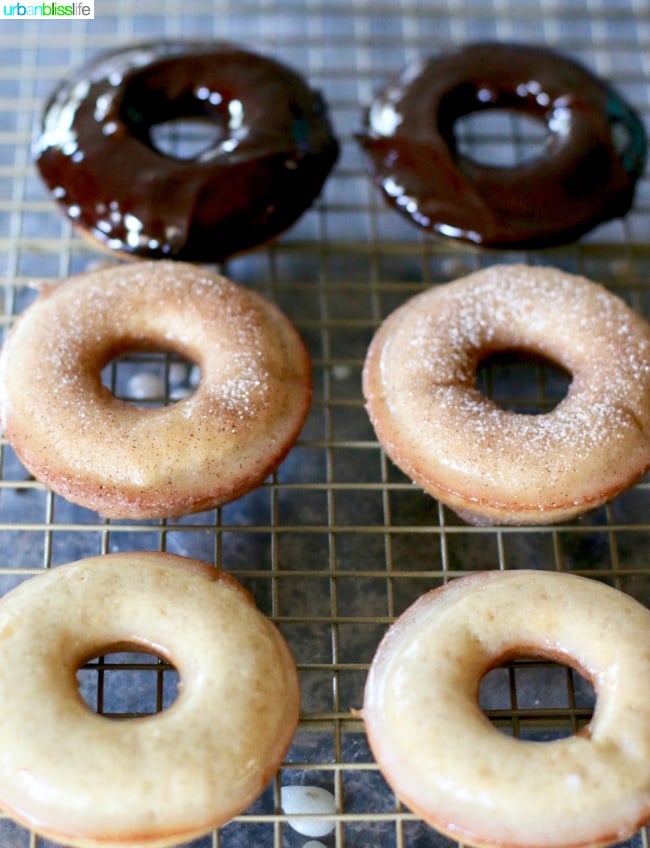 A good cooling rack and wax paper (to catch glaze drips) are also must-haves - not just for this recipe, but for baking in general.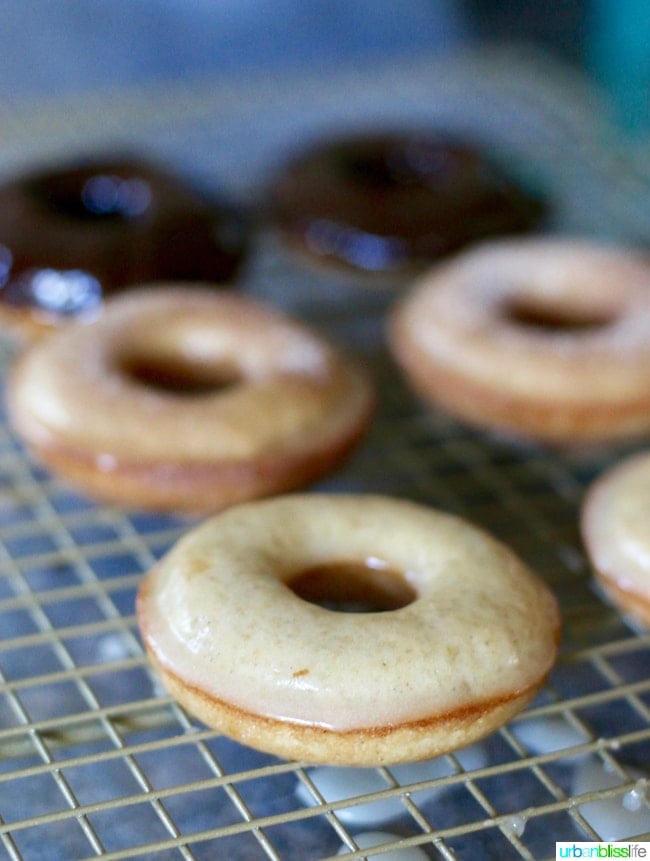 If you have kids, they can help you:
measure ingredients
mix ingredients
fill the donut pan
glaze the donuts
And of course, you will have no problem getting your kids to help you EAT these beautiful donuts!
Glaze It!
For these cinnamon sugar donuts, I'm including three different toppings/glazes you can make.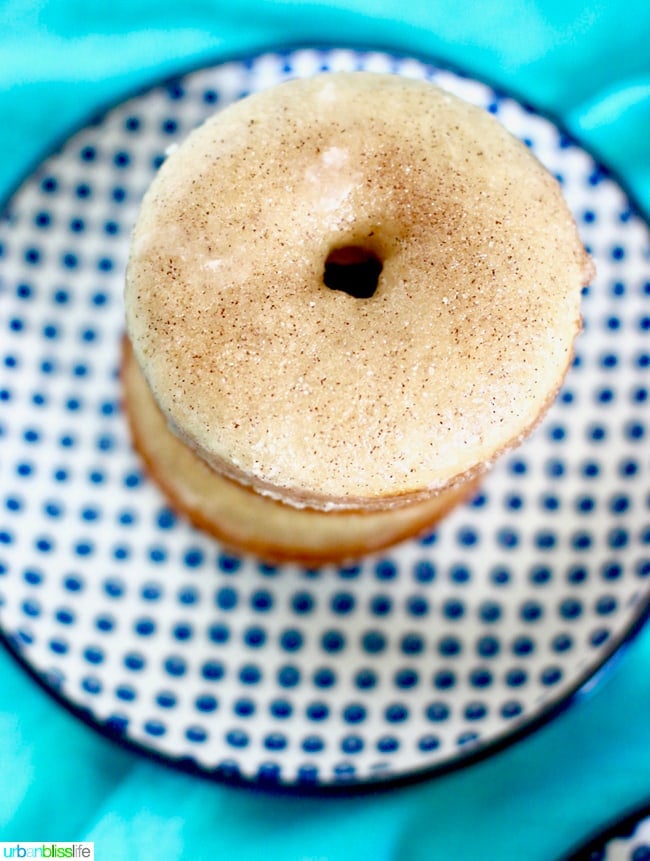 There's the classic Cinnamon Sugar Glaze. This is my son's favorite!
The Classic Chocolate Glaze is my daughter's favorite.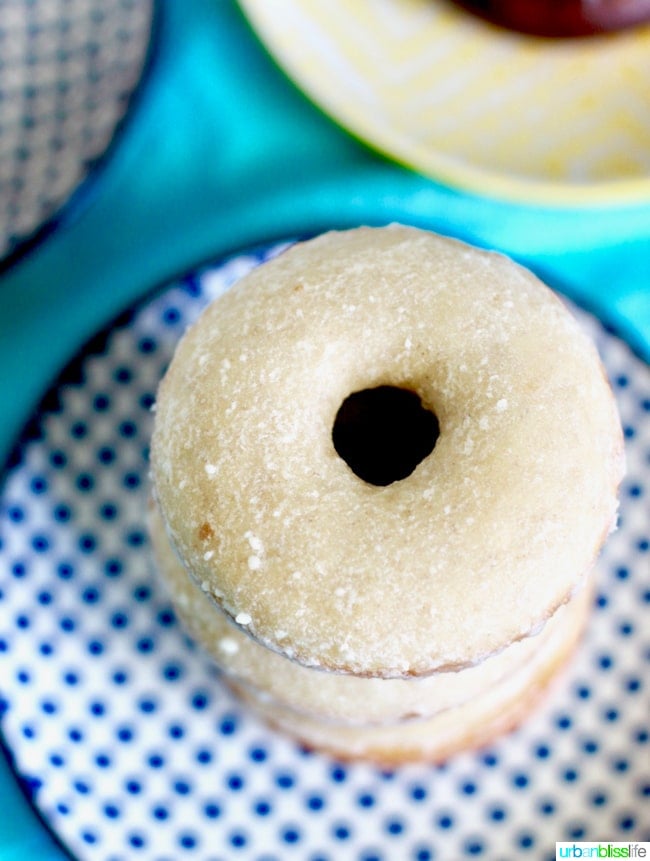 Then there's my absolute favorite: Classic Vanilla Glaze. made with confectioner's sugar (powdered sugar) and butter, this elevates the bare cinnamon sugar donut to a whole new extra special level.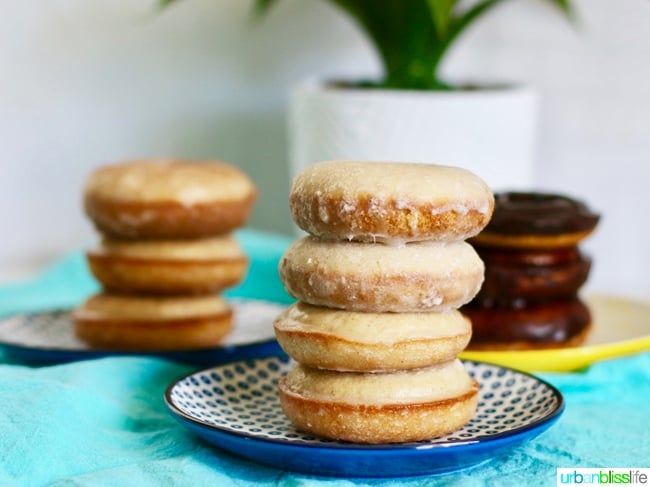 If you're looking for a very special weekend or holiday breakfast or brunch, this Baked Cinnamon Sugar Donuts recipe is for you.
I hope you love it as much as we do!
Baked Cinnamon Sugar Donuts Recipe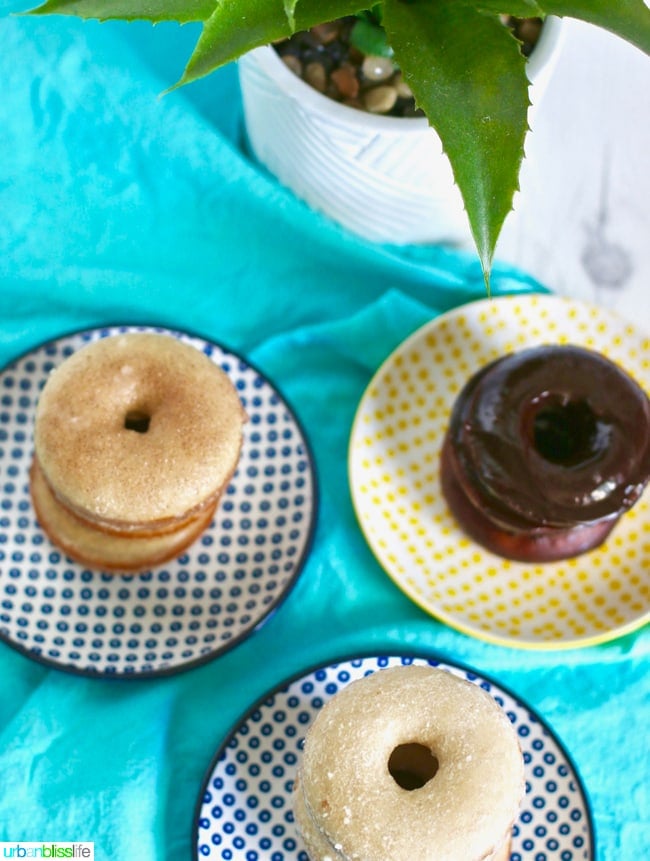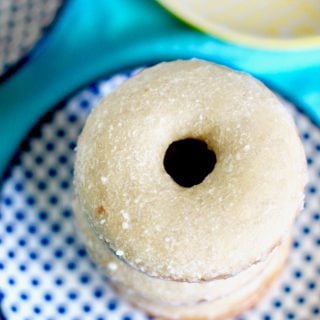 Baked Cinnamon Sugar Donuts
Baked Cinnamon Sugar Donuts with three glazes are the perfect sweet treat for the whole family!
PRINT
PIN
RATE
Ingredients
Instructions
Preheat oven to 350 degrees.

Grease two donut pans.

In a large bowl, mix flour, sugar, baking powder, cinnamon, nutmeg, and salt.

In a separate medium bowl, whisk together the egg, milk, melted butter, and vanilla.

Combine wet mixture with dry mixture until just blended.

Fill each of the donut rings in the donut pans with just a bit of room at the top, about ¾ of the way full.

Bake at 350 degrees for 15-17 minutes. The edges and tops will be slightly golden brown. You can also do the toothpick test and if it comes out clean, allow the donuts to cool in the pan for 5 minutes before tapping them out of the donut pan.
Make the Cinnamon Sugar Glaze
Place butter in a microwaveable bowl wider than a donut, and microwave until melted (start at 30 seconds, then return for 10 more seconds until melted).

In another large bowl, mix together cinnamon and sugar.

Working one at a time, dip donuts into the melted butter, then immediately into the cinnamon sugar. Allow to set on a baking rack.
Make the Classic Vanilla Glaze
In a large bowl, whisk together 2 cups powdered sugar, ¼ cup milk and 1 teaspoon vanilla until smooth. I use almond milk, but you can use 2% or whole milk. Dip donuts into the glaze, flip to glaze both sides. Place on cooling rack to allow the glaze to harden for a few minutes before devouring.
Make the Chocolate Glaze
Place chocolate chips into a large microwaveable bowl, and microwave until melted and smooth. Start at 30 seconds, stir, then microwave for another 10-15 seconds and repeat until melted and smooth. Stir in melted butter and corn syrup until well blended and smooth. Dip donuts into the glaze, place on a cooling rack and allow the glaze to harden before eating.
Notes
Makes about 12 standard size donuts.
*I prefer using almond milk, but you can use 2% or whole milk
Tried this recipe?
Please leave a star rating and comment! Then snap a pic of your dish and share it on social media. Tag @UrbanBlissLife and #UrbanBlissLife!
Nutrition information is a general estimate. Actual nutrition details may vary depending on the exact foods & brands you use to make this recipe. It does not take into account any substitutions, toppings, or optional ingredients.
What glaze/topping would you like to use with these donuts?
This post contains affiliate links.