Wine and pizza can be the perfect pairing! With so many different types of pizzas, there are delicious wines to pair with each unique flavor combination. And we've got a helpful guide outlining the best wine to serve with pizza.
Pizza is undoubtedly one of the world's most beloved comfort foods. Our family has a longstanding tradition of pizza night.
Whether you prefer a classic Margherita, a hearty meat-lover's pie, or a gourmet creation with unique toppings, there's a delicious pizza for everyone.
But have you ever thought about how the right wine can take your pizza experience to a whole new level?
In this blog post, we'll explore some of the best wine varieties to pair with different kinds of pizza, so you can savor the flavors in style.
Jump to:
Wine pairing tips
There really are no strict rules when it comes to finding the best pairing for your pizza. That said, following just a few basic pizza pairing guidelines can help enhance your food pairing experience.
Match the intensity of the wine with the pizza – lighter wines for simpler pizzas and bolder wines for loaded or spicy pies.
Consider the sauce and dominant toppings when selecting your wine. Balance wine with good acidity with the acidity in tomato-based sauces.
Ultimately, personal preference plays a significant role. So don't be afraid to experiment with different wines and pizzas to discover your favorite combinations.
Pairing the perfect glass of wine with your favorite pizza is about enjoying the flavors you love most!
Here are some pizzas that make for a classic pairing. And some creative pizza combinations with big flavors and the wines that make a perfect pair.
Margherita pizza
Margherita pizza is a simple yet delicious combination of tomato sauce, fresh mozzarella, basil, and a drizzle of olive oil. This classic pizza deserves a wine that complements its simplicity and elegance.
A crisp and refreshing Pinot Grigio is a great pairing. Its light body and notes of green apple and citrus provide a harmonious balance to the Margherita's simplicity.
Pepperoni pizza
The bold flavors of spicy pepperoni pizza demand a wine that can stand up to the heat.
Zinfandel, known for its robust fruitiness and hints of black pepper and spice, is an ideal match. The wine's vibrant personality adds depth to the pizza's savory goodness.
🍕 For pizza in a flash, try our Air Fryer French Bread Pepperoni Pizza recipe.
BBQ chicken pizza
BBQ chicken pizza combines the smokiness of barbecue sauce with the tenderness of chicken and the sweetness of onions.
To complement these diverse flavors, opt for a medium-bodied Merlot. Its plummy notes and velvety texture harmonize beautifully with the BBQ sauce, making for a delightful pairing.
🍕 Try the Barbecue Chicken Bacon Pizza on page 116 of my cookbook, The Super Easy Teen Baking Cookbook.
Hawaiian pizza
Hawaiian pizza, with its combination of sweet pineapple, salty ham, and savory cheese, invites a wine that can balance these contrasting elements.
Riesling is a white wine with crisp acidity and hints of tropical fruit. The mango and apricot flavors in this wine provide a refreshing contrast to the pizza's flavors.
Shrimp pesto pizza
For the delectable fusion of flavors found in shrimp pesto pizza, the ideal wine pairing is a crisp and refreshing Sauvignon Blanc. The bright acidity and vibrant citrus notes of this crisp white wine harmonize beautifully with the zesty pesto sauce. Meanwhile its herbaceous undertones complement the fresh basil.
The wine's clean and crisp profile provides a refreshing contrast to the succulent shrimp. This makes it a good match that elevates every bite of this seafood-infused pizza.
Mushroom pizza
For those who appreciate the earthy richness of mushroom pizza, the best pairing is either a Chardonnay with a touch of oak or a Pinot Noir.
Lightly oaked Chardonnay has a buttery texture and flavors of vanilla and toasted oak in the wine. This helps enhance the pizza's luxurious and umami-packed toppings.
Red wine drinkers will enjoy pairing an Oregon Pinot Noir with mushroom pizza. Pinot Noir typically has earthy undertones of mushroom, which helps bring out the umami flavors of the pizza.
Meat lover's pizza
To complement the complex combination of meat lovers pizza, consider Italian wines. A Sangiovese, for example, is an Italian red wine is known for its bright acidity and notes of red fruit and herbs, which harmonize with the pizza's medley of flavors.
🍕 Try the Meat Lovers Pizza recipe on page 95 of my cookbook, The Super Easy Teen Baking Cookbook.
Vegetarian pizza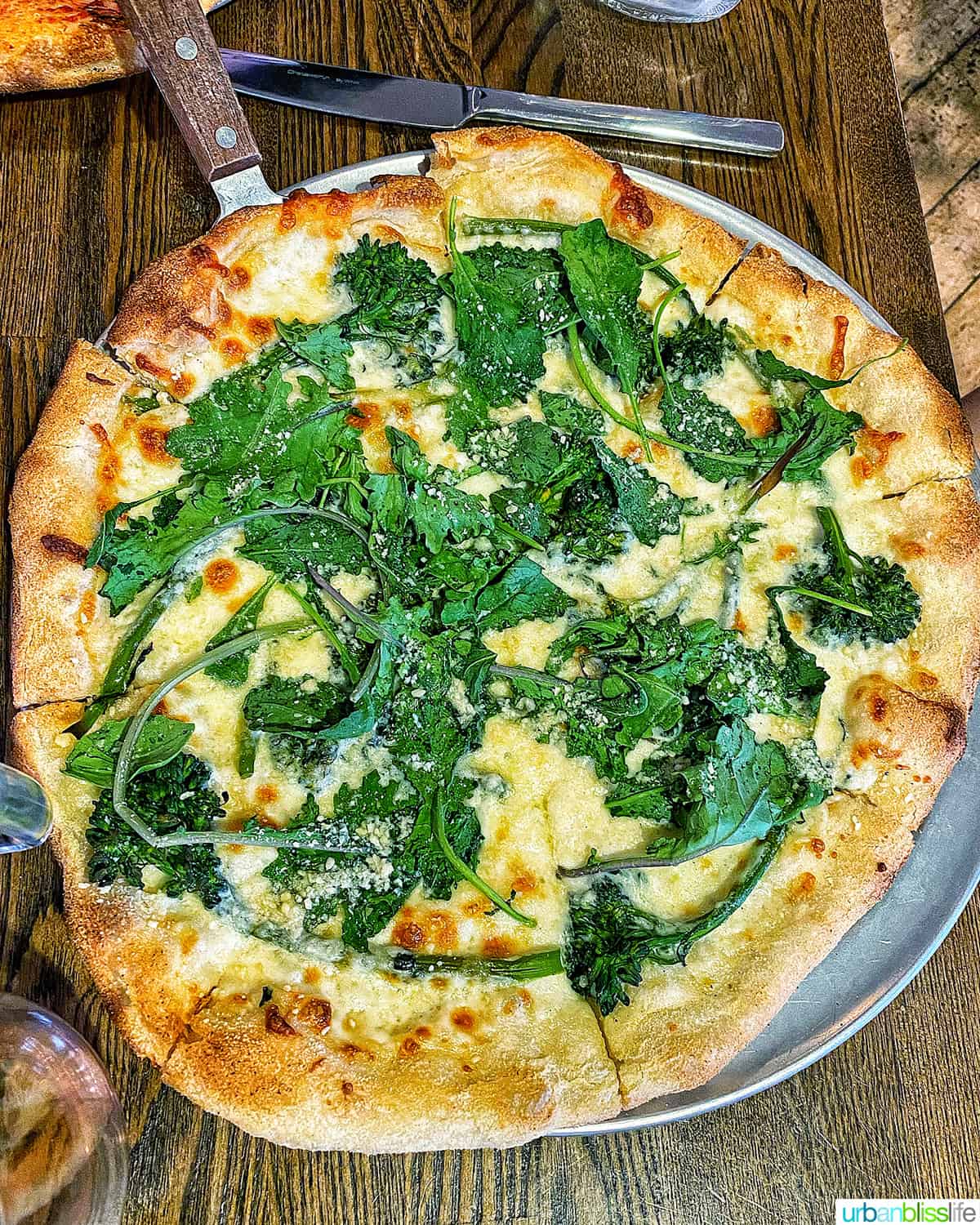 For vegetarian pizzas with lots of veggies, herbs, and perhaps a tomato base, opt for wines that enhance these flavors. A Sauvignon Blanc with its herbal and citrus notes can be a good choice.
For vegan pizzas with dairy-free cheese, lighter reds like Pinot Noir or unoaked Chardonnay often work well. Keep in mind the sauce and dominant ingredients, and don't be afraid to experiment.
Additionally, wines labeled as vegan or organic can be a fitting choice for those who prefer to align their wine choice with their dietary preferences.
Taco pizza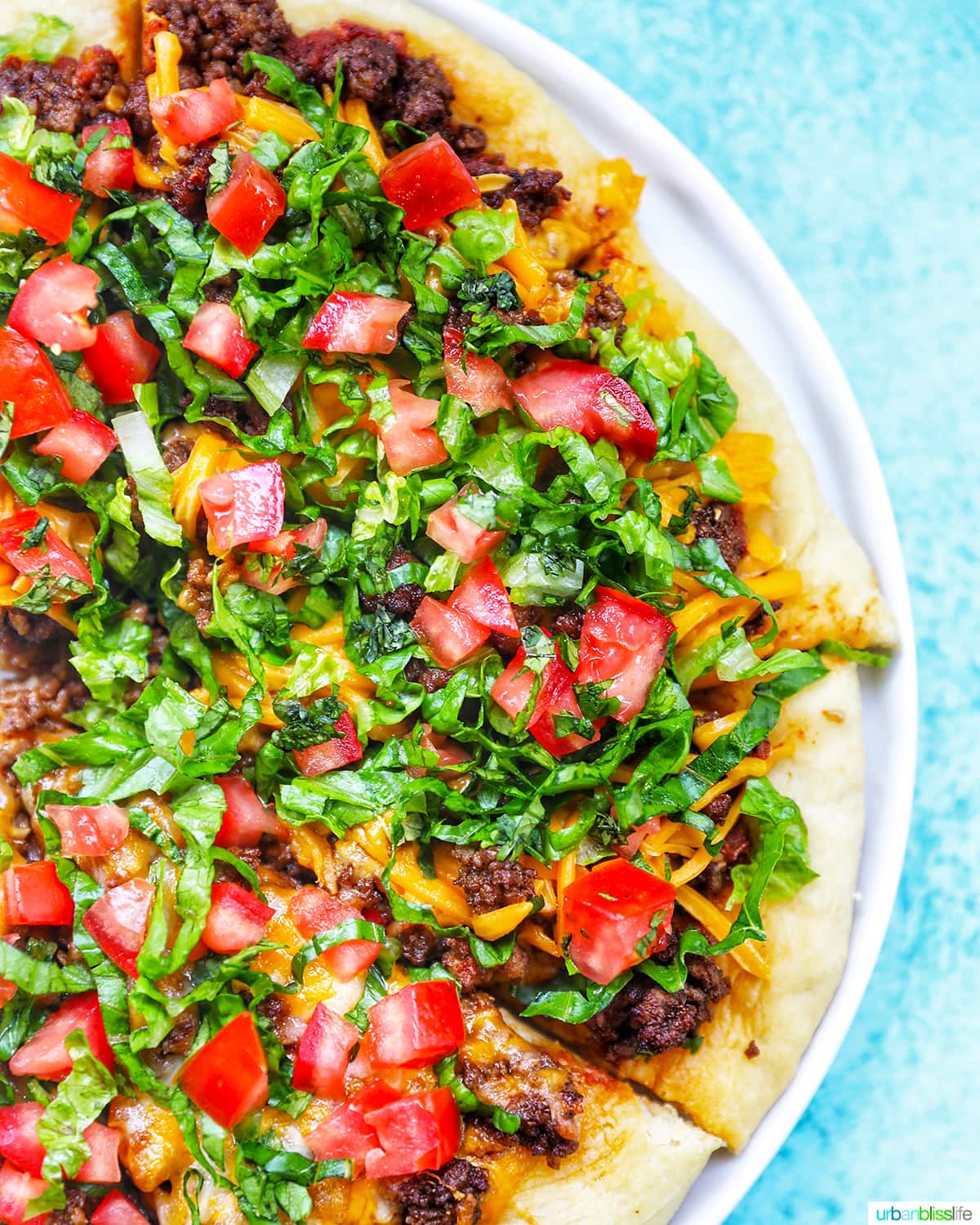 Taco pizza is a fusion of Mexican and Italian flavors. Finding the perfect wine pairing to match its dynamic taste profile can be a thrilling experience.
A zesty and fruity red wine like a Grenache or a GSM (Grenache, Syrah, Mourvèdre) blend is a fantastic choice. These wines boast bold red fruit flavors, a touch of spice, and a smooth texture that complements the savory, spicy elements of the taco pizza.
Grenache is a medium-bodied wine with subtle tannins that won't overpower the dish. This allows you to fully savor the diverse toppings like seasoned ground beef, jalapeños, tomatoes, and cheddar cheese.
White wine lovers will enjoy a Viognier with taco pizza. Its lush stone fruit and floral notes can also be a delightful match, offering a pleasant contrast to the pizza's heat and richness.
🍕 Try my Homemade Taco Pizza recipe.
🚫 Wines that do not pair well with pizza
Pizza is a versatile dish that can pair well with a wide range of wines. However, there are certain wines that may not be the best match due to their distinct characteristics.
Here are some wines that do not typically pair well with almost any type of pizza and the reasons why:
Highly Aromatic White Wines (e.g., Gewürztraminer) - Wines like Gewürztraminer are known for their intense floral and spicy aromas. While these qualities can be delightful on their own, they tend to overwhelm the flavors of most pizzas, especially simpler varieties. The wine's strong aromatics can compete with and mask the nuances of the pizza toppings, making for an unbalanced pairing.
Sweet Dessert Wines (e.g., Sauternes) - Sweet dessert wines are not well-suited for pizza. The sugar content in these wines can clash with the savory and often salty elements of pizza. Sweet wines are better reserved for pairing with desserts.
Heavily Oaked Red Wines (e.g., Very Aged Cabernet Sauvignon) - Extremely oaky and tannic red wines, especially those with significant bottle age, can be too dominant when paired with pizza. They can overpower the pizza's flavors and textures, making the pairing feel unbalanced. Pizza usually calls for wines with moderate tannins and oak influence.
Delicate Sparkling Wines (e.g., Champagne) - While sparkling wines can be enjoyable with certain types of pizza, overly delicate and expensive Champagnes may not be the best choice. The subtle nuances of a high-end Champagne can get lost amidst the bold and robust flavors of pizza. Opt for a more budget-friendly sparkling wine if you're inclined to pair pizza with bubbles.
Extremely High-Alcohol Wines (e.g., Port or Fortified Wines) - Wines with exceptionally high alcohol content, such as Port or fortified wines, are generally not suitable for pairing with pizza. The alcohol can overwhelm the palate and make the pizza taste dull by comparison. These wines are better suited for sipping after the meal as a dessert or digestif.
Pizza and wine pairing frequently asked questions
Can I pair white wine with pizza, or is red wine always a better choice?
You can absolutely pair white wine with pizza! While red wines are more commonly associated with pizza, white wines like Sauvignon Blanc, Chardonnay, and Pinot Grigio can be excellent choices depending on the pizza's toppings. For seafood or vegetable-based pizzas, whites can offer a refreshing contrast.
What's the best wine pairing for tomato sauce?
When pizza contains a tomato sauce, look for a wine with high acidity to match the acid from tomatoes. Grenache, Pinot Noir, and Barbera are high acid red wines that pair well with red sauce based pizzas.
What wine pairs with white pizza?
White pizza, unlike tomato sauce-based pizzas, tends to pair well with white wines like Pinot Grigio and light sparkling wines like Prosecco.
More pizza recipes to pair with wine