Bar Miranda is a playful bar with a brilliant food partnership, tucked into downtown PDX's Portland Food Hall.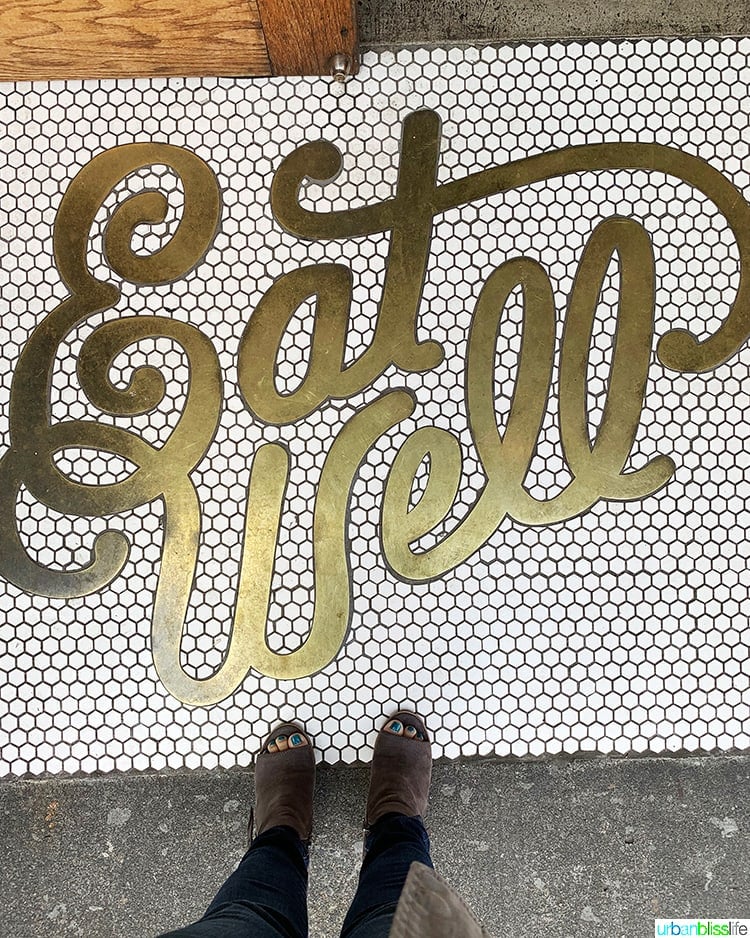 Eat Well.
From the moment I was about to step foot into Portland Food Hall to meet a friend at Bar Miranda, I knew I was home.
In downtown Portland, housed within a dark grey building with tall, thin windows flanked by Pacific Northwest wood, is a small collection of restaurants. Bar Miranda is one of them, with a bar on the first level and more seating and bar in the Mezzanine level.
Bar Miranda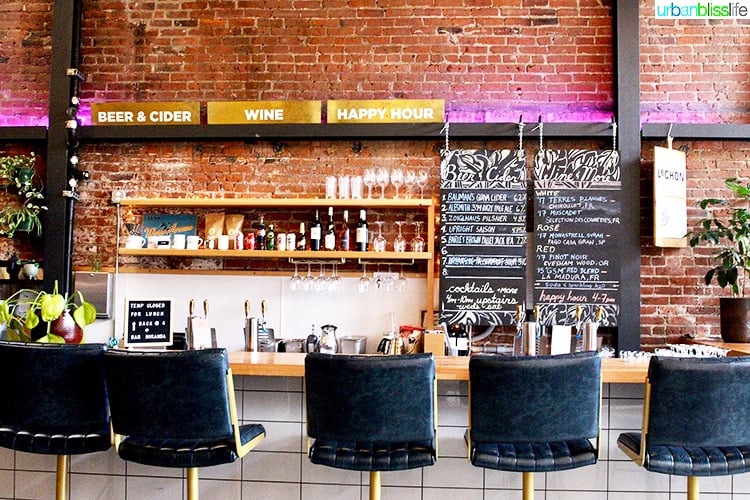 If I worked in downtown Portland, I would meet friends for after-work drinks and bites at Bar Miranda often. So perhaps it's a good thing for my wallet and my waistline that I don't. But I'm still surprised how many friends I have that do work downtown and have no idea it exists.
You know what this means: more delicious cocktails for us, my friends!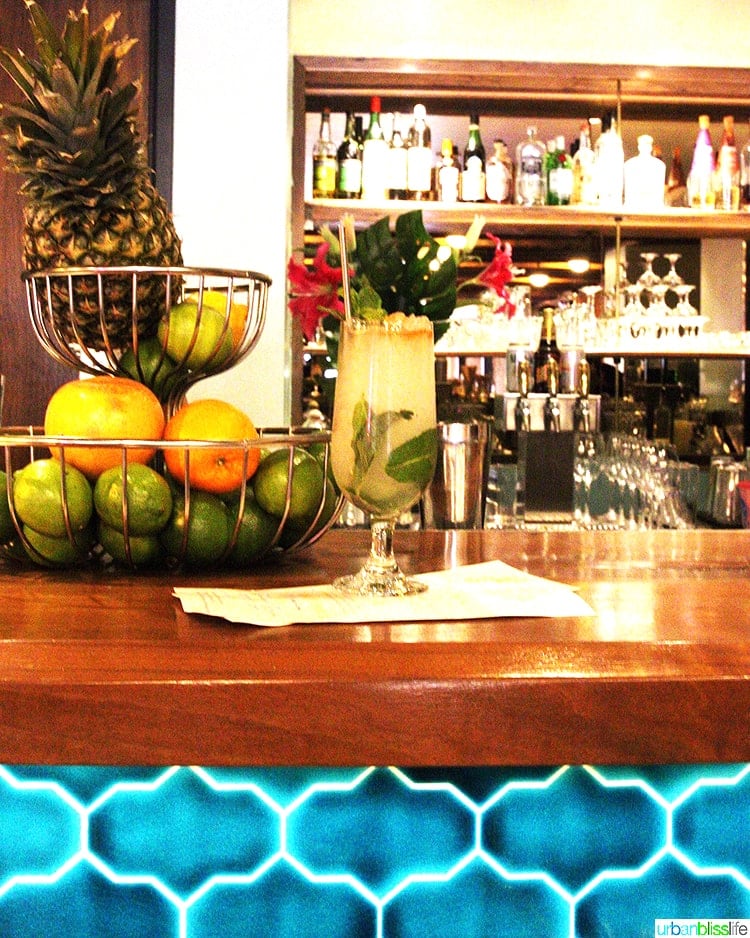 Named after the inimitable Carmen Miranda, Bar Miranda serves up colorful drinks in a cozy, intimate space. In a stroke of brilliance, the bar has teamed up with Lechon restaurant, which has an outpost on the first floor of Portland Food Hall, to provide small bites.
You're going to go to Bar Miranda for the drinks, but I want to talk about the food first. Because this is a food & beverage partnership that works beautifully.
What to Eat at Bar Miranda via Lechon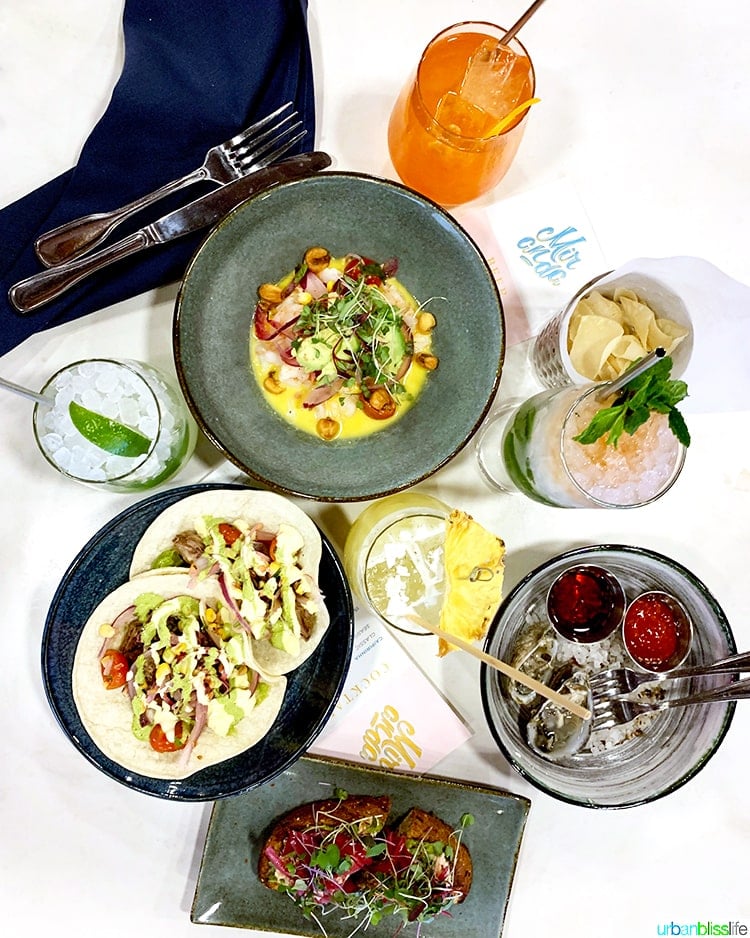 Similar to its main restaurant, Lechon cooks up vibrant, flavorful South American dishes at Portland Food Hall. The restaurant has a smaller menu at this location, consisting small, shareable plates. You can place your order upstairs and they'll bring the food up to you while you're sipping on your cocktails.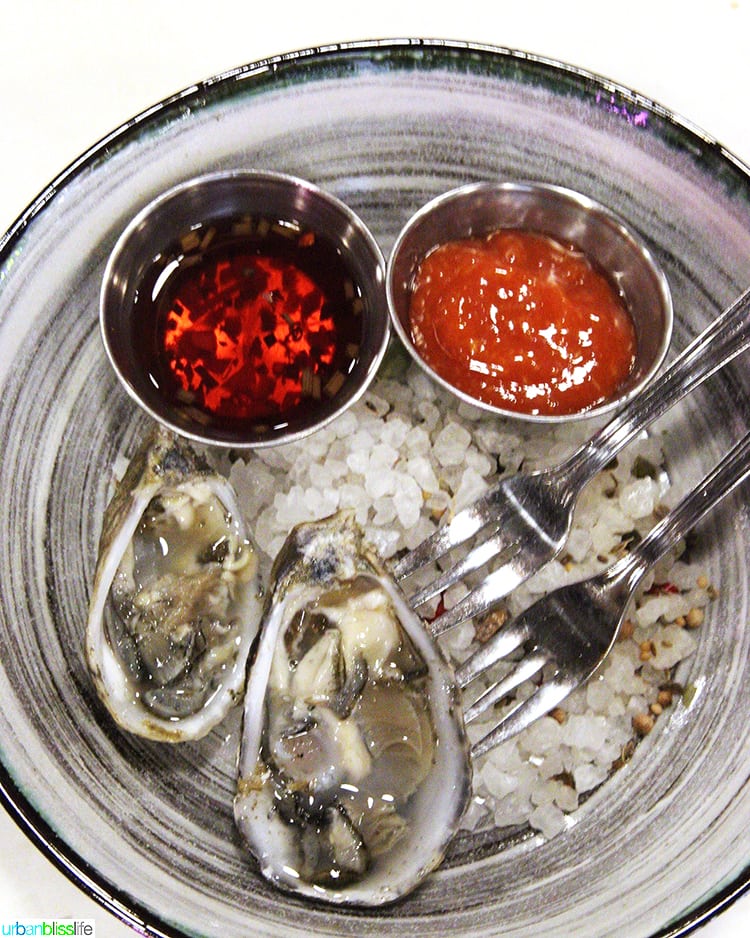 Market Oysters ($3 each) are always a good choice. They're fresh and beautifully presented, along with a mild and a spicy sauce.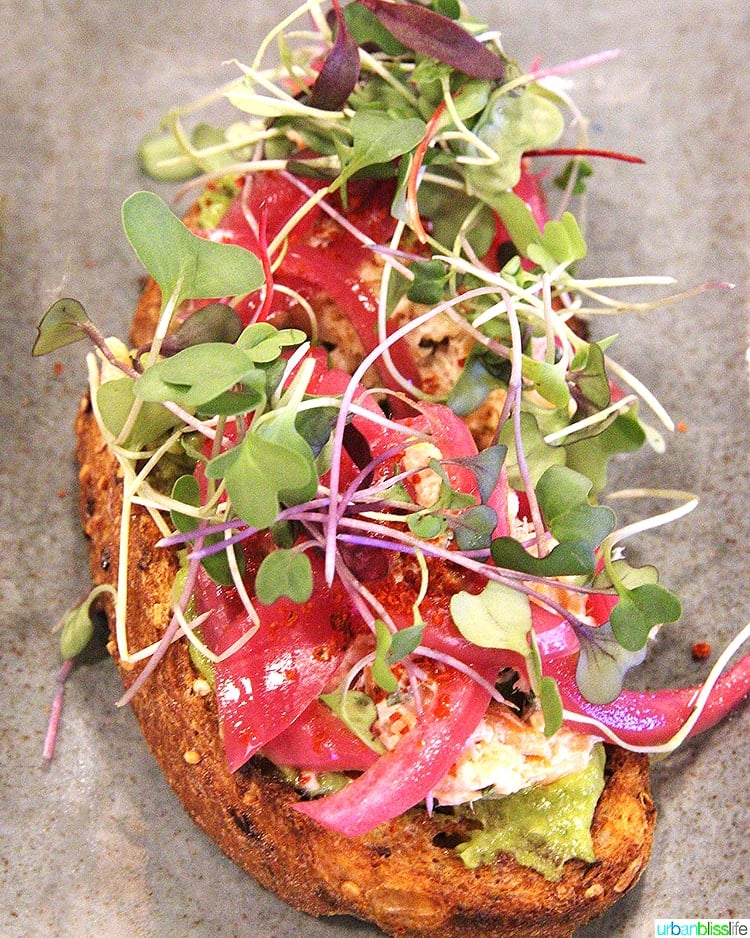 One of my favorite dishes here is the Avocado and Smoked Trout Toast ($8). First of all, it's so pretty! But mainly, the fresh microgreens and tart red onions go so well with the sweetness of the avocado and the smokiness of the trout.
If I were just wanting a light bite for dinner, honestly this toast would tide me over for a while.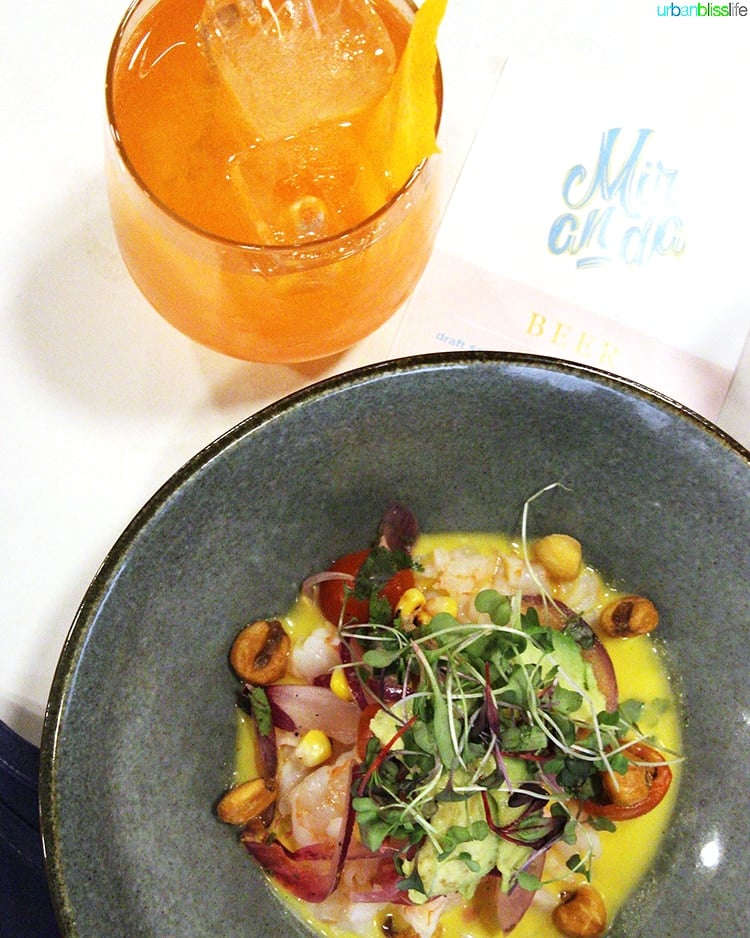 Another dish I highly recommend: the Shrimp Ceviche ($9). It's shareable, but also substantial enough for one person to enjoy on your own with one of Bar Miranda's tasty concoctions. Like the smoked trout toast, I appreciate the microgreens that top this ceviche, along with the avocado and tomatoes. The shrimp is beautifully prepared and delicious.
I am still debating whether the toasted corn (think Corn Nuts) adds anything to this dish or not. I think I prefer the ceviche without them, but definitely try this dish and you can decide for yourself which you prefer.
Cocktails at Bar Miranda
Sure, you can get beer and wine at Bar Miranda, but this is really where you go for the cocktails. Just like the bar itself, the cocktail menu is small but mighty. It contains a few drinks that are regular menu items, such as the Caipirinha and Miranda's Mojito, and some seasonal cocktails.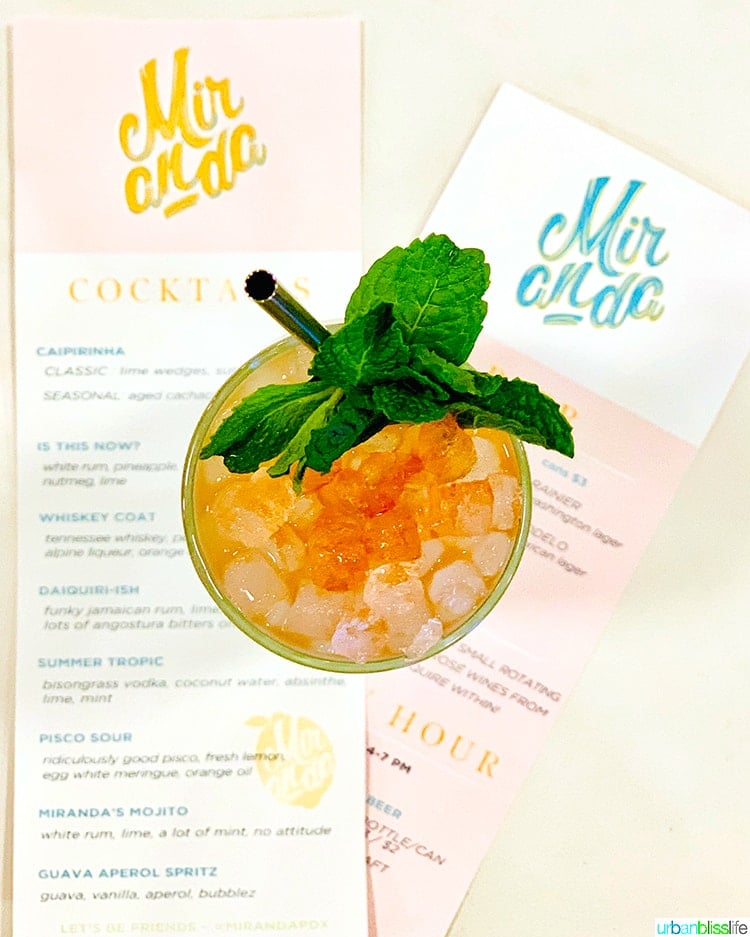 If you were to order one cocktail at Bar Miranda, get Miranda's Mojito ($7 during happy hour). The menu description is perfection: white rum, lime, a lot of mint, no attitude.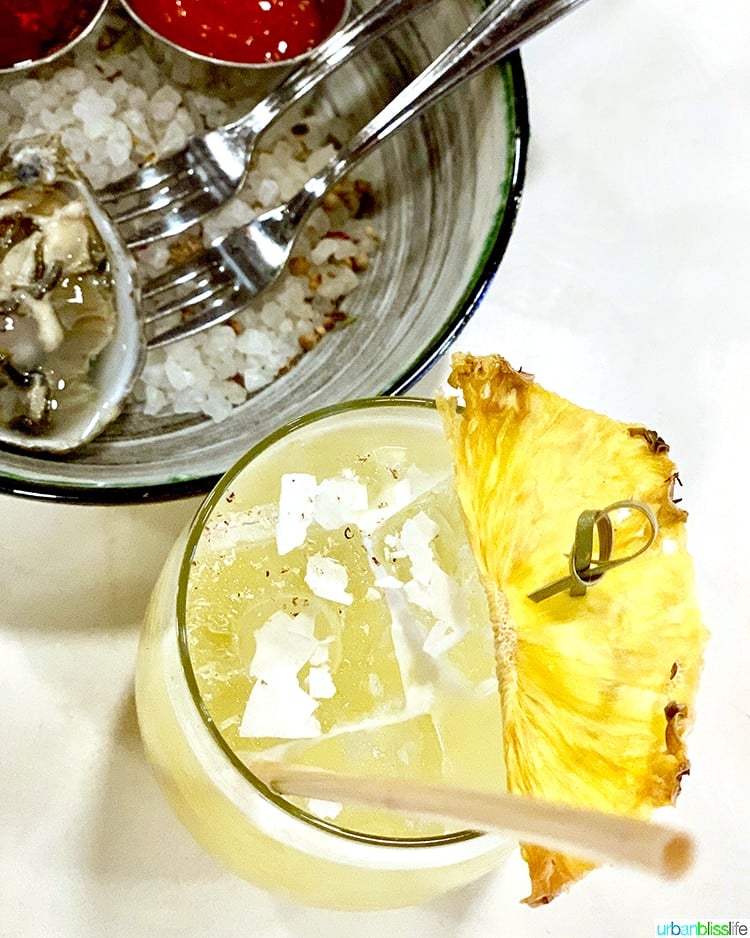 To truly transport yourself to the tropics after a long, hard day at work, order the Is This Now? cocktail. With white rum, pineapple, nutmeg, and lime, enjoy this refreshing drink along with a side of oysters and ceviche, and melt those work cares away in no time.
Eat & Drink at Bar Miranda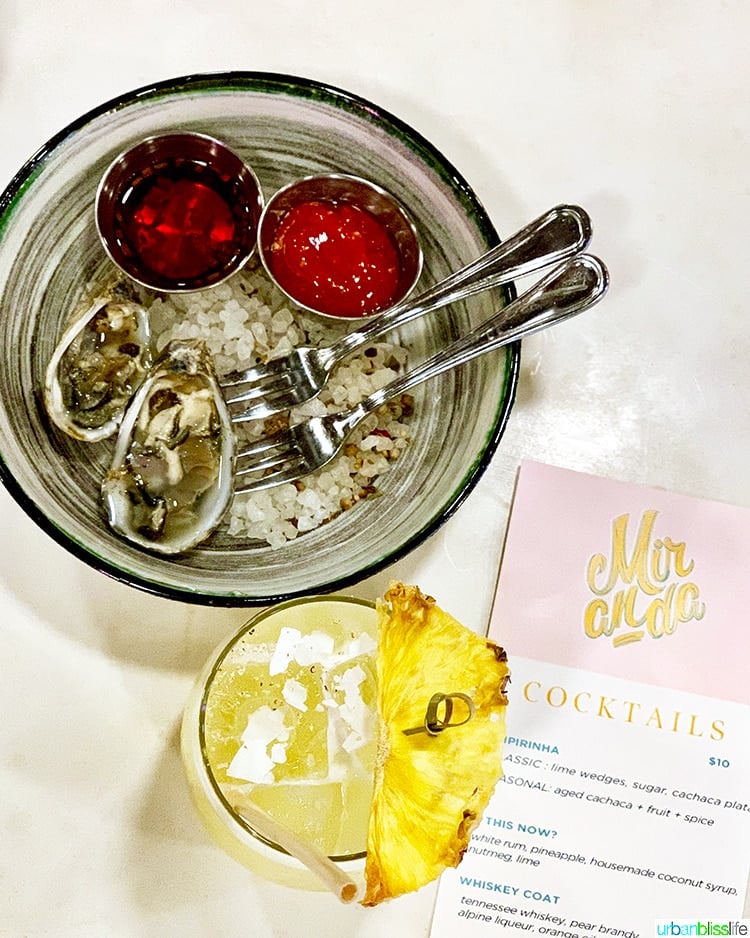 I love Bar Miranda. It's fun and slightly funky without being the weird quirky kid on the block. It's intimate, with lots of options between bar seating, couches, and larger communal tables. The bartenders are AWESOME. And most importantly, the Bar Miranda drink menu and the food from Lechon pair so well together, and won't break the bank. You can easily spend $20 on food & drinks during happy hour here and be, well, very happy.
827 SW 2nd Avenue Mezzanine
Portland, OR 97204
HOURS: Mon 4-9pm, Tues-Sat 12 - 9pm, Closed Sunday
Happy Hour: 4-7pm every day it's open
For more information, visit the Bar Miranda website
PIN IT: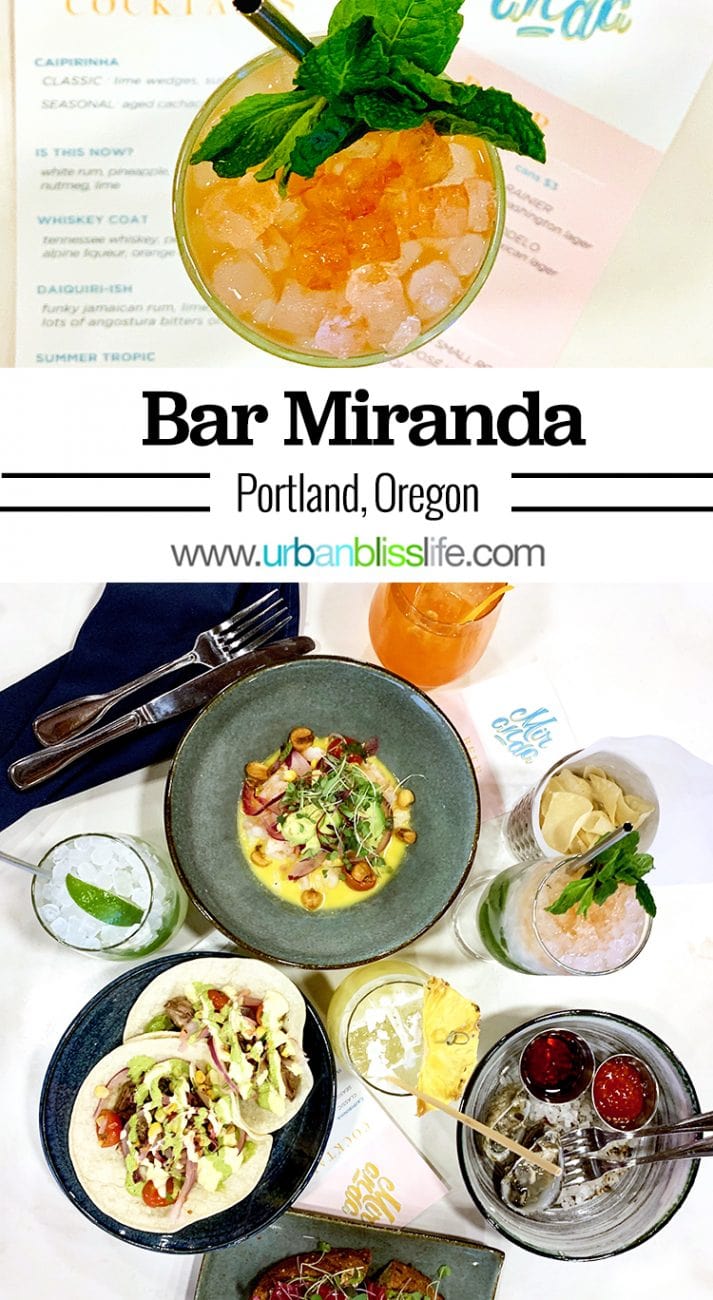 More Portland restaurant reviews
More Portland Bar Reviews