Yes, you can bake a cake in the air fryer! Try one of these delicious 20 Easy Air Fryer Cake Recipes for delicious cake in less time.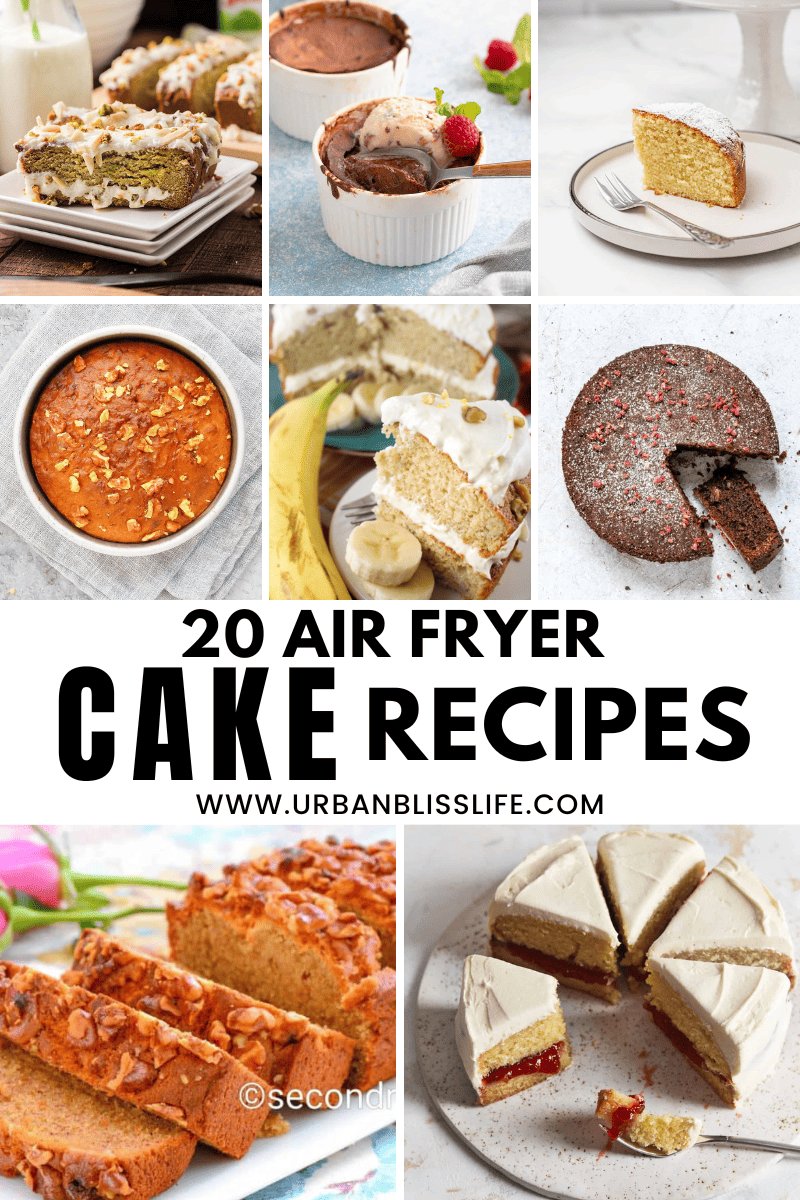 If you have an air fryer, you probably already know how amazing they are.
We use our air fryer multiple times a day, every day, for so many different air fryer recipes. From family fave dinners like Air Fryer Popcorn Chicken to easy side dishes like Air Fryer Garlic Bread.
With the rise in popularity of air fryers, more and more people are discovering the versatility of this kitchen gadget. From crispy onion rings to juicy chicken tenders, the air fryer can do it all.
But did you know you can bake cakes in an air fryer? You can, and they are delicious! Air fryers are definitely not just for savory recipes.
I've rounded up the best air fryer cake recipes for you to try. In general, air fryer cake recipes are similar to regular cake recipes baked in a traditional oven.
Now with a few adjustments to your favorite cake recipes, you can easily bake cakes in an air fryer and enjoy a sweet treat in no time!
Jump to:
Understanding air fryer cake baking
If you're new to air fryer baking, it can be a bit intimidating to figure out how to get started. But don't worry, it's not as complicated as it may seem. In fact, air fryer baking is a lot like oven baking, with a few key differences.
First, it's important to note that not all air fryers are created equal. Some have more features and accessories than others, such as an air fryer accessory kit that includes baking pans and racks. Some cook faster than others or have more capacity.
Before you start baking, make sure you have the right equipment for the job. This is my favorite air fryer that I use every day. It's great for air frying cakes!
When it comes to baking in an air fryer, there are a few general guidelines to follow:
Preheat your air fryer. Just like with an oven, it's important to preheat your air fryer before baking. A preheated air fryer will ensure that your baked goods cook evenly and thoroughly.
Use the right pan. Not all pans are suitable for air fryer baking. Pans that are oven safe are also safe to use in the air fryer. I love using silicone cake molds for easy cake release and cleanup.
Adjust the temperature and time. Air fryers bake differently than ovens, so you may need to adjust the temperature and time for your recipe.
Keep it simple. When you're just starting out, it's best to stick with simple recipes. Once you get the hang of it, you can start experimenting with more complex recipes.
Tips and tricks for perfect air fryer cakes
Here are some tips and tricks to help you make perfect air fryer cakes every time.
Choosing the right cake pan - When it comes to baking in an air fryer, not all cake pans are created equal. It is important to choose a cake pan that is safe to use in an air fryer and fits comfortably inside the basket. A 7-inch oven-safe cake pan is a good size for most air fryers. You can use a silicone cake pan or a metal small cake pan, as long as it is oven safe, which means it is also air fryer safe.
Alternatives to cake pans - If you don't have a cake pan that fits in your air fryer, you can use ramekins or silicone muffin cups to make smaller cakes or mug cakes. Just make sure to adjust the cooking time accordingly.
Texture of the cake - The texture of your cake will depend on the type of batter you use. For a light and airy cake, use cake flour instead of all-purpose flour. You can also add a little cornstarch to your all-purpose flour to mimic cake flour. Sifting your flour and other dry ingredients will also help create a light and fluffy texture.
Cooling and removing the cake - If you used a metal cake pan, line it with a round piece of parchment paper before air frying to make it easier to remove the cake. After your cake is done baking, let it cool in the pan for a few minutes before transferring to a cooling rack or wire rack to cool completely. A piece of foil can help you remove the cake from the pan.
By following these tips and tricks, you can make delicious, moist air fryer cakes every time.
Ready to make an air fryer cake? Check out these best cake recipes!
Frequently Asked Questions
How do I bake a cake in an air fryer without a cake pan?
If you don't have a cake pan for your air fryer, you can still bake a cake by using a silicone mold or a heat-resistant glass dish. Make sure that the mold or dish fits in your air fryer and that it is safe to use in high temperatures. You can also make a "foil sling" by folding a piece of aluminum foil into a long strip and placing it in the air fryer basket. Then, place the cake batter on top of the sling and use it to lift the cake out of the air fryer once it's done.
What is the temperature to bake a cake in an air fryer?
The temperature to bake a cake in an air fryer can vary depending on the recipe and the size of the cake. However, a good rule of thumb is to start with a temperature of 320°F (160°C) and adjust as needed. Check the top of the cake by doing a toothpick test: if a toothpick inserted into the center of the cake comes out clean, it's done.
Can I use a regular cake pan in an air fryer?
Yes, you can use a regular cake pan in an air fryer as long as it fits inside the basket. However, it's important to note that metal pans can scratch the non-stick coating of the air fryer basket over time. To prevent this, you can use a silicone mat or parchment paper to line the bottom of the pan.
Why won't my cake cook in the air fryer?
There could be several reasons why your cake isn't cooking properly in the air fryer. One common issue is that the temperature may be too low or too high. Make sure to follow the recipe instructions carefully and adjust the temperature as needed. Another issue could be that the cake batter is too thick or too thin. Check the consistency of the batter and adjust as needed. Finally, it's possible that the air fryer basket is overcrowded or that the cake pan is too large for the basket. Make sure to leave enough space around the cake for hot air to circulate.
Storing and freezing air fryer cakes
After making your delicious air fryer cake, you might be wondering how to store it properly. Here are some tips for storing and freezing your air fryer cakes:
Storing
Allow the cake to cool completely before storing it.
Once cooled, wrap the cake tightly in plastic wrap or aluminum foil to prevent it from drying out.
Place the wrapped cake in an airtight container and store it in the refrigerator for up to 4 days.
If you want to store the cake for longer, you can freeze it.
Freezing
To freeze an air fryer cake, wrap it tightly in plastic wrap or aluminum foil.
Place the wrapped cake in an airtight container or a freezer-safe bag.
Label the container or bag with the date and type of cake.
Freeze the cake for up to 3 months.
When you are ready to eat the cake, allow it to thaw at room temperature for several hours before serving.
AIR FRYER CAKE RECIPES
You can bake cakes in an air fryer! I've rounded up these tasty, moist, and delicious air fryer cake recipes to make baking cakes faster.
My favorite air fryer to bake cakes
The Nina Foodi XL Deluxe Pressure Cooker/Air Fryer is my favorite! It's the best one I recommend if you want to bake a cake in the air fryer. In fact, I wrote one of the official Ninja Foodi cookbooks!
Happy air fryer baking!
I hope these recipes show you how air fryer cakes are a versatile and easy-to-make dessert option that take less time and energy than traditional baking. With the right recipe and accessories, you can create delicious cakes that are moist and flavorful.
More air fryer recipes
Did you make any of these recipes? Don't forget to leave a 5-Star 🌟🌟🌟🌟🌟 rating and comment below letting us know which one you made and how it turned out. Thank you!