Looking to take your desserts to the next level? Boozy cupcakes take your favorite adult cocktail flavors infused into your favorite cupcake. Perfect 21+ adult party treat! Try one of these 30 alcohol-infused cupcake recipes today!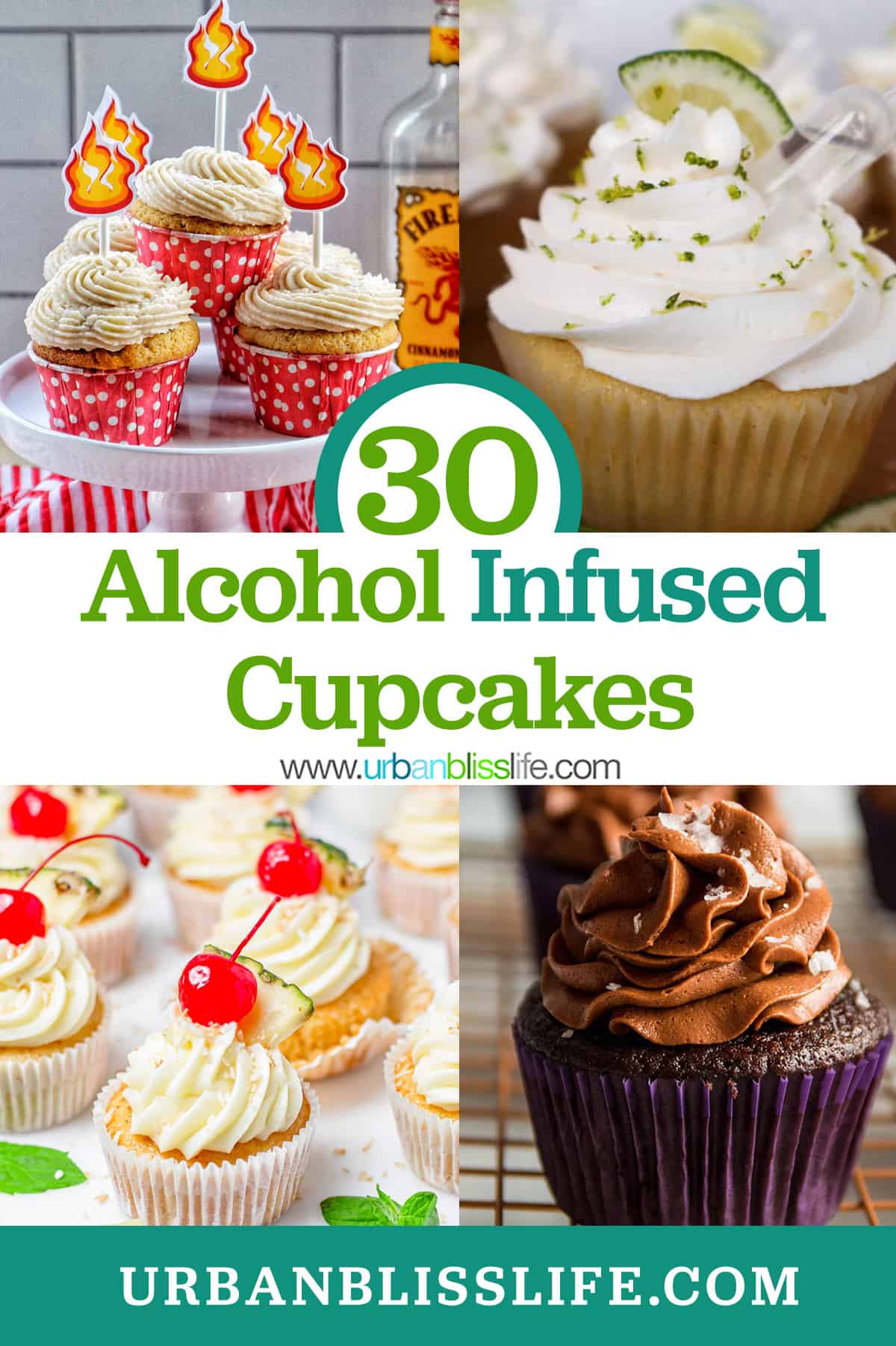 Friends, I am SO excited to share with you these delicious, 21+ alcohol infused adult cupcakes! If you love our Fireball Cupcakes, you're gonna love this collection of boozy cupcakes!
Combine a classic cocktail with a classic cupcake mix and you've got the perfect treat for your next party. Whether you're celebrating a milestone birthday, a new job or house, or just getting together with friends, a sweet treat with your favorite alcoholic beverage infused is a great way to celebrate!
From Tequila Sunrise Cupcakes, to Bourbon Cupcakes, cocktail cupcakes or the classic Margarita Cupcakes, there are many ways to incorporate alcohol into your desserts, and create alcoholic cupcakes for the adults in your life.
I've got 30 delicious alcohol infused cupcakes recipes to share with you.
Why alcohol infused cupcakes?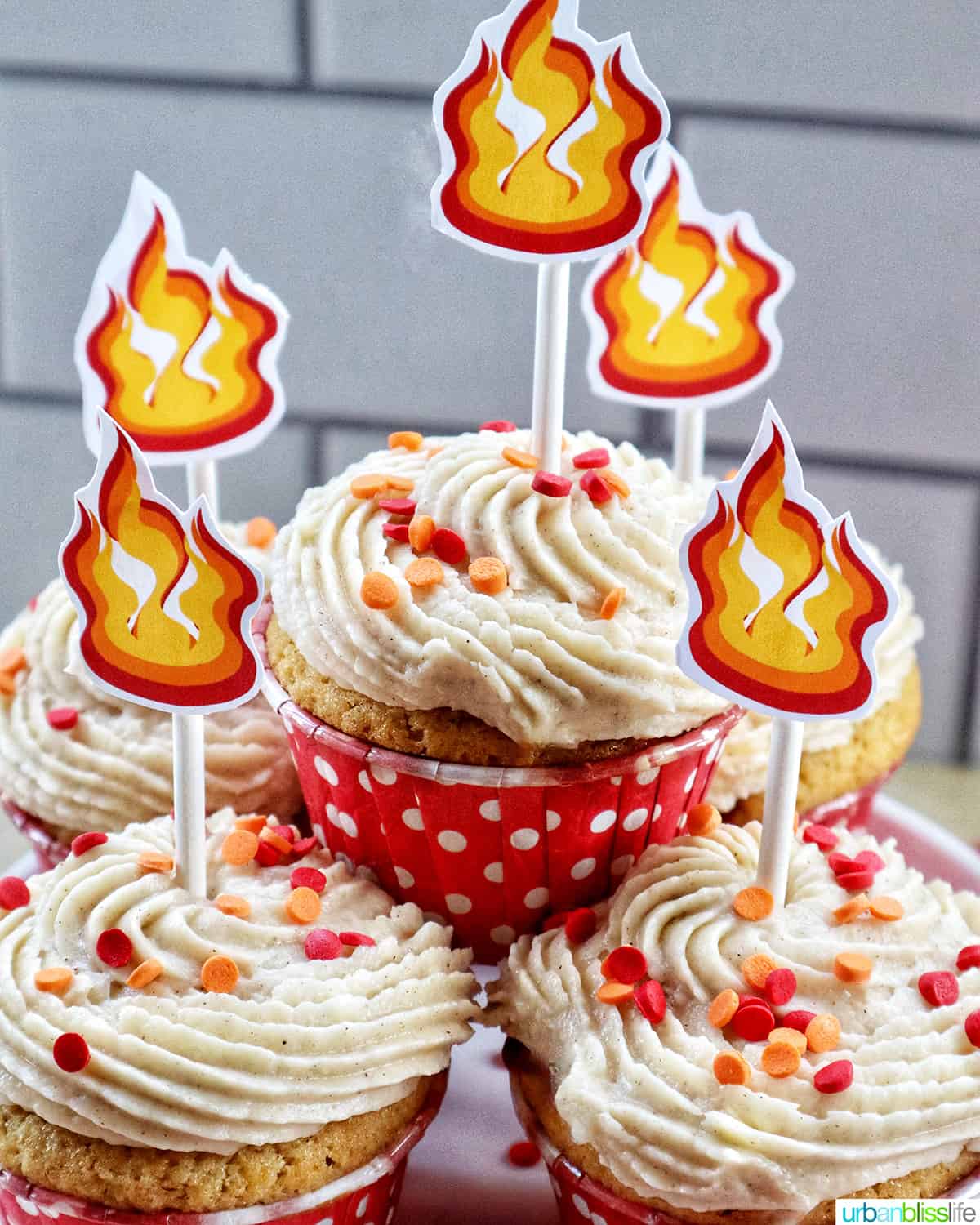 Adding whiskey, stout, beer, bourbon, rum, wine, and vodka to your cupcakes is a great way to add a unique flavor, texture, and even impact the consistency of your cupcakes.
Hosting an adult party and looking to impress your guests with flavors to die for? Adding your favorite alcohol to boxed cake mix - think chocolate cake, white cake, or vanilla cake - is an easy, fabulous way to celebrate.
Whether you're ready to bake boozed-infused cupcakes, chocolate cupcakes or some classic cupcakes, our vanilla buttercream frosting will give your cupcakes the perfect finishing touch!
How do you make alcohol infused cupcakes?
To make alcohol infused cupcakes, you can add alcohol to the batter, frosting, or both.
The amount of alcohol you add will depend on your preference and the recipe you are following.
It is important to note that adding too much alcohol can affect the texture and consistency of the cupcakes.
Baking tips for boozy cupcakes
Choose the right alcohol - Some types of alcohol, such as whiskey and rum, have a strong flavor that can overpower the other ingredients in your cupcakes.
Other types, such as vodka and champagne, have a more subtle flavor that can complement the other flavors in your recipe.
Be sure to choose an alcohol that will enhance the flavor of your cupcakes, rather than detract from it.

Use the right amount - Too much alcohol can make your cupcakes too moist, while too little can make them dry and crumbly.
As a general rule, you should use no more than ¼ cup of alcohol per batch of cupcakes. If you're using a particularly strong alcohol, such as whiskey or rum, you may want to use even less.

Adjust other ingredients -When adding alcohol to your cupcake batter, you may need to adjust the other ingredients to compensate for the additional liquid. For example, you may need to add a little extra flour or reduce the amount of milk or other liquid in your recipe. Be sure to make these adjustments carefully, as they can affect the texture and flavor of your cupcakes.
This is also why it helps to use recipes that are already specifically for alcohol infused cupcakes.
Boozy cupcakes frequently asked questions
What's the best way to store cupcakes?
It's usually best to store unfrosted cupcakes separate from the frosting. Store unfrosted cupcakes in an airtight container in the refrigerator for up to 5-7 days. Frost before serving.
Can you taste the alcohol in boozy cupcakes?
No, because a greater percentage of the alcohol evaporates. However, you can taste the flavor of the alcohol used in the cupcake. The flavor is what stays in during the baking. But if you want a richer taste of alcohol, adding it to your buttercream icing is the perfect way to have more pronounced alcohol flavor.
Do boozy cupcakes get you drunk?
No, they should not. Most alcohol-infused cupcakes include very little amount of alcohol. Also, the alcohol will evaporate while the cupcakes are baking in the oven. And even though they might still be a little percent of the alcohol left in the cupcake, you'll have to eat several pounds of the boozy cupcake to get enough alcohol in your blood to get you drunk.
Alcohol infused cupcakes to make today
30 Alcohol Infused Cupcakes
Other boozy cupcake recipes to try:
Colorful Tequila Sunrise Cupcakes are great for brunch!
Make Jack Daniels Cupcakes for special birthdays.
Some White Russian Cupcakes will help keep you warm in colder months.
Bourbon Maple Bacon Cupcakes- Perfect combination.
Stout Cupcakes -- so dark you'll love it!
Lemon Drop Cupcakes -- anything for the lemons!
Prefer the Classic Margarita Cupcakes?
You'd love a pan full of Bourbon Cupcakes
Irish Cream will be a bomb!
These alcohol infused cupcake recipes are perfect for those who want to add a little extra kick to their classic cupcakes. Whether you're a fan of whiskey, rum, champagne, or baileys, there is a recipe for everyone.
More cupcake recipes
Did you make any of these recipes? Don't forget to leave a 5-Star 🌟🌟🌟🌟🌟 rating and comment below letting us know which one you made and how it turned out. Thank you!