This overnight oven French toast is the perfect make-ahead breakfast to feed a crowd for a weekend brunch, Christmas morning, or anytime you have guests staying with you. The cinnamon spice mix sprinkled and baked throughout makes this perfect to go with a morning cup of cocoa or coffee, too!
One of my family's holiday traditions is to open one present on Christmas Eve, and the rest on Christmas morning. It's SO much fun getting up early Christmas morning, when the kids are all excited to see what Santa brought.
Then, we open up the rest of our presents to each other and have coffee, bacon, pancakes, French toast, and/or maybe cinnamon rolls. We lounge in our pajamas, chowing down on breakfast throughout the lazy long morning, while enjoying our gifts and each others company without any stress or hurry.
This year, I wanted to do a make-ahead breakfast that was just as filling but wouldn't take too much time away from Christmas morning festivities. This Overnight Oven French Toast recipe is just the ticket!
Make Ahead Breakfast: Overnight Oven French Toast
This make ahead breakfast/brunch recipe calls for a whole loaf of pre-sliced French toast bread. You can usually find it in your grocery store bread aisle, but you can also use a French baguette or other thick bread for this recipe.
You just don't want to use regular sliced white or wheat bread. Those everyday types of bread are usually too thin and can fall apart during baking.
Dairy free options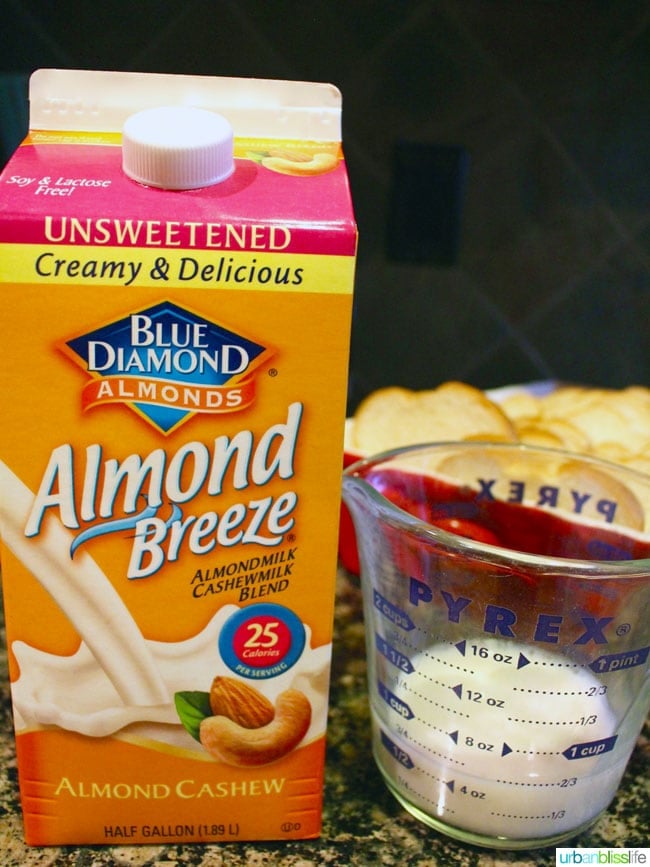 Because I can't have dairy, and I want to enjoy this dish along with the rest of my family, I used almond milk. You can also use soy milk, or even coconut milk. However, I've found that the almond flavor in almond milk works beautifully with the cinnamon and vanilla of this dish.
How to Make the Overnight French Toast
To make this overnight French toast, you mix all of the wet ingredients with the spices in a large bowl.
Layer the bread slices over each other in a pattern. Then, pour the mixture as evenly as possible over all of the bread.
Bake at 350 degrees for 30-35 minutes. I usually rotate my baking pans and dishes halfway through the cooking time in order to ensure even baking.
The result is a deliciously crisp bread crust top, and flavorful French Toast center. This is SO good. And, it's so easy and fast to make ahead of time. The ingredients come together in just 10-15 minutes. If you want to make this breakfast the night before, simply assemble the ingredients and then refrigerate overnight.
Then, when you get up in the morning, you can toss into the oven and bake. It will be ready by the time the troops are dressed and ready for breakfast before heading off to school or work!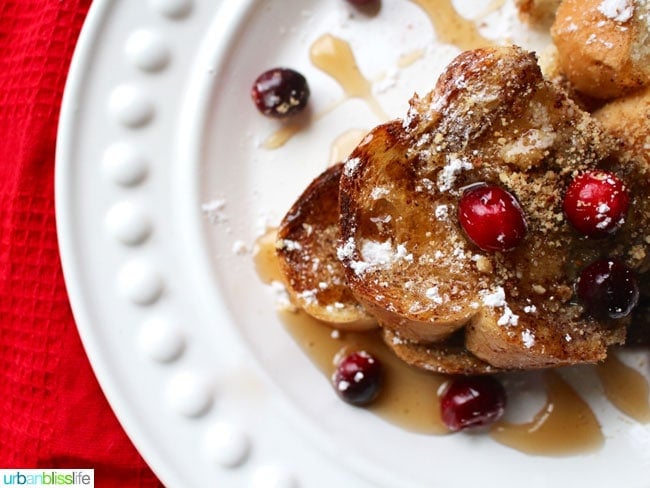 Topping Ideas
I topped the Overnight Baked French Toast with sifted powdered sugar, maple syrup, and cranberries. Other ideas:
Crushed, sliced or ground almonds
Cranberry-orange maple syrup
Chocolate sauce
Cinnamon sugar sprinkles with maple syrup
Tips for Making Overnight Oven French Toast
When pouring the mixture over the bread, be sure the mixture reaches ALL of each piece of bread. Depending on how you layered the bread, this may mean lifting up some parts and pouring the mixture in order to reach corners and pockets covered by other slices.
If you are working with a larger loaf or larger slices, feel free to bump the Almondmilk mixture up to 1 cup.
Don't forget to spoon the mixture that has settled on bottom of the baking pan overnight over the bread before baking. And be sure to double check that ALL of the bread has some of the milk mixture over it.
If you find that the mixture has solidified slightly because of the temperature of your fridge, take out and let it thaw out a bit at room temperature so it's easier to spoon the mixture from the bottom over the bread.
Overnight Oven French Toast
This overnight baked French toast is so easy to prepare, and is a delicious dish to serve at brunch, Christmas morning, or for any occasion when you have guests over and need to feed a crowd.
PRINT
PIN
RATE
Ingredients
1

loaf sliced French toast bread

¾

cup

Almond Breeze Almondmilk Cashewmilk Blend

¼

cup

brown sugar

¼

cup

granulated sugar

¼

cup

maple syrup

1

tablespoon

ground cinnamon

½

teaspoon

ground nutmeg

¼

teaspoon

ground all-spice

2

teaspoons

vanilla extract
Instructions
Grease a 9 x 13 baking dish with butter or nonstick spray.

In a large mixing bowl, combine all remaining ingredients (eggs through vanilla extract). Whisk vigorously until well blended.

Lay out bread slices evenly into the baking dish, overlapping slightly.

Pour mixture over bread slices as evenly as possible.

Cover and refrigerate for at least four hours or overnight.

When you are ready to bake the bread, preheat the oven to 350 degrees and remove baking dish from the refrigerator.

Use a spoon to gently scoop up any remaining liquid on the floor of the baking dish and spoon over the top of the bread or cover any visible dry, unsoaked spots.

Place in oven and bake at 350 degrees for 30-35 minutes, until the tops are just golden brown.

OPTIONAL: top with sifted powdered sugar, maple syrup, and any other goodness your heart desires!
Tried this recipe?
Please leave a star rating and comment! Then snap a pic of your dish and share it on social media. Tag @UrbanBlissLife and #UrbanBlissLife!
Nutrition information is a general estimate. Actual nutrition details may vary depending on the exact foods & brands you use to make this recipe. It does not take into account any substitutions, toppings, or optional ingredients.
PIN IT:

Trust me: if you have just 10-15 minutes to prepare this the night before, this make ahead breakfast is SO much easier than the traditional way of making French Toast one or two at a time!
Do you have any holiday food traditions?
---
This post is sponsored by Almond Breeze Almondmilk.