California Pizza Kitchen elevates their family-friendly menu with new Next Chapter Menu items.
My family LOVES food. We eat out as often as we make meals from scratch. We'll eat at new trendy local establishments and at chain restaurants; we are equal opportunity diners. As long as you make tasty food and treat my family well –and actually, especially if you have excellent service – we will continue dining there.
One of my kids' favorite places to eat is a chain restaurant: California Pizza Kitchen, AKA CPK.
Recently, my family had the opportunity to dine at our local CPK and try their new Next Chapter Menu. Needless to say, I didn't have to pull my family's arm to try this one out.
Jump to:
California Pizza Kitchen
If you aren't familiar with California Pizza Kitchen (CPK), their menu goes way beyond pizza. In fact, we actually never order the pizza there, because there are so many other great items from which to choose.
CPK's new Next Chapter menu focuses on high quality, fresh and seasonal ingredients, inventive main plates, hand-crafted cocktails and premium wines. It's now available locally at the Bridgeport Village and Happy Valley CPK locations, and is rolling out at other CPK locations nationwide.
Seasonal Drinks
Compared to other chain restaurants, the drinks on the CPK menu rocks. I love their Sangria Flight: instead of having to choose just one, you get to try one of each! You get a 3-ounce pour of Orchard Sangria, Red-Berry Sangria, and Bee Hive Sangria.
Featured beers in this Next Chapter menu include local brews from Hop Valley Brewing, Fort George Brewery and more; your beer selection will vary depending on your location and your local breweries.
New appetizers
One of the Next Chapter menu items takes advantage of the hot cauliflower craze that's sweeping the US right now, and offers up some Spicy Buffalo Cauliflower.
Now, I love cauliflower appetizers and found this one to be delicious. Think buffalo chicken bites, but plant-based! My hubby liked the flavor but still thought it tasted like cauliflower, which he is not a fan of. I personally thought the texture was similar to chicken, and liked this dish.
Seasonal entrees
One of the swankiest Next Chapter menu items I enjoyed was the Fire-Grilled Ribeye. This 12-ounce beauty is cooked with house-made pinot noir sea salt, topped with creamy bleu cheese butter and served with roasted fingerling potatoes and lemon-garlic wild arugula salad.
My personal favorite was the Roasted Garlic Chicken with Seasonal Vegetables. We're talking pan-sautéed chicken breast in lemon-garlic sauce with hearth-roasted fingerling potatoes, cauliflower, Mediterranean herbs and seasonal vegetables. This was SO good!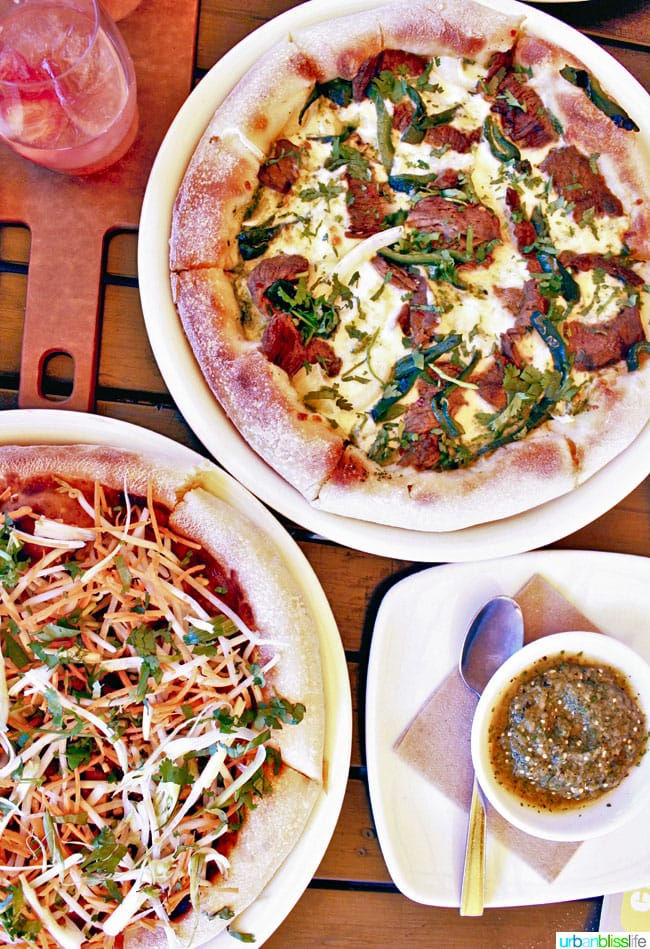 Since pizza is in the name, you bet that they have some new pizzas on their Next Chapter menu as well. One of the limited time only offerings is the Carne Asada Pizza (pictured above, top right).
This pizza has tender marinated steak, fire-roasted poblanos, cilantro pesto, yellow onions, Mozzarella, Monterey Jack and fresh cilantro. It's served with house-made salsa verde. If you are dairy-free like me, the carne asada meat from this pizza tastes awesome when heated up as part of a pasta sauce for lunch the next day. Seriously. Try it!
New desserts
It's pumpkin season, so there's Pumpkin Cheesecake on the Next Chapter menu. CPK serves this on a ginger crumb praline crust with fresh whipped cream and a drizzle of praline sauce. I took a bite (darn dairy-free life!). It was rich, creamy, with a hint of fall spice, and so tasty.
Menu favorites
You can of course still get all of your favorites at CPK as well. I'd suggest their particularly creative version of traditional hummus.
Tuscan Hummus consists of white bean hummus topped with house-made checca. It's served with warm, hearth-baked traditional or wheat whole grain pita. This is an awesome way to start a meal at CPK.
Hubby and I also usually split an order of their Tortilla Spring Rolls. We get the Baja Chicken and the Thai Chicken. SO. GOOD.
The Jambalaya Fettuccine is probably one of my favorite dishes to order and then take home. This dish tastes awesome the next day as lunch leftovers too. It has blackened chicken and shrimp, crawfish, Andouille sausage and Tasso ham in spicy Cajun sauce.
One of the salads that hubby and I like to order is the Thai Crunch Salad. This has chicken with crisp veggies and fresh cilantro, peanuts, crispy wontons and rice sticks. It's tossed in Thai peanut dressing, which I usually order on the side.
CPK kids menu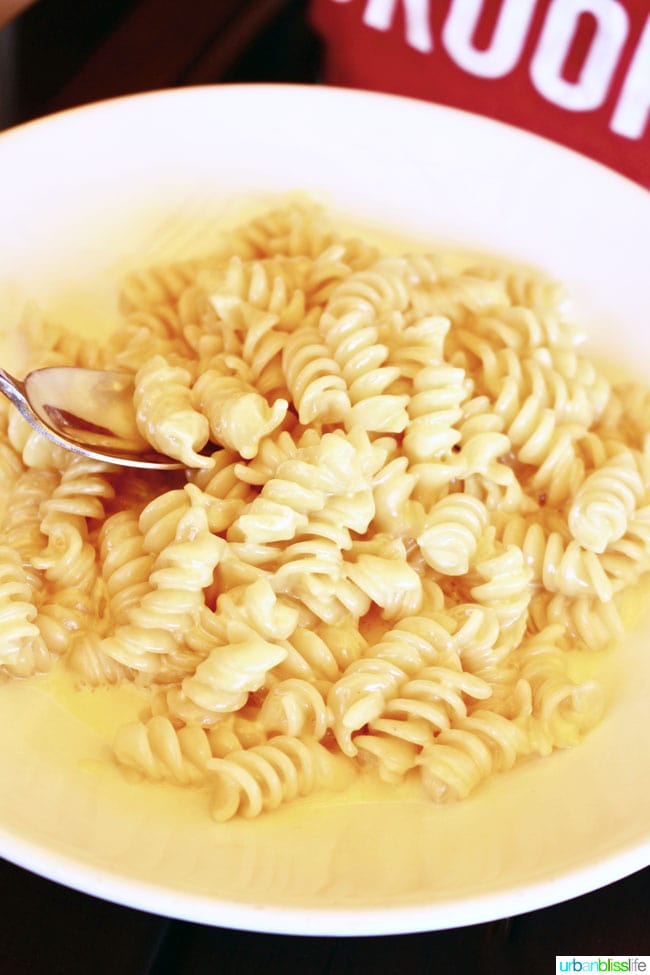 Their CPK menu for kids is pretty standard for family-friendly restaurants. My kids love CPK's Curly Mac & Cheese, and you can get this topped with edamame if your child likes that kind of thing. My kids don't. They are mac & cheese purists, and they eat up the CPK version happily as it is.
You can also order kids' chicken fingers, pizzas, and other pasta dishes.
And my daughter ordered the kids' sundae for the first time during this visit. Oh my. We're ruined now, because she wants this all the time!
Final thoughts on the new CPK menu
As much as I love our local restaurants, eating at trendy spots and trying crazy new minimalist hipster dishes, I also really like the comfort of eating at CPK with my family. We know we will always leave happy and satisfied - and with leftovers that taste amazing later that night or the next day. I always enjoy their seasonal menu items as well.
They are also REALLY good about food allergies here - you just need to let your server know right away and they'll help you find dishes that will work for you. In fact, the Thai Chicken Pizza pictured along with the Carne Asada Pizza above is dairy-free, and they brought it out for me. How sweet was that? Plus: they said they could do almost any other pizza without the cheese.
Visit
If you haven't been to CPK in a while, or ever, I suggest giving them a try. They do a great job with keeping their menus fresh and seasonal, and we've always had great service here.
To find your nearest CPK and check the availability of items in your area, please visit CPK.com.
Many thanks to California Pizza Kitchen for this complimentary meal to try the new CPK menu items, and a special thanks to General Manager Eric Schrope. He's been with the company for 22 years! He was a delight to meet and is truly passionate about the difference in dining at CPK. Thank you for your kind hospitality, Eric!