Entertaining a crowd this holiday season? Build a Holiday Bacon Bar!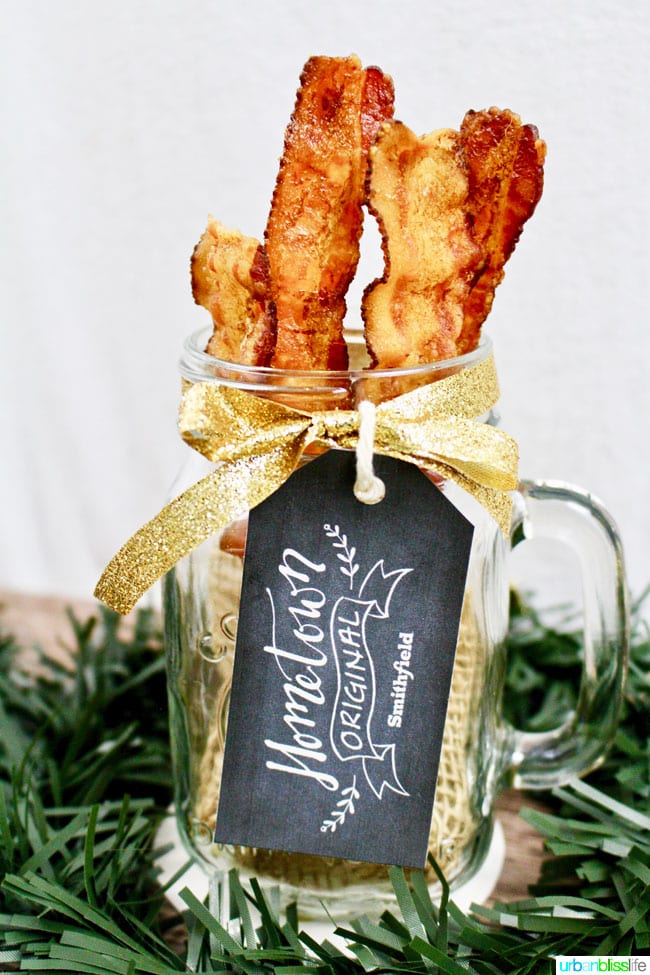 The art print in the center of our kitchen wall says Bacon makes everything better.
Friends and family know how much I love, love, L-O-V-E bacon. I'm a bit of a bacon purist: I like high quality bacon, and don't think it needs to be dressed up, paraded around in costume, and made into something it's not. Bacon is perfect just as it is.
So this holiday season, I've come up with a way to combine two of my food & entertaining loves: bacon, and a food bar. I give you: the Holiday Bacon Bar!
Jump to:
How to Create a Holiday Bacon Bar
I've partnered with Smithfield, who makes some amazing bacon varieties such as Peppered Brown Sugar, Sea Salt Caramel, and Caramelized Bourbon Bacon. At my grocery store, I picked up Smithfield Homestyle Bacon and a package of Smithfield Cherry Smoked Bacon.
Food
Here are some ideas for delicious items to include with your Holiday Bacon Bar:
Breads: biscuits, muffins, cheesy flatbread crisps
Sweets: caramel dipping sauce, brown sugar, melted chocolate
Savory: orange fig jam, bacon salt
And serve any of these delicious brunch recipes:
Fun decor
Modern labels and tags can help create a special, intimate party. Download these adorable chalkboard tags shown in these photos from the Smithfield.com/BaconBar website. There, you'll also find tablescape ideas and recipes to make your holiday party even more special.
Recipes for a Bacon Bar
In addition to the items mentioned above, consider make one or two quick bacon dishes to round out your awesome Holiday Bacon Bar.
This Bacon Jam recipe has a great smoky flavor to serve for special occasions, and is great to serve on biscuits, crostini, crackers, and top with a sprinkling of crumbled Smithfield bacon.
You can also add a playful touch to your Holiday Bacon Bar with these Peanut Butter & Bacon Jam Bites.
More Entertaining Recipes