Northern Italy is pure Mediterranean magic. You may think of gorgeous old buildings, rolling hills peppered with vineyards, gelato, pizza, wine, fine leather handbags and shoes, and sunny beaches.
You would be right.
Northern Italy is perfect for family travel
Northern Italy is all of that and so much more. It is exactly what you think it will be like, and then beyond your most picturesque daydreams.
When deciding on a side trip for our family vacation last year to Zurich, Switzerland, we landed on the large gorgeous area of Lake Como in Northern Italy. And before you become the 100th person to ask: no, we did not see George Clooney. However, we did drive the entire perameter of the vast mighty Lake Como, and therefore, we like to say that we drove by his house. ;)
Surrounded by the impressive, glorious Swiss Alps, Lake Como is absolutely lovely from the north, south, east, and west. I am almost tempted to just tell you to pick a town, any town, situated on the lake and you won't be disappointed. I mean, seriously, this is the view you get day in and day out:
With two young kids in two, we kept the itinerary light, which allowed us to do more spontaneous exploring. Here are some quick general tips on family travel to the Lake Como, Italy area, as well as some of our own personal experiences.
How to get to Lake Como
By Plane: The nearest airport is in Milan, and there are two airports: the Linate airport and Malpensa airport. From there, it is recommended that you either take the train to Como or rent a car and drive.
By Train: Taking the train is our preferred mode of travel in Europe, and if you plan to travel to several different areas, I highly suggest getting a Eurail Pass. You can take the Cisalpino from Milan to Lake Como, which takes about 35 minutes and costs approximately only $20 one way without a Eurorail pass. Train schedules change up from time to time, and you may even find yourself beholden to a train strike during your trip, so be sure to check the Rail Europe site constantly for updates.
By Car: Depending on your starting destination, you may find that traveling to Como by car is more convenient. We drove south to the Northern part of Como from Zurich, and found that we would have had to take trains and then buses in order to get to our hotel. With two young kids, in sweltering heat, and some luggage, that didn't sound like much fun. So we drove down the E35 which takes you from Zurich to Lugano, and then followed the signs into Italy. You can also check several different car rental services.
Driving in Lake Como
Italy is GORGEOUS. But if you do decide to rent a car and drive in Como, you won't be able to enjoy the view while driving so much as you will be focused on protecting your life. You should be forewarned that you need wits of steel and swift reflexes. The roads are very, very, VERY narrow. Very narrow. And, very windy, with blind turns around every corner as you weave around the lake and mountainside. Even two tiny European-size cars passing side by side find it extremely tight. Those double decker massive tour buses? They don't care if you are coming; they will barrel down and around those tiny curves because they, too, are just praying they make it to their destination alive. Rent the smallest car you can find, then make sure you are fully caffeinated and ready to do battle with the residents on the roads they are familiar with but are totally foreign to you.
Where to go in Lake Como
Almost any town you visit will give you a beautiful view of Lake Como, and traditional Italian meals can be enjoyed everywhere. However, each town is unique in terms of its offerings, and gives you a different experience. Here are some of the top spots we visited during our stay in the Como area.
Bellagio, Italy - The busiest, most touristy spot on Lake Como is Bellagio. It's the boat service hub for the main boats that will take you around the lake, and the area that has the largest hotels, and most shops, restaurants, and cafes in a small concentrated area. Bellagio hotels, restaurants, and shops are more expensive overall than those in other towns, but it's such a beautiful place that while I don't suggest you stay here unless you have lots of discretionary income, I highly recommend you set aside at least one day to explore Bellagio and its picturesque shop-lined streets. Foodies and wine lovers, especially, will enjoy popping into the many little gourmet bakeries, wine shops, artisan local food stores. Next time, I may pack an extra suitcase just for the delectable Italian treats! And fashionistas: be sure to pack an extra bag just for the new pairs of fine Italian leather shoes you will want to bring home.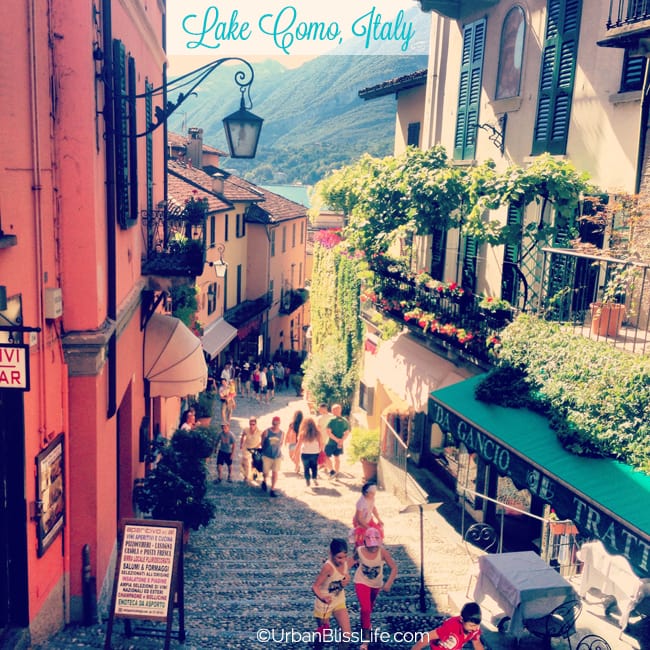 Tremezzo, Italy - Tremezzo is a quaint little town across the lake from Bellagio. The main attraction here is the waterfront with a great view of Bellagio, and the lovely botanical garden of Villa Carlotta.
Menaggio, Italy - Not as touristy as Belaggio, this town is quaint and charming, and excellent to explore on foot. As with all other towns around the lake, there are breathtaking views here.
To be honest, we stopped to eat and check out so many tiny little towns whose names all blurred together. I often couldn't tell which town I was in based on the signs, but it didn't matter. One of the best parts about having a light, go-with-the-flow itinerary is that it lends itself to less stress and eased expectations when you're traveling with kids.
Where to Stay in Lake Como
We wanted to stay away from the touristy, expensive hotels and have a more authentic Northern Italian experience, so we stayed in the tiny town of Sorico, Italy at Hotel Europa. You can read about our full Hotel Europa review and Lake Como experience. We LOVED staying here -- I really cannot recommend this place enough! We look forward to visiting again in the future.
Other options range from the more expensive hotels in Bellagio to the highly affordable youth hostel in Menaggio (which I personally would only recommend if you are in your 20s or 30s and single, but to each his own). For a family of four, you can spend anywhere from just 150 Euros a night to 1,000+ Euros per night.
COMO, ITALY HOTEL TIPS: Many smaller, family-owned hotels in Northern Italy do not have air conditioning. We were totally fine with this, but be sure to check with your hotel and plan carefully depending on the time of year you visit. Most hotels do, however, have WiFi these days. It might be spotty WiFi, but it exists! Expect to pay more for usual American amenities such as air conditioning, room service, and extra toiletries.
Where to eat & drink in Lake Como
We ate all of our dinners at Hotel Europa. Who wouldn't when you have Mama Angela cooking amazing homemade pasta for you each night?
Otherwise, we would just walk around and find cafes and restaurants that looked interesting to us. Honestly, this is my best tip for you in Como: just explore. If you're hungry, walk around and you will find something. That said, also be sure to pack snacks with you, because there are some areas where you'll be driving for a while before you hit another town with more than one tiny cafe from which to choose.
We love that many restaurants and cafes give you little nibbles even when you just order a couple of beers or glasses of wine. Some places bring out bread and butter, others provide small charcuterie plates, and this particular cafe gave us mini sandwiches, olives, and potato chips. For free. The kids were happy, and so were we!
Coffee
A cup of coffee is a given while you're in Northern Italy, and when you order un cafe, what you'll get is what you might consider to be a cappuccino, topped off with foam, or a latte (cafe con leche), with a splash of milk. There is definitely something deliciously different about enjoying a cup of coffee in Italy. This is no drip coffee from a can, my friends.
Gelato
I Scream, You Scream, We All Scream: GELATO!
My kids' favorite classic Italian dish that we found everywhere we went in Northern Italy: gelato. Since many people aren't sure of the difference between gelato and ice cream, I'll give you the quick overview. Gelato is made with more milk than cream, and therefore has less fat than ice cream.
Gelato is also made with either no egg yolks or fewer egg yolks than traditional American ice cream uses. Finally, gelato is churned at a slower speed than ice cream. Therefore it has less air in its base, which gives gelato that dense texture compared to traditional ice cream.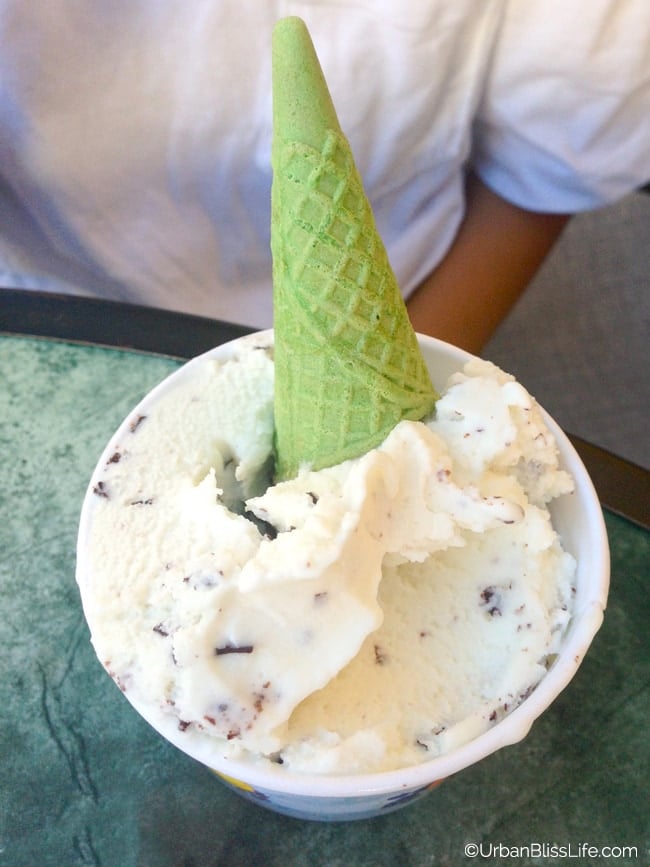 Pizza
Then there's the pizza. If you haven't had pizza in Italy, you MUST. Italian pizza is so fresh, so light, so delicious, I could eat it all day long. And I am not normally a fan of pizza at all back home! Just like back home, pizza is a great family meal to enjoy abroad as well, because it's great for kids to be able to taste what truly fresh Italian pizza tastes like.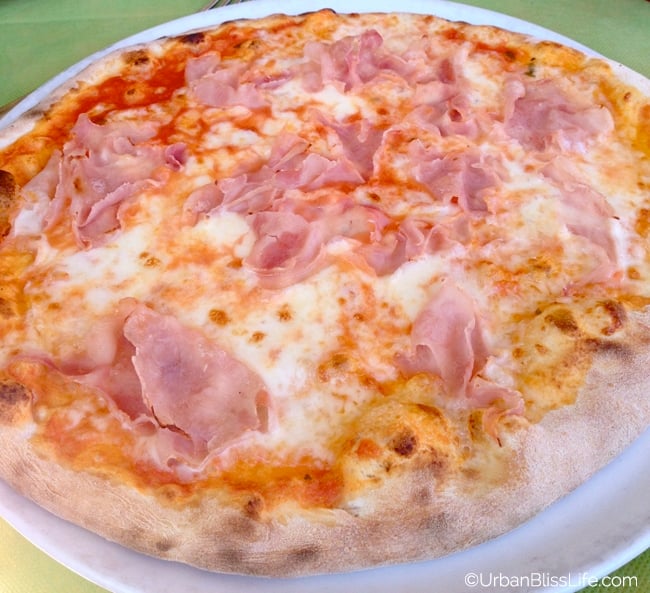 Many people associate Italy with just pizza and pasta (and definitely see my food photos from the Hotel Europa post). But many traditional Northern Italian meals are often focused fresh vegetables and seafood.
You'll find all kinds of amazing fresh local fish and shellfish here. As well as produce that is specific to that town and region. Local restaurant menus rotate depending on what's fresh and in season, which means you're in for a flavorful, truly fresh meal almost every time.
Family Travel to Lake Como
Our kids are ages 6 and 9, and they are generally pretty great travelers. They love long plane rides, and had fun on the road trip between Zurich and Como (aside from my daughter's random illness during one of the trips).
Kids of all ages are welcome in most public places in the Como area. All of the adults were warm and friendly with our children. At restaurants they would often get offered special extra treats or samples. They were treated with warmth and respect, and there were kids pretty much everywhere we went. It's a great place to travel with children!
One thing to keep in mind is that smoking is still very prevalent in public spaces, especially in cafes and restaurants. That's perhaps the biggest issue I have with traveling overseas each time. I'm used to most people just not being smokers where I live. And, smoking bans in restaurants, indoor spaces, and outdoor spaces within certain proximities to certain buildings.
We had a truly magical time in Lake Como, Italy. It's a picture perfect place that is easy to explore with children and a loose agenda. We found it much more affordable than other Italian destinations. And we were surprised how far the dollar could go in terms of lodging, dining, souvenirs, and activities. Whether you chose a small town such as Sorico, or a larger tourist destination such as Bellaggio. You can't go wrong with a family vacation in Como, Italy.
More Family Travel Guides