This easy homemade raspberry jam recipe is perfect for using in pies, crumbles, or for everyday brunch! And it's full of fresh raspberry flavor!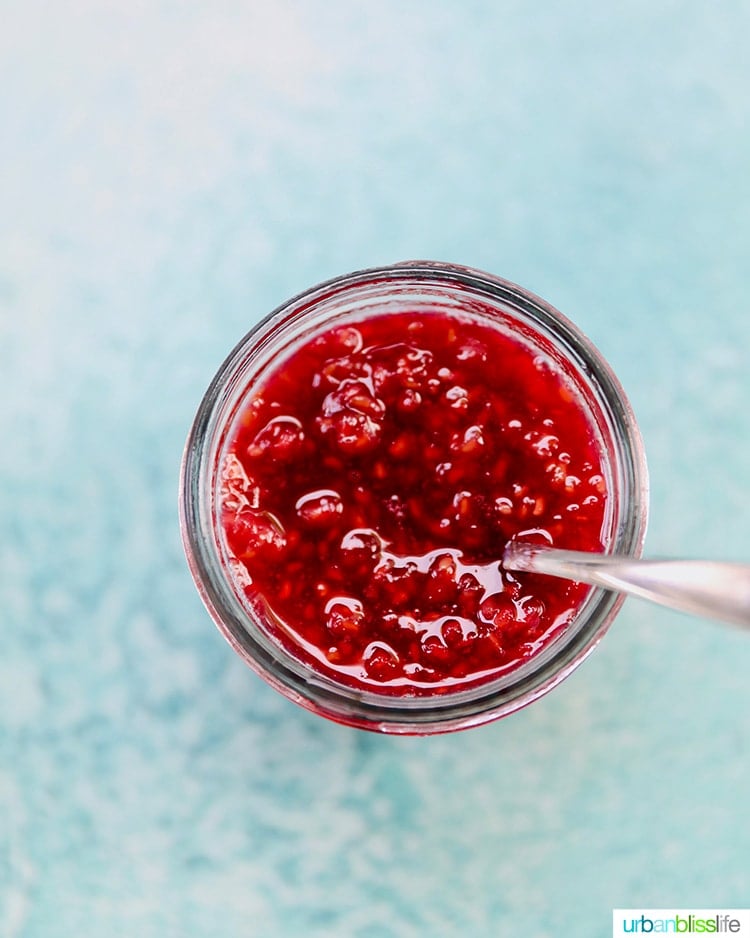 We're coming up on one of my favorite food seasons in the Pacific Northwest: fresh berry season!
When the kids were younger, we'd go berry picking several times each summer. This year, due to the current global situation, we'll probably do some curbside pick-ups from nearby farms to get our fresh raspberries, strawberries, blackberries, and blueberries.
One of my favorite things to make with fresh berries is homemade jam.
Jump to:
Easy Homemade Raspberry Jam
Raspberry season is usually mid-July through August here in Oregon.
This delicious recipe is sweet, with just a touch of tartness from the fresh raspberries.
Homemade jam vs. storebought jam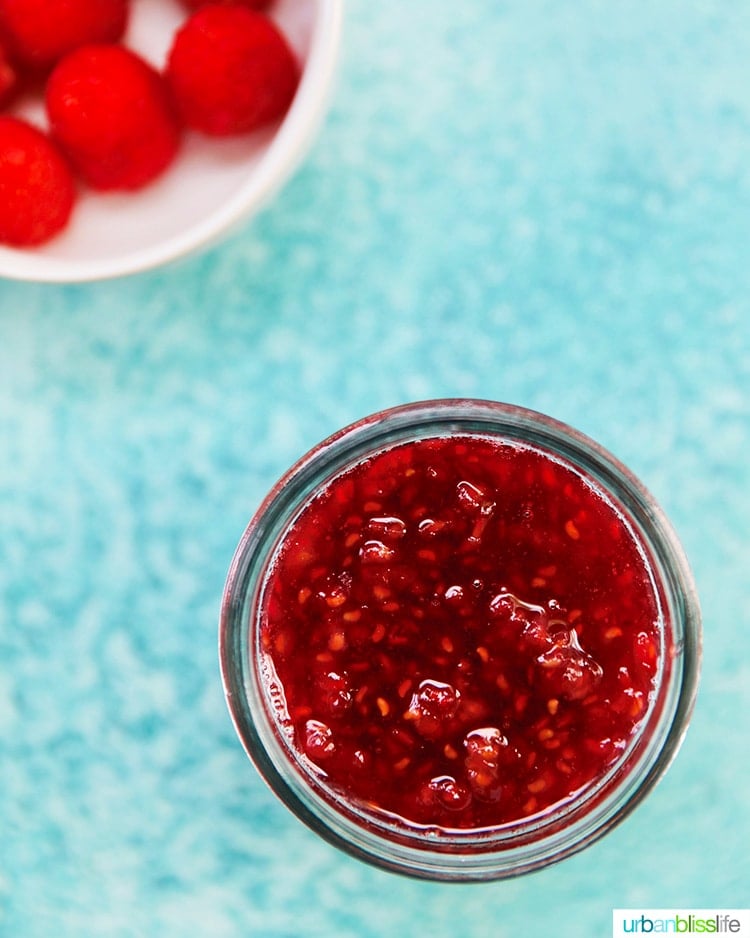 Confession: it's really hard for me to eat store-bought jam. It tastes so artificial to me, and I also hate paying so much for something that I can make at home easily for so much less!
The biggest difference you'll find in store-bought jam is the ingredients. Most jam jars you'll find on store shelves have ingredient lists that include preservatives, artificial colors, and artificial sweeteners and flavors.
Just like with everything else homemade, I like knowing what exactly is in my food. So when possible, I personally prefer to make my own jam.
🛒 Ingredient notes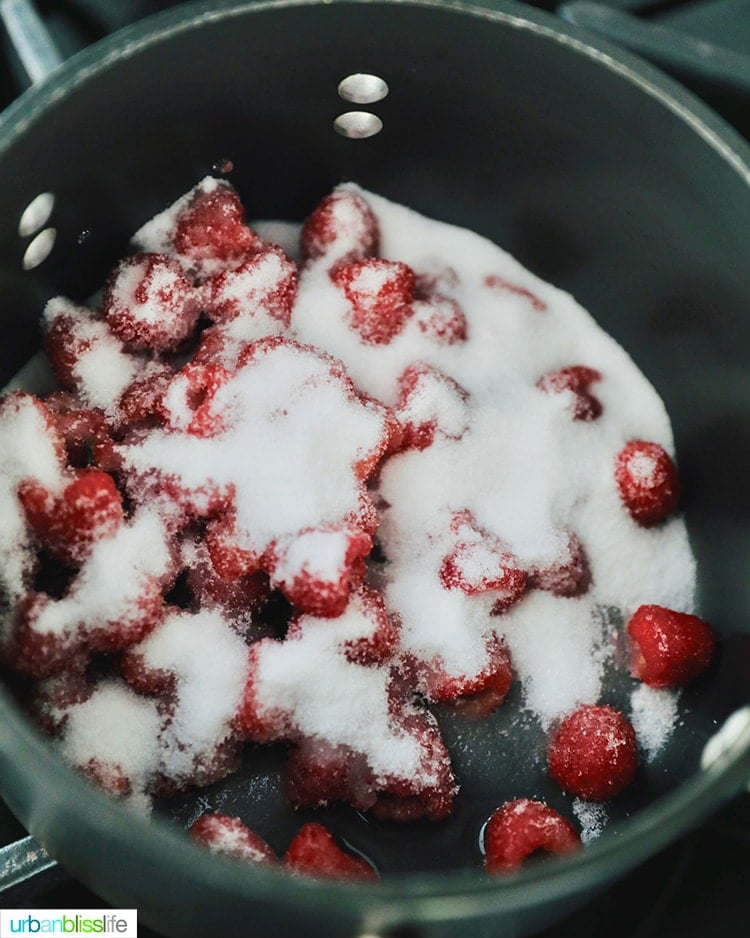 Unlike most store-bought jams, this easy raspberry jam recipe consists of just three simple ingredients:
fresh or frozen raspberries
granulated sugar - I use less sugar (about ¾ cups) in my recipe, but you can adjust the amount of sugar if you prefer sweeter jams
lemon juice
That's it!
✅ Step-by-step instructions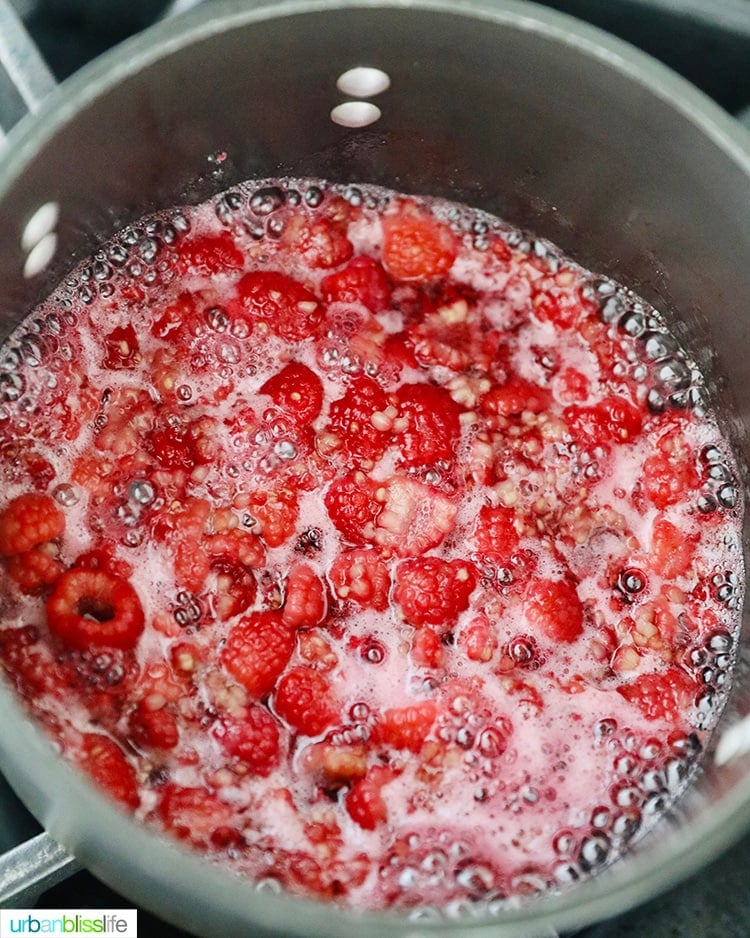 Just as you only need three ingredients to make homemade raspberry jam, there are only three steps to making this easy recipe. And the total cooking time is only about 15 minutes.
Add the raspberries, sugar, and a tablespoon of lemon juice to a medium saucepan over medium to medium heat.
Stir and bring the mixture to a full boil, and then reduce heat to medium-low and simmer for about 12 to 15 minutes. During this time, stir the mixture frequently with a wooden spoon.
Once jam has thickened, remove from heat and transfer to canning jars or other glass jars. Allow the jam to cool at room temperature. Then cover and refrigerate.
Watch the fruit mixture carefully and stir constantly.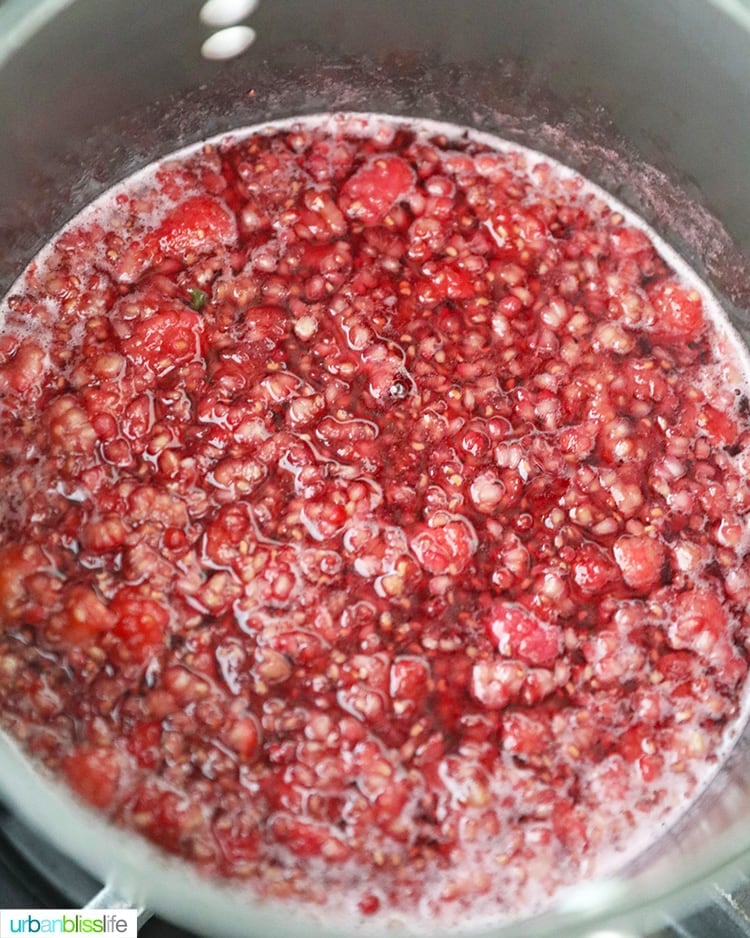 Recipe FAQs
Do I have to add pectin to make raspberry jam?
The answer lies in the consistency you prefer in your jams.

Pectin is a type of naturally-occurring starch that already exists in raspberries. It's found in the cell walls of fruits and vegetables and gives them structure. When used in jams, it helps give the jam a thicker, more spreadable texture.

Some fruits are naturally high in pectin, and make amazing jams without adding any commercial pectin or other thickeners at all. High pectin fruits include pears, apples, plums, quinces, cranberries, and grapes.

Other fruits have less naturally-occurring pectin. Low- to medium-pectin fruits include strawberries, raspberries, and blackberries. You can make jam from these fruits. However, the consistency will be different.

Side note: I used to think that pectin was used to help preserve jams for longer - to extend their shelf life. However, after much research, I've found that there is actually no hard evidence that this is true.
What raspberries should I use?
I recommend good quality fresh fruit that is just about to be ripe. These will give you the sweetest-tasting jam. Also, the jam will be slightly thicker because underripe fruit tends to have more pectin.
How do I thicken the jam?
If you'd like to thicken up your jam, you could add a fruit that is higher in pectin to balance out the low-pectin in raspberries. Or, use a small amount of added pectin. If you don't want to use pectin, you could use cornstarch instead. Start with just a small amount and add more as needed until the jam thickens up to the consistency you prefer.
How do I store homemade raspberry jam?
If you are using the full canning method, you can store homemade jam in a cool, dry place for up to two years.

When I make jam, I like to enjoy it right away. After opening a jar, homemade jam will remain fresh in the refrigerator for up to two months.

Freezing homemade jam in a freezer-safe airtight container is another great way to store it. It'll keep for up to one year.
🍽 Serving ideas
This homemade raspberry jam is something the whole family will love!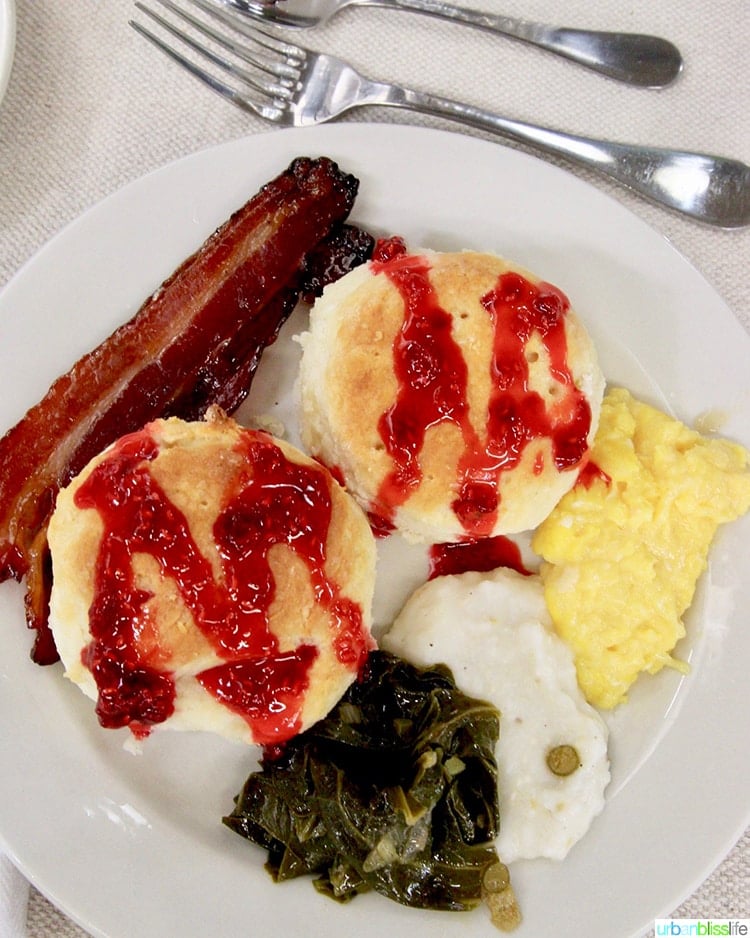 Use this raspberry jam as the filling for pies, crumbles, and bars.
This raspberry jam is perfect to use in Linzer cookies or Swiss Spitzbuben cookies! You just need a small amount of the jam for each one.
Use in a sauce for pork tenderloin or rack of lamb.
Spoon a generous amount over baked brie and serve with crackers.
It's a great recipe to make and serve with breakfast crepes.
It's a delicious way to elevate pancakes and waffles. Just drizzle the jam over them.
And of course, it's perfect to spread on buttermilk biscuits, toast, or English muffins!
🍓 More recipe ideas to use with jam
Easy Homemade Raspberry Jam
This raspberry jam is super easy to make, and keeps for up to two weeks!
PRINT
PIN
RATE
Instructions
In a medium saucepan over medium heat, combine the raspberries, sugar, and lemon juice.

Cook and stir. Once the mixture is boiling, reduce heat to medium-low and simmer for about 12 to 15 minutes. During this time, stir the mixture frequently.

Once jam has thickened, remove from heat and transfer to a mason jar. Allow the jam to cool at room temperature. Then cover and refrigerate.
Notes
This recipe makes approximately two cups of jam. The final amount really depends on the raspberries you use, and the consistency/thickness to which you cook the jam.
Raspberry jam can keep in an airtight container in the refrigerator for up to two months.
Tried this recipe?
Please leave a star rating and comment! Then snap a pic of your dish and share it on social media. Tag @UrbanBlissLife and #UrbanBlissLife!
Nutrition
Calories:
384
kcal
|
Carbohydrates:
97
g
|
Protein:
2
g
|
Fat:
1
g
|
Saturated Fat:
1
g
|
Polyunsaturated Fat:
1
g
|
Monounsaturated Fat:
1
g
|
Sodium:
3
mg
|
Potassium:
281
mg
|
Fiber:
12
g
|
Sugar:
83
g
|
Vitamin A:
60
IU
|
Vitamin C:
50
mg
|
Calcium:
46
mg
|
Iron:
1
mg
Nutrition information is a general estimate. Actual nutrition details may vary depending on the exact foods & brands you use to make this recipe. It does not take into account any substitutions, toppings, or optional ingredients.