Get away from it all at Central Oregon's Brasada Ranch, a luxury community of upscale rentable cabins and vacation homes. This desert retreat is complete with amenities like fine dining restaurants, multiple pools, outdoor adventure activities, and breathtaking scenery.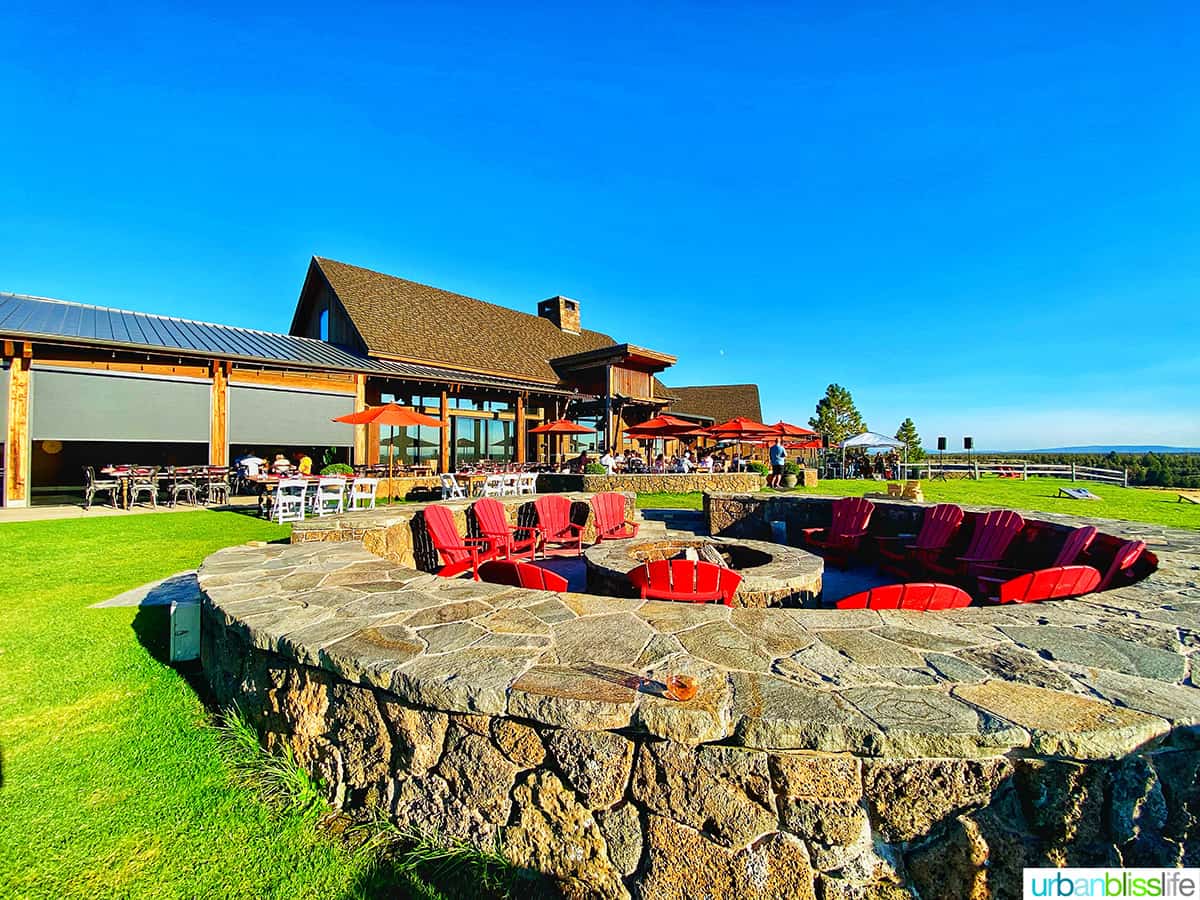 Located just 30 minutes from Bend, Brasada Ranch features unmatched panoramic views of the Cascade Range on its nearly 2,000 acres of land.
It offers diverse luxury accommodations, ranging from boutique lodge suites to cabins, along with a wide range of outdoor adventures.
Jump to:
✨ What makes this place special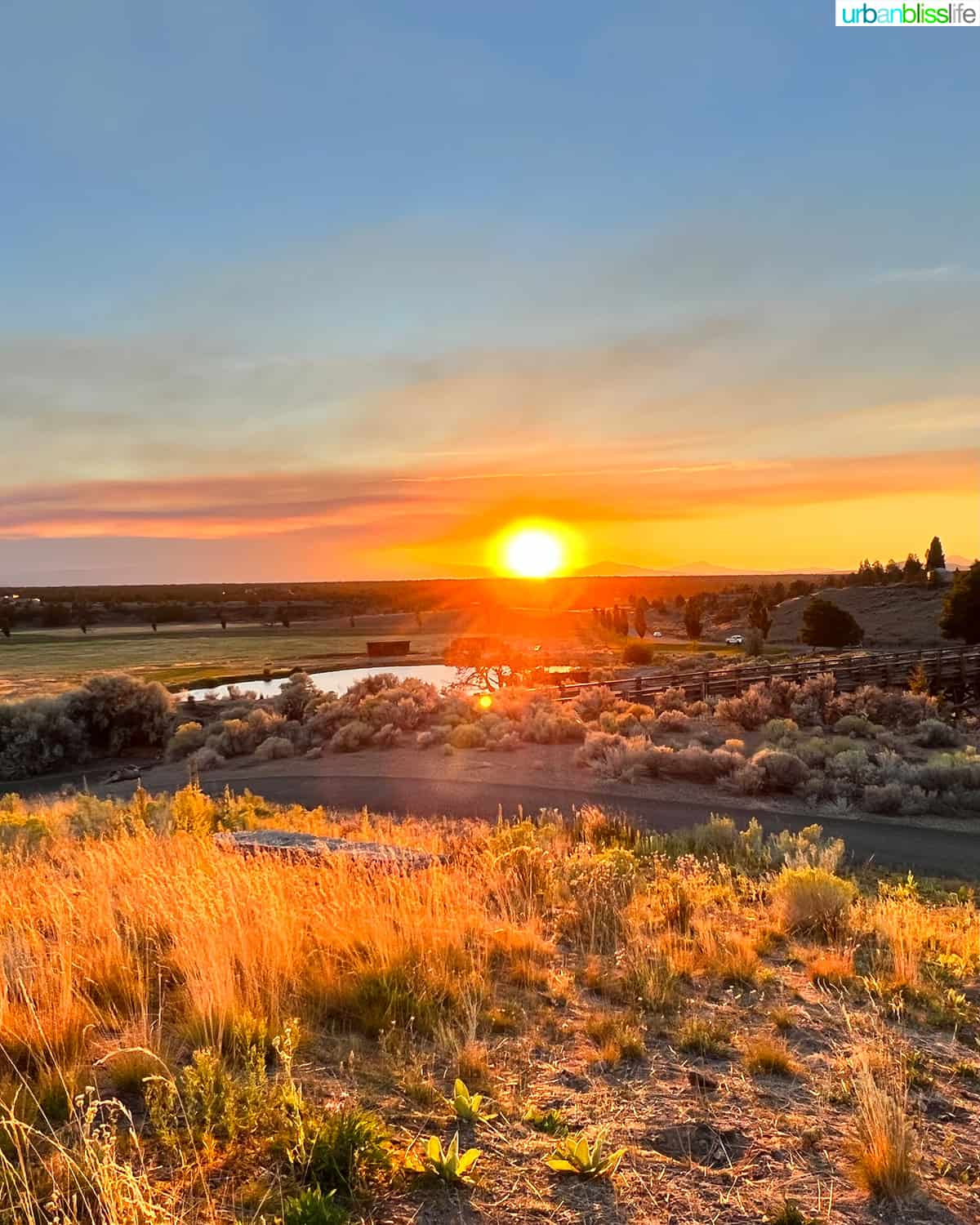 Driving up to Brasada Ranch is a surreal, sensory experience. The resort emerges from the barren central Oregon desert like a luxury oasis, full of bright colors and bustling activities.
And those activities are plentiful, including everything from horseback riding to golf, fitness, swimming, hiking, fishing, biking, basketball, volleyball, pickleball, and more. The upscale accommodations make Brasada Ranch even more memorable — with first-class cabins loaded with amenities.
🛏 Rooms and suites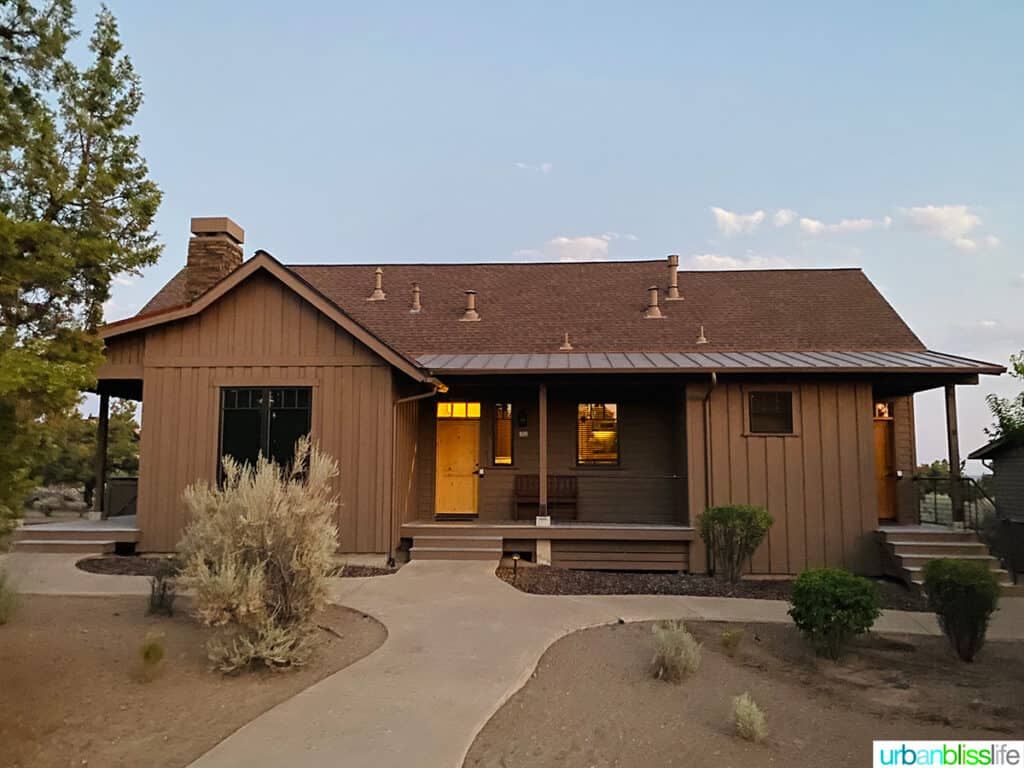 Although Brasada Ranch does offer a few suites more reminiscent of a traditional hotel stay, most of the accommodations are stand-alone houses that can be rented out.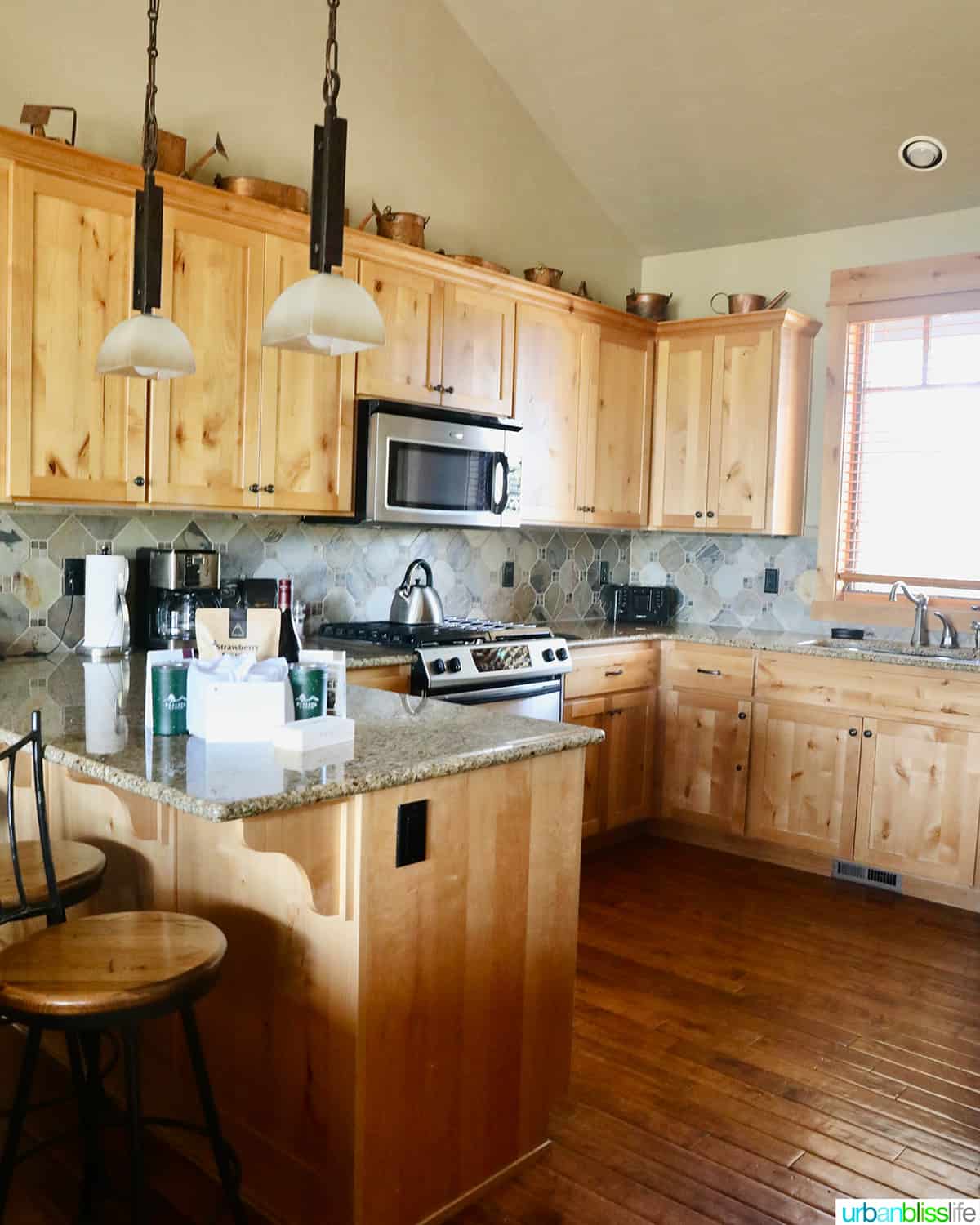 Officially called "cabins," they're actually more like having your very own vacation home during your stay. Each comes with a full kitchen and the option of two to four bedrooms.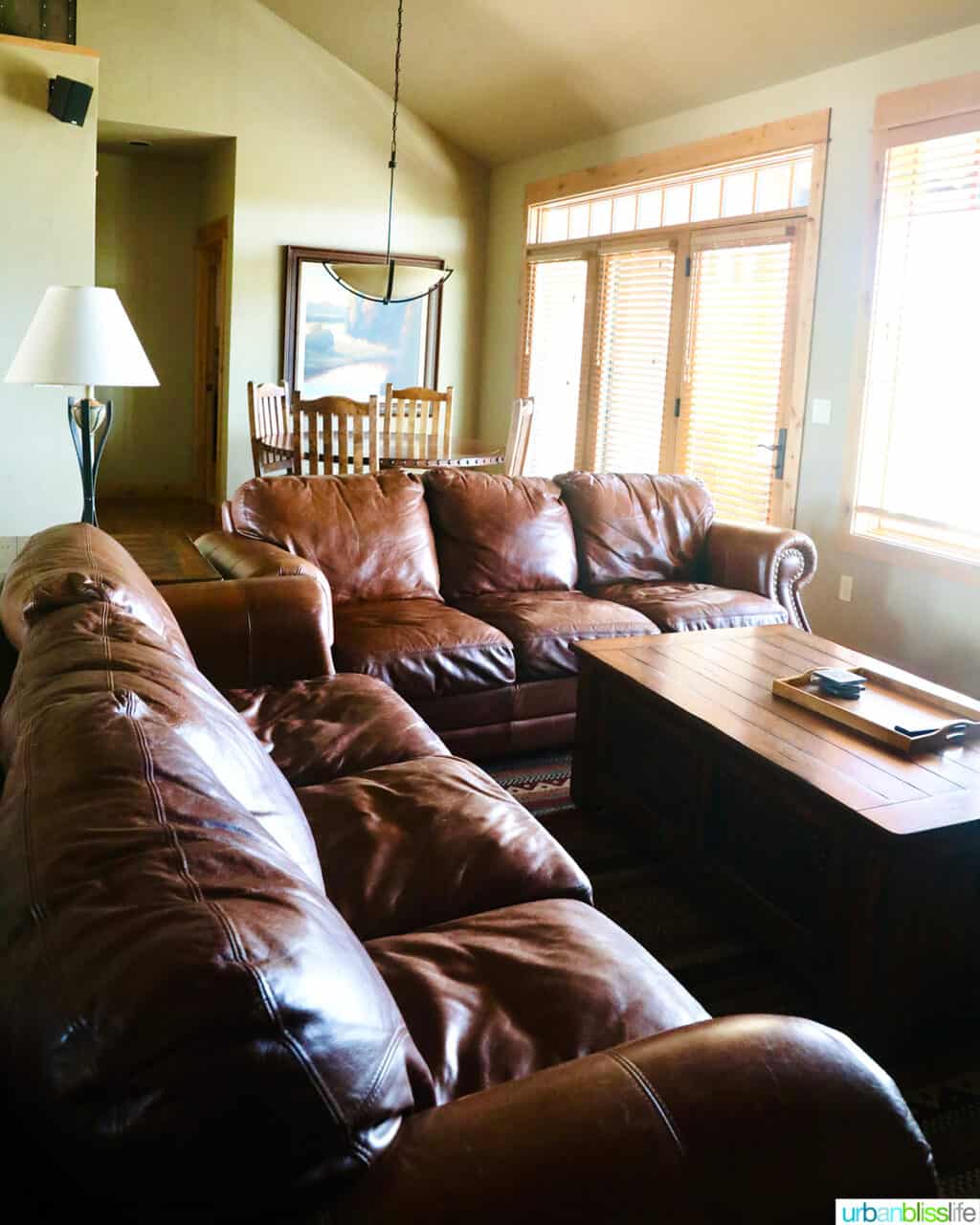 Our cabin featured three bedrooms, each with an en suite, flat screen tv, coffee maker, and direct access to an outdoor deck. Two of the rooms also included mini fridges and a microwave.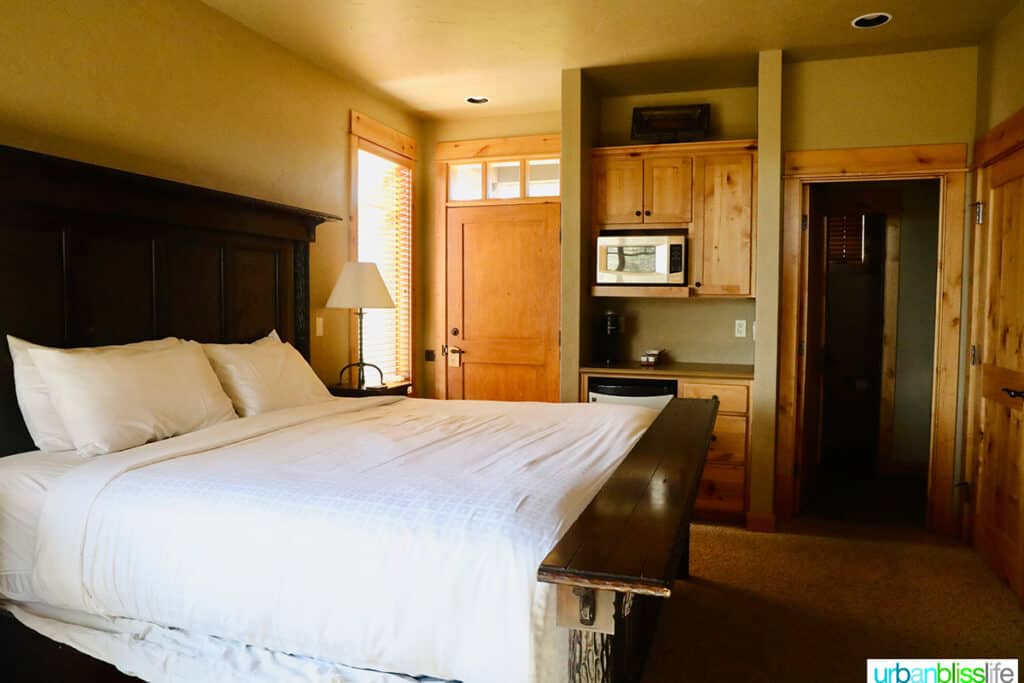 Want to bring along a furry four-legged friend? No problem. Brasada Ranch offers several dog-friendly cabins, so we opted for one and brought our pup Ace with us.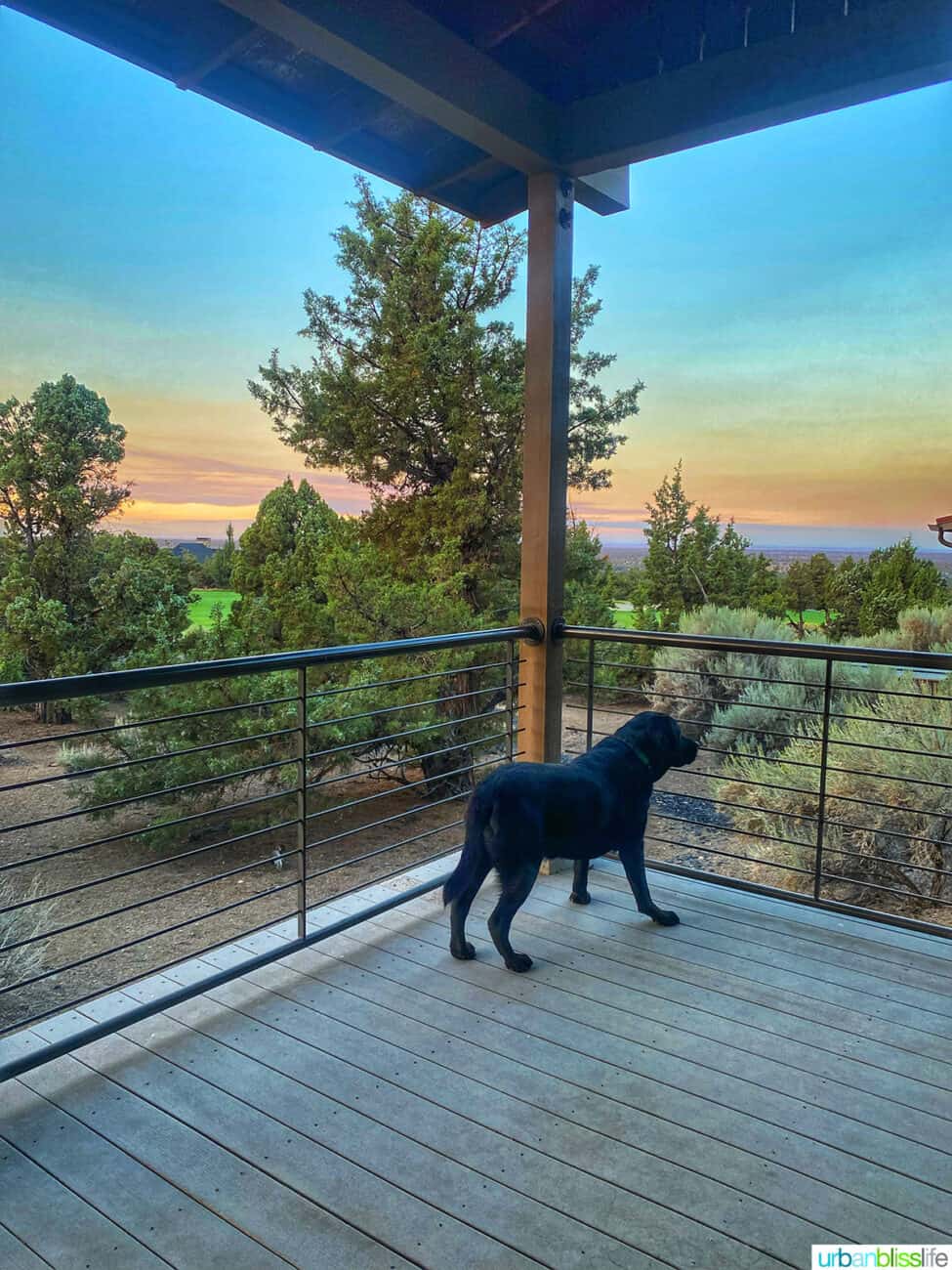 He was living his best life hanging out on the back deck soaking up the desert rays and curiously watching the local rabbits wander by.
The cabins also come with relaxing hot tubs so you can unwind under the central Oregon stars after a full day of resort activities.
🍽 Dining options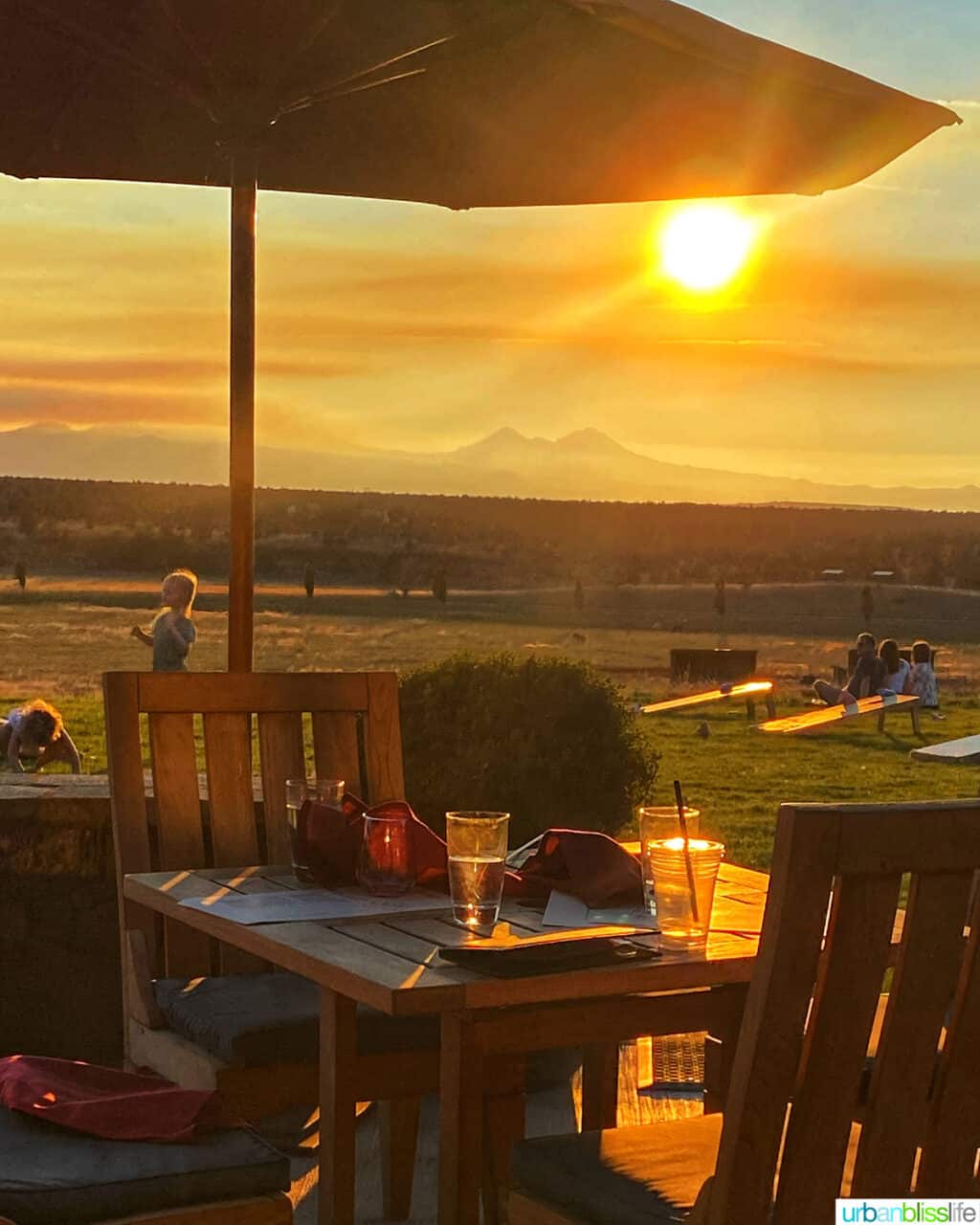 There are two on-site restaurants at Brasada Ranch: the Ranch House, and the Range restaurant. Both offer a variety of options from steaks to pizza, pasta, salads, and seafood. There's also a kids menu with standard items like chicken tenders and burgers.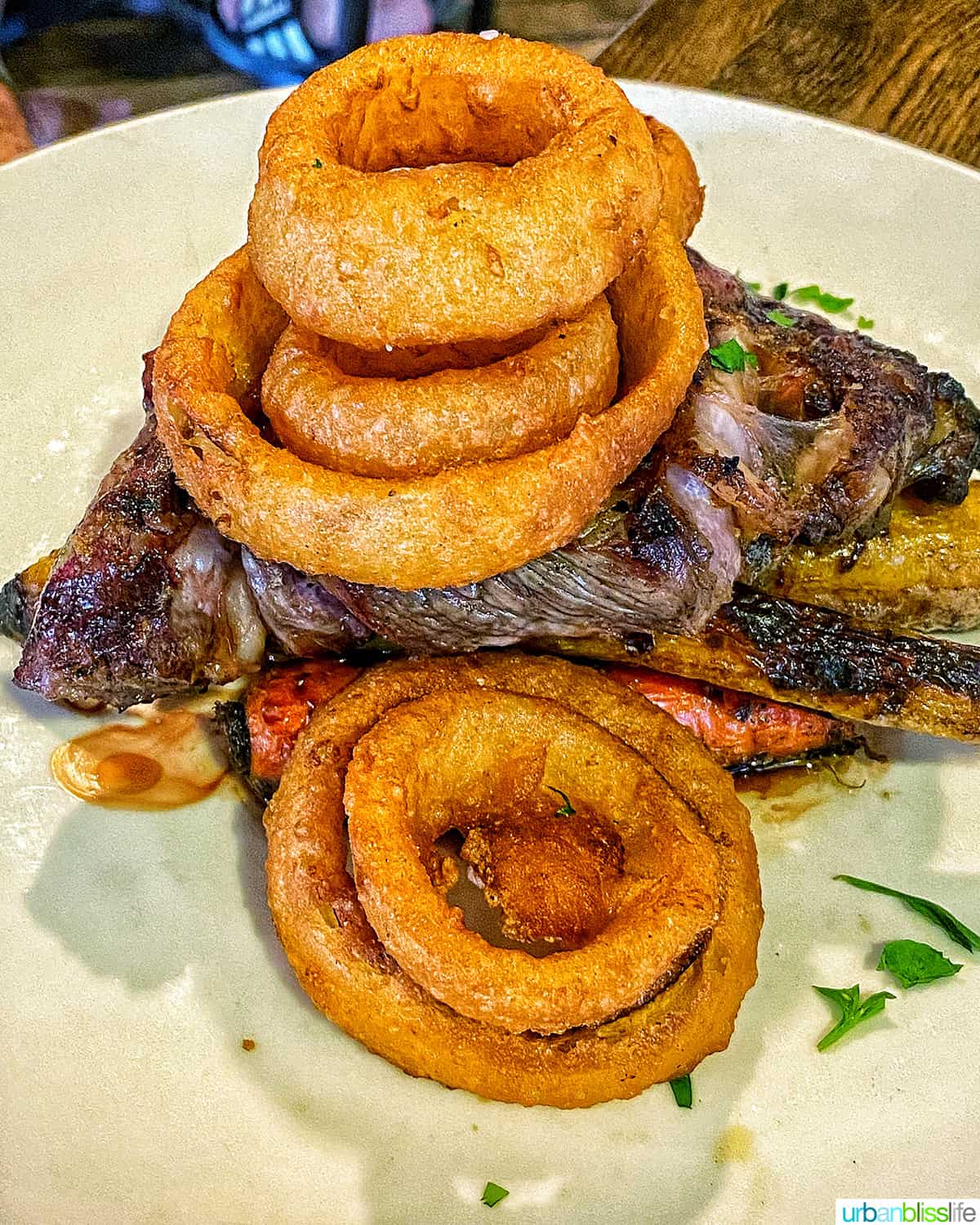 We sampled a lot of the food during our stay, including a few of the steak options such as the filet mignon and the rib eye with onion rings. Both were cooked perfectly medium rare and each portion was generous.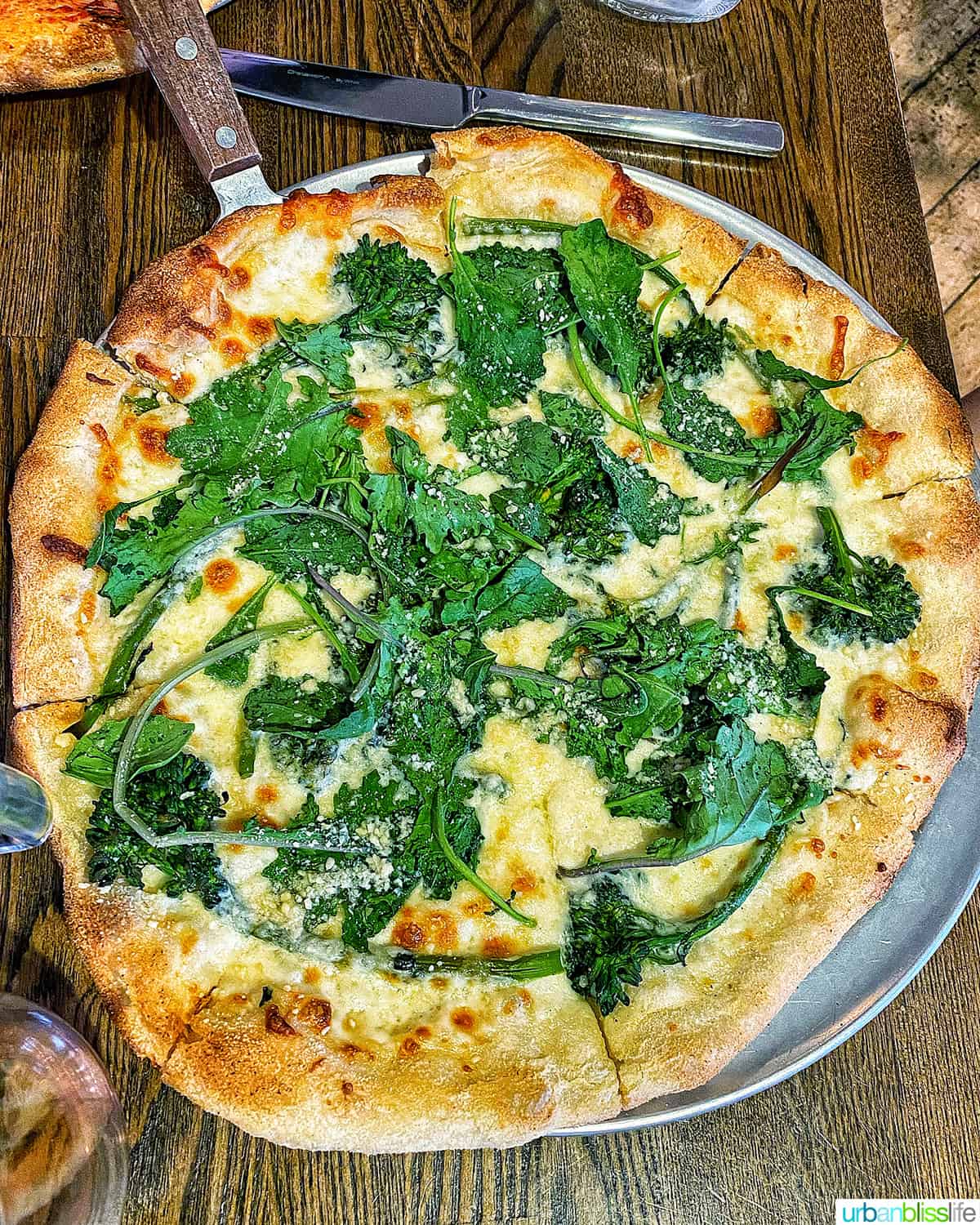 Our daughter tried the vegetarian pizza which features broccolini, kale, and a white sauce. She gave it a hearty thumbs up and again, the portion was healthy — large enough to take half of it back to our cabin for later.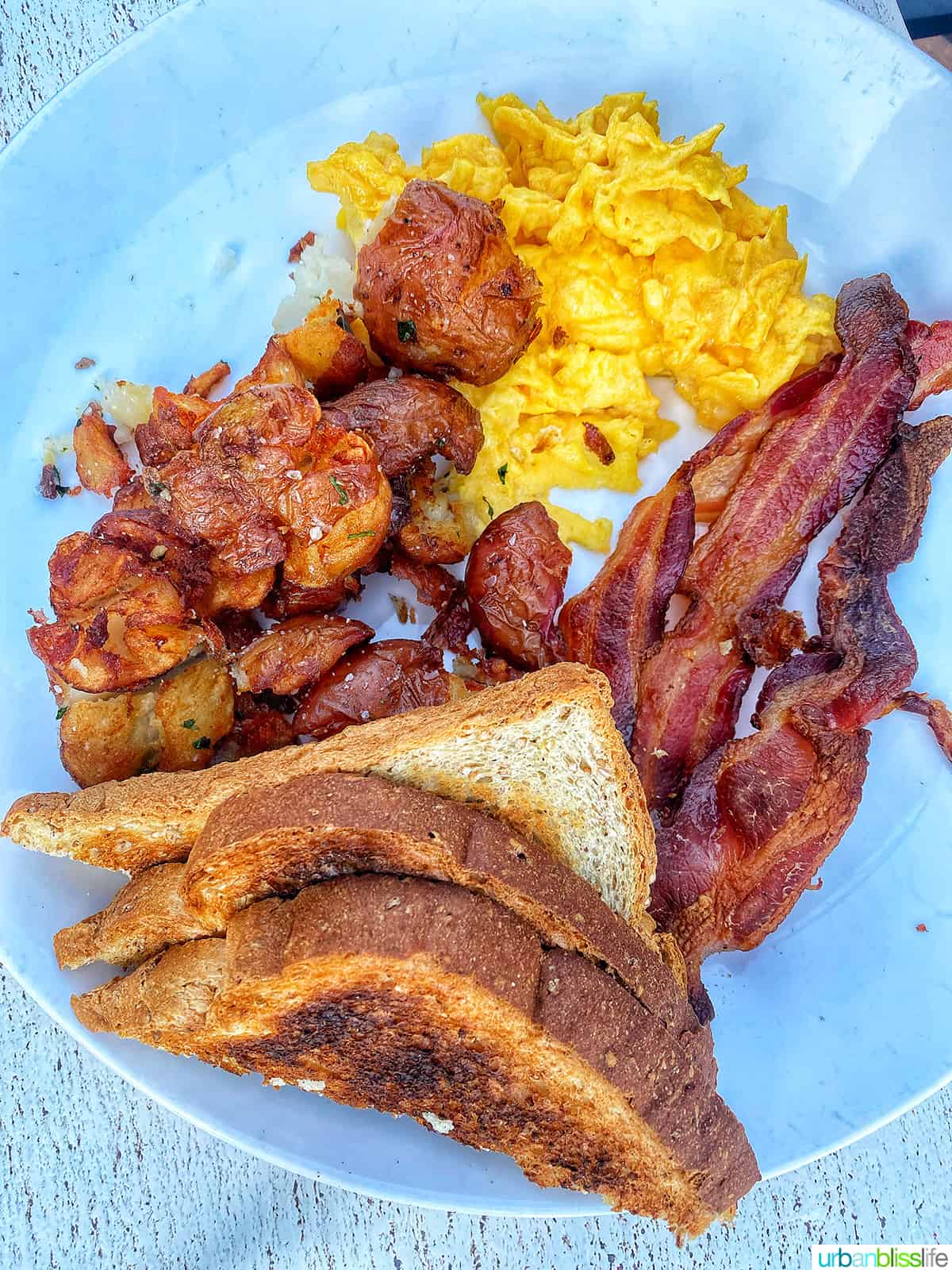 If you're a breakfast fanatic, Brasada Ranch has you covered as well with a bountiful brunch menu. You'll find everything from a ranch omelette with sausage, bacon, mushrooms and cheddar to breakfast burritos, biscuits and gravy, sandwiches, and more. Our son went for the Farmer's Breakfast which includes a pair of eggs, bacon, and potatoes.
Of course, with a full kitchen in every cabin, you can make your own meals as well. Brasada Ranch features an on-site General Store where you can get your morning coffee, as well as stock your refrigerator. It even has a few options for ready-to-go meals.
Brasada also offers Ranch Platters if you want to enjoy a restaurant-style meal in the comfort of your own cabin.
🌟 Other amenities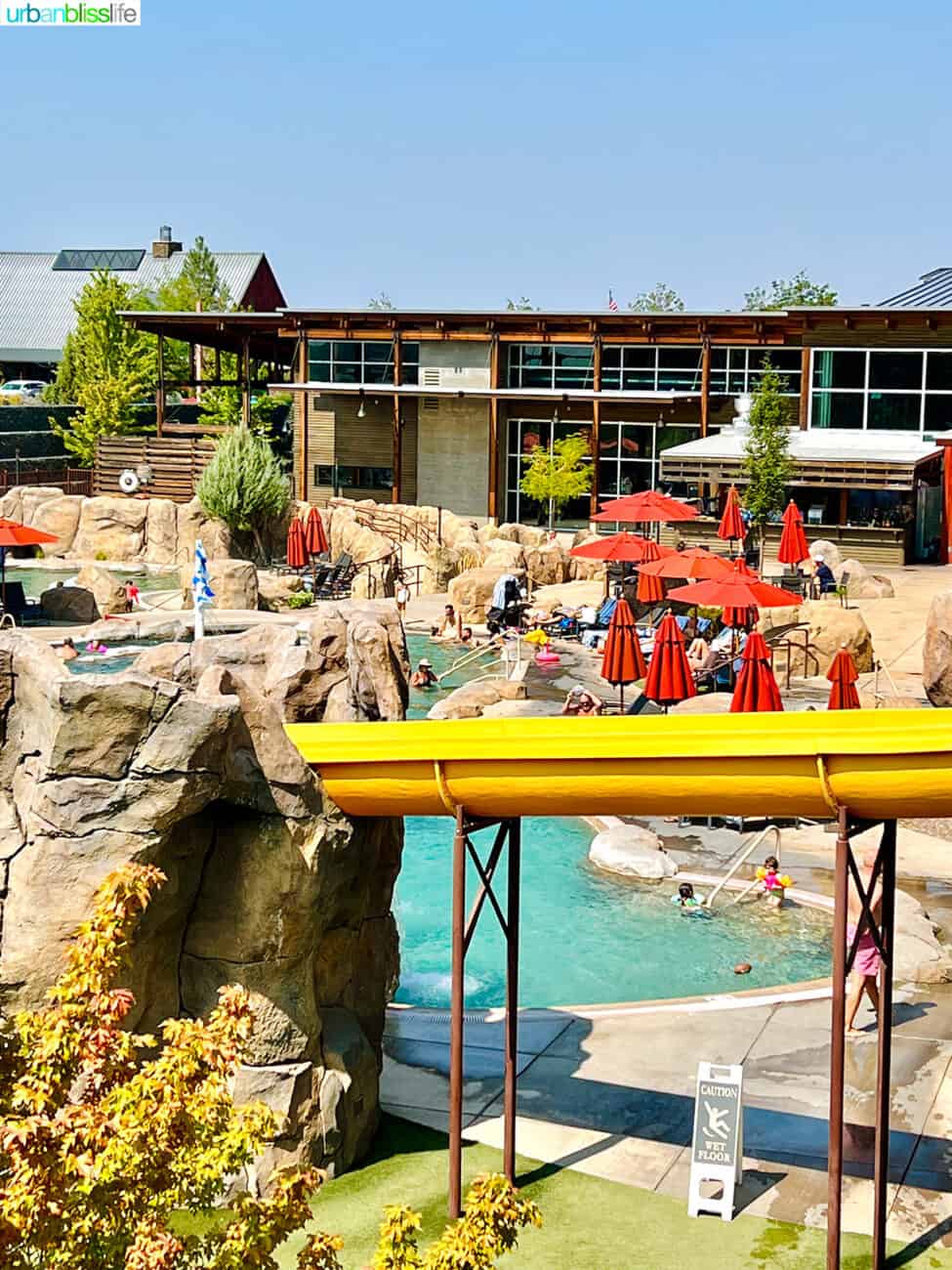 At Brasada Ranch, you'll never run out of things to do. The list of activities on offer is impressive and we tried to pack as many as we could into our 3-day stay.
Pools
Among the most popular are the on-site pools. There are a couple of different pool areas — the largest is the Sundance Pool and water slide near the athletic center (more on that later). This family-friendly pool features a lazy river, loads of beach chairs and a convenient poolside bar where you can grab some food and tasty drinks.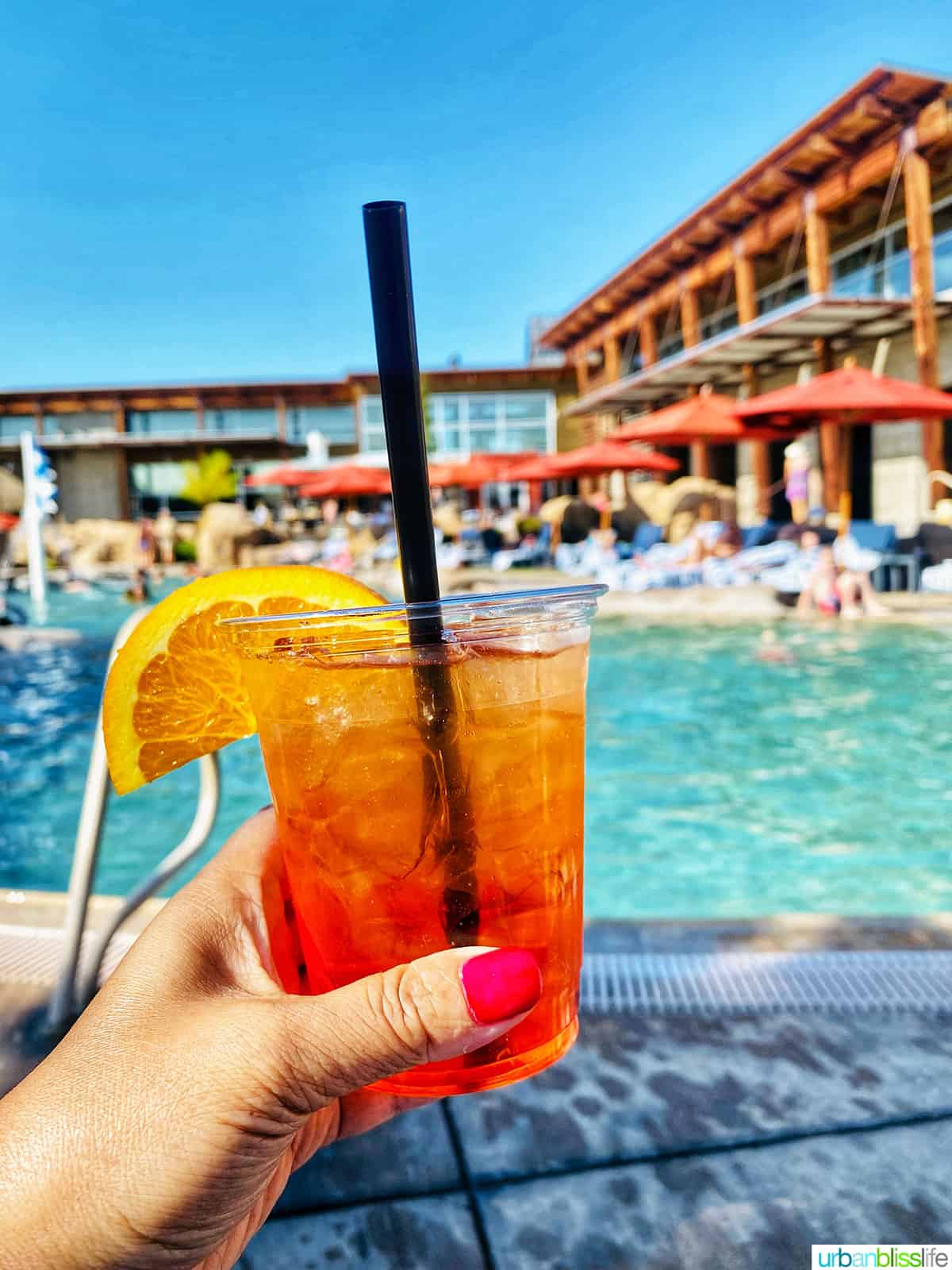 There's also an adults-only (21+) pool nearby which features lawn games, live music, and its own walk-up food and drink stations.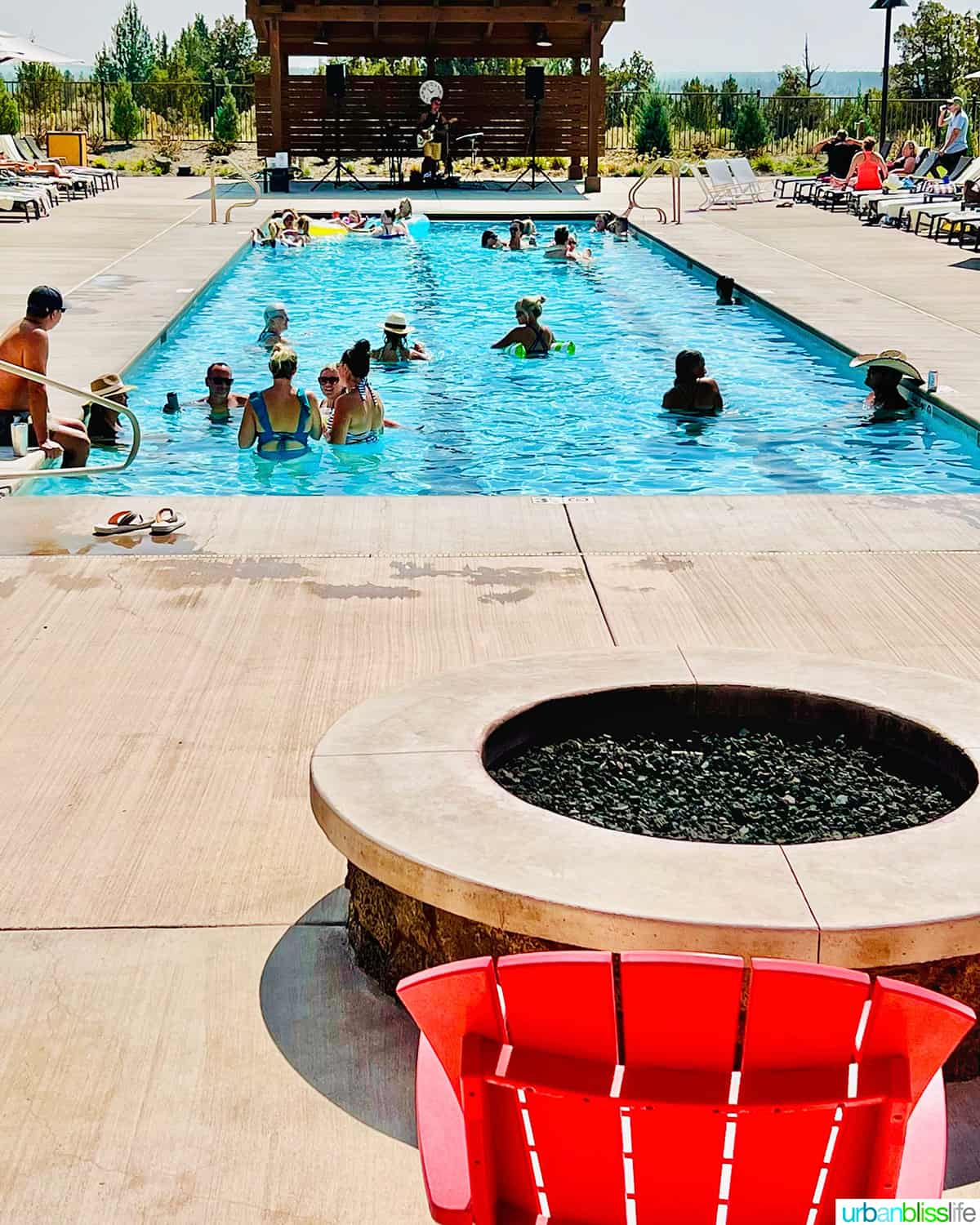 Hiking
The desert locale of Brasada Ranch also makes it an ideal spot to enjoy some hiking. During our stay over Labor Day weekend, they offered an early morning hike to nearby Spirit Rock, which included a sound bath, meditation and yoga session. It was the perfect way to start the day.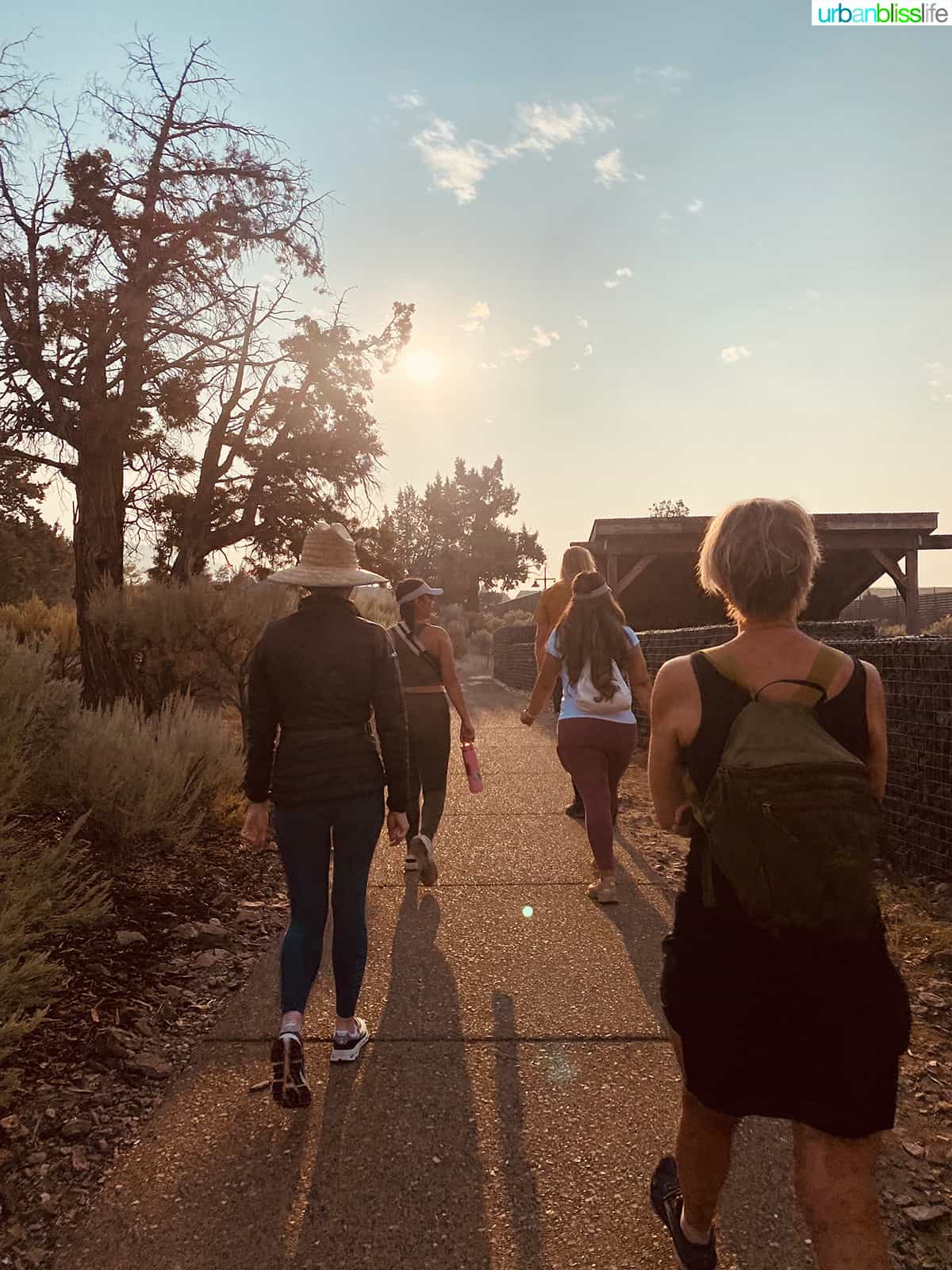 We also did some hiking on our own along with Ace to check out more of the stunning scenery and wildlife. The trails are people- and dog-friendly but its best to keep your pups on a leash so you can keep an eye on them.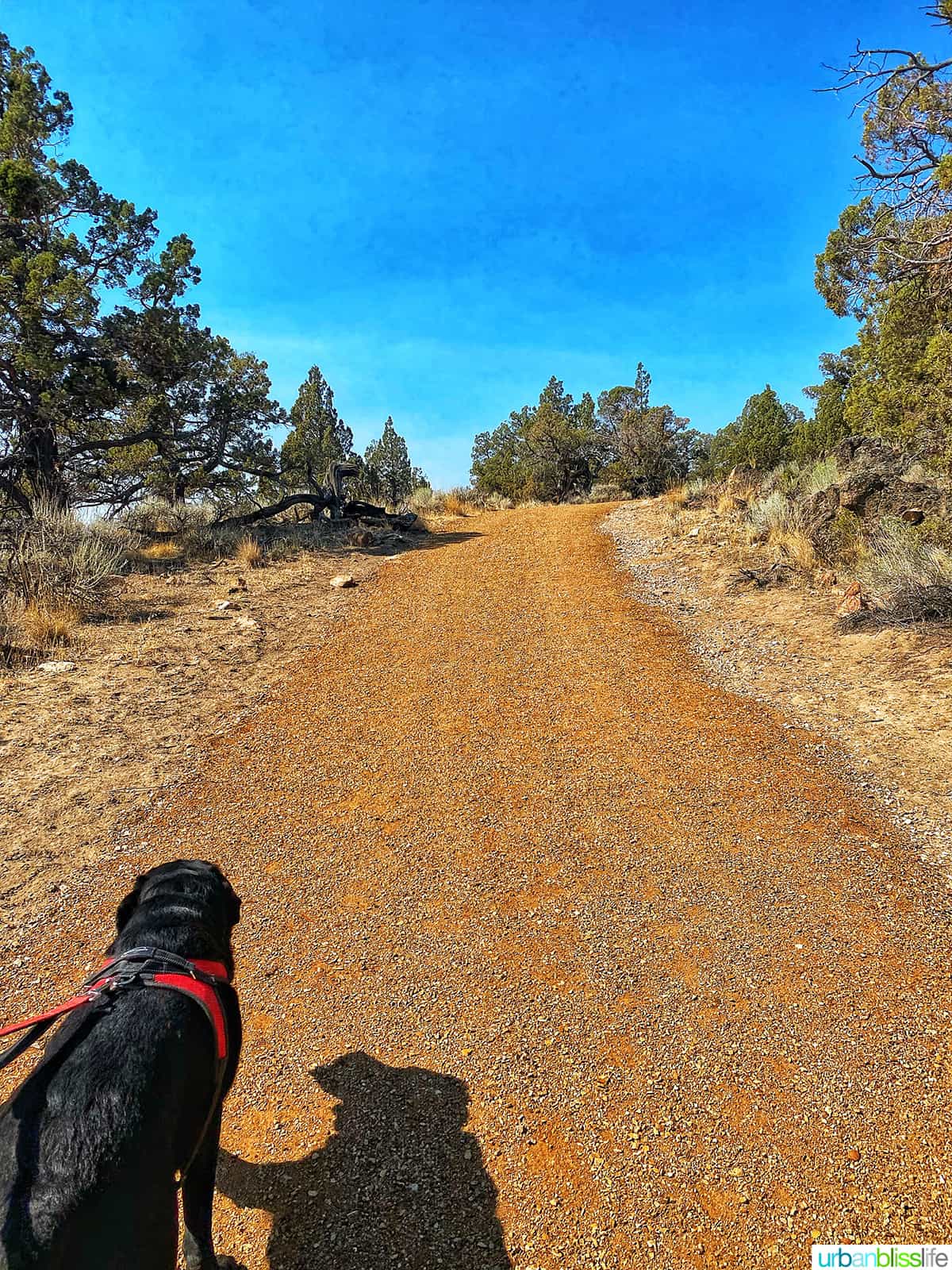 Horseback riding
If you prefer to see the desert on horseback, Brasada Ranch has you covered as well. The site offers over 1,800 acres of trail riding, and features group rides, from beginner level to expert for everyone 8 years of age and older.
Younger riders (5 and up) can enjoy can meet the on-site ponies and enjoy 15-minute rides in the safety of an enclosed pen.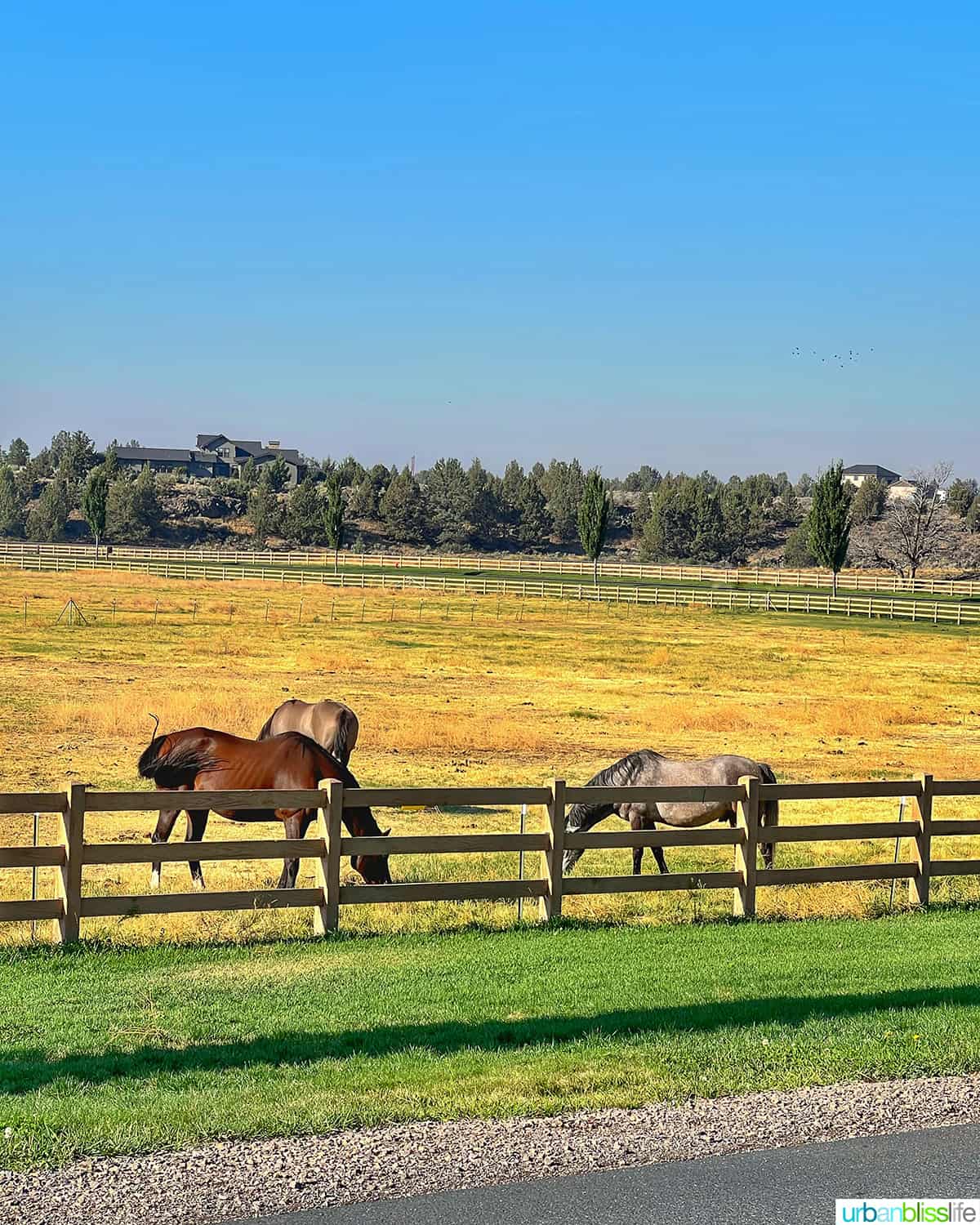 Fitness center
Fitness buffs, you don't need to worry about skipping a workout while you're here. A full-service fitness center features treadmills, bikes, free weights, and much more to help you get a good sweat on. In fact, this is one of the best-equipped resort gyms we've experienced. And the complementary towels and water mean you don't have to worry about bringing those extra items with you.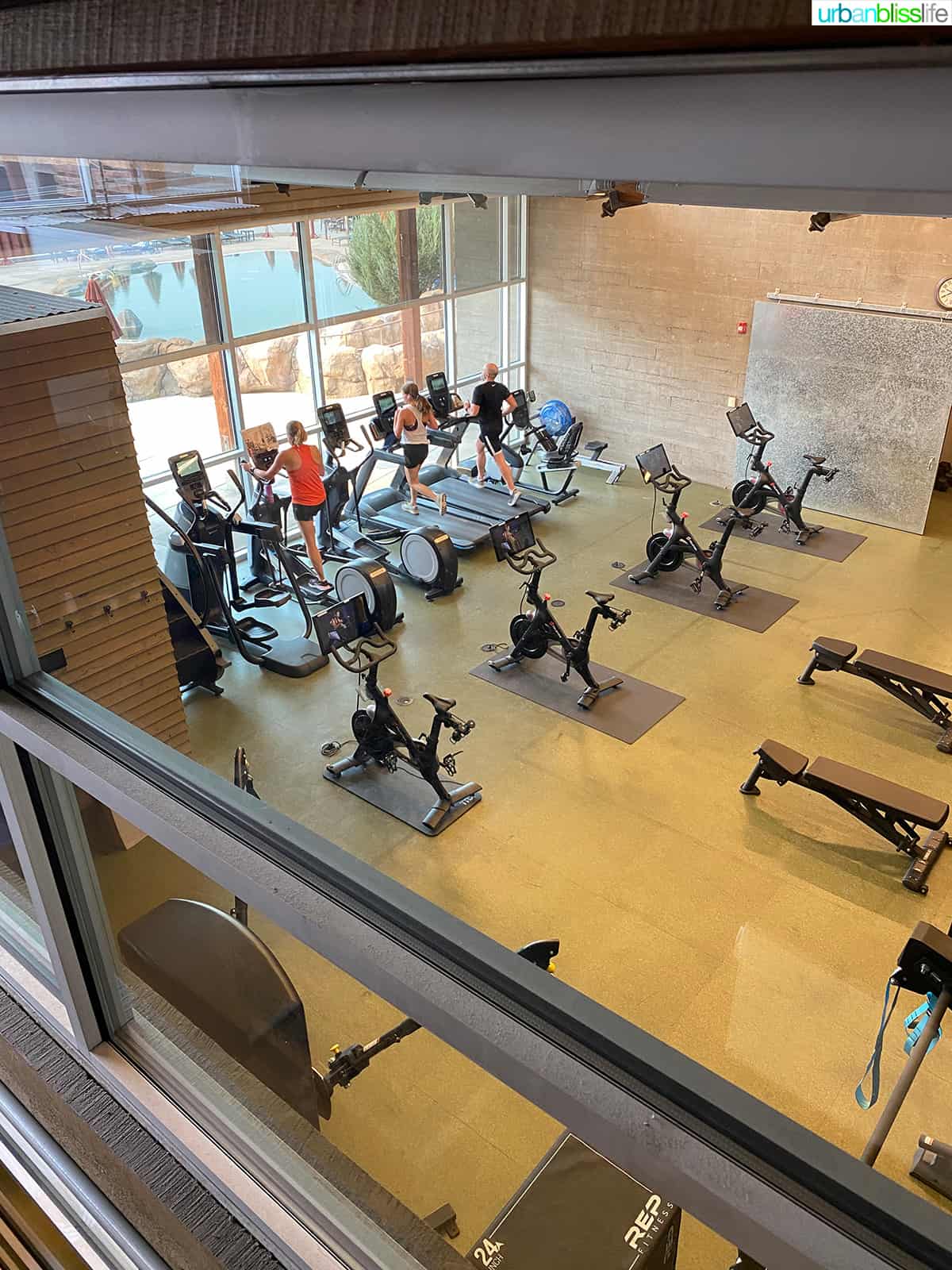 There's much more to do at Brasada Ranch, including golf, archery, spa packages, and seasonal events. When we were there they had a small rodeo and a pop-up ax throwing event. You'll just have to figure out how to fit everything in during your stay!
🏩 Hotel FAQs
Is Brasada Ranch pet-friendly?
Yes! There are some cabins that are designated as dog-friendly. Be sure to inquire about availability as well as any additional fees or restrictions before you make your reservation. Our dog LOVED our vacation here!
What time is check in? What time is check out?
Check-in time: 4:00 pm
Check-out time: 11:00 am
Is there parking available?
Yes. Each cabin has at least one parking spot. We had a parking spot right in front of our cabin as well as a numbered spot underneath the carport in the center of our cabin pod.
🏔 What to do nearby
If you do decide to venture off of Brasada Ranch, Bend is only about 30 minutes away where you can take advantage of world-class shopping, entertainment, and food. And there are plenty of nearby outdoor attractions as well.
Smith Rock State Park
Smith Rock is about a 30-minute drive away and features breathtaking views, as well as world-class hiking and climbing sites along the Crooked River.
Mt. Bachelor
Skiers and snowboarders can take advantage of one of the best resorts in the country at nearby Mt. Bachelor. It features over 100 runs to explore and more than 50 kilometers of cross-country trails. In the summer, you can enjoy mountain biking, hiking, zip lining, and scenic chair-lift rides.
Mountain biking
Speaking of biking, while Brasada Ranch offers bikes you can rent at the resort, trials in nearby Bend offer plenty of other options for serious mountain bikers. And if you don't have your own gear, you can rent all the equipment you need from a host of Bend bike shops.
Fly fishing
Spend a day on the water fishing for trout in the Crooked, Deschutes, and Metolius Rivers. Or head to nearby lakes to fish for trout and bass. If you're not familiar with the area, ask at Brasada Ranch about professionally-guided fishing excursions.
🏨 Stay at Brasada Ranch
Address: 16986 SW Brasada Ranch Rd, Bend / Powell Butte, OR 97753
Phone: (888) 487-3563
Website: www.brasada.com
More travel tips
If you visit, please be sure to let them know that you read about it on Urban Bliss Life! And if you snap some pics, tag us @UrbanBlissLife and #UrbanBlissLife on Instagram, TikTok, Twitter, and Facebook.