I never really understood the appeal of sports cars before. Or red cars, for that matter. I just didn't get it: what makes them so special? Then I test drove the 2015 Lexus RC 350 F Sport, one with glistening Infared exterior, nonetheless. Within minutes of zipping through my neighborhood, I completely understood.
I LOVE this car.
Lexus RC 350 F Sport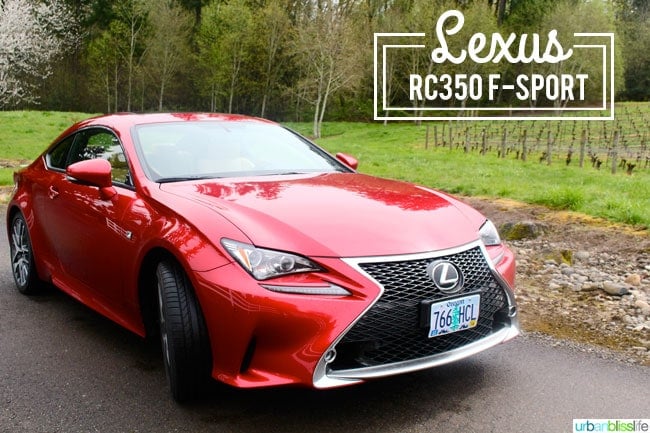 The 2015 Lexus RC 350 F Sport is no ordinary car. This is a supercharged driving experience straight to the circle of cool, my friends. I've never driven a car before that literally turned so many heads, and prompted conversations with random strangers.
Mid-life crisis? Empty nest and ready to celebrate? Startup kid who made it big early in life? This is the car for you.
Starting at $42, 790 for the RC 350 model and at $47, 875 for the RC 350 F Sport package, this Lexus is one super sculpted, sleek, fast driving machine.
Exterior and performance
The Lexus RC 350 F Sport comes with 8-speed transmission, adaptive variable suspension, and all- wheel drive with incredible traction. The Lexus Dynamic Handling system allows the car to move with optimal agility and speed; it truly feels like you're gliding gracefully in this car. This was probably one of my favorite cars to drive through city traffic, up and down steep hills, and around the narrow windy curves of the Oregon countryside. It handles like no other car I have ever test driven; I was honestly amazed at the way this car performed compared to others.
Interior
The interior is designed for pure comfort and luxury, while enhancing the driving experience. The seats contain unique foam-injected construction that helps the seats conform to your body for extra comfort and support. The front sport seats help the driver's hip point position close to the center of the vehicle for maximum driving experience as you zoom to your destination.
I was worried that the car would be too small to hold my family of four, but surprisingly, we all fit fairly comfortably. The back seat has added knee room for extra space, which was a nice surprise considering the compact size of the car.
The car comes with both heated and ventilated seats, which I love, as well as a heated steering wheel. I miss that heated steering wheel. It's also ergonomic.
I loved everything about this vehicle. . . except for one small feature. Like many Lexus vehicles, the digital technology throughout the dashboard is tempered by what my husband calls an old-timey clock in the middle of the dash. This was the only thing that bugged me about the car: I'm so used to looking for a digital time display, and I feel like this is a silly design decision meant to appeal to the baby boomers and upper crust who might buy these cars.
The dash and middle console are very driver-friendly. There's a nice large landing space right above the middle vents (and old-timey clock) that's perfect to set down papers or hold your phone while it's charging (I often charge my phone in the car since I'm constantly on-the-go). I do like how the buttons are streamlined, and there's ample storage space in the middle console and glove compartment.
A Normal Person's Day-in-the-Life Driving a Lexus RC 350 F Sport
When I test drive vehicles, I like to test drive them in situations that might best fit the style of car. For example, I often test out larger vehicles with road trips to see how they handle long hauls, sound system capabilities, storage space, and long-term comfort. I happened to have this Lexus during a down week for me: lots of writing deadlines but no big trips, no events, just work and normal mom life adventures.
So I took the Lexus RC 350 F Sport all around SE Portland and downtown Portland, zipping around from meeting to meeting.
This was the spot of random stranger conversation #1 ("Is that your car? That's a nice car!"), as well as randomly yelling hello to a friend at a stoplight downtown while he was crossing the street (Ben, if you're reading this, you know by now: that was not my car). This was the perfect car for zipping around downtown: dodging aggressive bicyclists and slow-walking/oblivious texting pedestrians, and squeezing between large busses down narrow streets. Its turning radius is incredible, and I was able to quickly zip in and out of parking spots, maneuver through tight parking garages, and start and stop swiftly and smoothly.
I also took this sporty little number on adventures it probably hasn't seen but really, truly needed to. I mean, how often does a Lexus RC 350 F Sport get to hang at a fancy grocery store parking lot and haul back a bunch of groceries, not just once, but three times in one week?
And I imagine the car was nothing less than thrilled when I took it for a spin to the oh-so exotic Target (Tar-jay, excuse me) parking lot for some quality chill time with wall-to-wall minivans and monster SUVs.
Finally, the Lexus RC 350 F Sport had the great pleasure of racing around school and park parking lots at the incredible speeds of 20 MPH to and from many softball practices and games.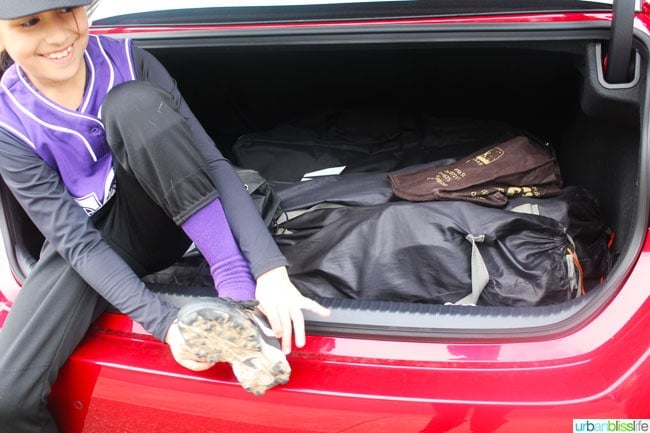 Oh, and check the trunk space: large enough to hold three large folding stadium chairs, my daughter's bat bag, and a host of groceries all at the same time. Also: proof that I made her take her muddy cleats off and chance shoes before she got back into the car.
Yes, I am sure that these suburban family adventures are the kind of high class outings that this sexy little car was born to embark upon.
Or . . . maybe not. But, hey: these are my exciting daily adventures, and they were made all the more thrilling thanks to the Lexus RC 350 F Sport. And, let's get real: these are more like the type of everyday adventures most people would take their vehicle on, right? (If your life is ten times more exciting than mine, as I imagine it is, please just smile and nod).
If I had the extra income, I would totally buy this sporty number. I loved it so much! I don't like many Lexus models, but the RC 350 F Sport is absolutely one of the best cars I have had the pleasure of driving. If you are in the market for a smaller car, and have the funds to burn, definitely consider the Lexus RC 350 F Sport.
More car reviews