A recent addition to the Beaverton restaurant scene, Murrayhill Taphouse offers an eclectic menu and a new twist on a familiar space. And with about two dozen brews on tap, it could become a new favorite for beer lovers.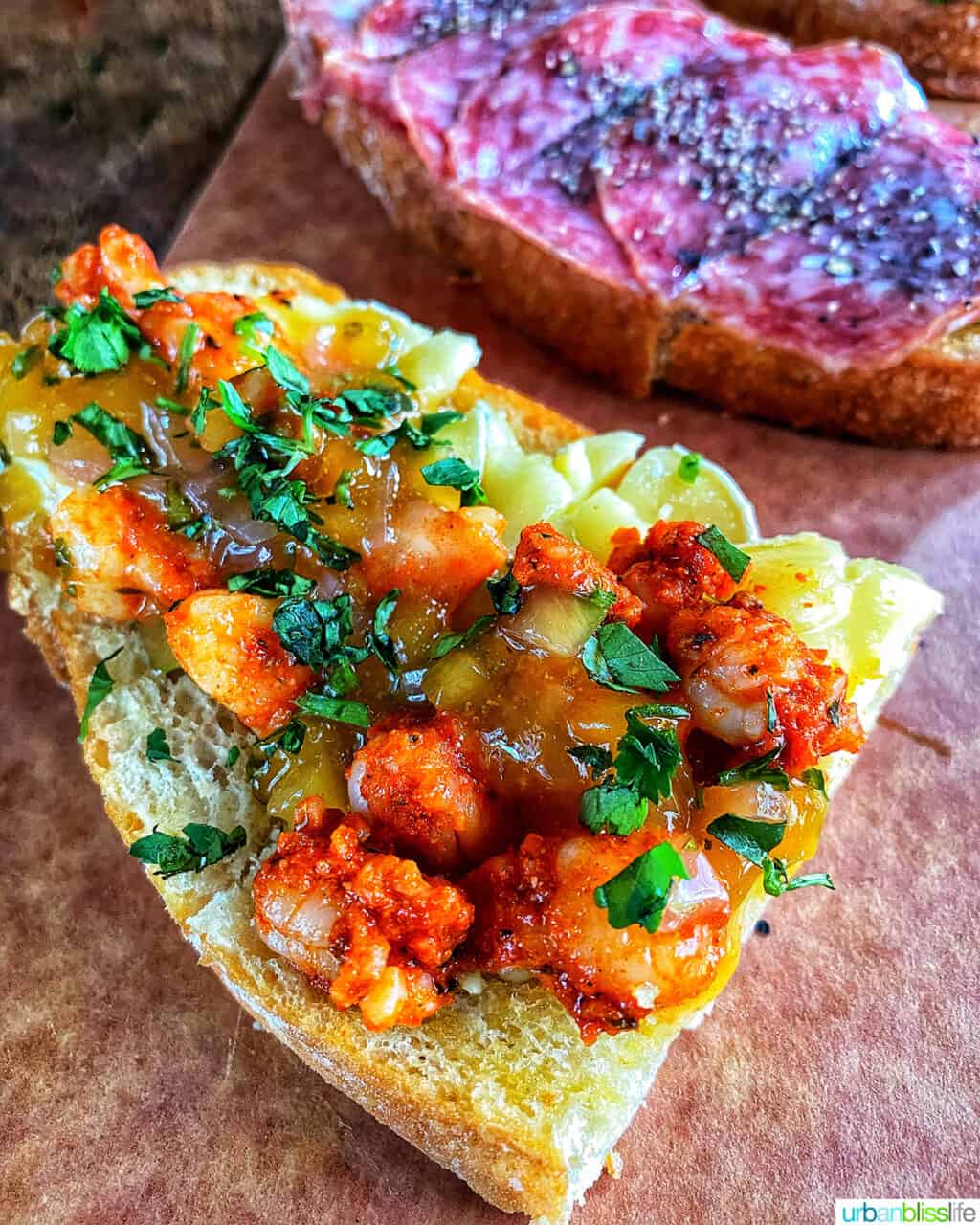 Murrayhill Taphouse occupies the premier dining space in Beaverton's Murrayhill marketplace shopping area. Formerly a "Ruby Tuesday," and prior to that "Beaches," the Beaverton restaurant space lay vacant for more than a year during the pandemic before the Taphouse opened in the summer of 2021.
As its name suggests, they take their beer seriously here. But there's a lot more to like about the menu than the large drink selection. In fact, there's pretty much something for everyone, whether you like seafood, pizza, salads, or sandwiches.
Restaurant Vibe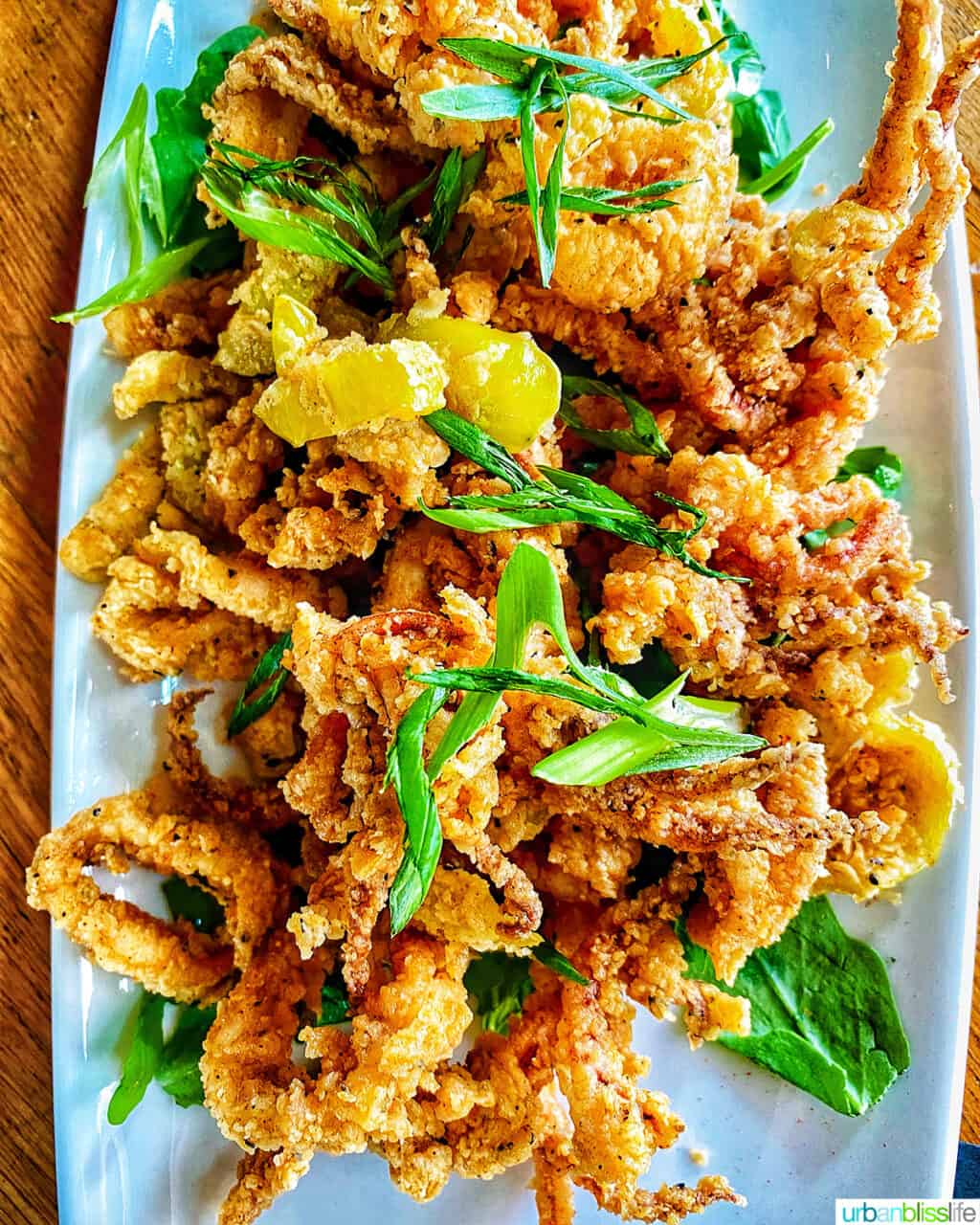 With a spacious main dining room, bar with several TVs usually tuned to live sports, and a generous outside eating area, the atmosphere at Murrayhill Taphouse is easygoing and friendly.
Grabbing a drink and some bites (like the Calamari pictured above) and sitting outside here can feel like you're enjoying a meal on the deck of your best friend's house. It's the unstuffiness that makes this place so inviting.
The Drinks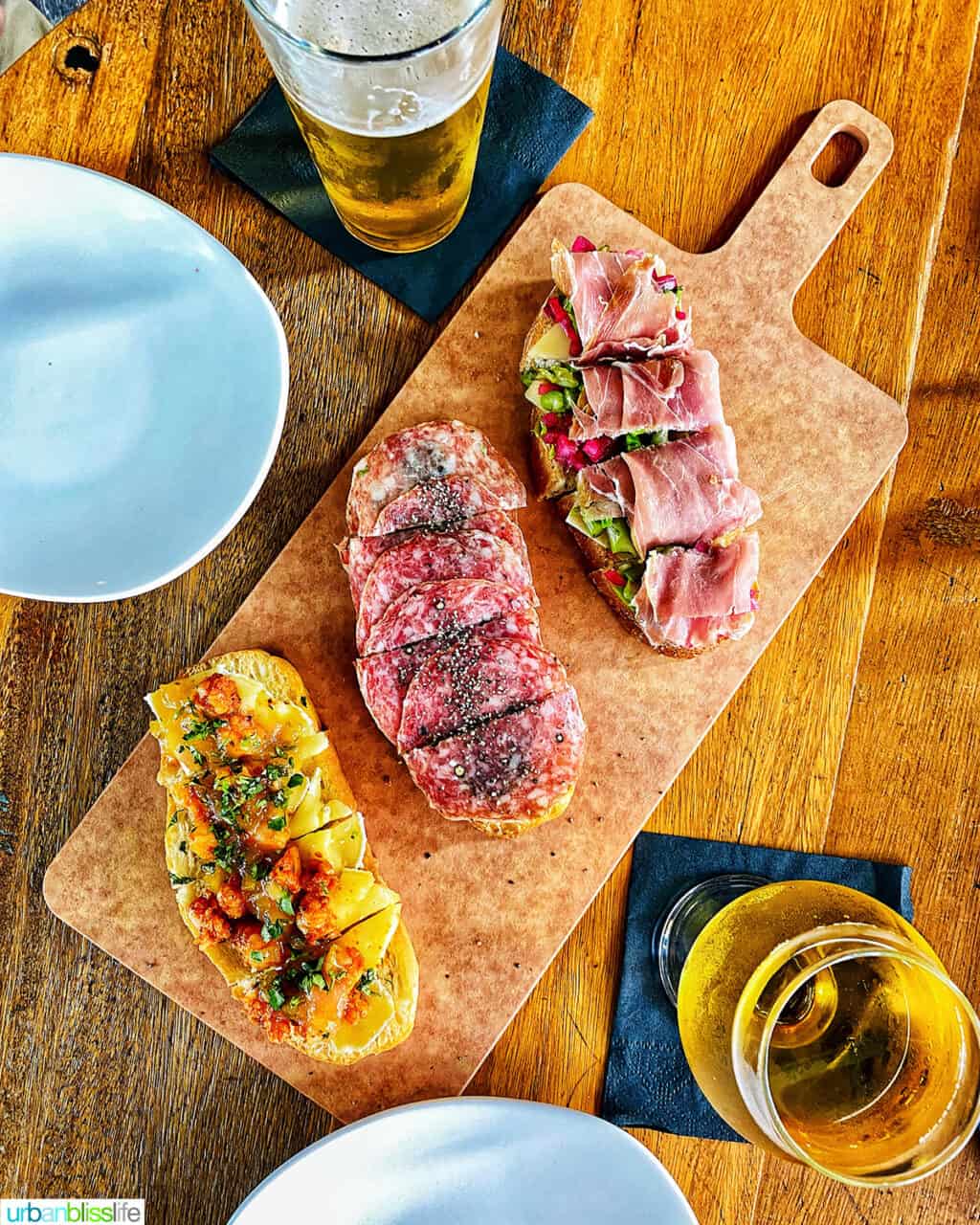 When you go to a taphouse, you expect to find a pretty extensive beer list. That holds true here. The brew menu at Murrayhill Taphouse features more than 20 taps. And if you're looking for something beyond a typical IPA or pale ale, you're in luck. Some of our favorites include the Occidental Kolsch ($7), an easy-drinking session beer, and the Hammer and Stitch Amber ($7), with slight caramel flavors.
Cider-lovers will also find something to enjoy here. Usually half a dozen ciders are featured on the menu, mostly from the Pacific Northwest.
They also feature several wines "on tap," as well as a range of house cocktails and mocktails.
Bruschetta, Salads, Sandwiches and more
We've been to Murrayhill Taphouse several times now. Usually we go with friends or family, as it's a great place for groups.
Here's a look at what we enjoyed during one of those many meals here.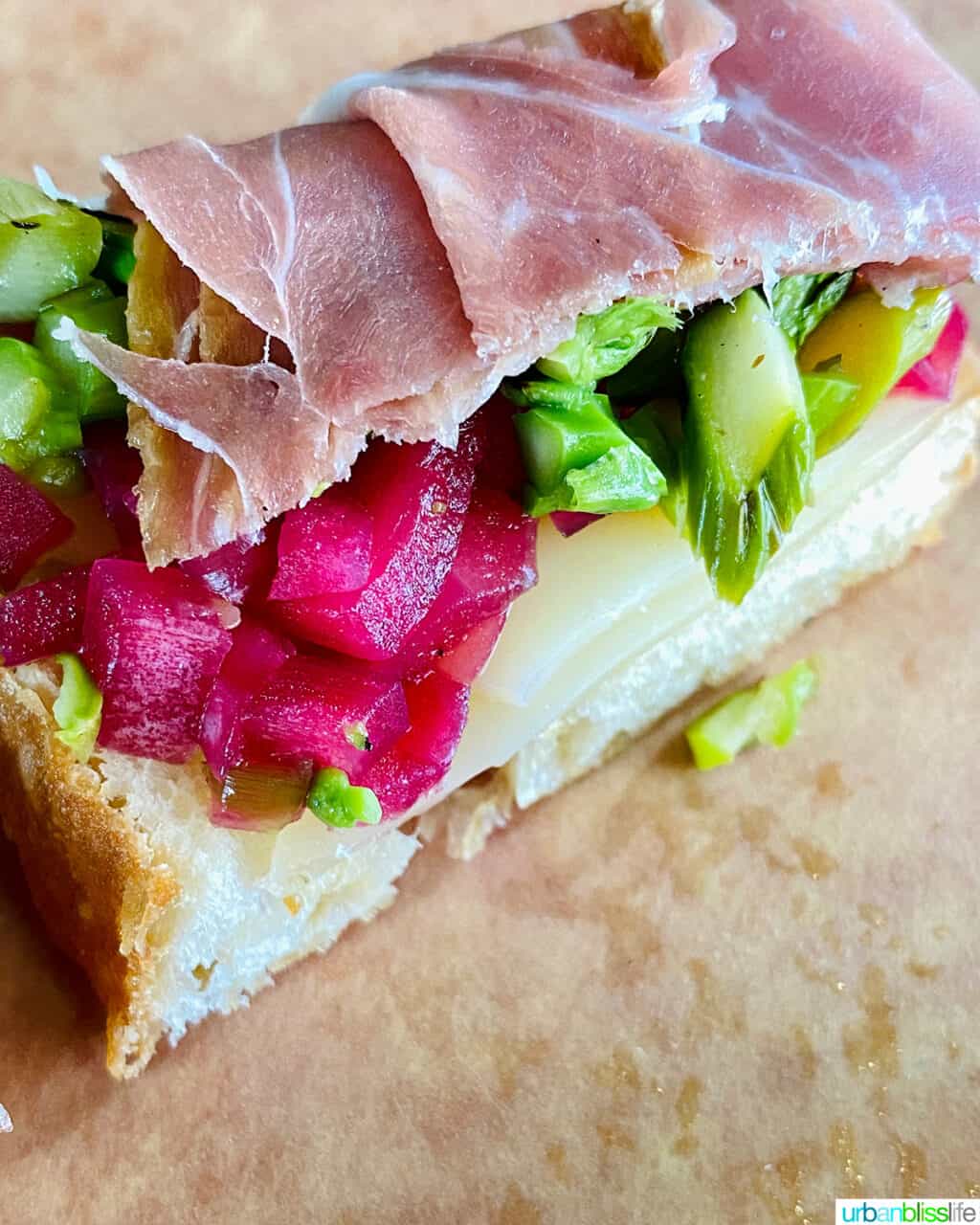 Bruschetta (3 for $15)
One of the first things you may notice when looking over the Murrayhill Taphouse food menu is the number of bruschetta dishes on offer. They usually have about 10 to choose from, each with artfully designed food combinations that go well beyond the traditional tomato and olive toppings. You can order any three for $15.
When we visited we tried the asparagus and prosciutto (with Swiss cheese and pinot marinated onions). All the flavors went very well together and the onions added a nice bit of tanginess to the dish.
We also sampled the blackened shrimp and brie, which was topped with a slightly sweet mango salsa. For our third option, we chose the sopressata salami with housemade pesto. It was topped with crushed black pepper which added a nice crunch to the overall texture.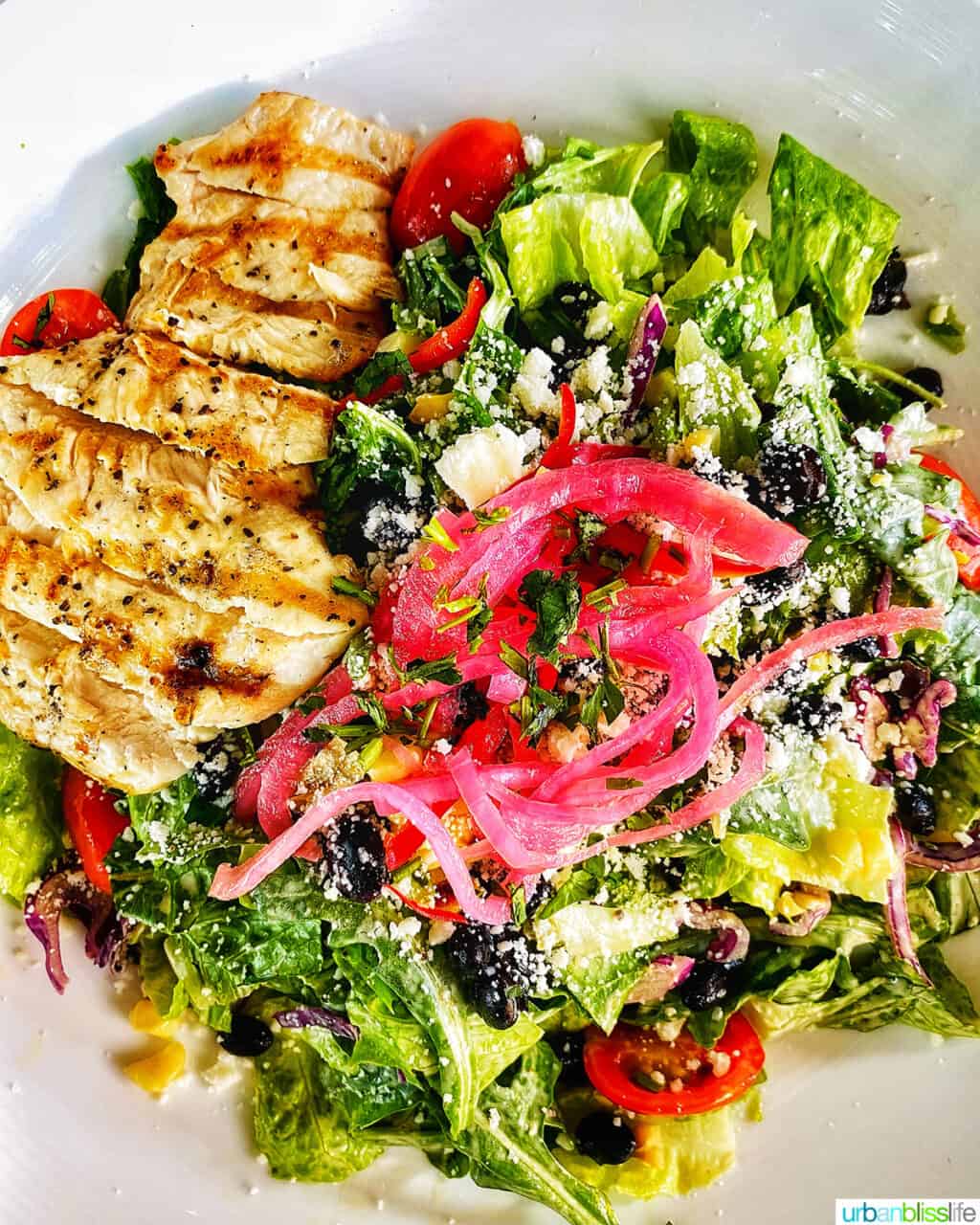 Southwest Salad ($10)
After the appetizers, we dove into the Southwest Salad. It features fire-roasted corn, Fresno peppers, cotija cheese, black beans and a somewhat spicy southwest dressing. We added chicken for a few dollars more. This was a satisfying dish with some nice textures.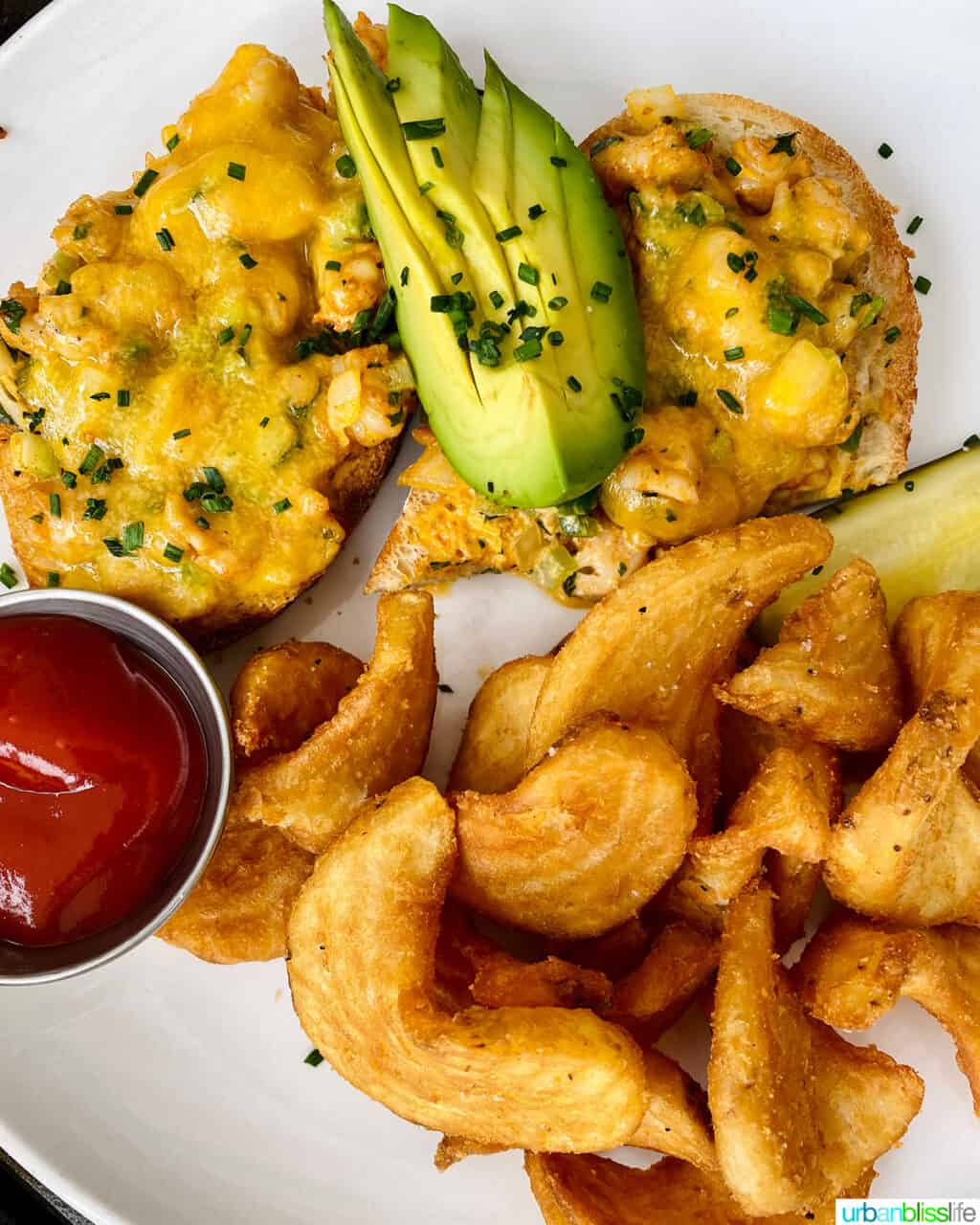 Shrimp Melt ($16)
For the main course, we tried the Shrimp Melt. It's an open-faced sandwich featuring cajun shrimp salad, avocado and cheddar cheese on toasted ciabatta bread, with fries on the side. It was tasty and surprisingly hearty, but not overly filling.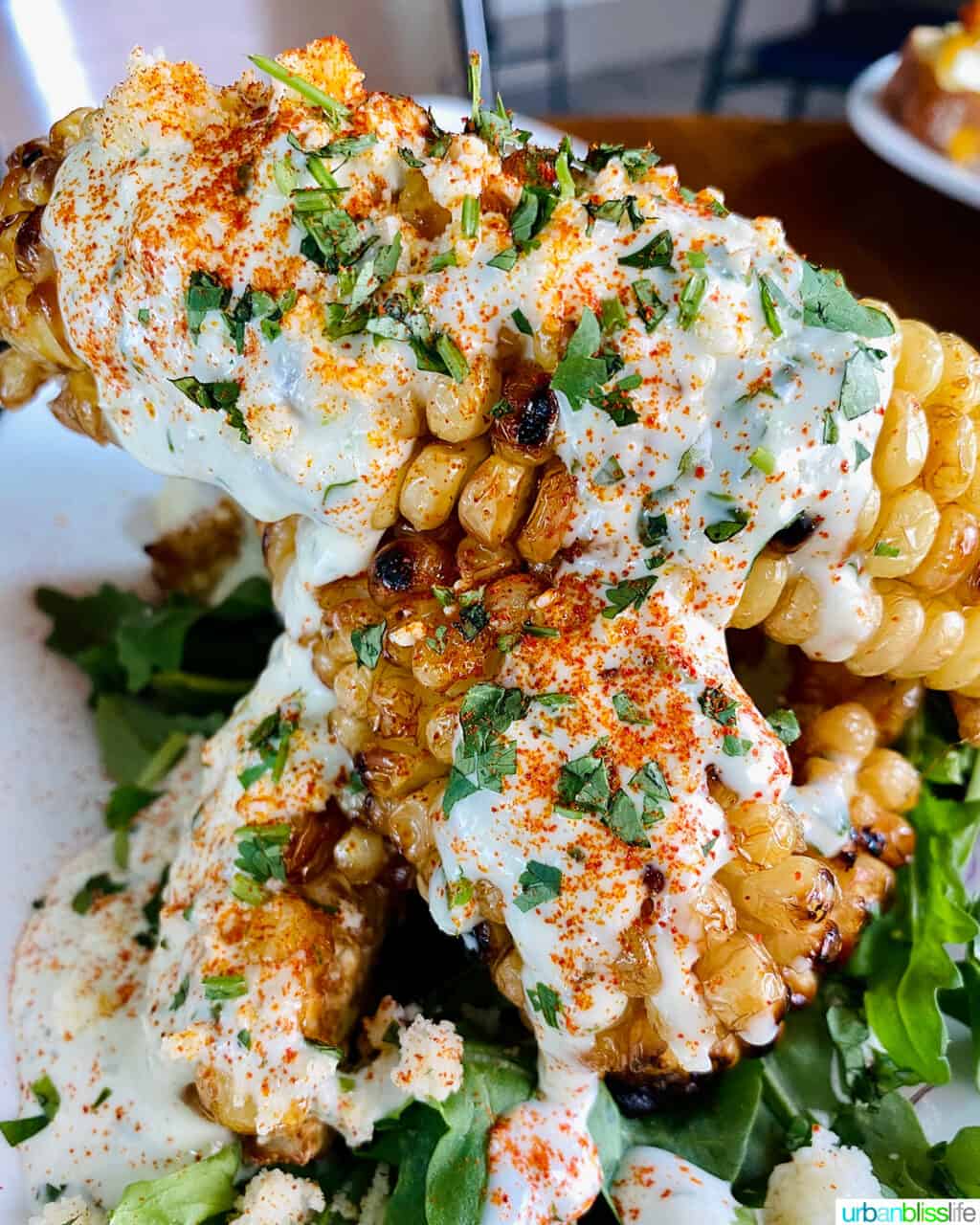 Sweet Corn Ribs ($8)
We also decided to try one of their more unusual sides, called Sweet Corn Ribs. It's a play on traditional meat ribs, where slices of corn are coated in a cilantro lime crema and sprinkled with cojita cheese. While delicious, they were a bit hard to eat. The best way was to just pick 'em up and chow down.
Murrayhill Taphouse also has more traditional brewpub fare like burgers, pizza, and fish & chips to satisfy those comfort food cravings!
Restaurant FAQs
What is the dress code for this Beaverton restaurant?
Laid back and casual. Leave the button down shirts at home and throw on your favorite t-shirt and jeans. Or shorts if it's the summer!
Is this restaurant kid-friendly?
Yes, there are plenty of food options for kids, including grilled cheese, chicken strips, and pizza. And the unstuffy atmosphere is great for kids of all ages.
Are reservations required?
They aren't required, but they are accepted. So if you like to plan ahead, it may make sense to reserve a table. If you have a party of four or more, we do suggest making a reservation, as they can book up during busy times.
Are there vegan options?
A couple of the salads could be modified to be vegan, by removing the cheese topping for example, but for the most part there aren't very many vegan-centric dishes.
Is there outdoor seating?
Yes! Murrayhill Taphouse has a lovely patio space with lake views. They have a few outdoor firepits available during colder months.
Murrayhill Taphouse
Murrayhill Taphouse is one of those restaurants in Beaverton, Oregon where you can simply relax and be yourself. The low-key vibe and diverse menu options make it an ideal spot for a family dinner or simply some drinks and appetizers with friends. And in the summer, it offers some of Beaverton's best outdoor dining space.
---
Murrayhill Taphouse
Address: 14550 SW Murray Scholls Dr, Beaverton, OR 97007
Hours
Mon-Thurs 11am-9pm
Fri-Sat 11am-10pm
Phone: (503) 941-9851
Website: murrayhilltaphouse.com
More restaurants near Portland, Oregon
If you're in the Beaverton area heading out to wine country, here are some great Oregon wine country restaurants to visit: