Mini Pecan Pies are bite-sized fall desserts perfect for serving at any gathering! The fall flavors are especially delicious at Thanksgiving, Christmas, and other fall and winter parties. You can make this mini pecan pie recipe ahead of time, and then warm them up just before you're ready to serve!
---
This recipe for Mini Pecan Pies was first published on November 15, 2013. It has been updated with new photos, an upgraded recipe, and all new cooking tips as of October 23, 2021.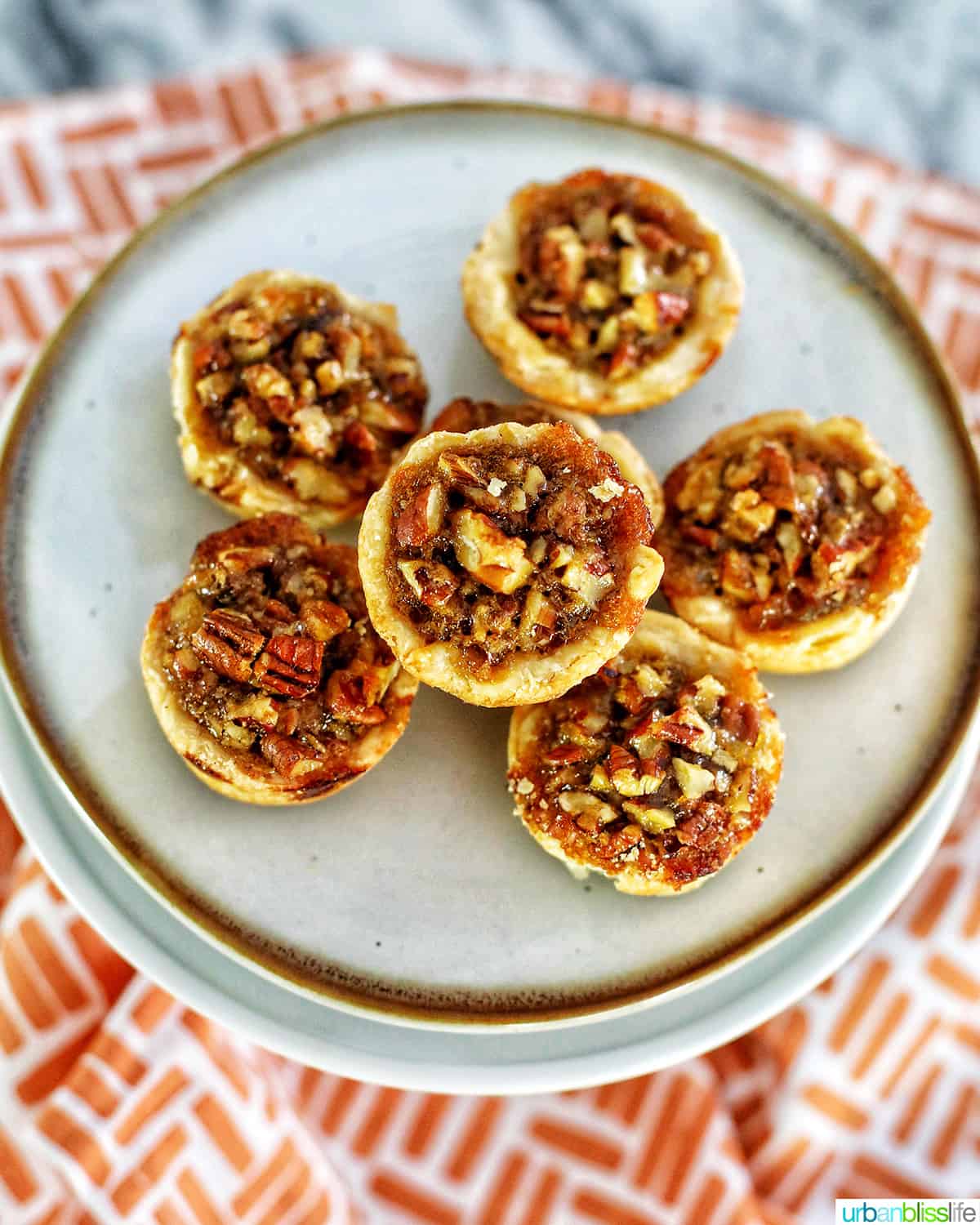 I love bite-sized food at holiday parties and dinners, don't you? Bite-size appetizers and desserts make it easy to taste several different dishes. And, it's easier to mix and mingle with a plate of small bites versus a large piece of pie.
I've been making these mini pecan pies for holiday gatherings with my family for several years. They're always a hit!
These pecan pie bites go quickly, so you may even want to make a second batch: one for your guests, and one for you!
Jump to:
📺 As seen on The Drew Barrymore Show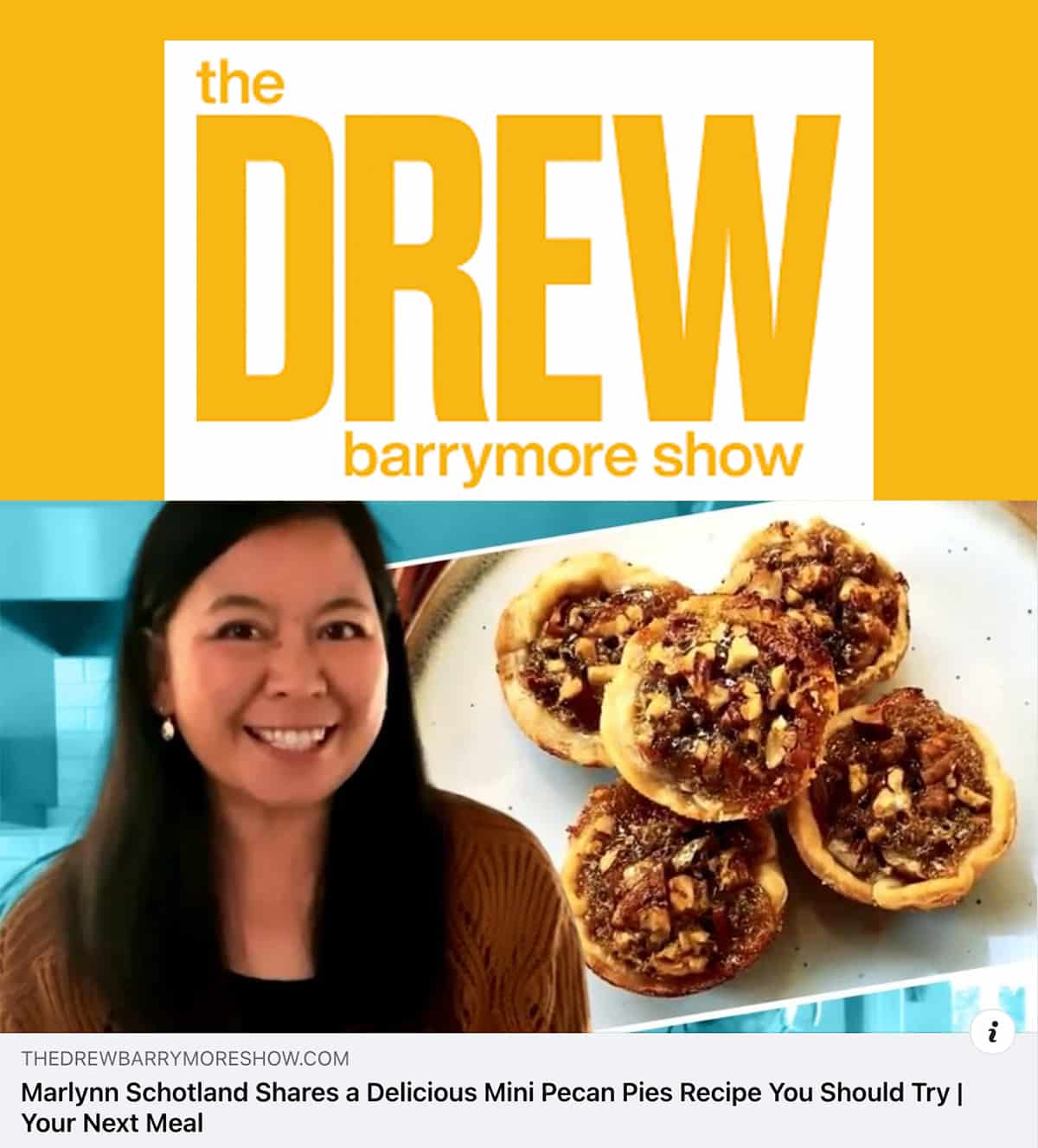 This recipe for mini pecan pies was featured on The Drew Barrymore Show! I was thrilled to share these delicious mini pies on her show!
You can watch the full segment online.
✅ Step-by-step instructions
Preheat oven to 350°F. Spray the mini muffin pan with nonstick cookspray and set aside.
Unroll the pie crust onto a cutting board. Use the cookie cutter to cut out circles. Roll the extra dough into a ball, then roll it flat again with a rolling pin and cut out more circles until you've used all of the dough. You should end up with 15 to 18 circles.
2. Press each dough circle into the bottom and up the sides of the prepared muffin cups to create mini pie crusts.
3. Sprinkle 1 to 2 Tablespoons of the chopped pecans into the center of each cup.
4. In a large bowl, whisk together the brown sugar, corn syrup, vanilla, egg, egg white, and salt. Spoon about 2 teaspoons filling over pecans in each muffin cup.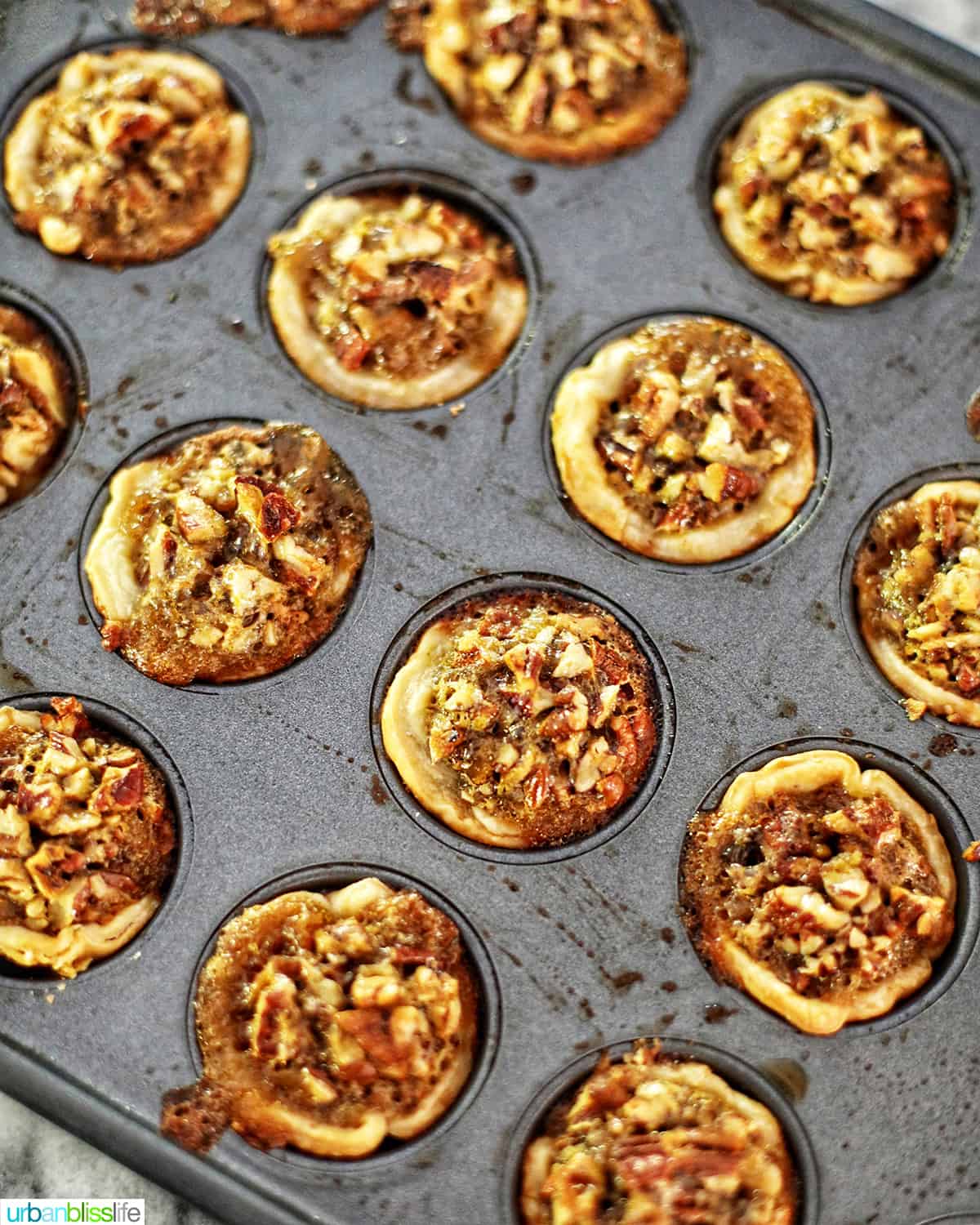 5. Place the muffin pan in the oven and bake at 350°F for 18-20 minutes, or until the centers are firm. The pastry should be just lightly brown and the filling puffed slightly. Let cool completely in the pan before removing the pies and serving.
📚 Super Easy Teen Baking Cookbook
A version of this recipe is also in my newest cookbook, The Super Easy Teen Baking Cookbook. You'll find it on page 94. The cookbook is perfect for teens ages 12 to 18 and includes kitchen safety tips, baking tips, and 60 sweet and savory step-by-step recipes that teens can bake all on their own!
🍳 Kitchen Tools and Equipment
Ready to make this recipe for mini pecan pies? Here's what you'll need.
Round biscuit cutter/cookie cutter/pastry cutter - you'll need a 2-½ to 3-inch round biscuit cutter or cookie cutter to cut dough circles for each mini pie
Mini Muffin Pan - any standard 24-cup mini muffin pan will work
Liquid measuring cups - measure your liquids accurately by using a liquid measuring cup instead of dry ingredient measuring cups
Measuring cups and spoons - then use standard measuring cups and measuring spoons for the dry ingredients
🥧 More fall dessert recipes
Check out our full collection of fall recipes and dessert recipes! Or try one of these fall dessert recipes:
Did you make this recipe? Don't forget to leave a 5-Star 🌟🌟🌟🌟🌟 rating in the recipe card, and if you really loved it, please leave a comment further down on the page. Thank you!