[UPDATE: This restaurant is now closed. Check out my review of Tusk, the Middle Eastern restaurant that took over the same space]
During my first visit to Levant Restaurant in Portland, Oregon, I felt like I had stumbled upon one of those magical doorways that take you from one world to the next. On one side (Burnside, to be exact), is the noisy, busy main street. On the other side: a calm, quiet, warm blanket of Middle Eastern delights.
I kept wanting to open and close the door as if in a Tom & Jerry cartoon: grey gritty old Portland street/ooh pretty Kinfolk-esque setting; whiz zoom honk loud/ahh quiet; um, what is that odd smell?/oh what is that deliciousness I smell?
It's a pretty fantastic juxtaposition. I prefer the Levant side of the door, and am pretty sure you will too.
Levant
Once inside, you're greeted by warm Pacific Northwest wood tones complemented by rich copper, black, and gold accents. The black and white photos on the wall as you enter the main dining room are actually of Chef-Owner Scott Snyder's family. Around the corner from the cozy bar is a large open hearth.
Levant is open for dinner Tuesday through Saturday, and recently began an amazing brunch service. If you are going here with a group, I suggest ordering the Israeli Style Brunch for the Table, which features many of the food featured below, for $20 per person; I list prices for individual orders below alongside each description.
But first: cocktails.
Brunch Cocktails
There's something about Sunday brunch that makes you want to indulge in a sweet, creative cocktail. You can order a pitcher of Bloody Mary or the All the Glory Punch (applejack, oloroso sherry, lemon, strawberry syrup) that serves 2-4 people from the Drinks for Sharing list.
The morning cocktails run between $7 and $11. I ordered the Simplicity. Because: BOURBON.
Simplicity - chamomile infused bourbon, orange honey, lemon ($11)
Levant Harissa Bloody Mary ($11) - choose from vodka or raki, za'atar salt rim, picked quail egg. Shown here with mezza of spiced almonds, feta with lemon and mint, and a variety of tasty olives.
Sweet & Savory Pastries
You may start with ordering a pastry or two, but I warn you: do not fill up on these alone. You will definitely want to save room for what's to come. You can always box up pastries and take some home. My favorite: the gorgeous roll you see below.
Lemon Glazed Pistachio Spiced Rolls ($3 each)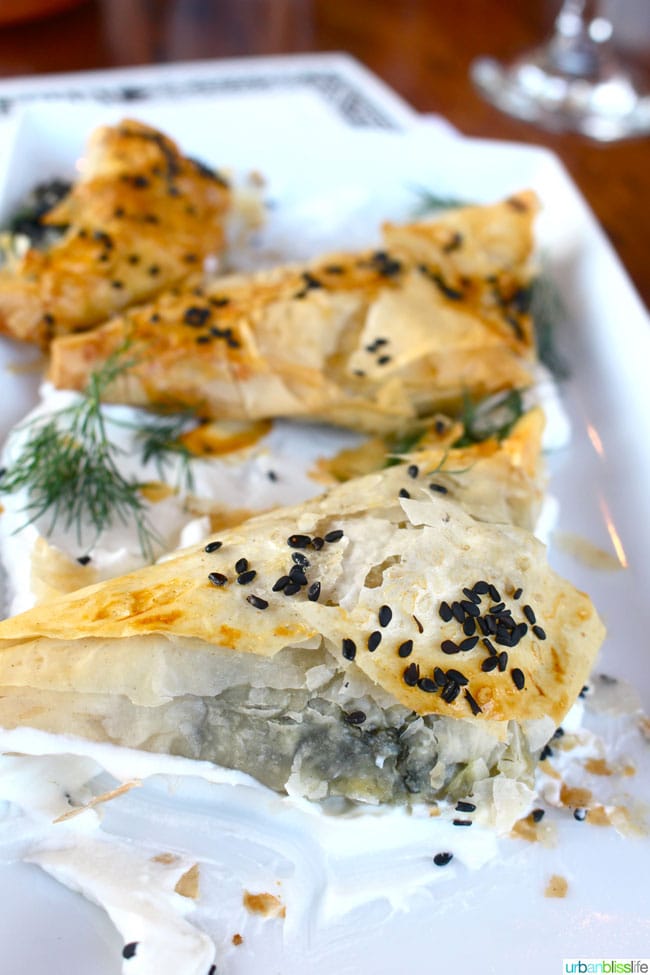 Spinach and Cheese Spanakopita ($8)
Sides
Levant offers a variety of sides, including sausage, potatoes, and braised greens. The pita and hummus, however, was above and beyond any other hummus I have had in town.
House made pita with hummus ($6)
Salads
Levant may change up its salads by season, but if you are lucky enough to be there when the citrus salad is available, definitely order it. It's absolutely refreshing, not to mention beautiful.
Citrus salad with mint
Egg Dishes
I loved both of the Shakshuka dishes that we sampled, but the Red Shakshuka was my favorite. Even though I'm a spice wimp, it was so full of incredible flavors that were perfect to soak up with Moroccan toast.

Green Shakshuka - baked eggs in spicy tomatillo broth with spinach and feta, served with moroccan toast ($12)
Red Shakshuka - baked eggs in spicy tomato broth with peppers and merguez served with Moroccan toast ($13)
Chef Scott Snyder
I thoroughly enjoyed each of the dishes we sampled at Levant on this visit. They are clearly made with a lot of attention and love, under the direction of Chef-owner Scott Snyder. Snyder brings a French technical background to Levant, along with his interest in old-word cuisine. His menu is a collection of creative twists on traditional dishes, overflowing with distinct flavors.
Visit Levant
2448 E Burnside St, Portland, OR 97214
(503) 954-2322
Tuesday - Saturday 5:00 - 10:00
Brunch Saturday and Sunday 10:00 - 2:00
http://levantpdx.com/
All of the dishes pictured above were delicious. If you dined at Levant today, which one(s) do you think you would you order?
Many thanks to Levant and Little Green Pickle for the invitation to this blogger brunch. All opinions and photos are, as always, my own.