This post is sponsored by Smithfield. As always, all opinions are my own.

While your holiday ham may take center stage during the main meal, and here are some leftover ham recipe ideas that shine just as bright!
Christmas is in just a few days. Nobody panic! Are you panicked? I'm not panicked. Well, not too panicked.
I'll admit: I've been so busy with work and will pretty much be working nonstop until the day before Christmas, that I haven't had time to really stress about it. I've learned that is often best: I work better under pressure, and as holidays get closer, I tend to realize just how simple and easy holiday prep can be - while still being beautiful and memorable. I know from experience that in the end, everything always works out.
We always host Christmas at our house, but are switching things up this year and are hosting a brunch instead of dinner. What about you? If you celebrate Christmas, are you hosting, and if so, are you making a Christmas ham this year? So many people I know do. And no wonder: ham is easy to prepare, beautiful to serve, and delicious to eat!
I think sliced ham looks so elegant and beautiful on holiday dinner tables. And, there are so many different leftover holiday ham recipes that make meal prep simple the following day!
A beautiful holiday ham
I've been eyeing this recipe for Smithfield Signature Spiral Sliced Ham. I can't believe how easy it is to prepare! You just pop it in the oven at 275 degrees for about 10 – 12 minutes per pound. Then, evenly brush on the glaze, let it rest, slice, and serve. That's it! You can watch the quick recipe video which shows you step-by-step how it's done.
Smithfield Signature Spiral Sliced Ham is delicious, easy to make, and totally versatile and convenient. It makes a beautiful, elegant centerpiece dish for your holiday table. And, you can use up any remaining slices in a variety of tasty appetizers, sandwiches, and snack recipes the next few day!
Holiday ham leftovers
We always have holiday meal leftovers, and when we have served ham in the past, we had enough for breakfast, lunch, and dinner for days!
Here are a few holiday ham leftover recipe ideas to inspire you:
If you're hosting another gathering the next day, turn those ham slices into tasty bite-sized Holiday Ham Appetizers! Aren't these so lovely? Heck, I'd even make these and have a plateful of them paired with a salad or cup of soup for lunch!

Get the Recipe: Ham and Brie Crostini with Fig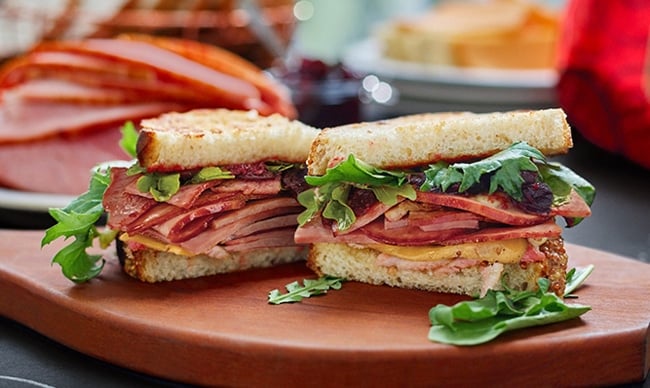 Those with big appetites will love this leftover ham recipe idea: serve the remaining slices in this salty, sweet, and cheesy Holiday Ham Sandwich. Pair it with a side of potato chips or a salad, and you're stomach will be so happy!

Get the recipe: Ham and Cheddar Cranberry Melt
ANOTHER IDEA: I personally love to use leftover ham in mini ham and cheese frittatas, which are basically mini muffin cup versions of one of my favorite quiche recipes.
More holiday entertaining ideas
I'll be working pretty long hours this week until Friday night, and then it's GO time! I'm SO excited because I truly love the holidays! Easy and simple is always the way to go for me when it comes to entertaining and throwing parties, but especially during the busy holiday season. I hope you've found some of the recipes and ideas here to be helpful in making your own holidays shine - without stress! - this year.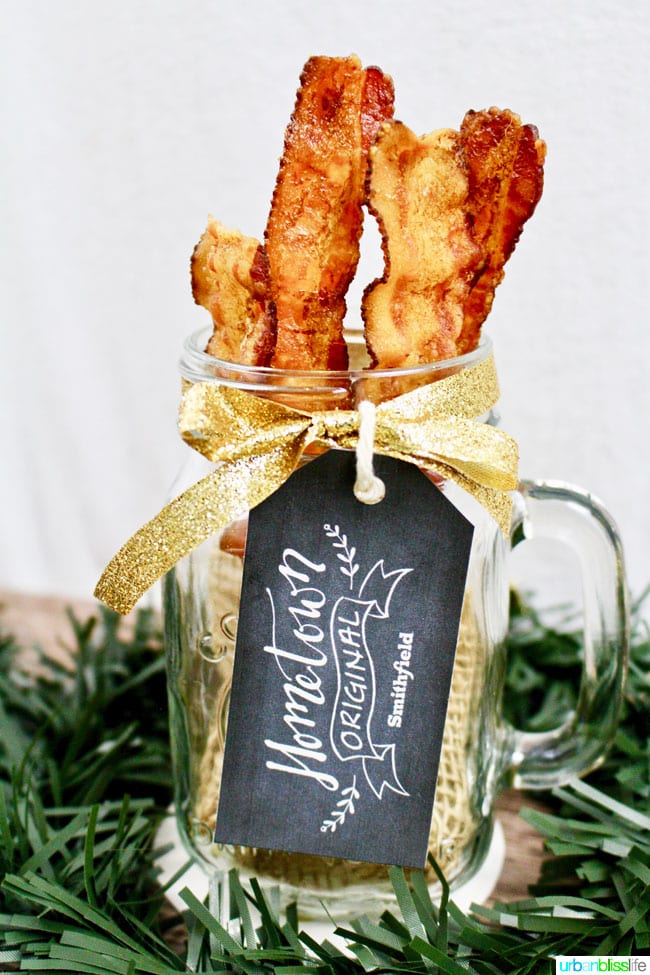 Need more holiday entertaining inspiration? Be sure to check out my Holiday Bacon Bar inspiration post, and visit the Smithfield Bacon Bar website where you can download more easy tips and tools to make your holidays shine!
What are YOUR favorite recipes to use up leftover ham?
Thanks to Smithfield for sponsoring this post. As always, all opinions are my own.