These Chocolate Chip Brownies with a hint of Pinot Noir are decadent desserts perfect for serving at parties or as everyday baked treats!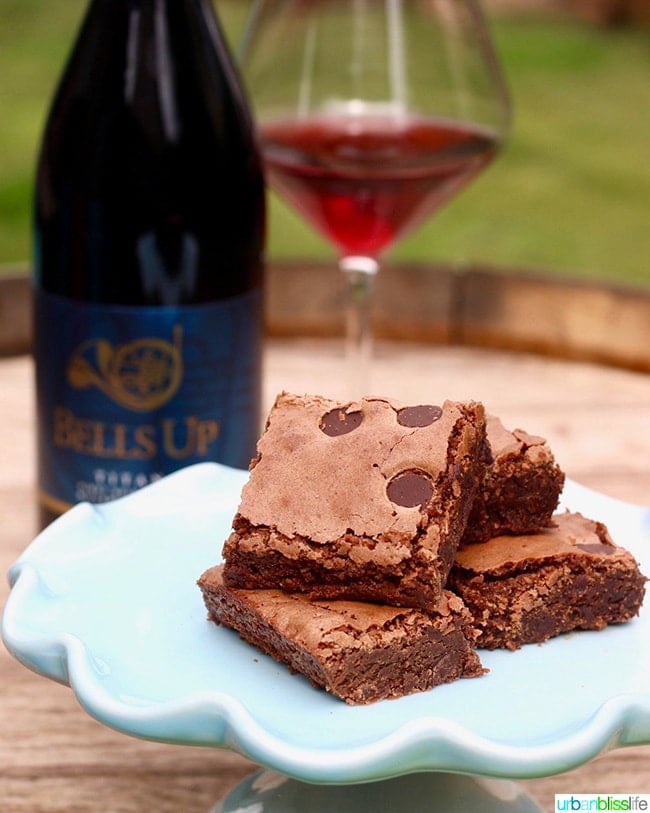 Red wine and chocolate are the perfect pairing, don't you think?
We're so blessed to live in Oregon Wine Country, amidst an abundance of amazing Oregon Pinot Noir, Tempranillo, and Cabernet Sauvignon.
There is also a growing movement for high quality artisan chocolates made in Portland. Some of my faves: Woodblock Chocolate, Xocolatl de David, Alma Chocolate, and the sadly now shuttered Pitch Dark Chocolates.
Essentially, we live in a magical, delicious intersection of perfect pairings. So it's only fitting on this Wine Wednesday that I share a recipe that combines the two: Chocolate Chip Brownies with Pinot Noir.
2015: an intense year for Oregon Pinot Noir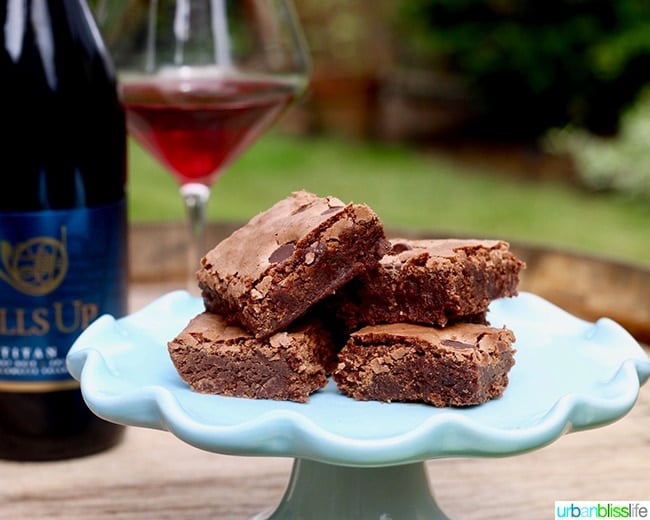 Arguably more so than many of its red wine counterparts, Pinot Noir tends to take on the qualities of the region the grapes are grown in. Thus, due to climate differences and growing seasons, Oregon Pinot Noir tends to be milder, more delicate, and lighter in color compared to the generally bigger, darker California Pinot Noir.
However, as we all know, the weather has been more unpredictable these last few years, and Oregon Pinot Noir wines reflect that.
Take 2015. It was HOT and dry in Oregon: two descriptors that are typically not associated with our great state.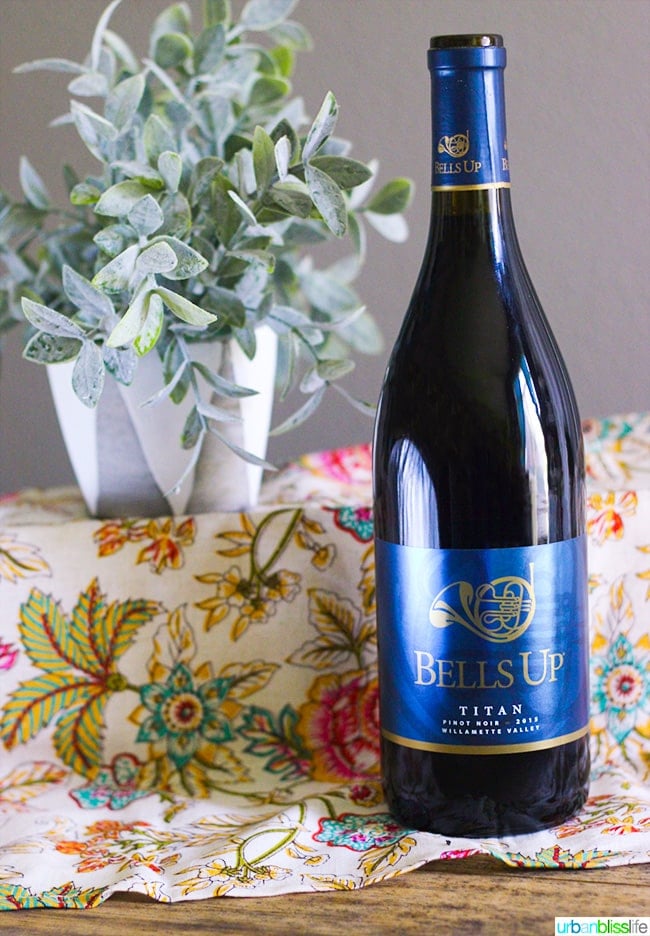 The 2015 Titan Pinot Noir from Bells Up Winery is a great example of what can happen to Oregon Pinot Noir grapes when they get very little rain and several consecutive days of 95-degree heat. They jump up and get in your face (in the friendliest, Oregon way) with a richer, more intense fruit forward pinot. I swear I could hear the dark cherry fruit trumpeting a jubilant parade march as I uncorked the bottle.
This wine is fantastic on its own, with BBQ, and I'd totally take this cabin camping. But it's also AMAZING in - and with - these Pinot Noir Chocolate Chip Brownies.
Chocolate Chip Brownies with Pinot Noir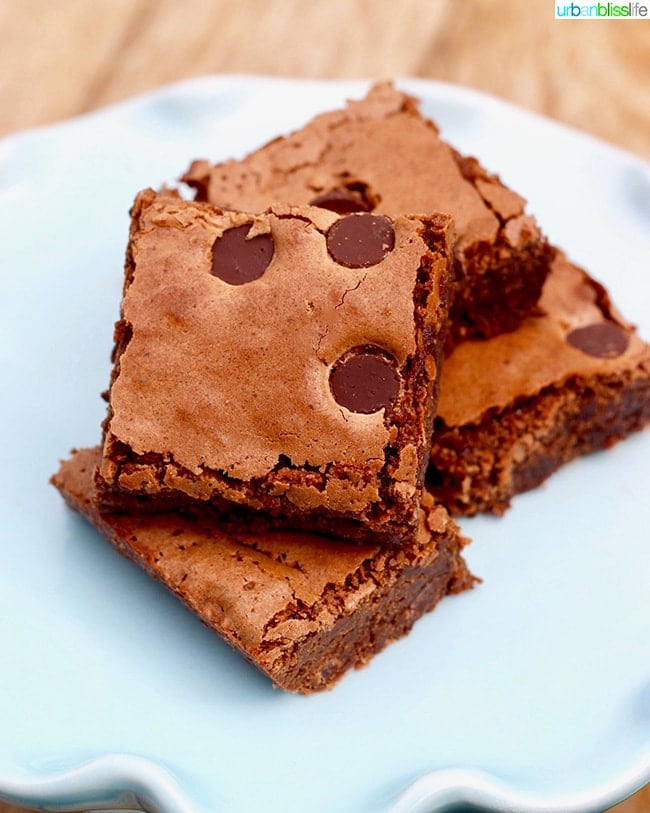 Just like with my recent recipe for Chewy Chocolate Fudge Cookies, I have a no-fail base brownie recipe that I love and then I experiment with additional ingredients to mix things up.
I used this chewy fudge brownie recipe as the base, added just a hint of Pinot Noir, and then chocolate chips for added chocolate and crunch.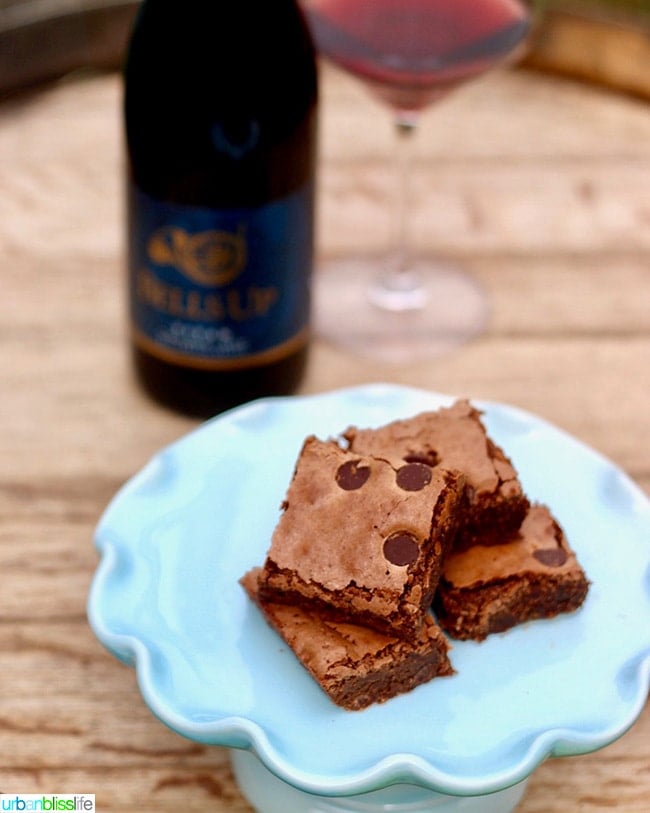 You don't want to add too much Pinot Noir - I used two tablespoons but you could go up to 3 tablespoons if you wanted. More than that would overpower the brownies and also through the dry-to-wet mix ratio off and you'd end up with a mess.
Plus, you don't want to use too much Pinot Noir in the brownies because you need to enjoy a glass or two of the red wine with the brownies!
Pinot Noir Chocolate Chip Brownies recipe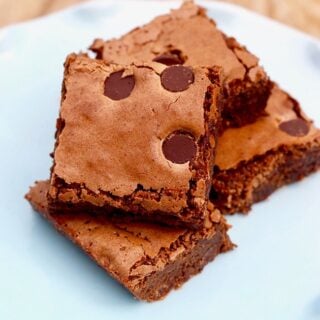 Chocolate Chip Brownies with Pinot Noir
These brownies have a hint of red wine sweetness and double chocolate, making them a delicious, decadent dessert!
PRINT
PIN
RATE
Ingredients
Instructions
Preheat oven to 350 degrees. Grease a 9x13" baking pan. Set aside.

In a medium saucepan over medium heat, melt the butter and the chopped chocolate together. The chopped semi-sweet baking chocolate is what gives this recipe it's ultra gooeyness and chocolate love. Once the mixture is almost melted, add in the pinot noir wine. Reduce heat to low, stir ingredients until the butter and chocolate have completely melted. Remove from heat and set aside to cool slightly.

In a mixer with the paddle attachment, mix together the sugar, vanilla and eggs on medium-high speed until you get a light yellow creamy consistency (about 4-5 minutes).

Lower the mixer to slow speed and add the flour and salt until well blended.


Add the slightly cooled chocolate mixture to the mix until well blended, about 1-2 minutes.


Pour mix into a greased 9″ x 13″ baking pan and then sprinkle the chocolate chips evenly. Some will sink, some will remain on top.


Bake in a 350 degree oven for about 22-27 minutes. To test: poke a toothpick into the center — at 25 minutes, if it comes out with a small amount of moist crumbs attached to the toothpick, it's done. If you try to wait until your toothpick comes out clean, you're going to totally overbake these brownies into bricks, so set aside your conventional knowledge of brownies and know that these are DONE usually at or around 25 minutes.

Cool brownies in pan at room temperature for about 15-20 minutes before slicing.

Notes
At about 10 minutes left on the baking time, I sprinkle a few more chocolate chips on top. These are the ones you see sticking out of the brownies. Adding them later allows them to still melt slightly and stick to the batter, but gives the brownies a pretty look and added crunch to each slice.
Tried this recipe?
Please leave a star rating and comment! Then snap a pic of your dish and share it on social media. Tag @UrbanBlissLife and #UrbanBlissLife!
Nutrition information is a general estimate. Actual nutrition details may vary depending on the exact foods & brands you use to make this recipe. It does not take into account any substitutions, toppings, or optional ingredients.
If you make this recipe, don't forget to share it on Instagram with hashtag #URBANBLISSLIFE and tag me @URBANBLISSLIFE.
I'd love to see what you make! And, if you like this recipe, please do me a huge favor and leave a star rating. Thank you, sweet friends!
PIN IT: