If you're cooking up a delicious pasta, we've got the perfect wine pairing to go with it! In this expert food and wine pairing guide, you'll learn about the best wine with pasta - from white wines to red wines and for all kinds of different pasta dishes!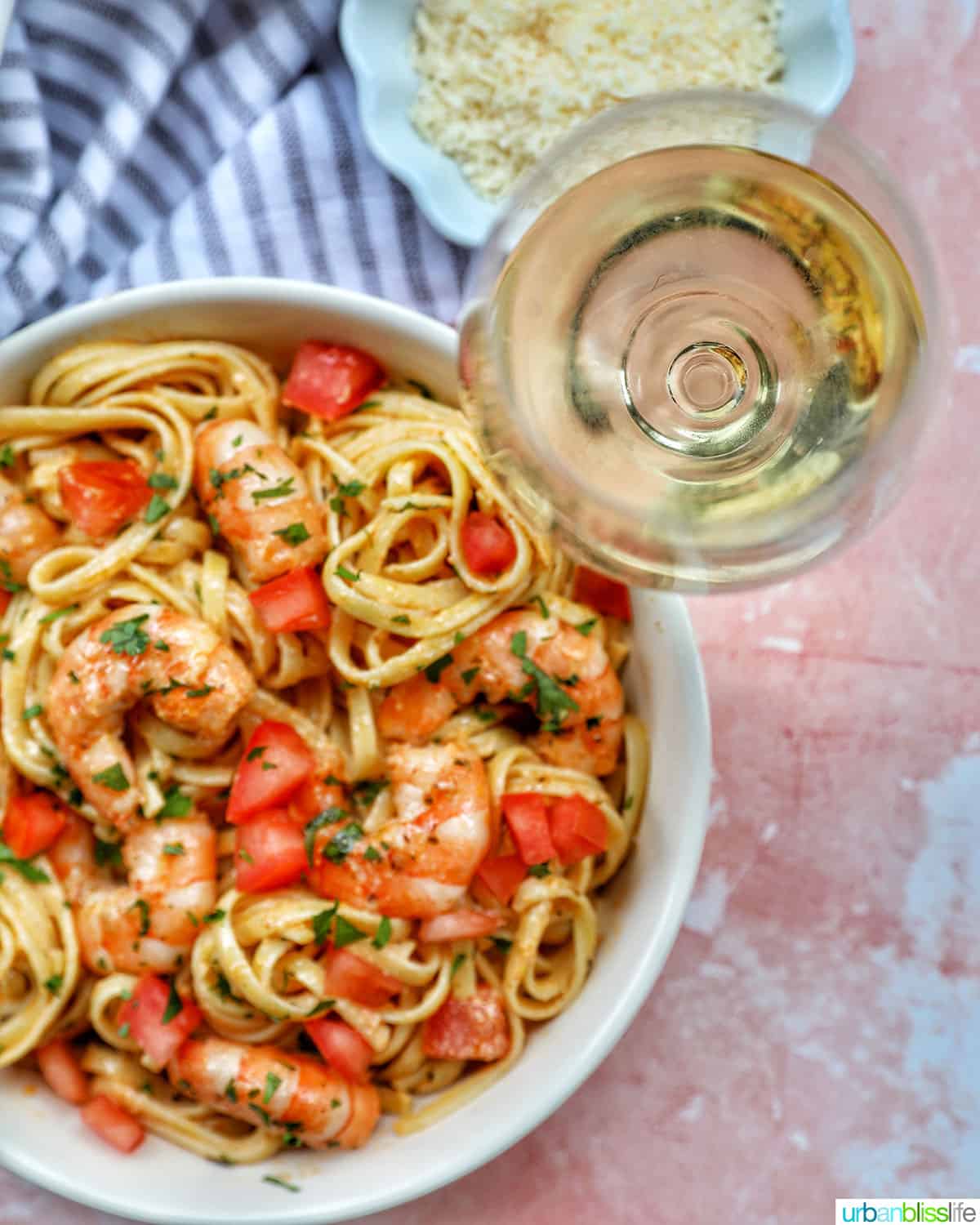 Pasta and wine go hand in hand. That's actually a great way to describe my favorite meal: pasta in one hand, wine in the other!
I make a lot of pasta recipes in my house, but I know I'm not alone. Pasta is a staple food in many households around the world. And as a wine pro with a WSET 2 with Distinction wine certification, pairing food with the right wines is one of my favorite things to do!
Choosing the right wine to pair with all kinds of pasta can truly elevate the dining experience. It can take a good meal to an amazingly memorable meal.
In this blog post, we'll explore the best wines to pair with specific types of pasta dishes and sauces. If you have any questions about a specific pasta dish or wine that isn't listed here, feel free to leave your question in the comments at the bottom of the post.
Jump to:
Wine pairing tips
Before we dive into some specific pasta sauce wine pairings, let's talk about food and wine pairing basics. First: while there are some principles that can help you pair wine with food successfully, there are no fully wrong pairings. Go with your gut
Here are some general food and wine pairing principles to keep in mind:
Pastas with rich, red tomato-based sauces with umami flavors like mushroom pair well with equally big red, full-bodied wines. Full-bodied varieties are the perfect choice for flavorful, acidic tomato sauce.
A lighter pasta sauce typically pairs well with a light-bodied wine, sparkling wine, or rosé wine.
Seafood pasta generally pairs well with a white wine with minerality. If it has richer seafood such as salmon or octopus, a light-bodied red wine would make an excellent choice.
Here are some of our top recommended wine and pasta pairings.
Rich red sauces with wine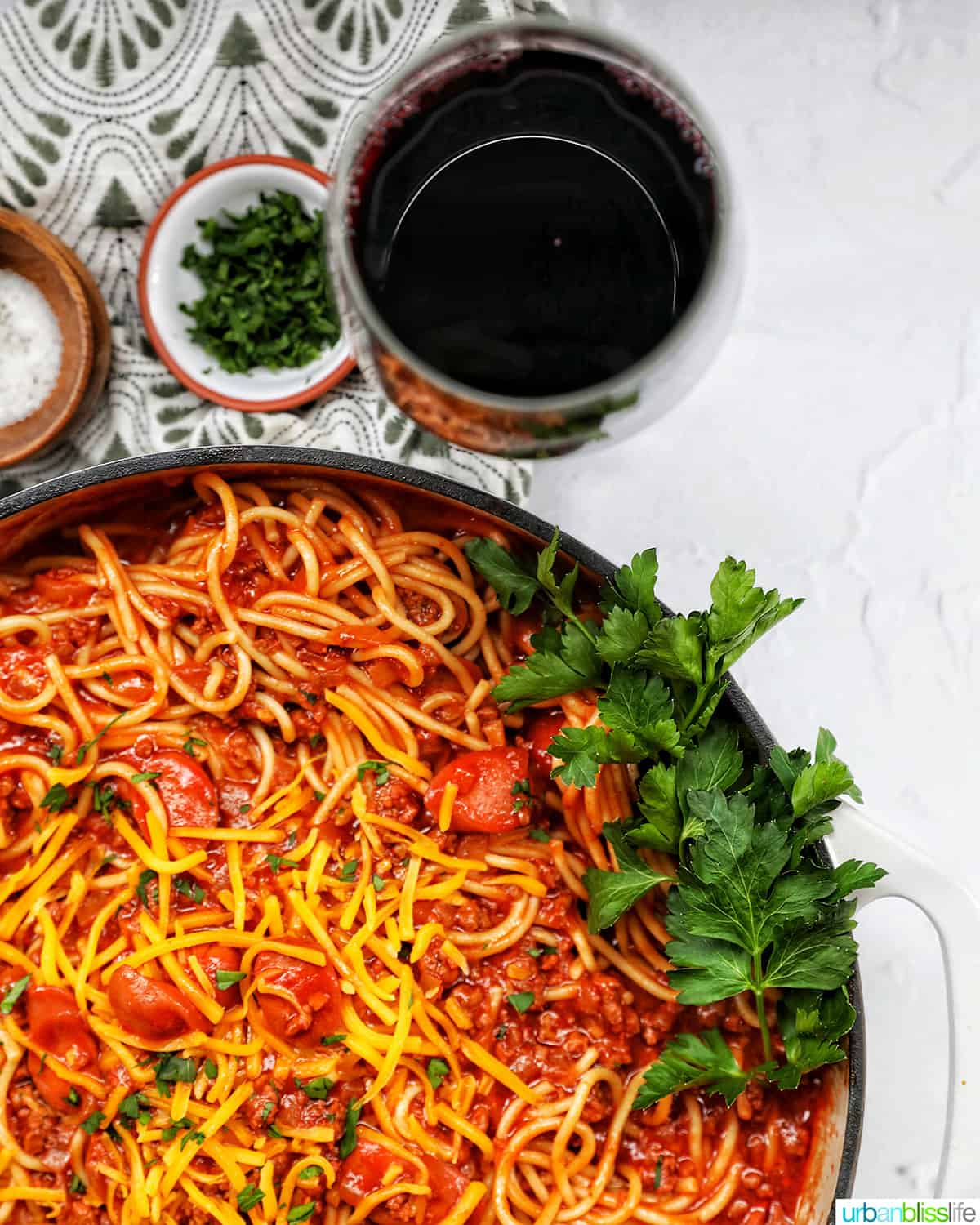 Pasta dishes with rich red sauces pair well with a variety of wines. For Spaghetti with Tomato Sauce, we recommend a light-bodied red Italian wine like Chianti or Barbera. These wines have high acidity and high tannin content, which help to cut through the acidity in the tomato sauce and complement the richness of the dish.
Try our Filipino-style Spaghetti with a Chianti Classico. Or try our Italian Sausage Rigatoni with a Barbera.
Lasagna wine pairing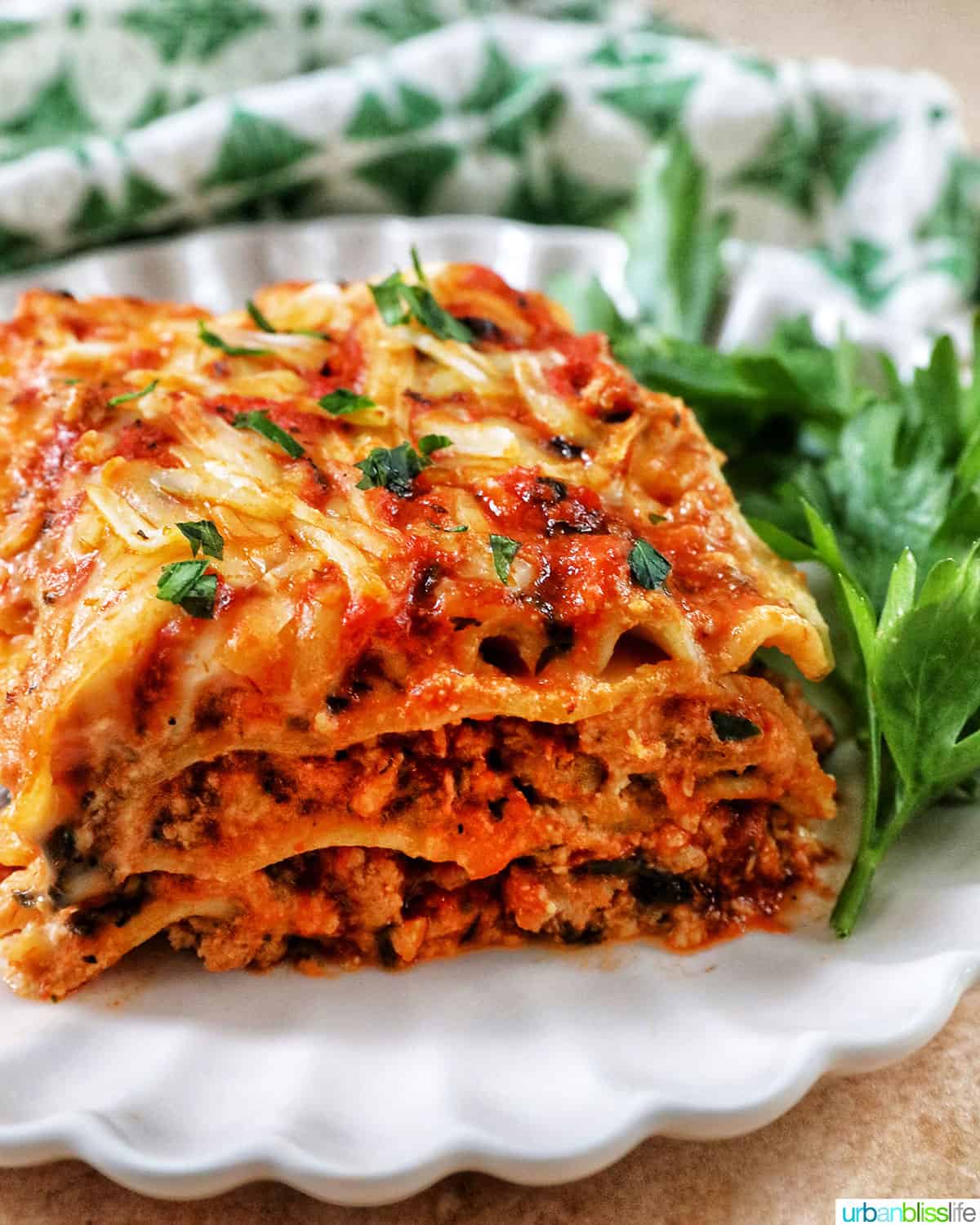 Lasagna is a hearty and savory pasta dish that pairs well with a full-bodied red wine like Cabernet Sauvignon or Sangiovese. These wines have high tannins and a robust flavor profile that complements the richness of the meaty sauce and the layers of pasta and cheese in the dish.
Try our Dairy-Free Lasagna with a Sangiovese wine or our Lasagna Soup (pictured above) with a Cabernet Franc.
Wine pairing with pesto
Pesto pasta is a simple and flavorful dish that features a sauce made with fresh basil, garlic, pine nuts, and Parmesan cheese.
This dish pairs well with a light-bodied white wine like Pinot Grigio or a sparkling wine like Prosecco. These wines have a crisp acidity that complements the freshness of the basil and the nuttiness of the pine nuts.
Make our Spinach Pesto with pasta and serve a chilled Pinot Grigio. It's a great wine that's the perfect pairing for the flavors of this dish.
Fettuccine Alfredo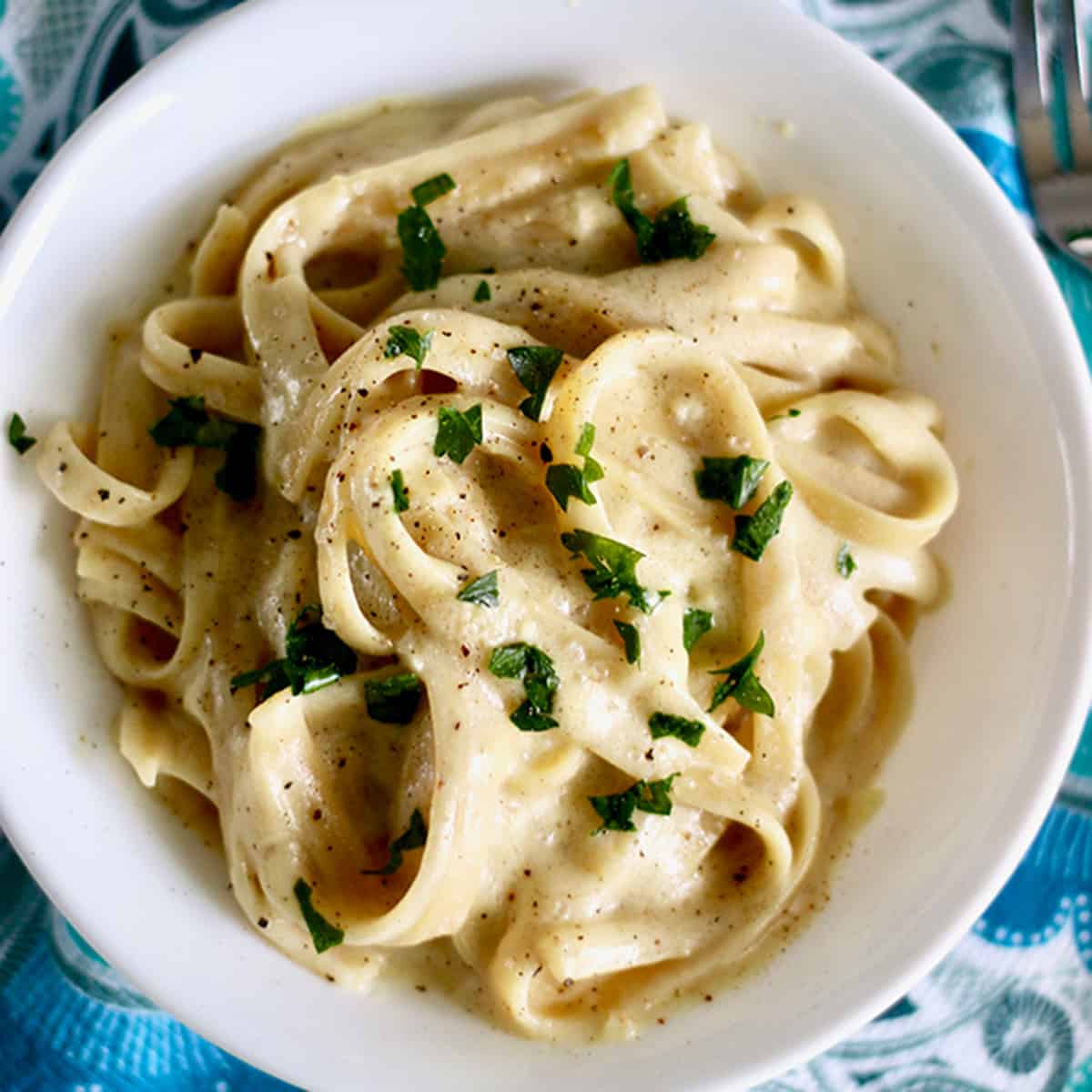 Fettuccine Alfredo is a classic Italian pasta dish that features a rich and creamy sauce made with butter, cream, and Parmesan cheese.
Dishes with creamy sauces like this pair well with a full-bodied white wine like an oaked Chardonnay or a lighter red wine like Pinot Noir. The buttery and creamy flavors of the pasta dish are complemented by the rich and complex flavors of these wines.
Try our Reader Fave Recipe: Dairy-Free Fettuccine Alfredo with an oaked Chardonnay.
Linguine with Clam Sauce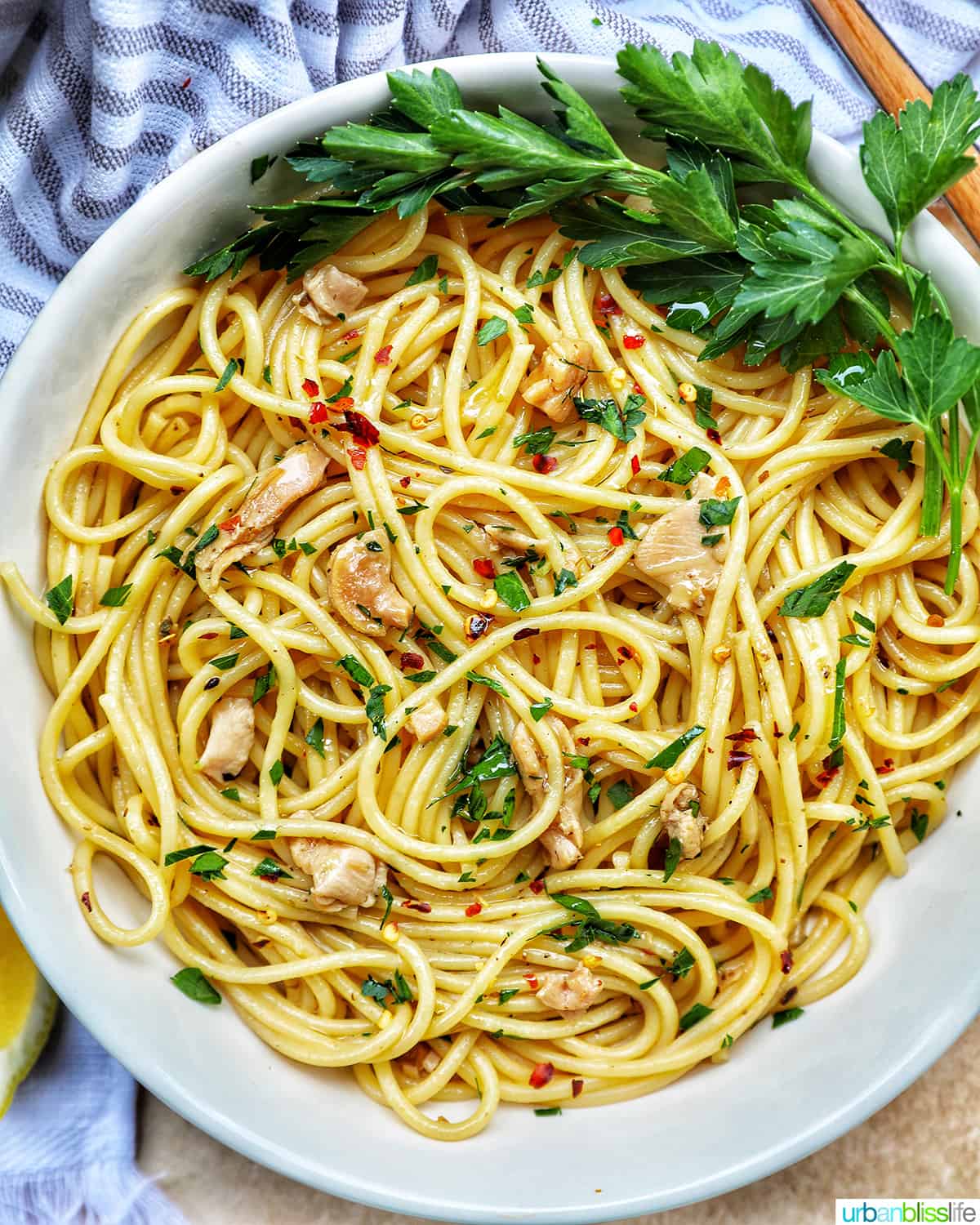 Linguine with clam sauce, also known as spaghetti alle vongole, is a delicious and popular seafood pasta dish that pairs well with a dry white wine like Pinot Grigio or Sauvignon Blanc. These wines have a vibrant acidity that complements the brininess of the clams and the subtle garlic and onion flavors in the sauce.
Try our Pasta with Clams and White Wine Sauce with a crisp Sauvignon Blanc.
Mushroom sauce wine pairing
Mushrooms add umami - a burst of depth of flavor - to any dish. A mushroom pasta dish pairs well with an earthy, medium-bodied red wine like Pinot Noir or Grenache.
These wines have a fruity and earthy flavor profile that complements the richness of the mushroom sauce. It's one of the best wine pairings that truly bring out the flavor of the dish.
If Pinot Noir is a favorite wine of yours, be sure to check out our Pinot Noir Pairings guide. We have several suggestions for the best choice to pair with this lovely, earthy, acidic wine.
Try our Creamy Pasta with Crispy Mushrooms with an Oregon Pinot Noir.
Carbonara wine pairing
Spaghetti carbonara is a creamy pasta dish that features eggs, pancetta, and Parmesan cheese. A medium-bodied white wine like Pinot Blanc or Chenin Blanc is the perfect match for this and other pasta dishes with cream-based sauces. These wines have enough acidity to balance the creaminess of the sauce and the saltiness of the pancetta.
Try our Fettuccine with Bacon and Peas pasta with a Chenin Blanc.
Penne alla Vodka
Penne alla vodka is a creamy and rich pasta dish. A perfect pairing would be a full-bodied white wine like Chardonnay, or a crisp Sauvignon Blanc. The richness of the sauce is balanced by the acidity and fruitiness of these wines, which also complement the flavors of the vodka sauce.
FAQ
Is the "white wine with fish and red wine with meat" principle still correct?
In general, this classic old principle holds true -- with several caveats. A meatier fish like salmon pairs beautifully with a light-bodied red wine like Pinot Noir. And a steak can hold its own with a full-bodied, oaked Chardonnay.
What is the most common wine pairing mistake?
Pairing cake with champagne. It's a time-honored tradition to enjoy a toast of champagne with wedding cake, birthday cake, etc. But the sweetness of the cake makes the wine taste bitter and astringent, possibly ruining a perfectly good (and expensive) bottle of Champagne!
Food and wine pairing isn't an exact science. There is no absolute right or wrong when it comes to serving the best wine with pasta.
But by following some basic wine pairing principles that help the right wine complement the flavors of a pasta dish, you can enhance the dining experience and make the meal even more enjoyable.
So the next time you're cooking up one of these popular pasta dishes, try one of these recommended wine pairings to take your dining experience to the next level!
Delicious pasta recipes to pair with wine
🍷 Have you tried one or more of the wine & food pairings listed here? If so, leave a comment below and let us know how they paired together!