Known for its long tradition of world class sparkling wines, Argyle Winery releases its first annual Argyle Scholarship, along with three beautifully designed new labels by scholarship winners to create its Art of Sparkling Wine Collection.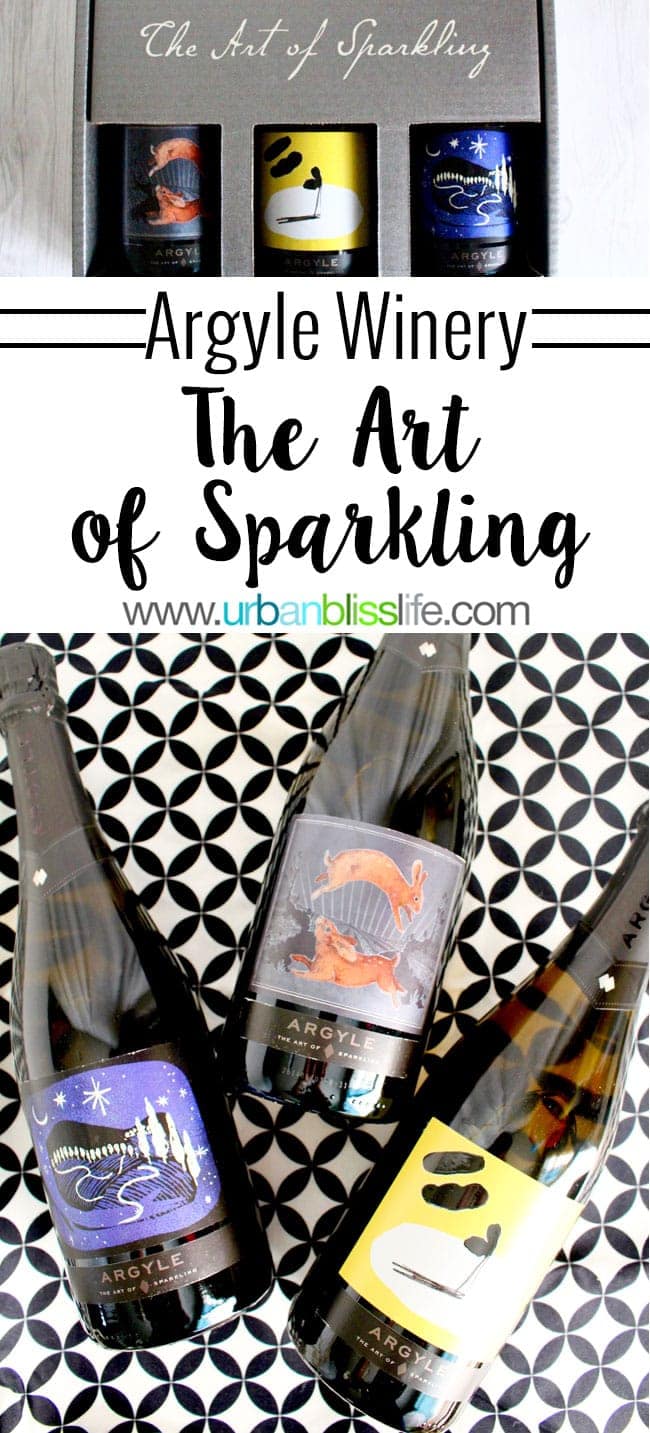 Winemaking is an incredibly delicate art.
It's a dance between Mother Nature, Mother Earth, and the talented winemakers and crew who create delicious wine from harvest.
For more than 30 years, Argyle Winery has done this dance, growing to become known as one of the premiere wineries in Oregon. While the winery makes Pinot Noirs, Chardonnays, Rieslings, and other varietals, Argyle Winery is most definitely best known for its amazing world class sparkling wines.
The Art of Sparkling
This year, the renowned Oregon winery, whose tasting room is located in the heart of the Willamette Valley in Dundee, Oregon, announced a new partnership with the Pacific Northwest College of Art (PNCA). PNCA students designed wine labels reflecting the surrounding wine growing community and the essence of Argyle winery.
After a juried competition, scholarships were awarded to PNCA students Christin Engelberth, Lindsey Walker, and Subin Yang. In addition to each receiving a $5,000 scholarship from Argyle Winery, their artwork was produced onto labels that then graced a small batch of Argyle Vintage Brut to create The Art of Sparkling wine collection.
Here's a look at their beautiful works of art turned into wine labels for a special partnership.
PNCA art scholarships
Christin Engelberth's German upbringing had a big effect on her art. She enjoys capturing the colors, landscapes, and fairytales of her childhood in Germany. Her label of playful bunnies leaping with the rows of vineyards in the backdrop help lend the often fairytale mystic of vineyards.
Lindsey Walker is an interdisciplinary artist whose label reflects her focus on abstract work and semi-representational forms.
I absolutely adore multimedia artist Subin Yang's work on this label: with the moon and the North Star as guiding lights, the vineyards blossom under the wavy, unpredictable nature of the wine and produce this amazing wine.
Argyle 2013 Vintage Brut
The wine labels from The Art of Sparkling collection grace Argyle Winery's 2013 Vintage Brut.
Argyle's 2013 Vintage Brut is a food-friendly, delicious sparkling wine, with hints of peach. Comprised of 60% Pinot Noir and 40% Chardonnay, the Vintage Brut is indicative of the Willamette Valley, and the partnership with PNCA further exemplifies that. It's a delightful wine that I love to bring to dinner parties, and I plan to serve this wine with appetizers during upcoming holiday dinner parties.
The Art of the Sparkling is available for purchase online for $100 per set of 3 bottles ($85 club members), and also available in the Tasting House.
Visit Argyle Winery
Tasting House
691 Highway 99W
Dundee, Oregon 97115
HOURS:
11:00AM to 5:00PM daily, except major holidays
Reservations are recommended: call 503-538-8520
www.argylewinery.com
Which Art of Sparkling label is your favorite?
Thanks to Argyle Winery for the invitation to the Art of Sparkling event and the complimentary 3-bottle Art of Sparkling wine set. As always, all opinions and photos are my own. Argyle has LONG been a favorite winery of mine for sparkling wine. I love it, and think you will, too!