This restaurant is unfortunately now closed. If you are interested in more Portland restaurants, please visit our
Portland, Oregon Restaurant Guide.
If you're looking for delicious brunch fare without the wait, make reservations at Italian eatery Accanto, in Southeast Portland...the Accanto weekend brunch serves hearty food in a bustling, bright environment.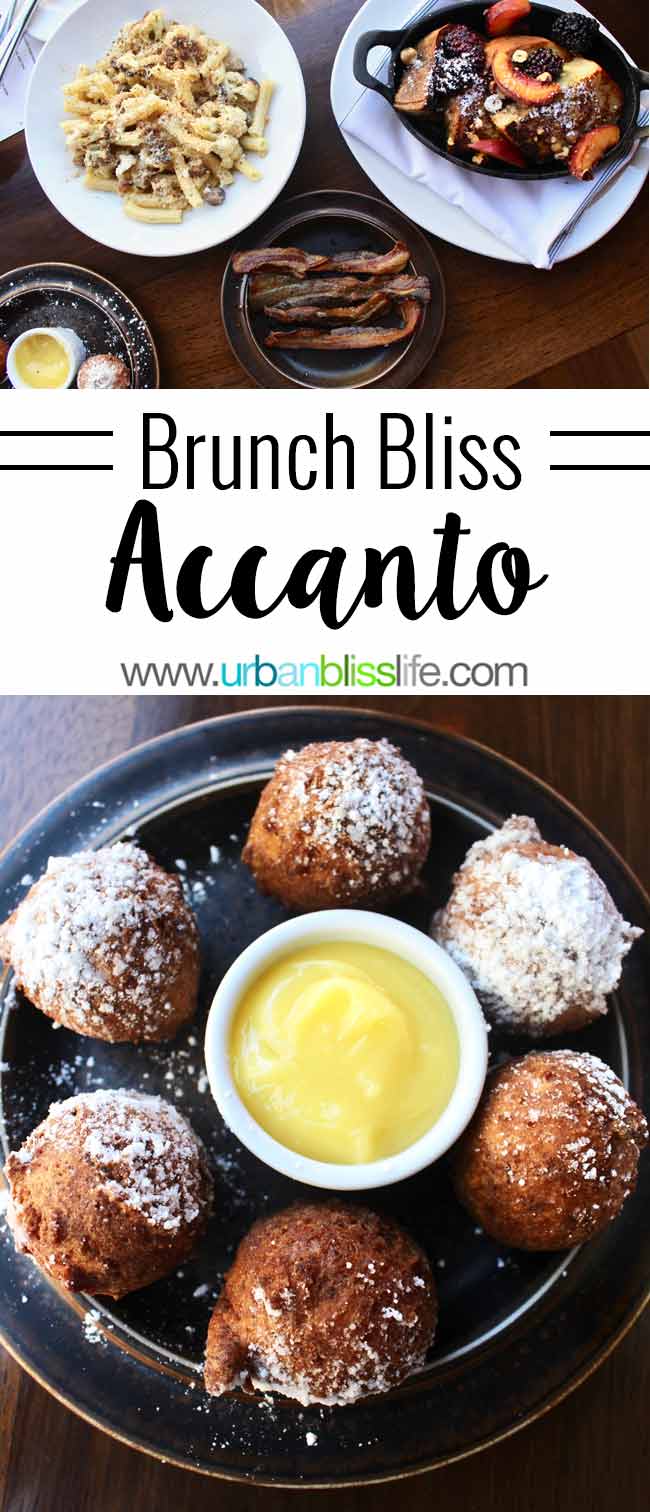 Portlanders: give me brunch liberty, or give me death! But, please don't make me wait in line for an hour just to eat eggs.
Accanto: done!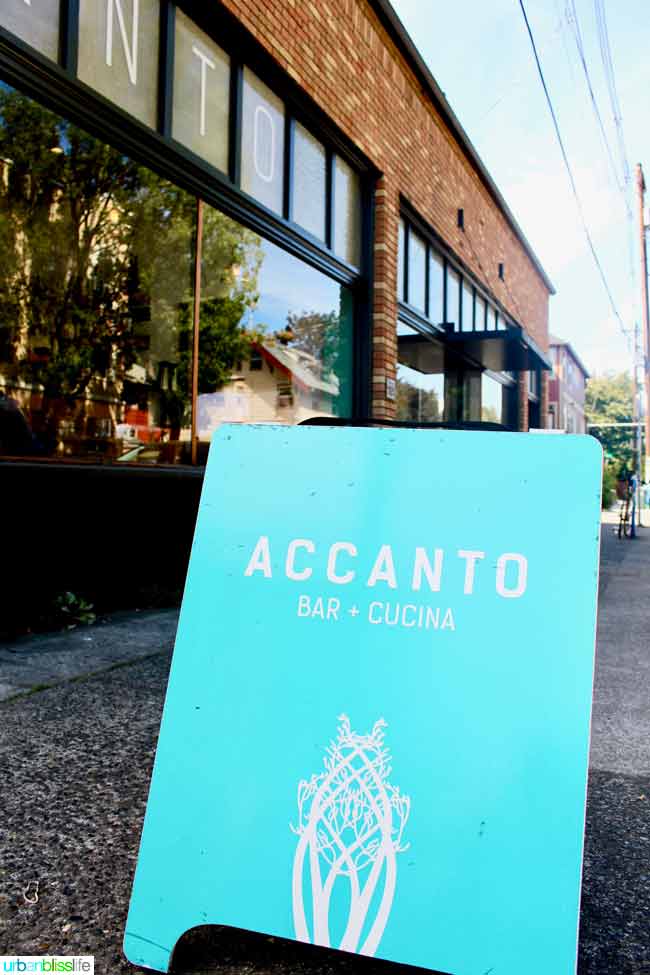 In the land of long-line brunch spots, Southeast Portland Italian eatery Accanto serves up hearty weekend brunch fare and takes reservations. Reservations! You had me at "reservations," Accanto.
And then, you sucked me in and solidified my feelings for you with incredible food and kind service. Thank you!
Jump to:
Accanto weekend brunch
My husband and I try as much as we can do spend one-on-one time with each kid, which is oddly a challenging thing to do at times. Toward the end of summer, my daughter and I were able to steal away for a few hours of some Mother-Daughter time. She loves brunch as much as I do, so we made reservations for the Accanto weekend brunch.
All of the brunch food at Accanto is reasonably priced, with most main entrees being between $10 and $15 each. Entrees are hearty portions, but if you will probably want to get at least one of the delicious starters to split and enjoy with your coffee or hot cocoa. The fritto misto ($10) looked amazing and I want to try that the next visit. We did get a side of house bacon ($5, pictured above) which was SO delicious and cooked to bacon perfection.
Starters
As for starters, we went with the most obvious choice for both of us: the Ricotta Donuts ($6).
These little pillows of bite-size heaven are lightly sprinkled with powdered sugar and served with a sweet lemon curd dipping sauce. We both loved these!
Main dishes
My daughter ordered the French Toast ($10). Accanto's French Toast is made with a nice, thick brioche bread soaked with orange honey mascarpone, topped with seasonal fresh fruits and nuts, with a side of maple syrup. I thought the sweetness of the orange honey mascarpone and the fresh fruits balanced the savory toast nicely. I also loved that it is served in a cast iron pan.
Meanwhile, I decided to go for an even richer dish which was more on the lunch vs. breakfast scale of the brunch menu: Cappellini Carbonara ($14). This beautiful pasta dish consisted of guanciale (an Italian cured meat, like salami), chili flakes, pecorino, and egg yolk. It's important to note that the dishes may vary depending on the season and availability of ingredients; the dish above contains cauliflower, for example, but the current carbonara dish does not. The portion is just right for one person if you are very hungry; I ate about half of it at Accanto and then took the rest home for leftovers.
Brunch cocktails
Had I been with one of my normal brunch squads, and not with my daughter, I would have ordered one of Accanto's amazing cocktails. Here's what I suggest you try when you enjoy the Accanto weekend brunch: the Bourbon Buzz ($8) - Bulleit bourbon, Water Ave. coffee syrup, iced coffee, whole milk, cinnamon. They also serve a traditional Mimosa ($7) and Belmont Bloody ($8), along with other brunch cocktails.
Interior
Accanto is a Italian bar and cucina that initially launched as the casual dining cousin of longtime Portland fine dining king Genoa (RIP - I loved Genoa!). The restaurant is on the corner of Southeast Belmont and 28th Avenue, with a large L-shaped bar, outdoor seating during warmer weather, and floor -to-almost-ceiling windows. Accanto is a bright, light space that's a great place to meet friends for Happy Hour, for date nights, and since earlier this year, for weekend brunch.
I love the cafe-like buzz of the Accanto weekend brunch. Lots of happy conversations all around, and a completely open kitchen. If you're stopping by solo or meeting a friend, you can take a seat at the bar and watch the chefs work their magic.
Visit
2838 SE Belmont St.
Portland, OR 97214
503-235-4900
HOURS:
BRUNCH: Saturday & Sunday 10am - 2pm
DINNER: Monday - Thursday and Sunday 5:30 - 9:30pm; Friday & Saturday 5:30 - 10:30pm
AccantoPDX.com
Bonus note: I love Accanto's matchboxes. Remember when people used to smoke and all restaurants offered up their custom matchboxes? Most people don't smoke anymore, thank goodness (except in Vegas...I always forget until I get out of the Lyft in Vegas...) but man alive, do I still LOVE collecting restaurant matches. I have a nice little collection of them from over the years: from Italy, Portugal, Switzerland, Canada, Hawaii, all over the US... If you are ever in a restaurant that still has a bowl of these, grab a couple for me and send them over, will you? I would love you forever if you did!
Many thanks to Accanto for providing us with this complimentary meal to try out their brunch menu. As always, all opinions and photos are my own. You know the drill, dear readers: I only write about things I enjoy and believe you will, too!