[UPDATE: Remedy Wine Bar is now closed]
"Are your spouses also into wine?"
This is the question posed to me and fellow food & wine writers at a recent vineyard media event.
We all nodded and discussed the varying degrees to which our spouses were also wine enthusiasts and which wines we all enjoyed.
I've been thinking about that question a lot, and I feel pretty darn lucky to be able to answer with a hearty YES. Mr. Bliss is also a food, wine, and beer lover. We love going out together to try new restaurants, go wine tasting with friends, and meet up at one of the many kid-friendly breweries with our fellow parent friends and their kids. It's a bond that was cemented back in college, when we'd meet up at restaurants that we really probably shouldn't have gone to because we were poor college students, but the food was sooooo good.
Our first date was at La Famiglia in Boston's North End. Our regular date spot was Paparazzi (I still long for their lobster agnolotti). We still talk wistfully about the langostinos that were flambéd tableside at dinner during our honeymoon in Portugal.
Our love affair with food and drink has been a big part of our own love affair for the past 22 years.
So when we get the chance to go out and enjoy a meal together, it means a lot. I love this guy's company, but I also value his opinion and appreciate his different tastes.
Recently, we were invited to enjoy some food and wine pairings at Remedy Wine Bar in Northwest Portland.
Northwest Portland Wine Bar
Remedy is the neighborhood wine bar that I wish every neighborhood would have: it's spacious enough to allow for conversations without feeling like your neighboring diners are part of your table's conversation, and cozy enough to feel intimate. The vibe is super comfy, casual, and you can dress up or down here–it's all good.
I love that there are different types of seating, as well: some high top tables for groups of friends or co-workers, seating at the bar, and leather armchairs and couches.
Thoughtful Food Pairings
During this most recent visit to Remedy Wine Bar, my husband and I were greeted by general manager Josh Wiesenfeld, who has been with Remedy since it first opened a few years ago.
We started off with a Rosé and cheese plate.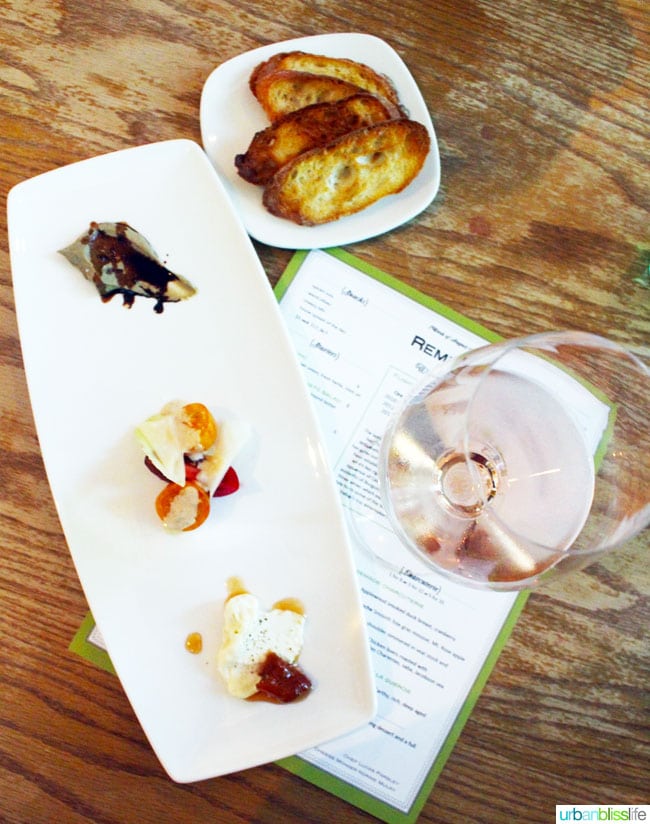 The cheese plate at Remedy is always an excellent bet. You can order one for $7, three for $18, or five for $29.
The cheese selections change frequently, but every time I have been here, they have been well thought-out and artfully presented. Remedy almost always offers a variety of cow, sheep, and goat cheese. The plate shown above includes a Toma Della Roca sheep's cheese with Hood River peaches and black pepper.
We also enjoyed a guinea hen salad with a Burgundy Sauvignon. I've found that most people I meet only think Burgundy produces red wines (maybe because they associate the name Burgundy with the color?), but actually, more than 60% of Burgundy's overall wine production is white wine. This Clotilde Davenne Sauvignon from the Saint-Bris area is nice and crisp with big tones of fresh apple and pear. You could enjoy this wine at home with a roast chicken salad.
Next up: a hearty vegetable and sausage medley paired with a 2004 Patrick Jasmin Côte Rôtie from Rhone, France.
This Côte Rôtie is a smooth, medium-bodied red wine which was a nice balance with the rich textures and complex flavors of the dish.
To finish off the evening, we devoured an insanely richly delicious chocolate brownie-like tart with a Port wine. The 1983 Kopke Porto Colheita consistently receives high points (90+) from Wine Spectator and Wine Enthusiast. With a rich caramel aroma and flavors of toffee, walnuts, and a maple finish, this classic Port retails for around $50-75 per half bottle, depending on the vintage.
Our Favorite Wine
While each of the pairings were thoughtful and nicely balanced, the wine my husband and I both loved the most was a 2013 Joan d'anguera Altaroses wine. This is a certified biodynamic and organic wine aged for 12 months in old oak barrels and fermented in concrete vats using indigenous yeasts. But all you really need to know is: it's a delicious medium-bodied red wine with sweet strawberry flavors, soft tannins, and a bit of spice in the finish. Plus: it retails for just around $20.
Wines By The Glass
Remedy Wine Bar has a constantly changing selection of more than 100 wines, all of which are available in half bottles and almost all of which you can get by the glass, which is mighty impressive.
One of the reasons they can offer so many wines by the glass is due in part to having the only (at the time) Coravin. Coravin is one of the few wine tech gadgets that I believe is actually well worth the cost: it retails for around $300, and more restaurants, wineries, and wine bars are starting to use it. It allows you to pour wine while keeping the cork in the bottle, by poking a needle through the cork without damaging it. It contains argon gas to protect the wine from oxidation. This is genius! Why more wine bars and restaurants don't use this is beyond me. That Remedy has a Coravin and uses it aligns with their adventurous spirit when it comes to their food and beverage menu.
If you're looking for a cozy place to relax with a glass of wine and some delicious, artful dishes, definitely check out Remedy Wine Bar in the North Park Blocks. It's a fabulous place to meet up with some friends after work or to enjoy a lovely date night.
Many thanks to General Manager Josh Wiesenfeld, Chef Lucas Parsley, and to the Remedy Wine Bar staff for an excellent evening out with my favorite fellow food and wine enthusiast!
Remedy Wine Bar
733 NW Everett
Portland, OR 97209
(503) 222-1449
info@remedywinebar.com
http://remedywinebar.com
Hours
Tues-Wed 4pm-9pm, Thu-Sat 4pm-10pm
Happy Hour from open until 6pm
Closed for Private Events on Sundays and Mondays
---
Thanks to Remedy Wine Bar and Little Green Pickle for this complementary dining experience. No media coverage was required, and no other compensation was given. All opinions and photos are, as always, my own. This post contains affiliate links.