Artisan spirits and tasty bites from some of Portland's best chefs shined at the 7th Annual TOAST 2017 Artisan Spirits Tasting event.
Jump to:
Booze, butchery, and beautiful bites took center stage at the Oregon Distiller's 7th Annual TOAST artisan spirits tasting event.
TOAST 2017 was back at the Leftbank Annex this year. Therefore, it was amazing! Leftbank Annex is truly an excellent venue for TOAST. It's my favorite venue for food & drink tasting events like this, and I hope they never, ever move it again.
Artisan Spirits Tasting
Held February 18th this year, Toast 2017 artisan spirits tasting was a BLAST. Hundreds of people came through the Leftbank Annex to sample spirits from local distillers, as well as enjoy tasty bites from Portland chefs.
Here, craft distillers showcase their vodka, gin, whiskey, rum, tequila, and more. There are also syrups and tonics served here; most vendors had spirits and other products for purchase at TOAST 2017 to help you re-stock your home bar.
Bites
Five of Portland's top chefs prepared delicious bites for guests to enjoy throughout the night.
One of those chefs was Season 14 Top Chef contender BJ Smith, of Smokehouse Tavern. He and his team served up a variety of smoked meats, pickles and special sauces.
Meat definitely played a prominent role at the Toast 2017 artisan spirits tasting event.
The Proletariat Butchery guys were having way too much fun.
And of course, anytime you bring out a full pig for a crowd, there's gonna be a show.
Proletariat Butchery had two pigs at TOAST. The pigs were from Elkhorn Farms and Forge where they were fed spent grain from Big Bottom Distilling Elkhorn Farm & Forge Big Bottom Distilling.
The meat fest continued at other vendor booths...
Yes, that is fried chicken on top of a donut.
The Waiting Room represented big time with Mini Dons: a mini version of The Don, a special that they've featured recently on their brunch menu.
The "Don" is fried chicken served with a Meyer lemon and bacon fat donut with candied ham glaze and drizzled with Hot Honey (house made hot sauce and @beelocal honey)
The Waiting Room also brought Nevor Shellfish Oysters, Crawfish Hushpuppies, and Fried Chicken Oysters. Such a crazy delicious and beautiful spread!
Boke Bowl also served some dumplings at Toast 2017. Meanwhile, Northeast Portland French-inspired Verdigris Restaurant was there slinging some very delicious chicken chowder.
Spirits
More than 120 spirits produced by approximately 40 distillers from around the country were represented at TOAST 2017.
Here's a look at some of my favorites.
Townshend's Tea Company shared their Fernet at TOAST 2017. They served up Fernet and Coke that was definitely more delicious and fancier than my college rum & coke days.
JVR Spirits brought their Krupnik liqueur. This is a spiced honey liqueur that makes me long for apple pie. It's packed with nutmeg, vanilla, ginger, and orange.
It is a sweet liqueur that's fantastic on the rocks, but I also like it with whiskey.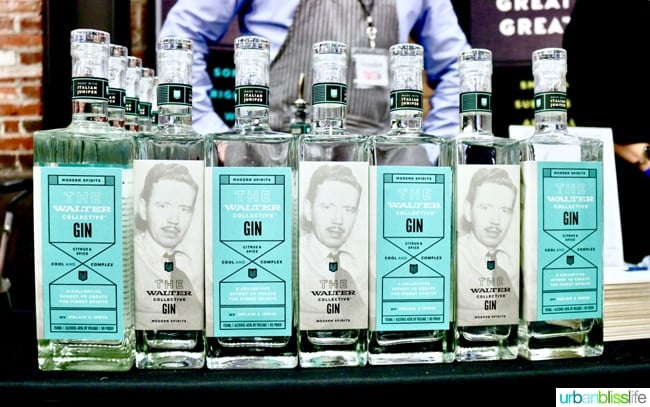 I always have my marketing/PR/branding hat on, and I fell in love with the The Walter Collective labels. Their gin is made with a unique combination of Italian juniper, spices and citrus.
The Walter Collective also premiered its brand new alternative grain vodka, made with spelt.
Longtime Northwest brands were also represented alongside blossoming new distillers. Rogue was on hand with a line-up of its various whiskey, gin, and rum.
A handful of cocktail and soda mixers were also available to sample at Toast 2017. Portland Soda Works sampled their Rose Cordial Syrup, Rose City Tonic, and Ginger Syrup. Coming Up
This was my fourth year attending TOAST 2017 artisan spirits tasting. I had a great time, and one thing I love is how it's always a great mix of some familiar favorites and fabulous newcomers on the spirits scene.
Tickets this year were $65 for VIP, $45 for General Admission, and $15 for Designated Drivers. Personally, I think it's worth it to splurge on VIP tickets. VIP admission includes entry, tastings, bites, commemorative glass, 2 cocktail tickets, access to the VIP balcony with private bar, and access to the distillers after party. General Admission includes entry, tastings, bites and commemorative glass. The Designated Driver ticket $15 includes entry, non-alcoholic drinks, and bites.