Looking for a relaxing getaway in a gorgeous Pacific Northwest setting? Check out The Oregon Garden Resort in Silverton, Oregon.
Nestled in the quiet town of Silverton, Oregon, just a few miles south of the state capital of Salem and approximately one hour south of Portland, is The Oregon Garden Resort and the beautiful Oregon Garden.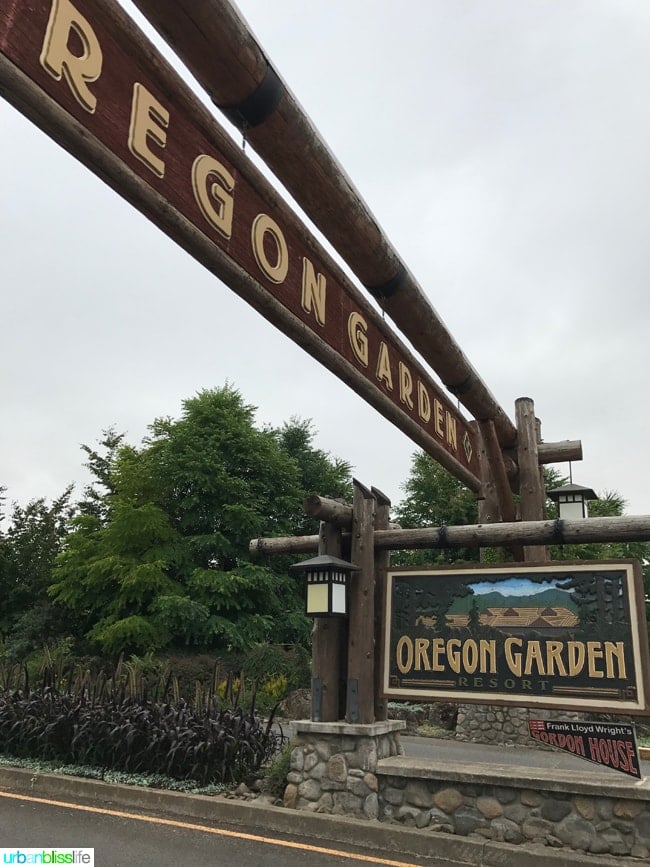 I had the pleasure of staying here for an overnight mid-week girlfriends' getaway this summer.
We started out as a group of four, but then one of my dearest friends moved away (I am still sooo sad about this!) and another ended up not being able to join us because of mom/work conflicts, so it was just me and my friend A. We had so much fun!
Jump to:
The Oregon Garden Resort
The Oregon Garden Resort is full of rustic Pacific Northwest charm. Surrounded by lush greenery and pops of floral color throughout the grounds, this is a lovely spot for a tranquil getaway.
Overlooking the 80-acre Oregon Garden, there is one main, large resort building and then several separate smaller buildings that contain the guestrooms.
Amenities
In the main building, you'll find a full-service spa, which was recently awarded as having the Best Spa Services of 2017 by Oregon Bride magazine.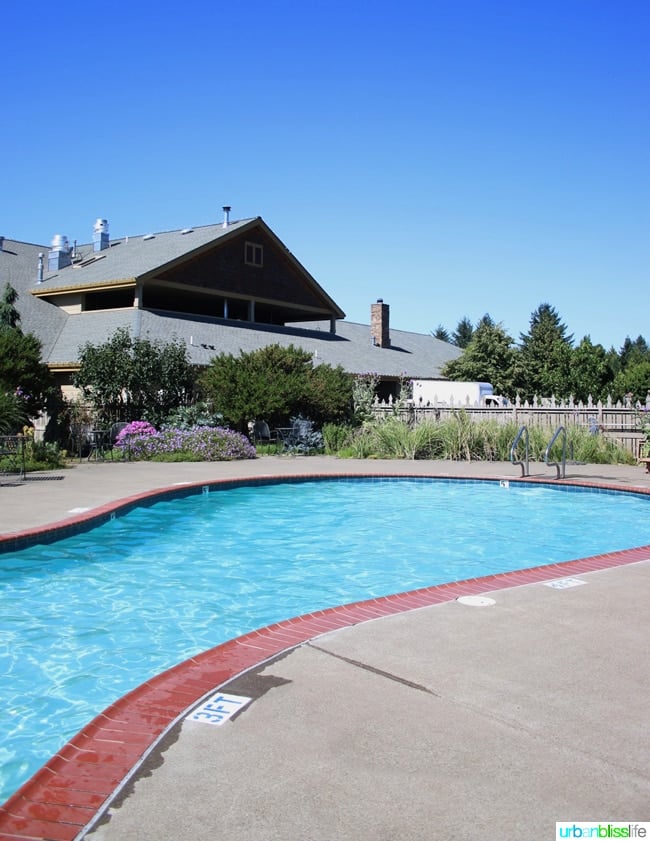 At the back of the main building is an outdoor pool and hot tub. The pool is a nice size for guests, with plenty of surrounding lawn space to stretch out and relax. My kids would love this pool!
Dining
There are two main on-site restaurants at The Oregon Garden Resort. I was pleasantly surprised and impressed by the quality of the dinner we enjoyed at the Garden View restaurant.
After a visit to the Oregon Garden (stay tuned for a separate post about the gorgeous gardens soon!), we stopped in for happy hour.

My friend ordered a glass of wine and I enjoyed a delicious Marionberry Mule at the recommendation of our waitress. It was delightful!
We split a few different appetizers:
- Bruschetta
- Coconut Prawns
- Bacon Wrapped Dates
The appetizers were each a nice size, and nicely executed. I loved that the bacon wrapped dates were served on a light bed of veggies and topped with hazelnuts.

We also split the Seafood Pasta dinner entree, which I loved. There were large chunks of fresh salmon, clams, and shrimp served with penne pasta in a light cream sauce. I loved that it wasn't drowning in cream sauce like many other older hotels tend to do with their pastas. So good!
The Fireside Lounge is the second restaurant on property, and is located right next to the lobby entrance.
Here, you can enjoy live music and happy hour specials each evening. We didn't get a chance to pop in and try out the Fireside Lounge, but it looked like a great place to grab a quick drink and light bites before heading to the Oregon Garden.
Accommodations
The separate buildings that house guest accommodations look similar to one-story ranch-style homes throughout the Pacific Northwest. Super cute and, of course, surrounded by well maintained, beautiful gardens.
We stayed in a double queen bed room full of sweet old charm and lovely little Pacific Northwest rustic touches.
Our room had a fireplace, AC/heating system, microwave, coffee maker, and mini fridge. And, of course, flat screen television and free WiFi.
It was spacious for the two of us, and would have worked for an over night stay if our other two friends had joined us as well. It might be a little tight for a family with four older kids if you're staying here for more than a couple of nights.
The bathroom was spacious and light, which I loved - and my daughter would have loved. If you follow this blog, you know my daughter's two critical points for a successful hotel stay: a great pool and a nice bathroom. The Oregon Garden Resort would have passed the test on both for her.
The room feature that surprised me the most was that each guestroom has a private patio. It was a lovely place to sit with my friend and enjoy a bottle of wine after a day at The Oregon Garden!
Visit
The Oregon Garden Resort is a relaxing and rejuvenating getaway for friends, couples, families - and I'm even considering a return visit for a solo writing retreat someday here!
It's really cute and quaint, with older Pacific Northwest charm. Even though I'm more of a modern design kind of gal, I really enjoyed this rustic retreat!
This photo is taken from the entrance to the Oregon Garden from the Oregon Garden Resort. I can't wait to share with you my photos from the Oregon Garden! If you haven't been, it's really a beautiful place. Stay tuned!
Oregon Garden Resort
895 W. Main Street
Silverton, Oregon 97381
Phone: 503-874-2500
Email: concierge@oregongardenresort.com
http://www.oregongardenresort.com/
Disclosure: our accommodations were complimentary. I was under no obligation to write this post, and y'all know that I only write about the experiences I truly enjoyed and think you will enjoy, too! As always, all opinions and photos are my own.