This is a sponsored post written by me on behalf of Safeway. All opinions are 100% mine.
---
Looking for some ideas for easy, healthy school lunches that will make your kids smile? I've got some simple and FUN ideas to make packing lunches a breeze!
Schools across the country are either back in session or preparing to start again soon. You know what that means, parents: it's time to start planning school lunches again!
My kids' school district is starting in a month, and will be online for the first nine weeks. But I know that depending on where you live, some of your kiddos may be back to school in-person already.
Whatever school situation you and your kiddos face, lunch is an opportunity to bring some smiles to their days. School lunches don't have to be boring! Bonus: they also don't have to take a lot of time out of your day.
Jump to:
Anatomy of Easy School Lunches
Let's start with the basics. These are your back-to-school lunch building blocks that you can build on to create easy, healthy, and FUN lunches for your kids!
bread - we love wheat bread in our house, but ciabatta, brioche buns, tortillas, bagels, English muffins can all work!
meat - there's nothing like freshly sliced deli meat from the deli counter. This way, you can also get just what you need of each kind of meat.
cheese - cheese is also a great item to have sliced fresh at the deli counter.
vegetables - pack portable, bite-size vegetables like carrots, broccoli, snap peas, cucumber slices, radish slices, and bell pepper slices.
fruit - one of my kids would be a fruitarian if I let her! We love packing portable fruit such as blueberries, strawberries, raspberries, blackberries, sliced mango and peaches, and cubed watermelon, pineapple, and cantaloupe. Fruit is such a great food to pack for lunches. It's a great way for them to replenish vitamins and minerals, antioxidants, and helps energize them for the rest of the school day.
snacks - choose a healthy or healthy-ish snack that your kid will love and can be a special treat before they go back to hitting the books.
Healthy school lunches made easy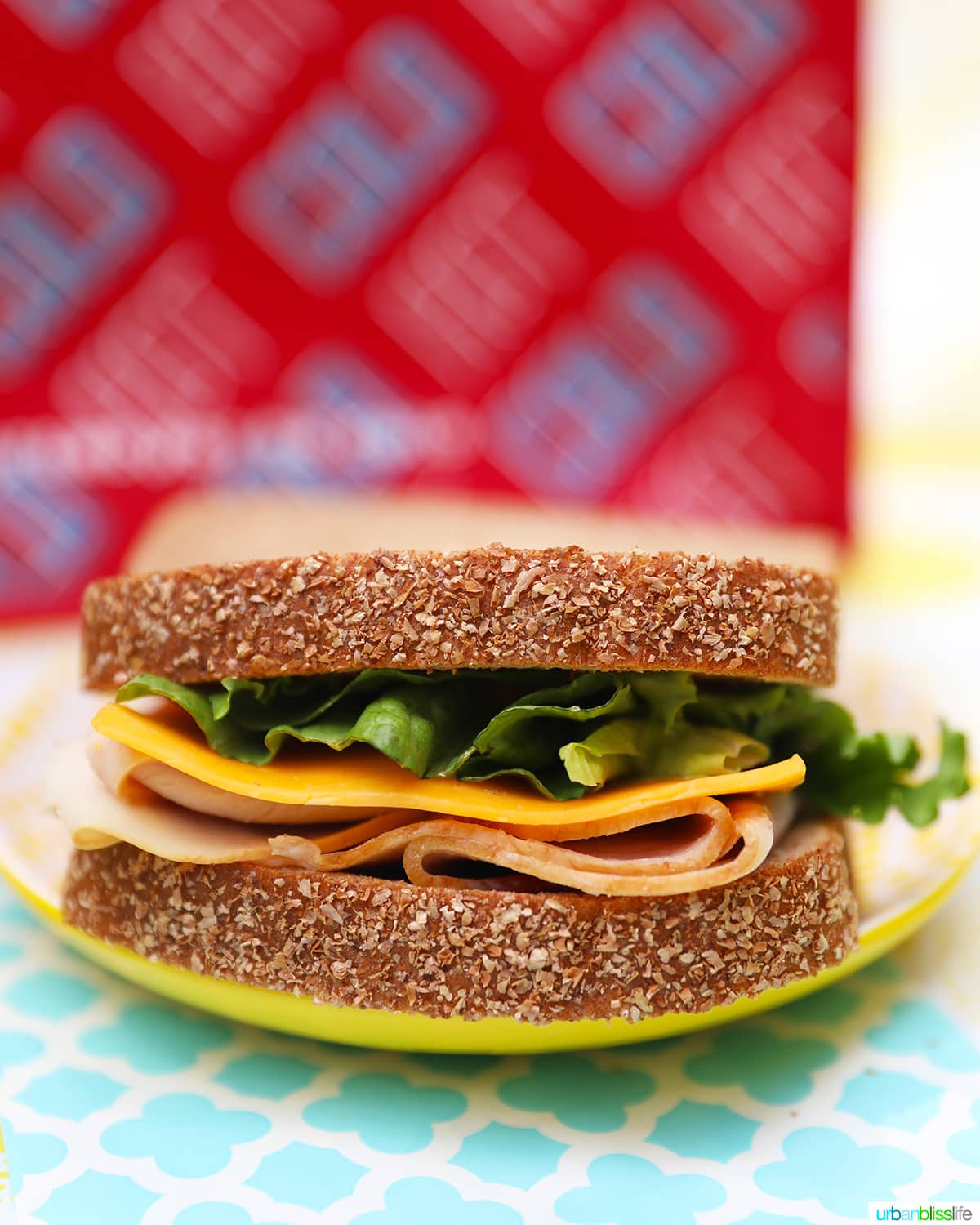 I found everything you see here from my local Safeway store. From all of the high-quality, freshly sliced deli meats and cheeses, to the convenient Fresh-Cut snack packs, to the delicious Signature SELECT™chocolate chip cookies. One stop at Safeway and my kids' lunches are done!
You can also find convenient and delicious essentials for back-to-school lunches at the Albertsons Companies family of stores. This includes Albertsons, ACME Markets, Jewel-Osco, Vons, Randalls, Shaw's Supermarket, Star Market, and Tom Thumb.
To make things even more convenient, Safeway also offers Grocery Delivery and Drive Up & Go™ for convenient ways to shop! I ordered all of the items seen here through Safeway's Grocery Delivery. This saved me a LOT of time and energy instead of going to the store!
Make it interesting
Now that you've got the basics, it's time to switch things up!
Regular sandwiches are awesome, but if you want to keep it interesting, consider taking the lunch essentials and doing any of these twists.
Take any sandwich your kid loves, like the turkey and cheese pictured above, and grill it! We love using our panini press to make ordinary sandwiches extraordinary. These work best if your kid is at home doing online school, since the sandwich will be warm. If your kid is going to school in person, simply wrap the grilled sandwich in foil.
Make meat + cheese rollups. Take a tortilla roll, schmear some mayo, top with slices of cheese and deli meat, then roll. You can even slice the roll into smaller bite-size slices.
Cut the food into fun shapes! When my kids were in elementary school, they would LOVE this! Take any cookie cutter and cut out sandwiches into fun shapes. My kids would also like taking part in the decision-making process for the different shapes each day.
Ingredients for FUN
School lunches are more than just a time to eat. This is your child's chance to take a brain break, to recharge and refuel for the afternoon. This is also a great opportunity for you to reconnect with your child -- even if you are not with them.
If you have little kids in preschool or elementary school, here are some quick, EASY ideas to add fun to their lunches:
Decorate their bags with happy, motivational stickers.
Draw something on their lunch bag, or on a piece of paper and include it in their lunch. It doesn't need to be a fancy, time-consuming drawing. Your kid will love simple stars, hearts, or rainbows!
Print out my Lunchbox Love Notes! Cut them out and place them in your kid's lunch sack.
Place food in brightly colored food-safe bags in fun patterns.
If you have middle school or high school kids, also consider one of these fun ideas:
Find funny and/or motivational age-appropriate memes that they can relate to. Text a meme to your kid at lunchtime. Whether they are at school or at home, this is a fun way to reconnect in the middle of the day. Of course, if your child's school bans all phone privileges during the school day, please skip this one.
Print out motivational quotes and include them in your child's lunch bag.
Print funny lines from your kid's favorite movies or TV shows and place them in your child's lunch bag.
With yummy deli finds and a little imagination, back-to-school lunches can be easy, healthy, and fun!
PIN IT: