Three more days left in 2014! What do you have planned for NYE? Do you like to go out or stay in to ring in the new year?
We like to stay home the night of New Year's Eve, just our little family of four. In the past, we've made mac & cheese: traditional with bacon toppings for the kids, and lobster mac & cheese for me and my husband. I just realized as I type this that I have no idea what we'll be doing for New Year's Eve dinner. Hmm. I should get on that, eh?
But, I DO know what we'll be doing for New Year's Day.
Each year, we host a casual, open house-style New Year's Day Pajama Party. It usually starts mid-morning (to allow those crazy midnight partiers to sleep in), and then goes into mid-afternoon. Kids are welcome, and pajamas are optional (but clothing is required, before you get any ideas).
This year, I made a few printables for our New Year's Day party, but you can also download and print them out to use for New Year's Eve as well.
New Year's Eve Party Hat Printable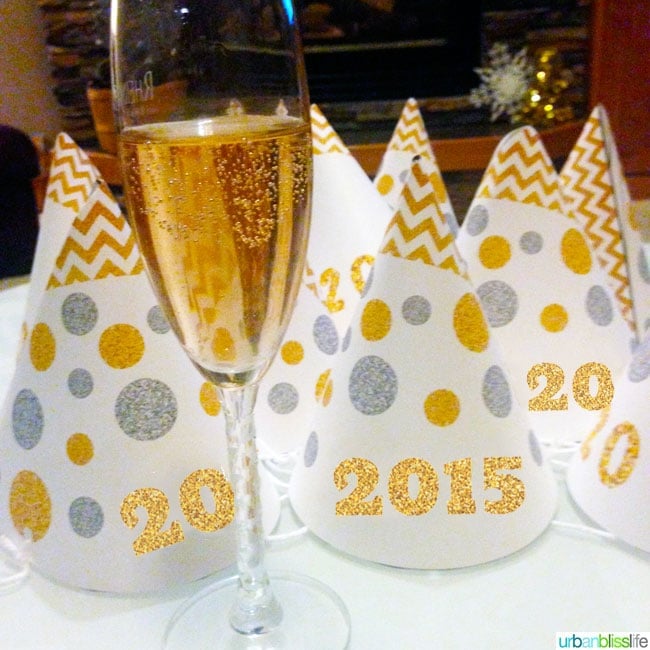 Party hats are so silly, but I am starting to think they are a party necessity. Nobody looks dignified in them, putting everyone on the same level silly playing field, and if they are too small for your head, all the better. I love them, especially on adults! They help add fun and playfulness to any party.
You can download my New Year's Eve Party Hat Printable for FREE. Print as many as you need, and follow the instructions on the printable sheet.
New Year's Eve Printable Activity Sheet
I also made these free printable activity sheets that you can hand out at your New Year's Eve party to keep guests entertained. I designed these particular holiday printables for Today's Creative Blog, so pop on over to her site, where she will have them available to download and print for free very soon!
Hope you have a very happy New Year's celebration, no matter whether you stay in or go out! Which leads me to my question of the day for you: what's your ideal New Year's Eve celebration?
More New Years Printables and Crafts
New Year's Eve Paper Decorations