Elevate your homecooked meals with this Easy Homemade Crab Stock. It's easy to make and packed with big seafood flavors that can be the foundation for your soups, pastas, casseroles, and more.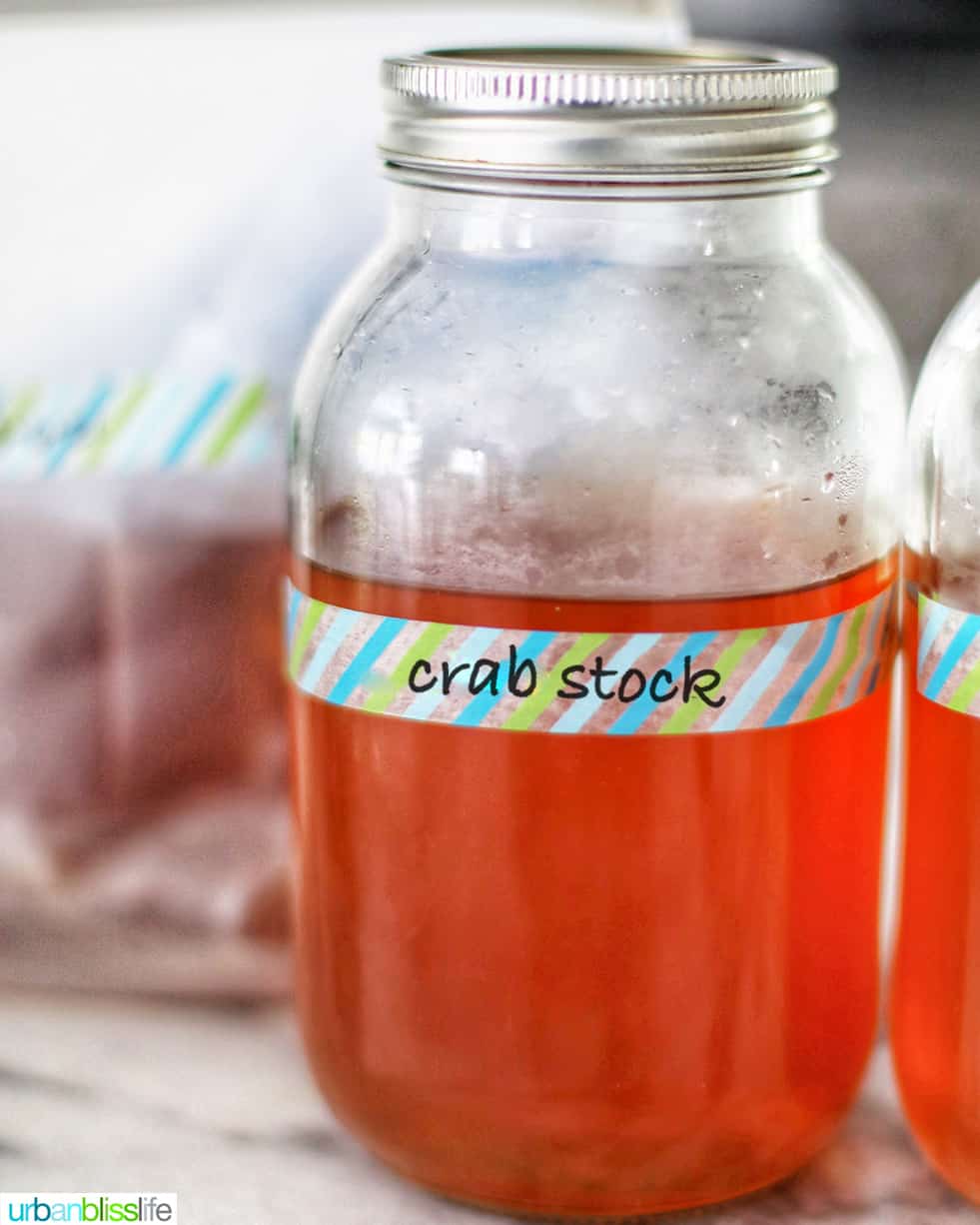 One of the easiest and most flavorful ways to enhance any dish is to add homemade stock. And it's so easy to make from scratch!
All year round, you can find bags of scraps in my freezer to make all kinds of stock. I make chicken stock every other week, and homemade turkey stock after Thanksgiving. I also make a lot of seafood stock, and when it's Dungeness crab season, you'll find the makings of Easy Homemade Crab Stock in my freezer.
Jump to:
❤️ Why you'll love making your own stock from scratch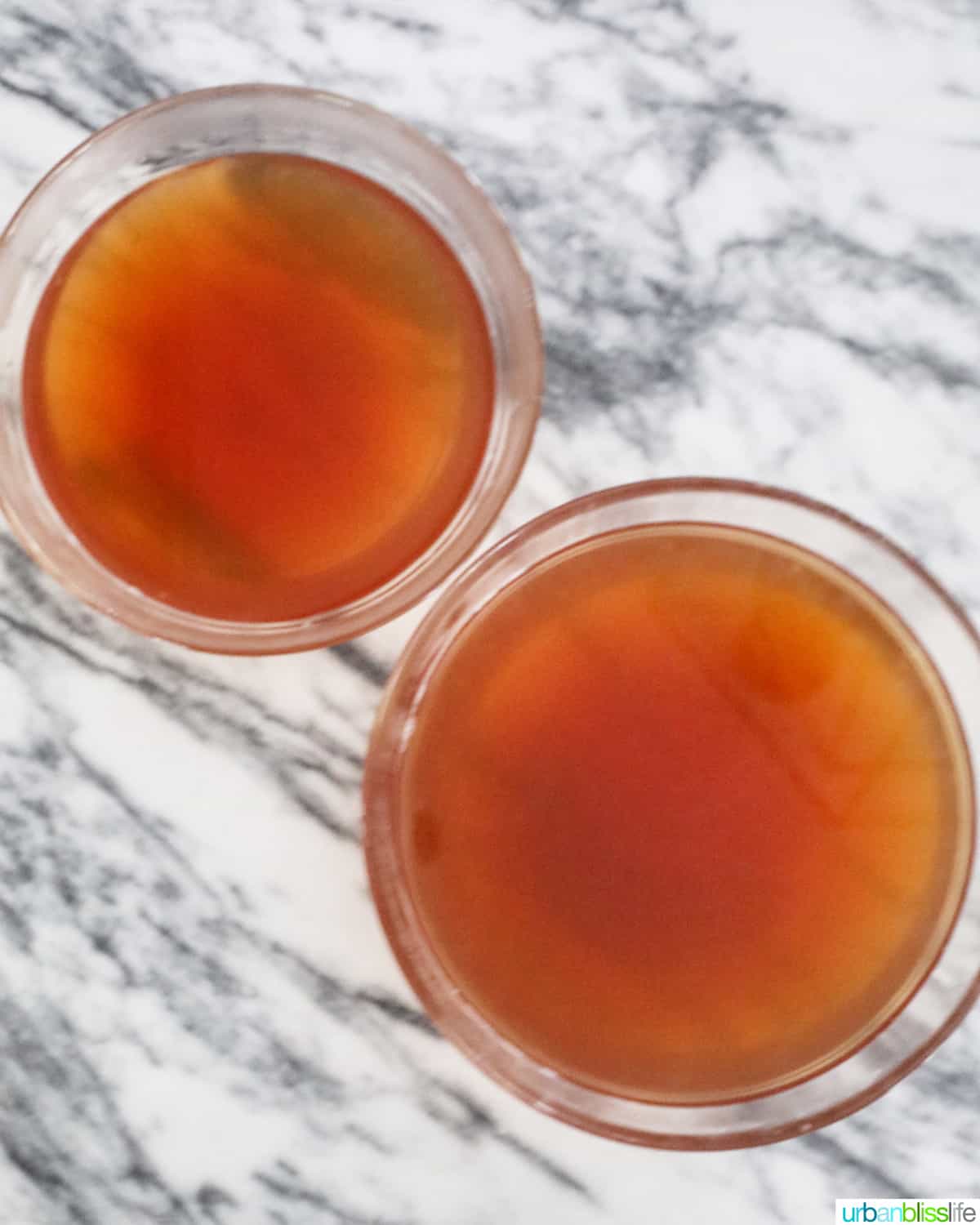 If you cook at home more than you order take-out, it's definitely worth it to make your own stock.
Easy - There are no real measurements, and it's an easy process that anyone can do.
Uses ingredients you already have - Stock is essentially a great way to give food second life. You're using scraps, bones, and shells that would otherwise get thrown out.
Control - By making your own stock, you can control the sodium and flavor.
More flavor - Homemade seafood stock is much more flavorful than any store-bought stock you'd find at the grocery store. This makes your dishes taste even better!
🦀 Ingredient notes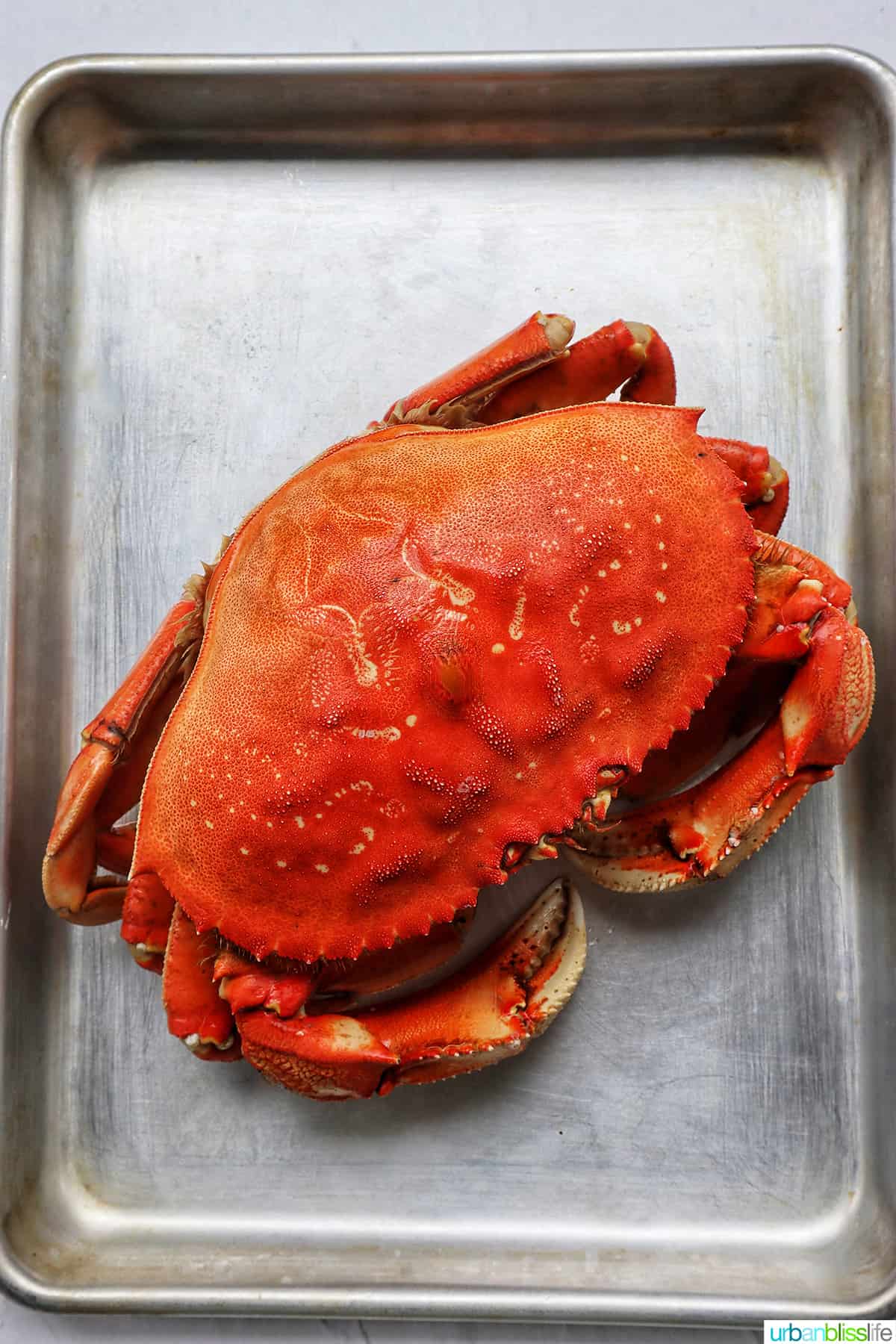 The beautiful part about stock is that it helps you use up vegetable scraps and seafood shells. And, there's no measuring!
Here's a general guide to ingredients that work well in homemade crabstock:
crab shells
onion skins
garlic skins
herb stems or herbstalks
red onion skins
carrot peels
celery stalks
bay leaves
If you have shrimp shells or lobster shells, you can also use this same recipe to make your own seafood stock or shellfish stock.
✅ Step-by-step instructions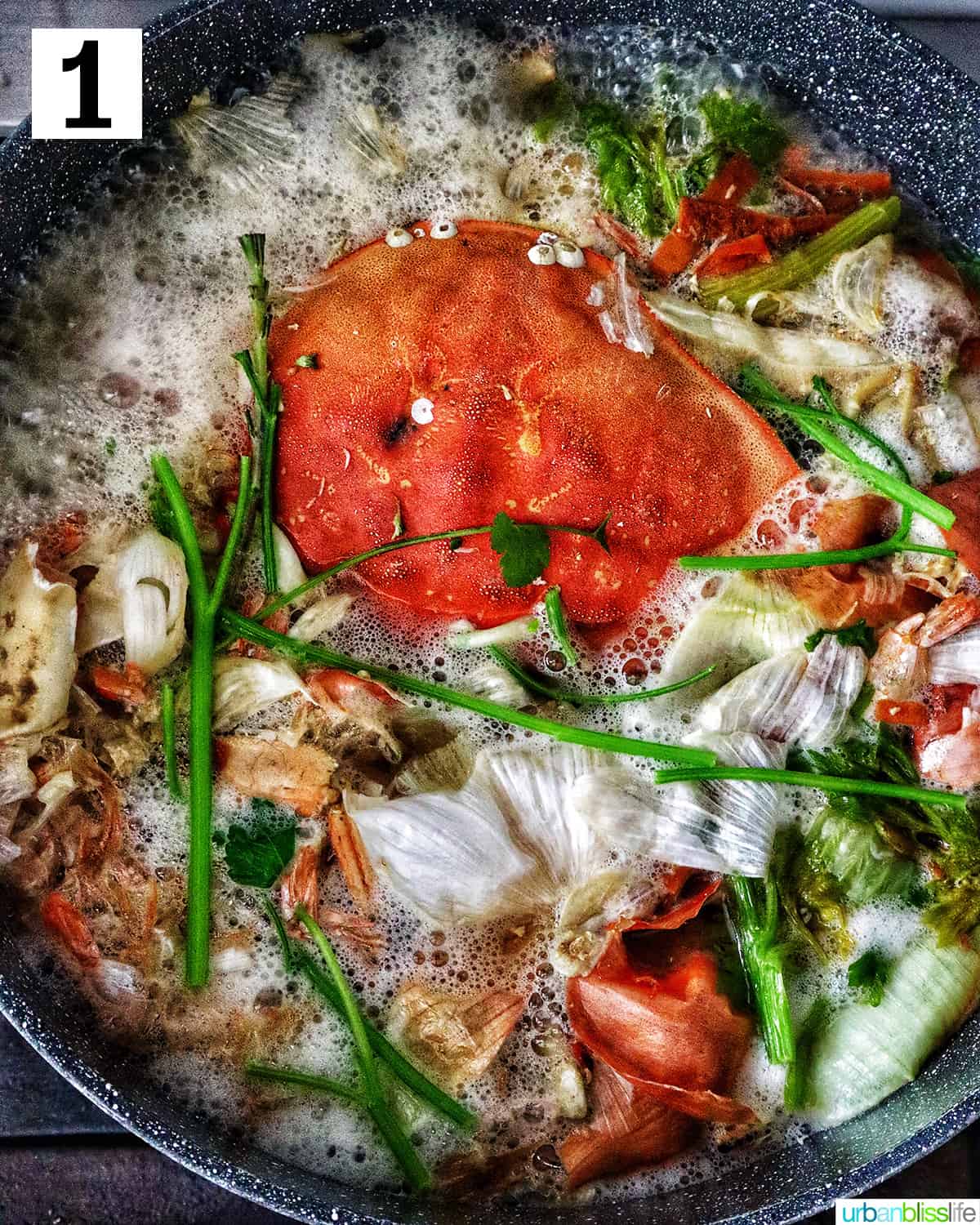 Place all of your vegetable scraps and crab shells into a large stockpot. Cover with water.
Bring the water to a boil.
Reduce the heat to a low simmer, cover, and simmer on low for 1-2 hours.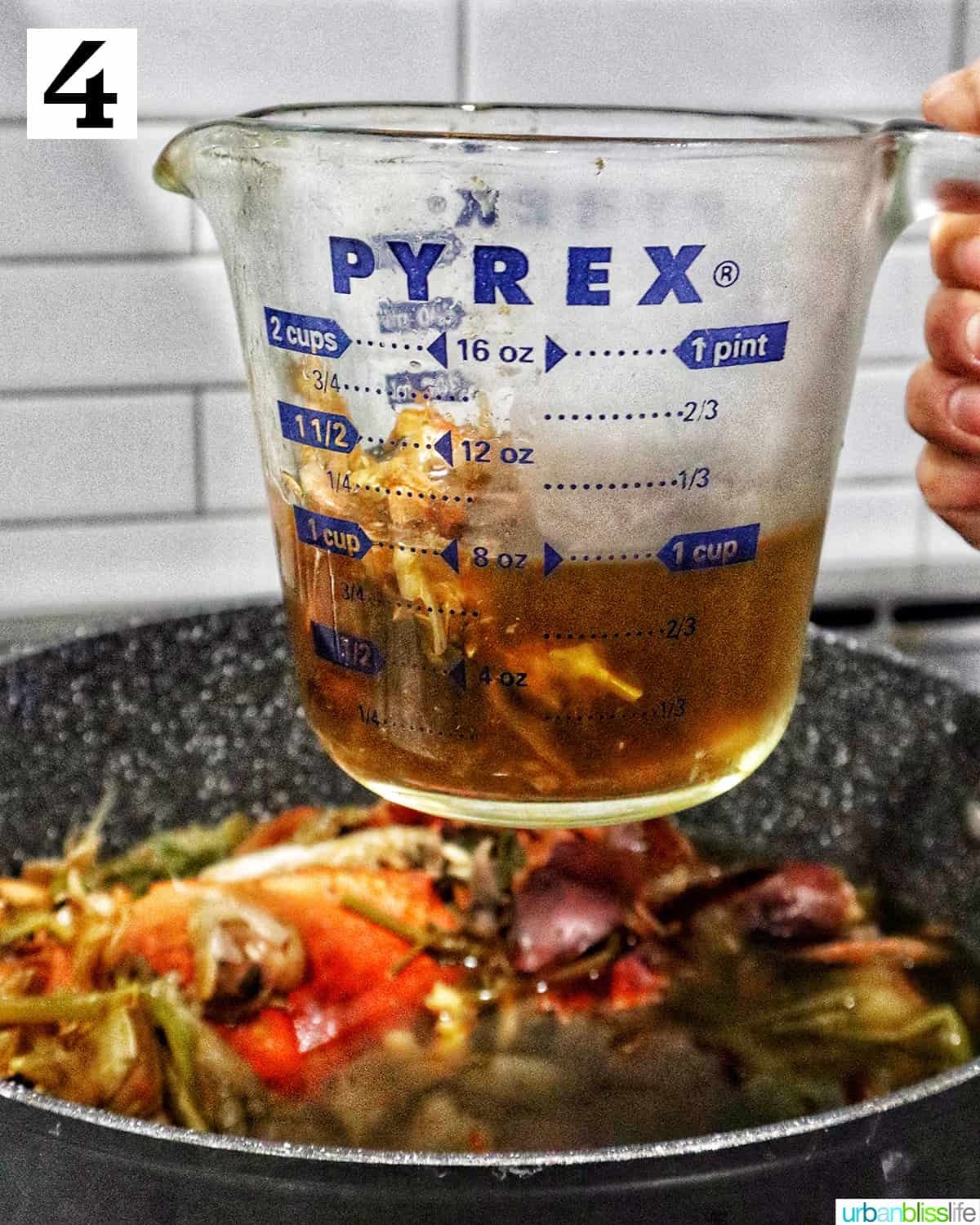 4. Turn off the heat. You can strain the entire pot over a fine-mesh sieve into a large bowl, but I find that to be a messy and cumbersome way of doing this. Instead, try using a glass measuring cup to scoop up the stock and scraps.
5. Then pour that over the fine-mesh sieve over a large bowl to capture the scraps and shells. Strain the liquid and discard the scraps and shells.
6. Continue to strain the liquid until all of the liquid is strained into the large bowl. Allow to cool to room temperature, then divide into your preferred storage containers.
If you use shells, scraps, and water that fills half of a large 10-quart stock pot, you should end up with anywhere from 6 to 10 cups of stock.
🫙 How to properly store homemade stock
There are several options for storing homemade stock.
First, make sure the stock has cooled completely before storing it. Otherwise, you may run the risk of bacteria.
Next, if you're going to be using the stock soon, store in mason jars or other another airtight container in the refrigerator for up to three days.
🧊 How to properly freeze homemade stock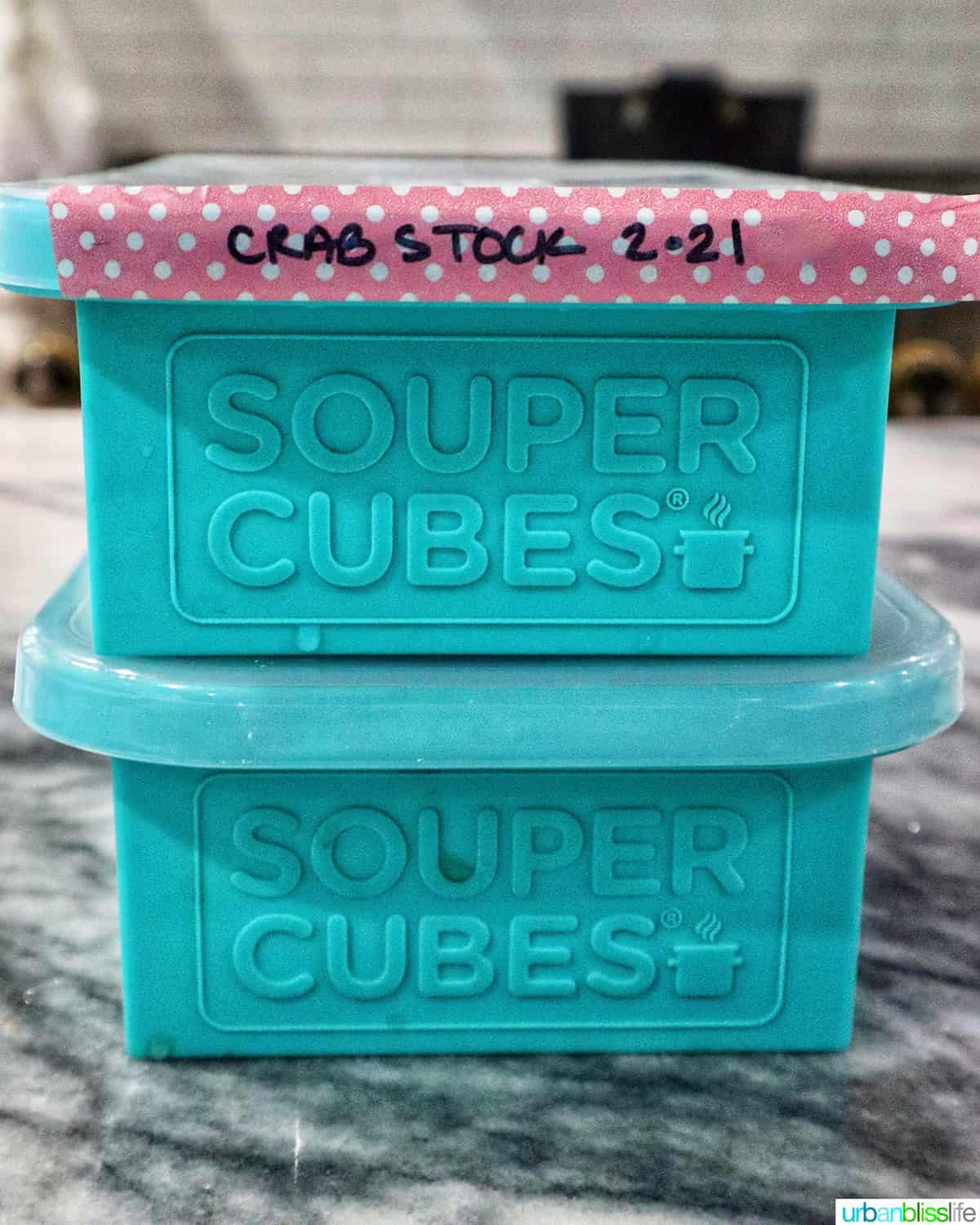 To freeze stock, you have several options:
Pour into ice cube trays, freeze, then once frozen, place into labeled freezer bags.
Pour into a gallon-size freezer bag (you may need 2 freezer bags), seal tightly, then lay flat in the freezer so the liquid freezes in a thin layer. This makes the bags easy to stack once frozen.
If you have Souper Cubes or other similar pre-measured, freezer-friendly storage, pour the stock into those. Freeze, then you can transfer the frozen blocks into freezer ziploc bags.
I love using Souper Cubes because the slots come pre-measured, making it easy to get just what I need for each recipe when the time comes.
👩🏻‍🍳 Frequently asked questions
What's the difference between stock and broth?
Stock is made from simmering animal bones or seafood shells, along with scraps of vegetables and herb stalks. While simmering, the bones and shells release gelatin and proteins, made even more flavorful with the vegetable and herb scraps .
Do I have to use scraps or can I use fresh vegetables and herbs?
You can definitely use fresh vegetables and herbs instead of or in addition to your veggie scraps! I like to throw in a fresh or dried bay leaf from time to time. You can add almost any fresh herb you like.
🍽 Ways to use crab stock in your cooking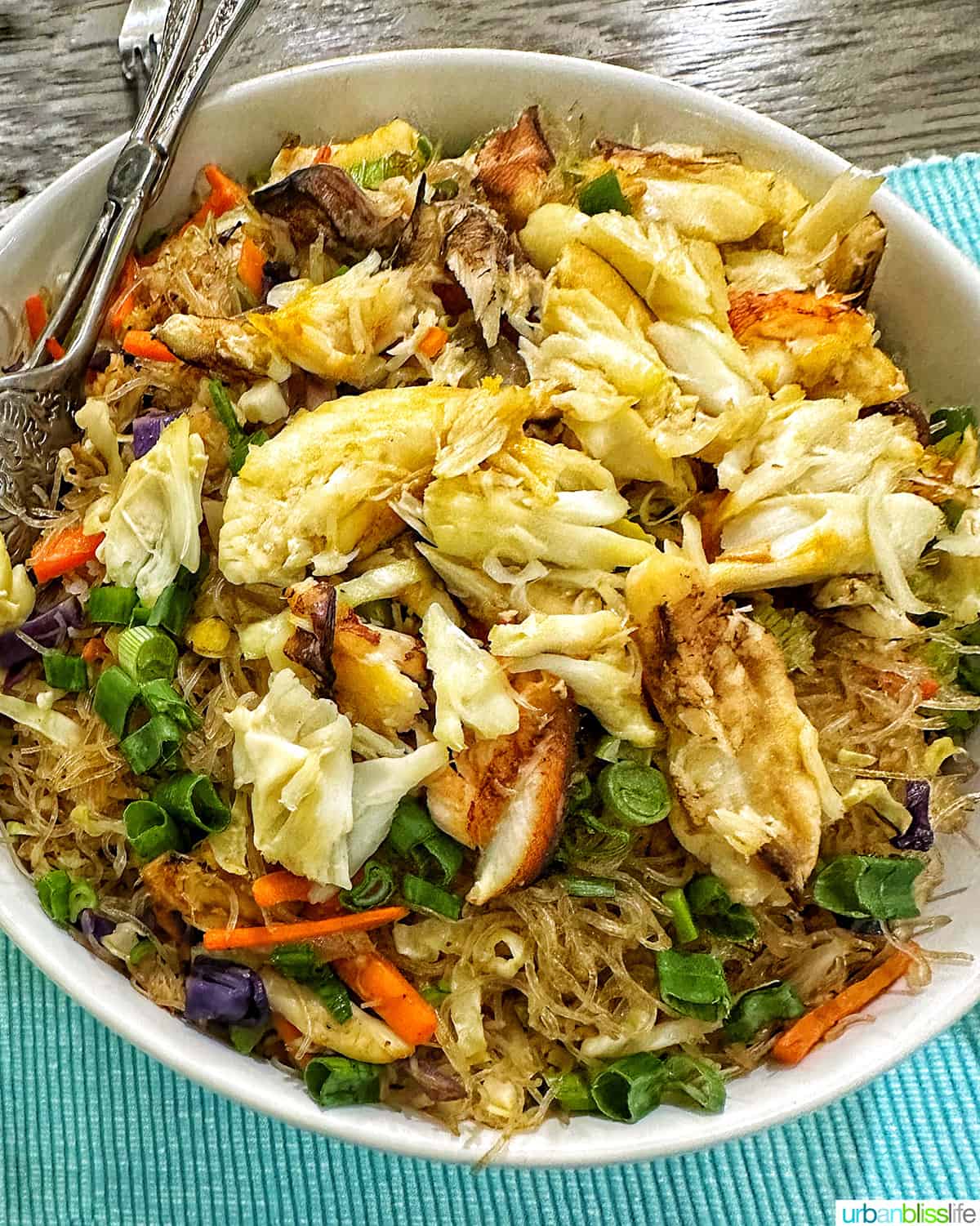 There's a reason they call homemade stock liquid gold! It is the foundation for so many different flavorful dishes.
Use this homemade crab stock to make delicious soups, stews, sauces and gravies. You can also use the stock to add flavor to rice, beans, pasta or other grains.
I also always keep some stock in the fridge to help "wake up" frozen meals when I reheat them. This helps revive the moisture in the frozen dishes and also adds a ton of flavor.
Dishes that use crab stock
Try using your homemade crab stock in any of these dishes to add even more delicious flavor:
🍳 Kitchen tools and equipment
Ready to make this recipe? Here are the kitchen tools and equipment you'll need:
More seafood recipes
Did you make this recipe? Don't forget to leave a 5-Star 🌟🌟🌟🌟🌟 rating in the recipe card, and if you really loved it, please leave a comment further down on the page. Thank you!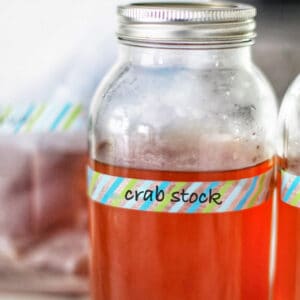 Homemade Crab Stock
Homemade crab stock is easy to make and perfect to use in soups, stews, rice dishes, risotto, and more!
PRINT
PIN
RATE
Ingredients
crab shells

any vegetable scraps you've been saving (*see NOTES for what to use if you don't have any scraps saved up)

handful of herbs, such as basil, thyme, rosemary, parsley, bay leaf.

water
Instructions
In a large stockpot, place all of the crab shells, vegetable scraps, and herbs. They should only fill about half of the large stockpot.

Pour enough water to fully submerge the scraps and bones, and bring to a boil. Once the water reaches a boil, reduce heat to a simmer. Cover and allow to simmer for 2 hours.

Turn off heat. Strain the liquid out into a large bowl and discard the shells and vegetable scraps. Let the rest of the stock and scraps cool for one hour.

Pour the room temperature stock into mason jars or other containers, seal, and store in the refrigerator or freezer.
Notes
WHAT TO USE IF YOU DON'T HAVE SAVED VEGGIE SCRAPS: you can chop up and use 2 carrots, 2 celery stalks, one small onion, a couple cloves of garlic, and then add a handful of herbs and bay leaf. Be sure to include the vegetable peels and skins. STORAGE TIPS: You can refrigerate homemade stock in an airtight container for up to four days. You can freeze stock and store in freezer-safe containers or bags for up to three months. Be sure to cool stock to room temperature before refrigerating or freezing.
Tried this recipe?
Please leave a star rating and comment! Then snap a pic of your dish and share it on social media. Tag @UrbanBlissLife and #UrbanBlissLife!
Nutrition
Calories:
15
kcal
|
Carbohydrates:
3
g
|
Protein:
1
g
|
Fat:
0.1
g
|
Saturated Fat:
0.02
g
|
Polyunsaturated Fat:
0.1
g
|
Monounsaturated Fat:
0.01
g
|
Cholesterol:
0.1
mg
|
Sodium:
12
mg
|
Potassium:
48
mg
|
Fiber:
1
g
|
Vitamin A:
1155
IU
|
Vitamin C:
2
mg
|
Calcium:
6
mg
|
Iron:
0.2
mg
Nutrition information is a general estimate. Actual nutrition details may vary depending on the exact foods & brands you use to make this recipe. It does not take into account any substitutions, toppings, or optional ingredients.