Need an easy, kid-friendly, whole family pleasing dinner recipe? This Air Fryer Popcorn Chicken recipe is it!
Finding an easy dinner recipe that the whole family loves can be a challenge, am I right?
Between me, my husband, and my two teenagers, our tastes can be all over the place. There are some recipes that some of us love and others tolerate/like, recipes that some of us like but others do not at all, and there are a few rare unicorn recipes that we all love and agree to make over and over again.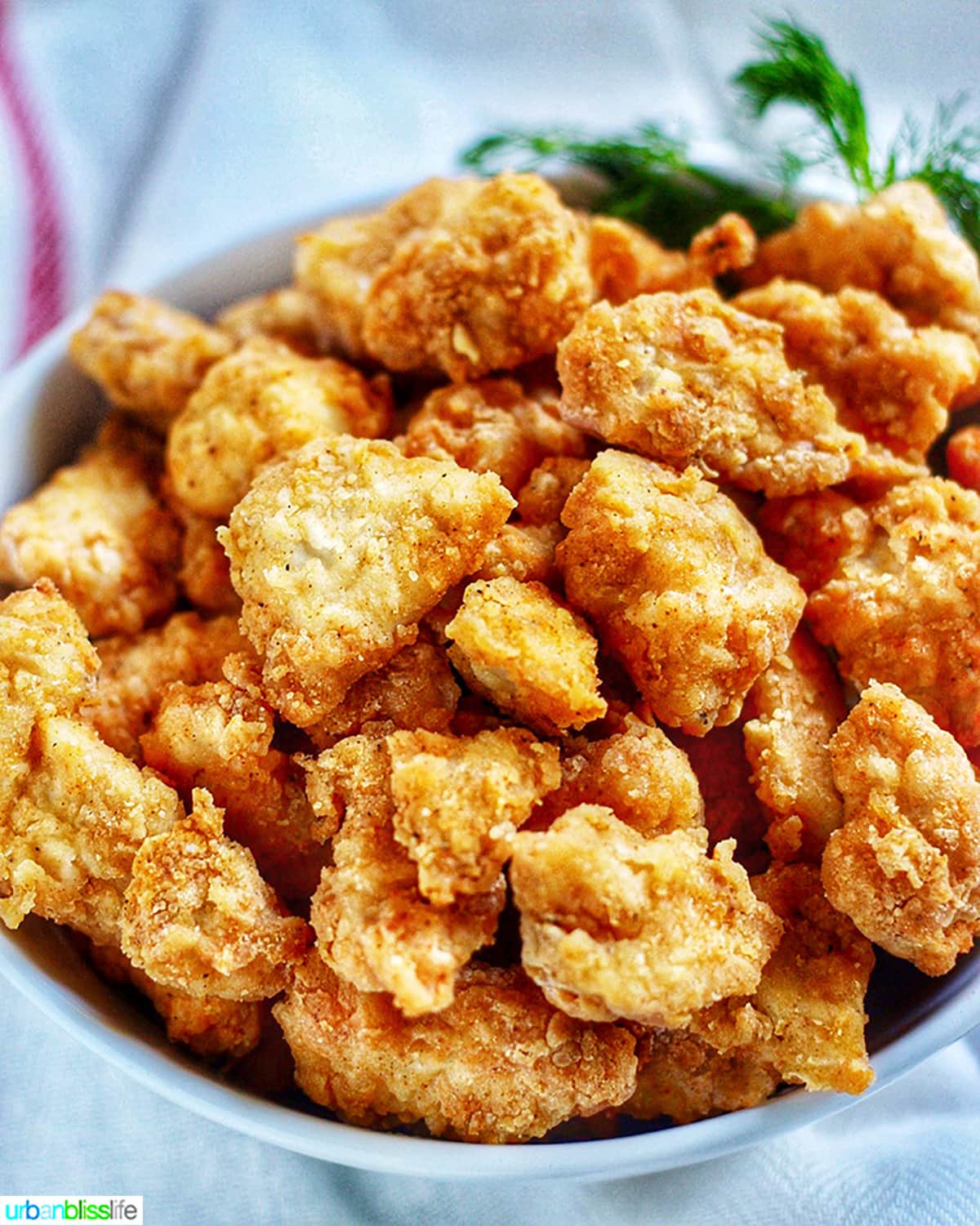 This Air Fryer Popcorn Chicken recipe is one of those rare unicorn recipes.
Jump to:
🔥 What is an air fryer?

Before we dive into the recipe, let's talk about the almighty Air Fryer for a moment.
Do you have one? Have you considered getting one? I have the GoWISE USA 5.8 Quart Programmable 8-in-1 Air Fryer XL in Red. It's a beast and definitely takes up a lot of space on the countertop (I made room to store mine below) but it's worth it in order to make larger batches of food at a time.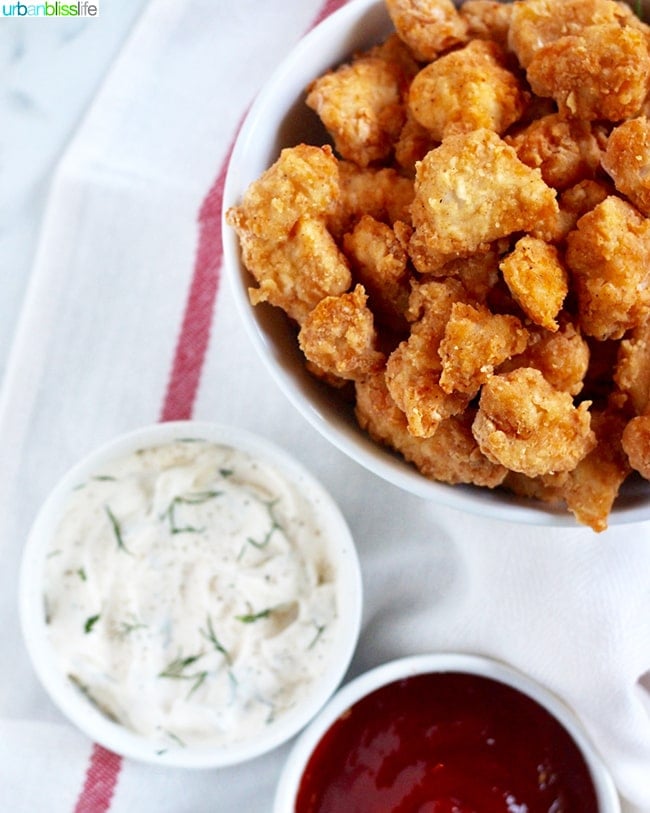 In essence, an air fryer is a large egg-like appliance that sits on your countertop (away from other heat sources and plastics!). You use it for cooking food you would normally cook in a traditional deep fryer or convection oven. However, instead of frying food in large quantities of oil as you would in a deep fryer, the air fryer essentially acts as a countertop convection oven and circulates hot air quickly around all sides of the food. This helps make food crispy like a deep fryer would - but with much less oil.
In theory, the air fryer helps you create healthier versions of the deep fried foods you love. It still uses oil, and you still control the breading, but it's definitely healthier than deep frying!
🍗

Air fryer popcorn chicken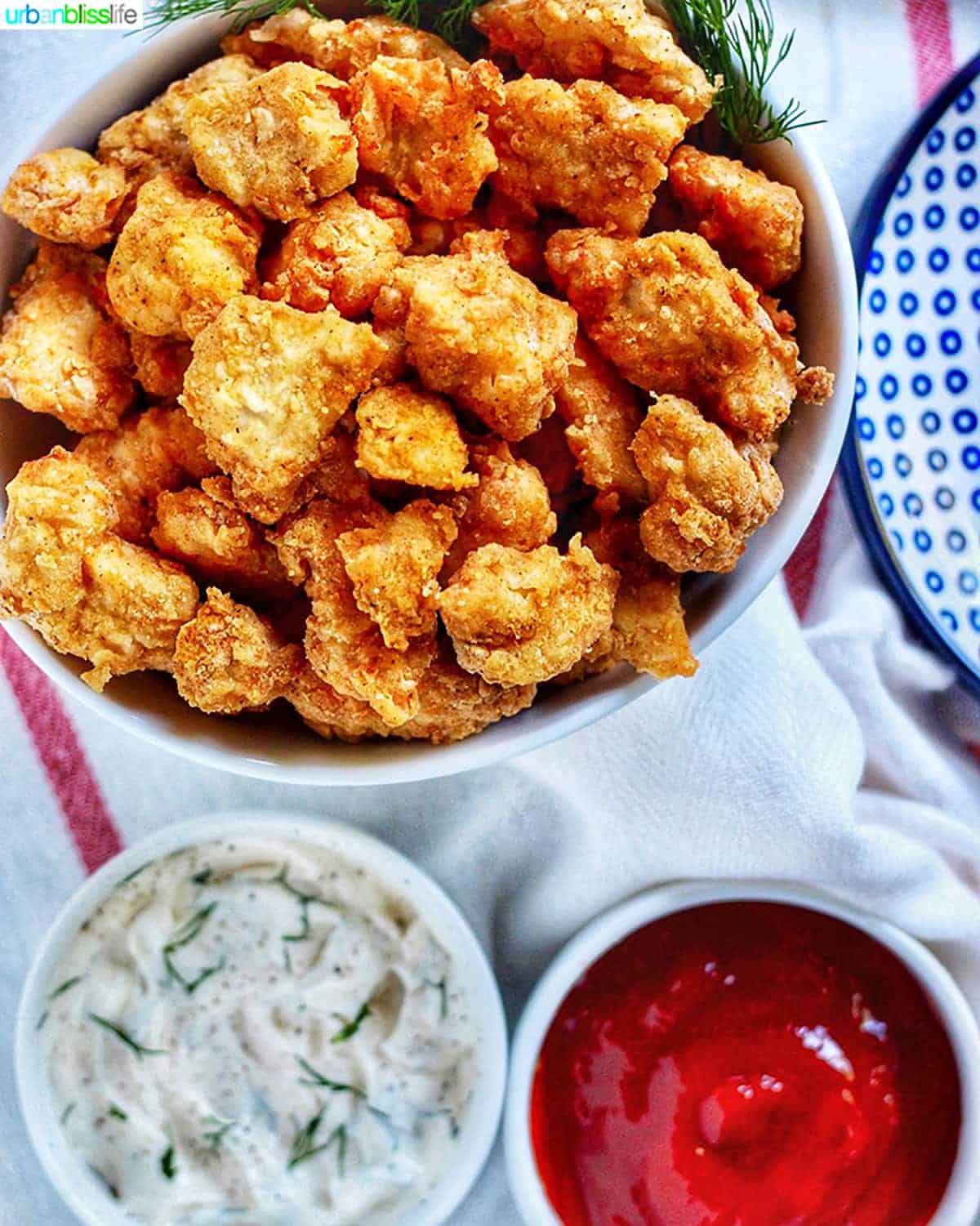 I've used our air fryer for a few different recipes now. It's great for fries, but terrible for lumpia; some recipes are better using traditional cooking methods.
This Air Fryer Popcorn Chicken recipe is the best one so far and I'm excited to share it with all of you!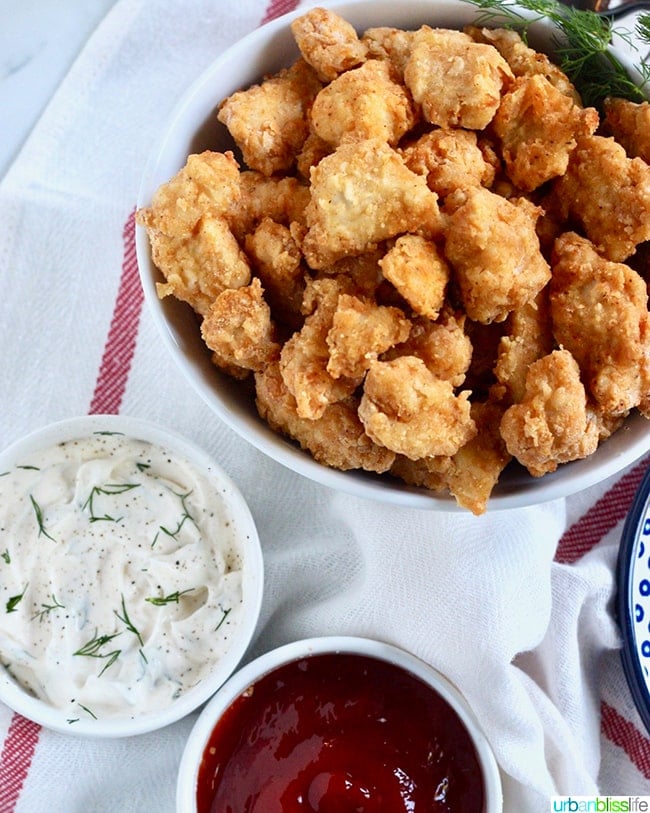 Delicious dinner or appetizer
I was skeptical of using the air fryer for chicken at first, but it's fantastic. The chicken is cut up into small cubes, marinated for at least a couple of hours, then breaded, dunked in the marinade again, and breaded a second time.
NOTE: you can totally skip the second marinade dunk and breading step if you want to use less breading. Just know that your chicken will not look as crispy as the one I made here. Because more breading = crispier crunchier chicken.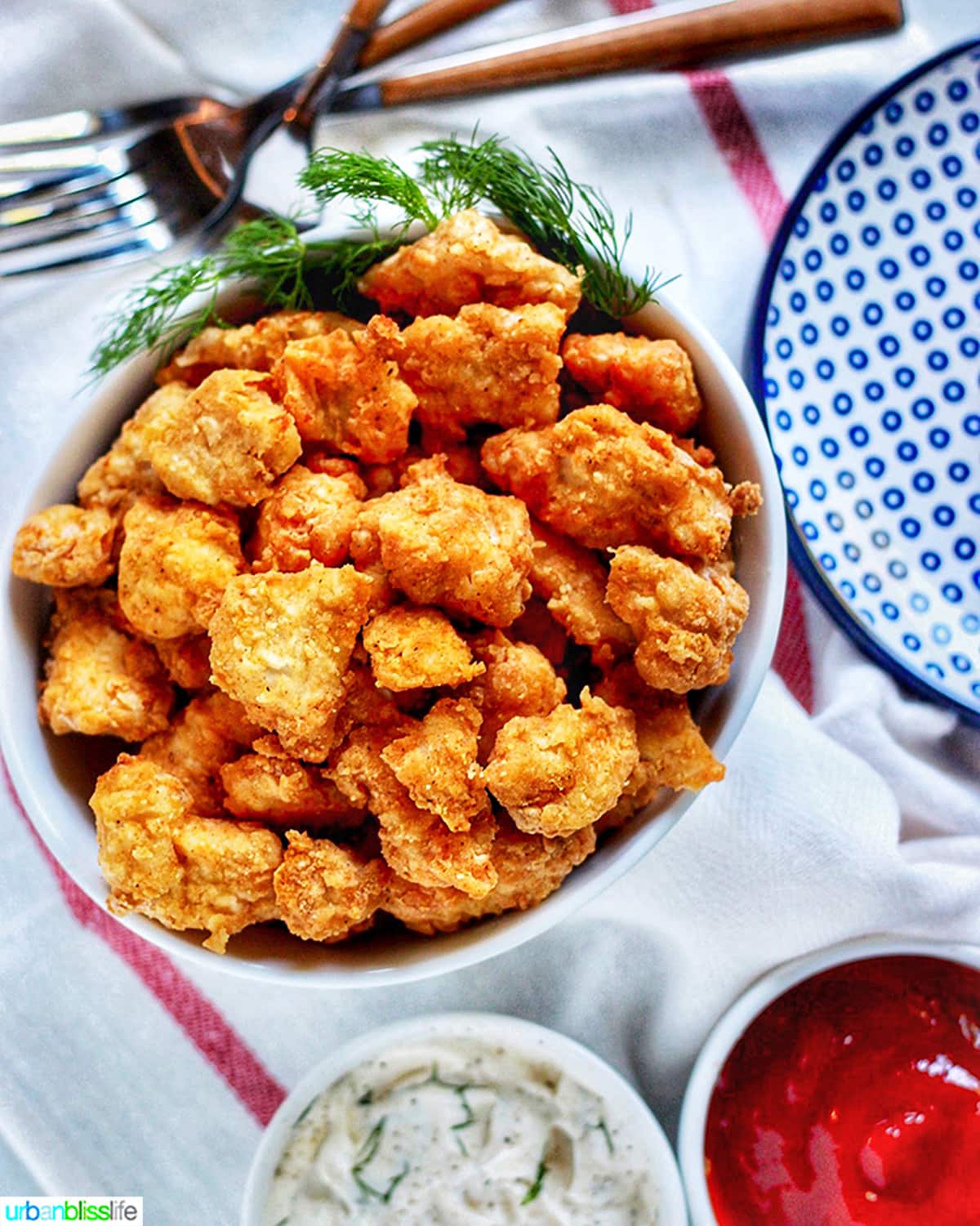 You can actually halve the ingredients if you just want to make enough for 4-6 people for dinner.
This recipe makes enough to serve 4-6 people for one dinner, and then enough to freeze for the future. I love the Make Once, Eat Twice way of cooking with my family since my kids can take them out of the freezer and pop them in the oven or microwave to warm up for after-school snacks.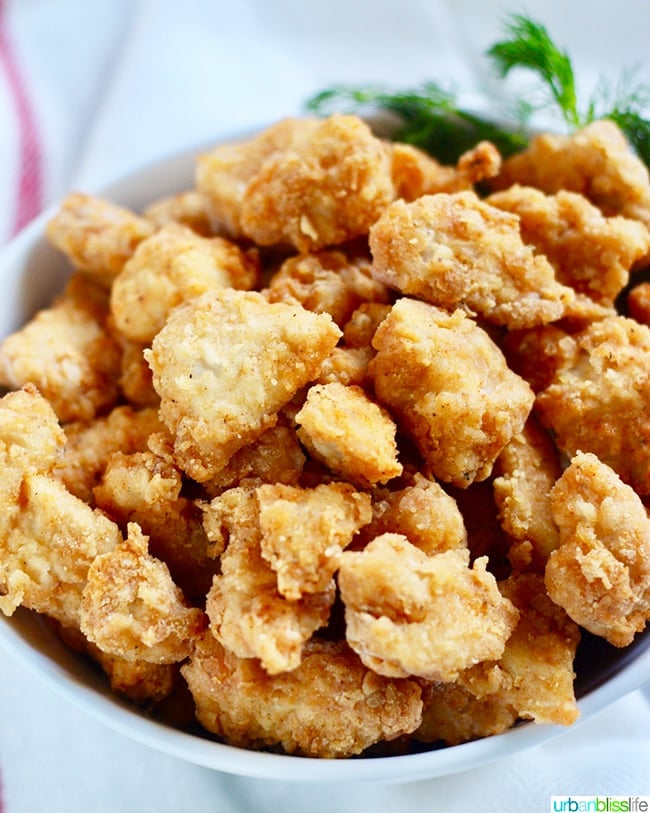 It's also a great recipe to make if you are feeding a large crowd. It's an awesome Game Day Recipe - just serve with options of dipping sauces like BBQ sauce, ranch, and honey mustard.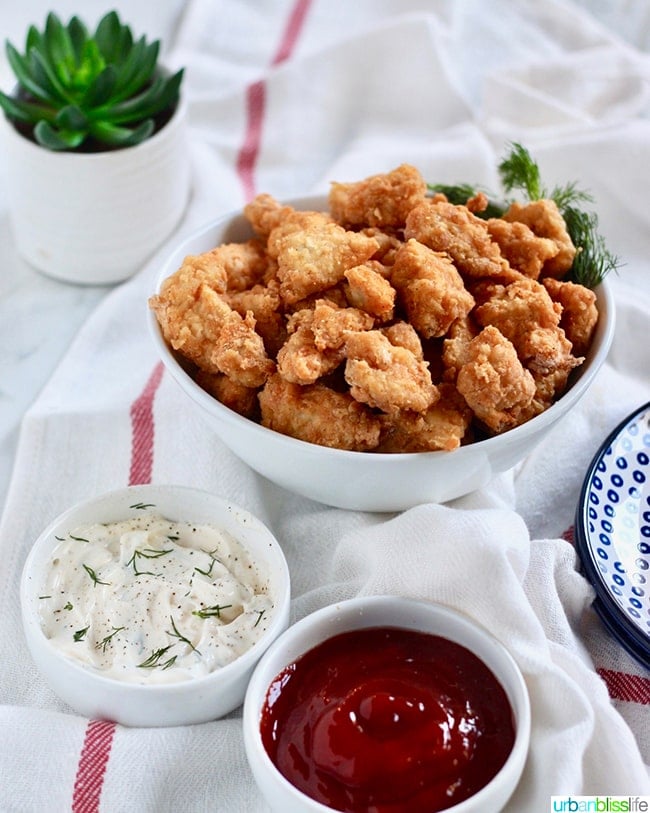 🍽 Serving ideas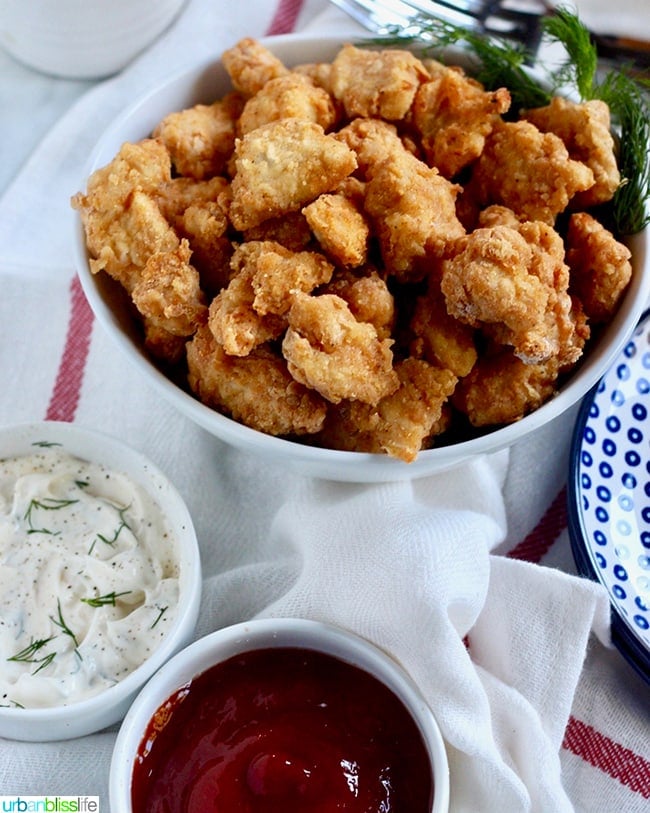 Serve it on top of a green salad, with honey mustard or ranch dressing.
Use it as sandwich/sub filling to create a crispy chicken sandwich or sub, with lettuce, tomato, and mayo.
Serve it kabob-style with alternating pieces of chicken, mozzarella cheese, cherry tomatoes and a basil leaf to create Caprese Chicken Kabobs
Three words (and an ampersand): Chicken & Waffles, baby!
These are my tried and true kitchen essentials. These are the best kitchen tools and appliances I personally cook and bake with in my own home! From my favorite cooking tools to baking tools, the best small appliances for home cooks, and more, this kitchen essentials checklist will help you master most recipes in your home kitchen!
Photo Credit: Marlynn Schotland/Urban Bliss Life
I love my Ninja Foodi! I have the Foodi 8-Quart 9-in-1 Deluxe XL Pressure Cooker (model FD401). In addition to pressure cooking, it can air fry, broil, dehydrate, slow cook, sear/saute, and more. And I can often cook two items - a side and a main dish - at the SAME time in the Foodi!
Check out my cookbook: the Ninja Foodi Pressure Cooker Meal Prep Cookbookhttps://amzn.to/2PpT5Ua! 75 recipes, 8 weeks of meal plans, shopping lists, step-by-step prep instructions, and my best Ninja Foodi cooking tips and tricks to help you pressure cook, air fry, make yogurt, and more in the Ninja Foodi Deluxe XL multicooker!
Photo Credit: Marlynn Schotland/Urban Bliss Life
I have and use this 8-quart Instant Pot Duo a few times a week. Be sure to check out my Instant Pot Recipes!
This Vitamix is one of the more affordable Vitamix blenders, and it gets the job done! I use this blender almost every day, for smoothies, soups, sauces, and so much more!
Photo Credit: Marlynn Schotland/Urban Bliss Life
This 5-quart KitchenAid Stand Mixer is a workhorse in my kitchen! I use it almost every day for everything from cookies to pizza dough to icing. I use mine so much, I have two: one in a limited edition Ocean Drive color, and one in white.
Photo Credit: Marlynn Schotland/Urban Bliss Life
Daterra Cucina is a Portland, Oregon-based family business that makes my favorite everyday cooking pans! They are professional grade, ceramic, non-stick, non-toxic pans that cook food BEAUTIFULLY and are super easy to clean. I love them and know you will, too!
This is my newest air fryer, purchased in 2019. I love my basket style air fryer, but also needed to do recipe testing with a rack/tray style air fryer since so many of you now use this style. The InstantPot Vortex Plus is a 7-in-1 workhorse that serves as an Air Fryer, Toaster Oven, and Rotisserie Oven, which allows it to Air Fry, Rotisserie, Roast, Broil, Bake, Reheat, and Dehydrate. The 10-quart capacity means you can air fry A LOT OF FOOD in one batch! Versus making several batches in the 5-6 Quart basket style air fryers.
Photo Credit: Marlynn Schotland/Urban Bliss Life
During our kitchen remodel, I learned how to create delicious dishes using our GoWise Air Fryer, and I love it! This 5.8 Quart, 8-in-1, XL Air Fryer is perfect size for families with 3+ people.
Photo Credit: Amazon
This Instant Pot Vortex 4-in-1 Air Fryer is a 6 Quart, basket air fryer with 4 One-Touch Programs, Air Fry, Roast, Bake, Reheat. The basket can accommodate a 2-pound bag of fries and a 4-pound chicken.
This is my newest slow cooker - the CrockPot MyTime Slow Cooker. I LOVE it!! It's a 6-quart programmable slow cooker with an easy-to-clean ceramic pot.
Photo Credit: Marlynn Schotland/Urban Bliss Life
I've had this Ninja 3-in-1 Cooking System for 10 years, and it's amazing! I love using it mainly as a slow cooker. I also love to use it to keep food warm for parties. Cleans up easily too!
Photo Credit: Amazon
I have the older version of this 2-quart Cuisinart ice cream maker and it is still going strong after 10+ years! It's so easy to use and comes with a great little instruction booklet that's easy to follow.
🥘 More easy dinner recipes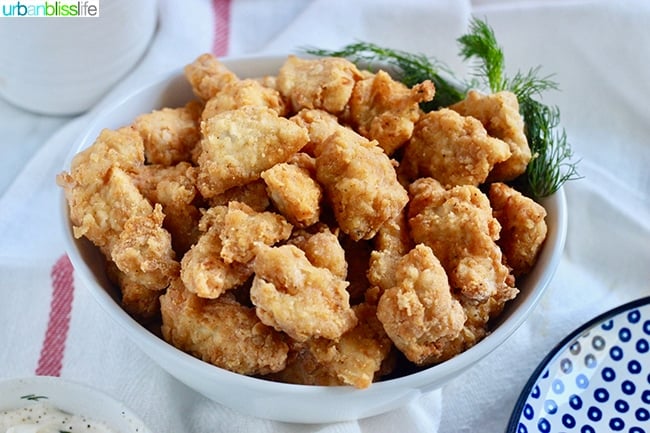 More chicken recipes
Did you make this recipe? Don't forget to leave a 5-Star 🌟🌟🌟🌟🌟 rating in the recipe card, and if you really loved it, please leave a comment further down on the page. Thank you!
Air Fryer Popcorn Chicken
This Air Fryer Popcorn Chicken makes enough to eat now and to freeze some for later!
PRINT
PIN
RATE
🤍 SAVE
Saved!
Instructions
In a large ziplock bag, add the chicken and all of the marinade ingredients. Marinate in the refrigerator for at least 2 hours, up to 6 hours.

In a large shallow bowl, add all of the dry ingredients.

After marinating, place chicken and marinade into a large bowl. Working in small batches, dredge chicken chunks into dry ingredients, shake off excess flour, dunk again briefly into the marinade, then dredge for a second time in the dry ingredients, fully coating each piece of chicken. Be sure to gently shake off excess flour mixture.

Spray olive oil onto the bottom and sides of the inside of the air fryer vessel. Place breaded chicken in an even layer; set aside the rest of the chicken. Give the tops of the chicken in the air fryer vessel a quick spray with olive oil, then place into the air fryer.

Air fry at 375°F for 10 minutes. Halfway through this cooking time (at 5 minutes), open the air fryer and shake the basket. If using a tray-style air fryer, use tongs to turn chicken pieces over. Spray tops of chicken with cooking spray, then resume air frying for the remaining 5 minutes.

NOTE: depending on the size and amount of chicken, as well as your particular air fryer, you may need to allow yours to cook in the air fryer for anywhere from 2-4 minutes more.

Remove from the air fryer, and repeat steps until you're finished with all of the chicken (usually 3 to 4 batches for me; it may be more or less for you, depending on your air fryer and also how you cut your chicken pieces).

Serve immediately with your favorite dipping sauces. Place any extra chicken into freezer-safe plastic bags and freeze for up to 3 months.
Notes
Makes about 10 servings, air fried in 3-4 batches. If you are not serving this for a party as a snack and instead enjoying it for dinner, serve some immediately and then freeze the rest. You can also cut the recipe in half if you only want to make 4-5 servings.
You can make this without marinating the chicken for 2 hours. It will not have the same taste or texture; the chicken will not be as tender or flavorful.But if you are in a hurry, you can simply soak the chicken in the marinade for about 20 minutes.
Cooking tips for the best air fryer popcorn chicken:
Chop the chicken into similar sized-pieces so that they cook up evenly.
Do not crowd the air fryer basket or tray. Trying to cook too many pieces at once will increase air frying time.
Remember that every air fryer is different. Watch your first batch to see if you need to adjust the temperature and/or timing for the following batches.
It is very important to make sure you shake off excess flour before cooking in the air fryer, and that you add an even layer of spray oil to the tops of the chicken.
If your flour isn't crisping up at the end of 10 minutes, this usually means:

you have too much flour left sticking to your chicken and needed to shake the excess off more,
you've crowded too many pieces into the space and they're not able to cook properly, and/or...
you need to add a little more oil spray to the tops.
Tried this recipe?
Please leave a star rating and comment! Then snap a pic of your dish and share it on social media. Tag @UrbanBlissLife and #UrbanBlissLife!
Nutrition
Calories:
250
kcal
|
Carbohydrates:
29
g
|
Protein:
24
g
|
Fat:
3
g
|
Saturated Fat:
1
g
|
Polyunsaturated Fat:
1
g
|
Monounsaturated Fat:
1
g
|
Trans Fat:
1
g
|
Cholesterol:
58
mg
|
Sodium:
1102
mg
|
Potassium:
394
mg
|
Fiber:
1
g
|
Sugar:
1
g
|
Vitamin A:
276
IU
|
Vitamin C:
1
mg
|
Calcium:
74
mg
|
Iron:
2
mg
Nutrition information is a general estimate. Actual nutrition details may vary depending on the exact foods & brands you use to make this recipe. It does not take into account any substitutions, toppings, or optional ingredients.
This post contains affiliate links. Read my disclosure policy for details
This post was first published on October 1, 2018. It was updated February 2, 2020 with new content.