If you've got a pound of ground beef in your fridge or freezer, we've got the best ground beef recipes for you! We've rounded up 20 delicious and easy-to-make air fryer ground beef recipes. These are simple recipes that will satisfy your cravings and leave your taste buds wanting more.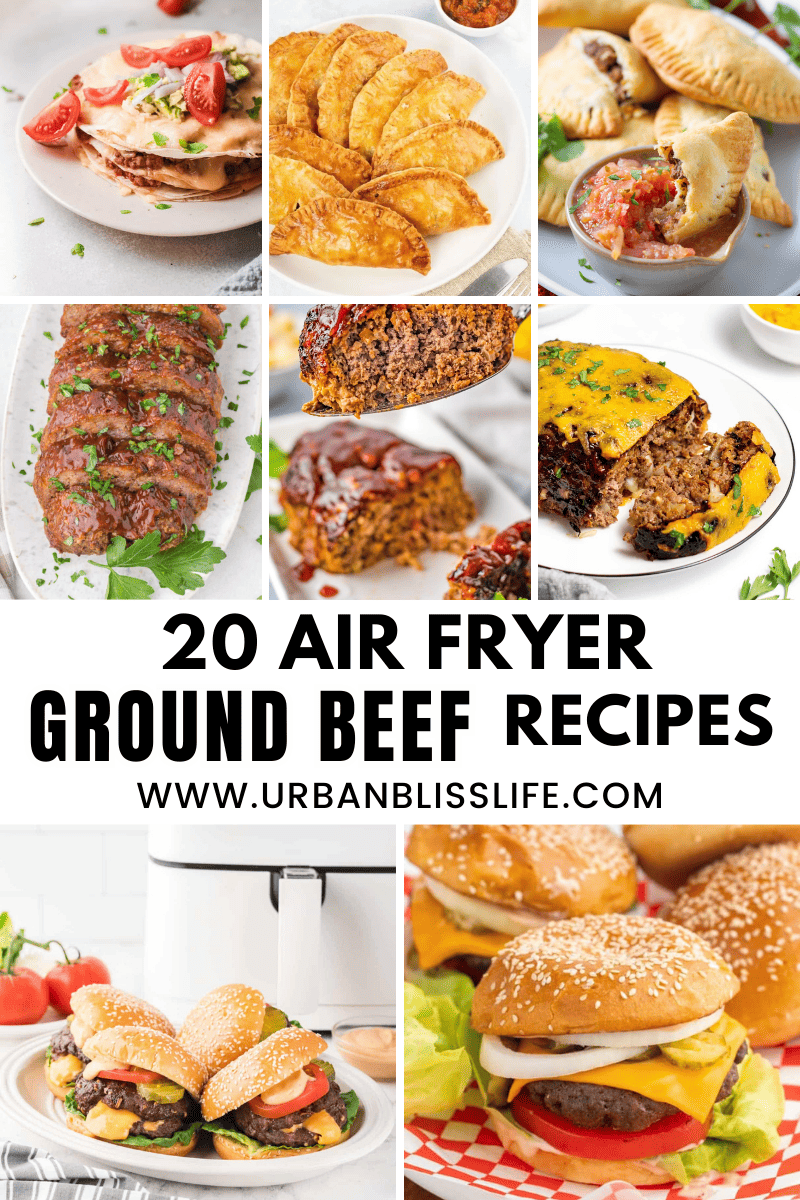 Ground beef is a versatile ingredient that can be used in a wide variety of dishes. And using an air fryer to cook your favorite beef recipes is a healthier way of cooking that results in great taste and big flavors.
Plus, these air fryer beef recipes are great time-savers. Trust us: air frying will be your new favorite way of cooking beef!
From juicy air fryer hamburger patties that sizzle to savory air fryer meatballs that melt in your mouth, get ready to elevate your cooking game. These delicious ground beef recipes will satisfy your taste buds in ways you never thought possible.
Tips for making the best air fryer ground beef recipes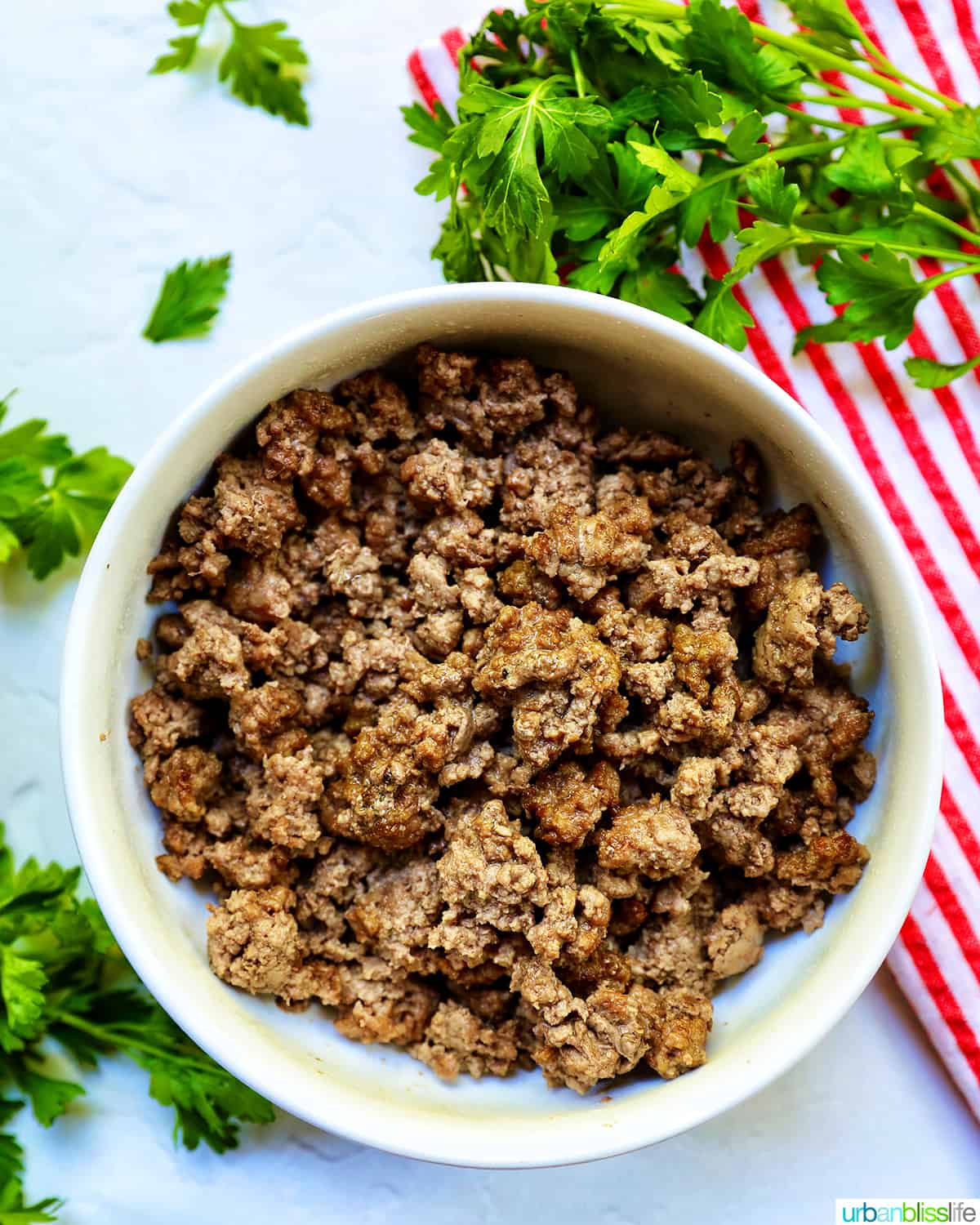 If you've never tried to air fry ground beef before, be sure to check out our How to Cook Ground Beef in an Air Fryer recipe first. Then here are more tips to help you create delicious meals.
Choose the Right Ground Beef: Opt for lean ground beef mixture (usually 90% lean or higher) to minimize excess grease in your air fryer and ensure healthier results.
Preheat Your Air Fryer: Just like with conventional cooking methods, preheating your air fryer allows for more even and consistent cooking. Follow your specific model's instructions for preheating.
Use Parchment Paper or Basket Liners: To prevent sticking and make cleanup easier, consider lining your air fryer basket with parchment paper or a silicone basket liner before cooking ground beef.
Break Up the Meat: When placing ground beef in the air fryer, break it up into smaller pieces to ensure even cooking and to avoid clumps.
Seasoning Matters: Don't skimp on seasonings! Ground beef absorbs flavors well, so be adventurous with herbs, spices, and marinades to create unique and flavorful beef dishes.
Monitor Cooking Time: Cook times can vary based on your air fryer's model and the thickness of your meat. It's essential to keep an eye on your dish to avoid overcooking or undercooking.
20 air fryer ground beef recipes
Here's 20 mouthwatering air fryer ground beef recipes that will elevate your culinary skills and satisfy your taste buds. We know you'll love these different recipes like we do!
Air Fryer Ground Beef Recipes
Frequently asked questions
Can I use frozen ground beef in these recipes?
Yes, many of the recipes can accommodate frozen ground beef. However, you may need to adjust the cooking time to ensure thorough cooking. It's recommended to defrost the meat partially before cooking for the best results.
What are the benefits of cooking ground beef in an air fryer?
Cooking in an air fryer reduces the amount of oil needed, making your meals healthier. It also provides a quicker cooking time and helps to achieve a crispy texture on the outside while retaining juiciness inside.
Can I use a different type of ground meat instead of beef?
Absolutely! While the recipes are focused on ground beef, you can often substitute it with ground turkey, chicken, pork, or even plant-based options like tofu or tempeh.
What's the best way to store cooked ground beef?
Allow the beef to cool, then store in an airtight container for up to four or five days.
My favorite air fryers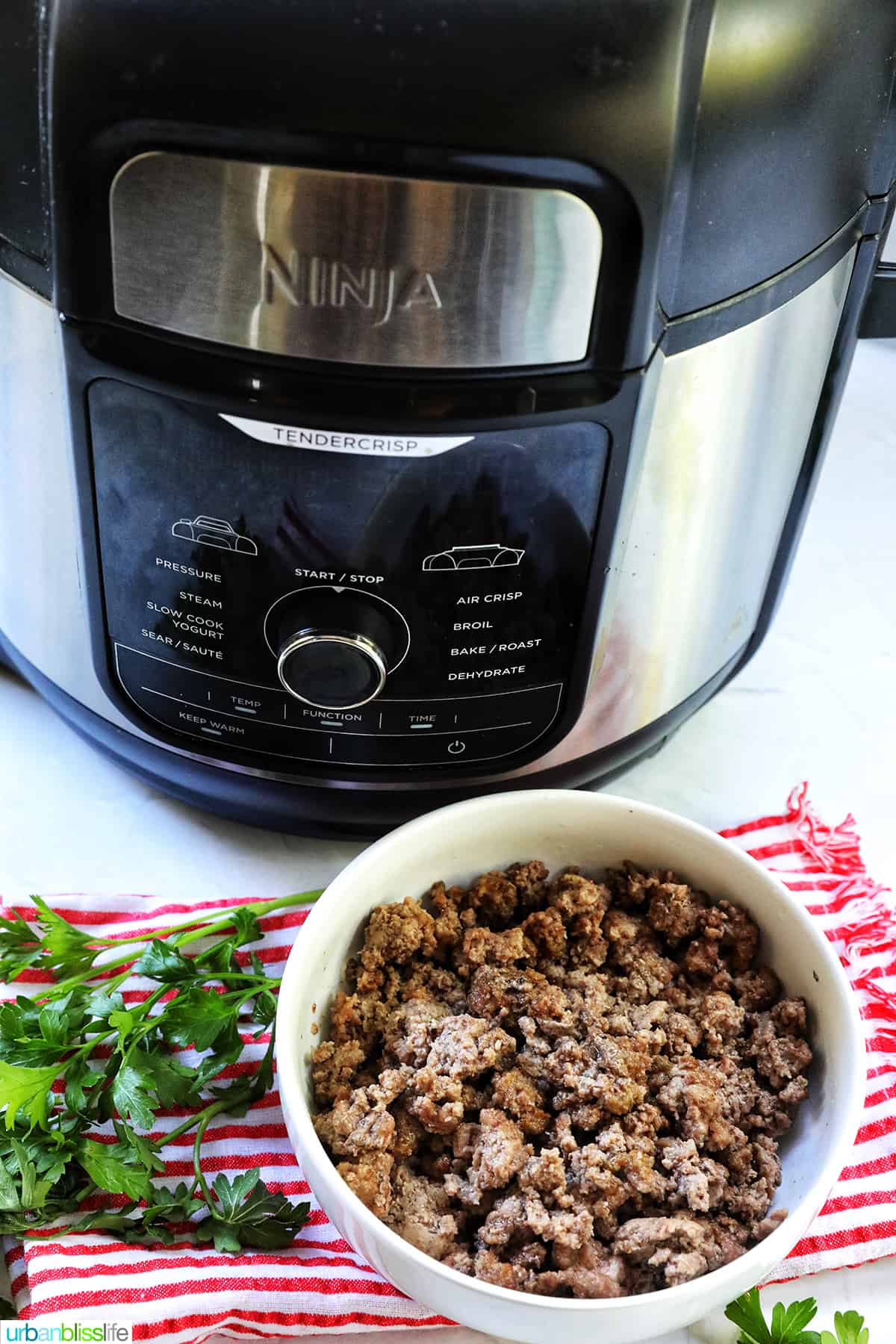 I've tested and cooked with a lot of different air fryers over the years. Here are my two favorite air fryers. These are the two that I use in my own home a few times a day, every day!
Ninja Dual Zone Air Fryer - I love using the dual zone air fryer to cook family dinners. You can cook the main couse in one air fryer basket and a side dish in the other at the same time. It's great for families of four or more.
Ninja Foodi XL Deluxe Pressure Cooker/Air Fryer - I use this amazing multicooker for both air frying and for pressure cooking. This is a great multi-cooking appliance whether you are single, cooking for two, or a family of four or more.
Happy air frying!
In conclusion, these ground beef recipes offer a delightful fusion of flavor, convenience, and health-conscious cooking. With the versatility of the air fryer, you can savor classic comfort foods and explore innovative culinary creations without compromising on taste or nutrition.
From juicy burgers to zesty meatballs, crispy air fryer tacos, to savory stuffed bell peppers, the possibilities are endless.
So, whether you're looking to impress guests at a gathering, whip up a quick weeknight meal, or explore new horizons in the realm of cooking, these recipes are a testament to the innovation and creativity that can flourish in your kitchen.
Enjoy the process, experiment fearlessly, and relish every flavorful bite these recipes have to offer. When you're ready, feel free to check out other Air-fryer recipes for inspiration on what to cook next.
More air fryer recipes
Did you make any of these recipes? Don't forget to leave a 5-Star 🌟🌟🌟🌟🌟 rating and comment below letting us know which one you made and how it turned out. Thank you!