Whether you're an avid runner or simply looking for a unique race to do, the Oregon Wine Country Half Marathon offers stunning views and a special treat at the finish line!
I did it!
I went to the same winery two days in a row. Contrary to what you might believe from my Instagram account, that is a rare occurrence.
Even more rare? Me, running a marathon.
Okay fine, it was a half marathon.
Okay, FINE, it was half of a half marathon. I ran 6.37 miles in the first leg of the relay and my husband ran the last leg. But still: it was the longest distance I have ever run! And it was all for a good cause: wine (save water, drink wine).
Destination Races may have just made half marathon fans out of me and my husband. Even if you've never run a half marathon in your life, the Oregon Wine Country Half Marathon might just make a convert out of you, too. If you enjoy hanging out with good friends & making new friends from around the country, sipping fabulous wines, and enjoying wine country, I highly recommend checking out the next Destination Race near you.
Jump to:
Oregon Wine Country Half Marathon: Weekend events
Unlike many marathons, where you show up, run, and leave (or, in Oregon marathon cases, you show up, run, then maybe drink some wine, craft beer, rum, or gorge on pasta at the end, then go home), Destination Races is known for putting together an entire weekend itinerary centered around their half marathons.
Before the Oregon Wine Country Half Marathon, there was a host of pre-race events for registered runners, including: a welcome reception at Ken Wright Cellars, a Playworks Fun Run plus discounted admission for waterpark fun at Evergreen Wings and Waves Waterpark, a Race Expo, and a pre-race dinner held at the Allison Inn and Spa in Newberg, Oregon. Aside from the Race Expo, which is free, these are race extras that have separate price tags from the race registration, so be sure to check out individual event prices online.
Mr. Bliss and I were excited to attend the pre-race dinner (tickets for this were $75 per person), which began with a wine hour featuring Natalie Estate Winery's 2013 Viognier and 2012 Tempranillo, poured by winemaker & owner Boyd Teegarden.
We then moved to a lovely buffet dinner featuring protein rich salmon, salads, and sides. A delicious meal to prep for race day!
One of the things I loved most about the dinner, in addition to the food and wine, was the company. We sat next to Lucy, an inspiring longtime marathon runner who has run more than 200 marathons in her lifetime and traveled here from Panama City, Florida. We also had the pleasure of dining with a couple from Colorado; Mark, a runner who works with the PR firm working with Destination Races; and Keizer, Oregon-based runner Matt Rasmussen, who writes for the Run Oregon Blog, and his lovely wife.
During the dinner, we heard from Destination Races President Matt Dockstader; Raymond the charismatic race announcer; and Alexi Pappas, who is training for the 2016 Olympics 10,000 meters with the Nike Oregon Track Club Elite. She's also producing, starring, and directing the movie Tracktown.
And then there was the beautiful dessert plate which was sadly almost untouched at our table. All contained dairy, otherwise I would have happily demolished a few handfuls of these beautiful desserts (you know me and dessert!)
We went home happy and full . . . and totally nervous about the race.
Starting line
On race day, the gates to Stoller Family Estates Vineyard opened at 5:30 am for runners. Stoller is one of my favorite vineyards in the Willamette Valley, and I loved that this was the starting line for the Oregon Wine Country Half Marathon.
Hubby and I got there around 6:30, with plenty of time to stretch, chat with other runners, hydrate, and enjoy the stunning sunrise over the beautiful Stoller estate.
Running through Oregon wine country
The first leg of the race takes you through the countryside, an odd little jaunt through a suburban development complete with pregnant moms in pajamas with their cute toddlers running around waving at you as you run by, then past farms, open fields, and more vineyards. Hubby says the second leg was nice, more gravelly though, but it sounds like I got the leg with more hills. Not big hills, in my opinion, but I'm used to much larger hills living in Oregon; if you're used to flat roads, they might throw you for a bit of a loop.
Many fellow runners from outside of the state told me it was hands down the most beautiful route they've ever run.
I didn't take any photos during the race because I wanted to focus on, you know, running and not tripping (because I'm so graceful like that). The ones above are from the race relay transition point, which was slightly disjointed, but a beautiful spot to wrap up one leg and start the other. Here's a shot of me in my sweaty post-race glory. . .
Buses took runners from the first leg of the relay from the transition point to the finish line in Carlton, Oregon.
We arrived just in time for me to catch Mr. Bliss crossing the finish line!
I was SO proud of him! I'm pretty darn proud of both of us for not only finishing the race without really training at all (I did two short runs in the two weeks leading up to the race, due to, you know, LIFE and the crazy summer work from home with kids madness... but you should train beforehand, even if you're doing the relay), but for finishing 22nd out of 31 Male-Female Relay Teams. That's Not Last people! I averaged a nearly 12 minute mile because I was scared I would tire myself out (remember: I'm not a runner, and the longest I had run prior was a 5K); hubby was faster.
At the end of the race, we were each rewarded with these awesome (and heavy) fully functional medals that doubled as wine corkscrew/wine stopper/bottle opener.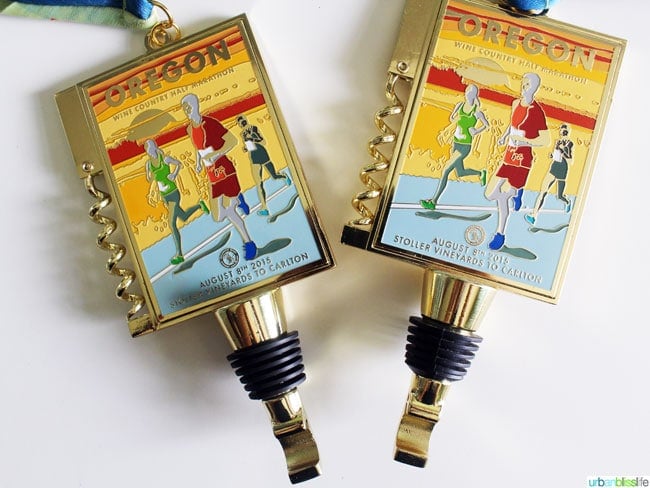 I'm pretty sure that these are the BEST MEDALS EVER given out for any race. Ever. In the history of half marathons.
The Wine & Music Festival
Then, of course, there's the big reward of the Wine & Music Festival at the end of the finish line. Wine started pouring at 9:30am. More than 20 local wineries were pouring, and I felt like there was a good variety representing what Oregon wineries have to offer. Many were pouring really young wines, and although some were misses, we also found a few that we really enjoyed and couldn't wait to visit later. Most wineries offered a discount to festival attendees throughout race weekend.
The festival also included vendor booths and some fun activities for families, Lagunitas Brewing, and live music on the lawn. I love how, unlike some of the much larger races in Portland, the Oregon Wine Country Half caps out at 2,800 runners, so even with friends and family joining the after-race celebration, there were no crazy long lines at the wine booths (I think our longest wait was 2 minutes!), plus there was plenty of space to enjoy the wines, pick some fresh pears from the Carlton Cellars trees, talk to vendors, and just relax after the race.

Post-race cheers
After the Wine & Music Festival, Mr. Bliss and I (along with a few unsurprisingly extra jovial fellow runners) boarded one of the many shuttle buses available back to the start line at Stoller Family Estate.
We decided to follow suit of some of our fellow runners and relax a bit at Stoller before heading back home. I've always loved Stoller wines, so I was excited to have Mr. Bliss try their newest releases. Just as I suspected, he loved them too, and we signed up for the wine club before heading home.
I'm hoping that many of my fellow runners got to visit participating wineries during their stay in Oregon. We are truly blessed with gorgeous vineyards and world class wines here. I've written about many of them, so be sure to check out some of my previous Oregon wine posts.
Why you should run the Oregon Wine Country Half Marathon
So this non-runner is planning to run this race again next year. And, maybe we'll even make the trip down to for the Napa to Sonoma race next year, if we can register before it sells out.
Here's why YOU should run this race with us next year:
1. The view. It's a gorgeous, absolutely stunning race route through one of my favorite parts of Oregon Wine Country.
2. The people. The vibe at this half marathon is so chill, so welcoming. Some people were elite runners, some were not -- and it was ALL good.
3. The extras. Destination Races makes it a truly fun weekend full of events! And, let's not forget that kick butt medal you get at the end.
4. The wine. Truly: if wine is what motivates you, then sign right up. There's no shame in that, friends.
Have you ever run a Destination Race, a half marathon, or any other interesting types of marathons before?
---
Thanks to Destination Races for sponsoring our relay race registration and our pre-race dinner. All opinions and photos are, as always, my own.