Martha Stewart Wine Co. makes finding and trying high quality, affordable wines easier than ever.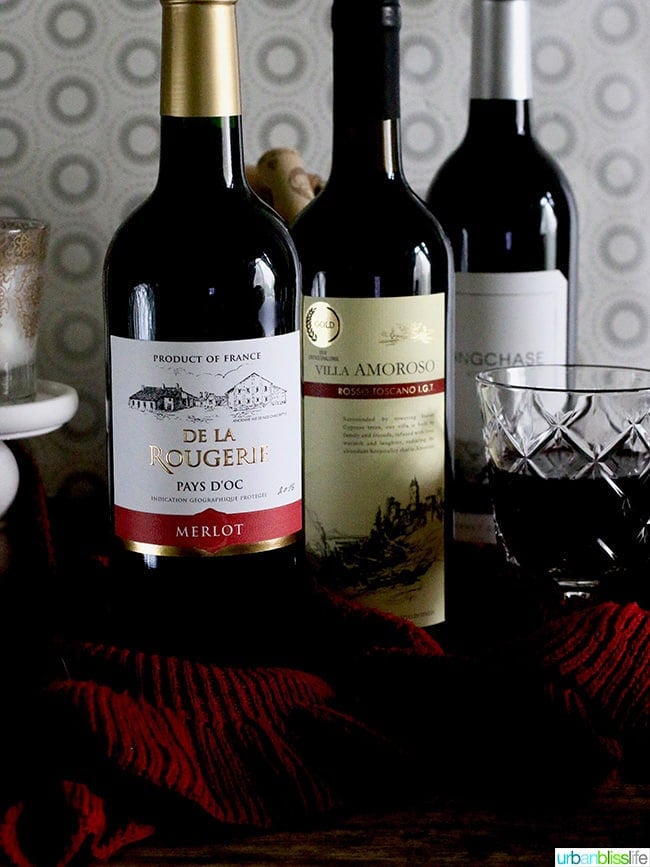 I love Martha Stewart. Let's just get that out of the way. She is my spirit animal.
Since I was in college, I have spent countless hours pouring over her magazines, clipping out recipes (then reworking them to fit a normal person's weeknight dinner schedule & grocery budget), and soaking up creative party ideas and DIY home projects. The fact that she went to jail and has a show with Snoop Dog, for better or for worse, just makes her more of a perfectly flawed homemaking badass to me.
Martha Stewart Wine Co.
So now the queen of perfect party planning and author of How to Create 1,000 Woodland Animal Origamis from Homemade Vegetable-Dyed Paper (not a real book but it should be) has her own wine company. Because of course she does.
Miss Martha and team launched Martha Stewart Wine Co. last spring. As we're coming up on the company's one year anniversary, I thought I'd share my thoughts and experience ordering her wines.
Not just a wine club
One of the things I love about Martha Stewart Wine Co. is that it's not just a wine club. You can join her official wine club (more about that soon), but you can also purchase single bottles or wine packs without making any sort of longterm commitment.
All of the wines featured on Martha Stewart Wine Co. are reportedly wines that Martha herself loves and has served to friends and family. All wines are highly affordable between $10 and $30, with most falling into the $15-22 range.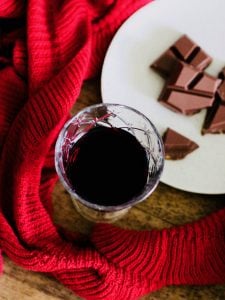 Every now and then, the company runs a social media special in which you can purchase a half case of six wines for just $30, or a full case of 12 wines for just $60. That's just $5 per bottle, folks. A STEAL!
I saw a Facebook ad over the holidays and in my 2am online shopping stupor, placed an order for a full mixed case of 6 whites and 6 reds.
That was the best $60 I've spent on wine in a while!
You can watch the Facebook Live video that I did sharing my first Martha Stewart Wines below, and also on the Urban Bliss Life YouTube Channel.
My Martha Steward Wine Co. experience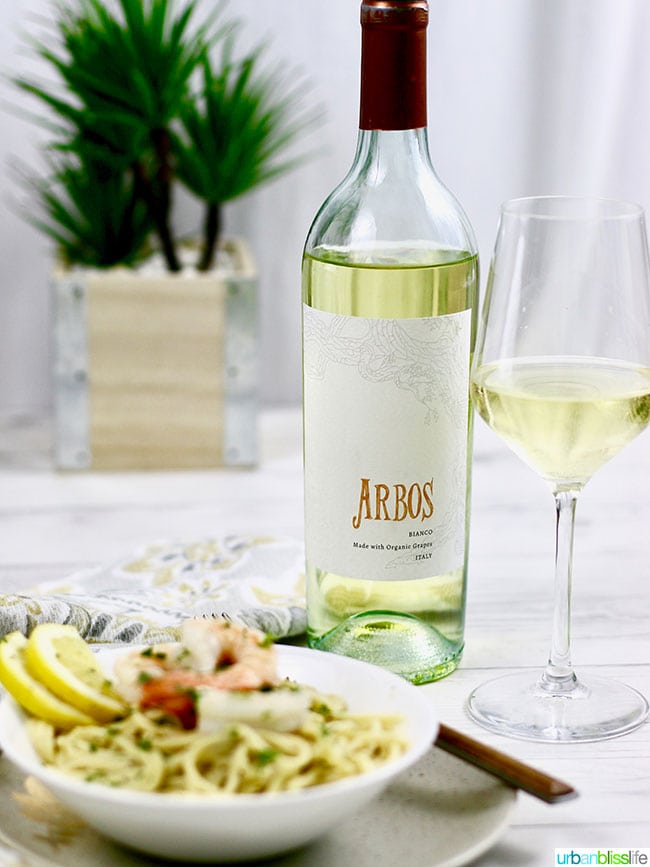 The first wine we tried was this Arbos Bianco. A light, bright, crisp white wine, it paired beautifully with a big bowl of lemony shrimp scampi (recipe coming soon!).
The next was a Pinot Grigio. Now, I'm never one to pick up a bottle of Pinot Grigio at the store. Maybe it's because I associate it too much with Ramona Singer from the Real Housewives of NYC, or maybe it's because most Pinot Grigio is way too sweet for me.
Regardless, I opened this 2015 Cala De Poeti Pinot Grigio wine with trepidation – and was pleasantly surprised. It was a little sweet but not too sweet; it was more elegant and refined than other Pinot Grigio wines I have tried.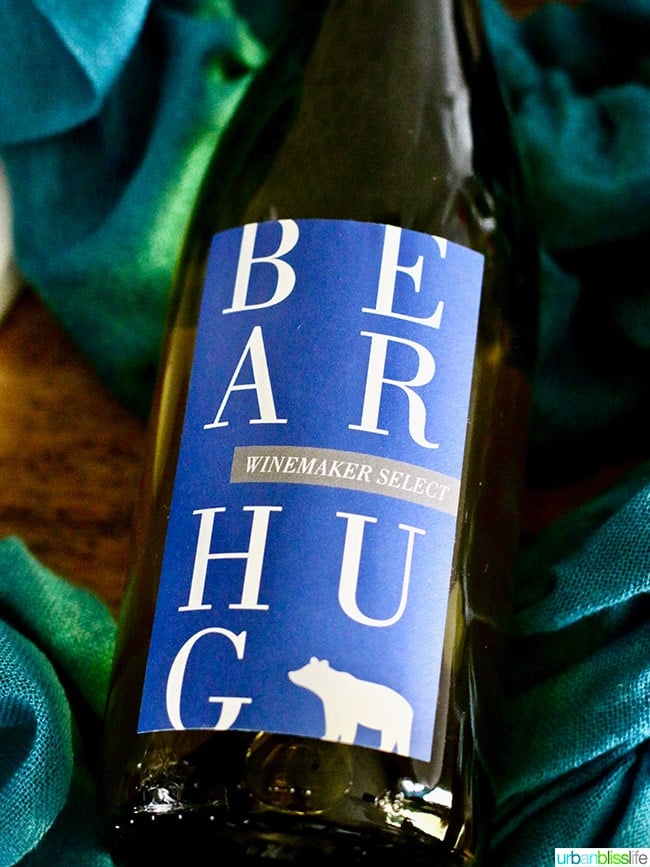 The 2016 Bear Hug Chardonnay ($14.99) from California will challenge your thinking of traditional California Chardonnay. While you might expect big oaky, buttery Chardonnays from this state, the Bear Hug Chardonnay shows restraint with light oak, and bright green apple and melon flavors.
The 2015 vintage of this wine won a 92-point Gold Medal in the Monterey Wine Competition. Meanwhile, the 2016 vintage currently available has won several awards of its own.
Moving on to the red wines...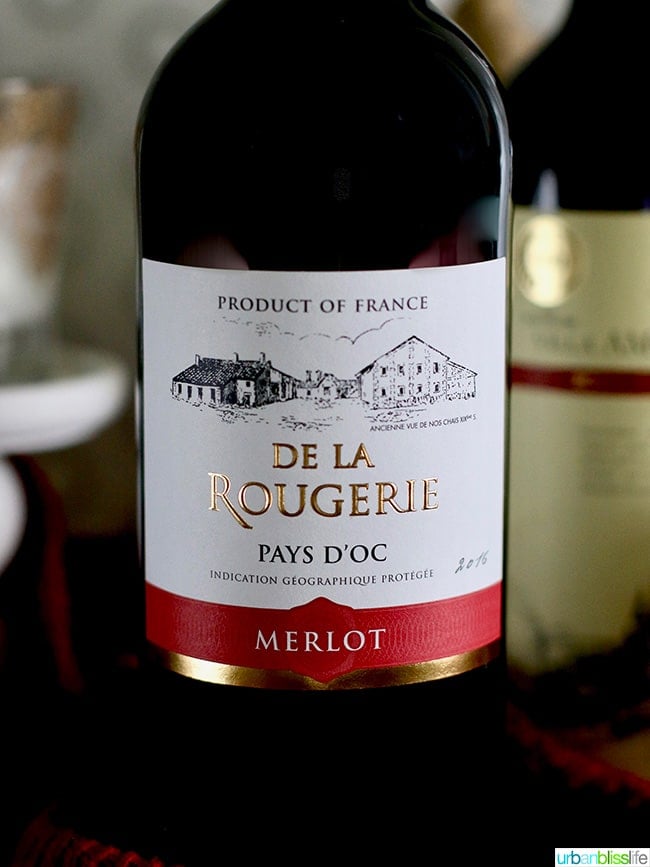 The 2016 De la Rougerie Sauvignon Pays d'Oc Merlot is an outstanding French red wine. It's a beautiful velvety plum color and with juicy black fruit flavors. This would pair well with Pork Tenderloin with Blackberry Bacon Sauce.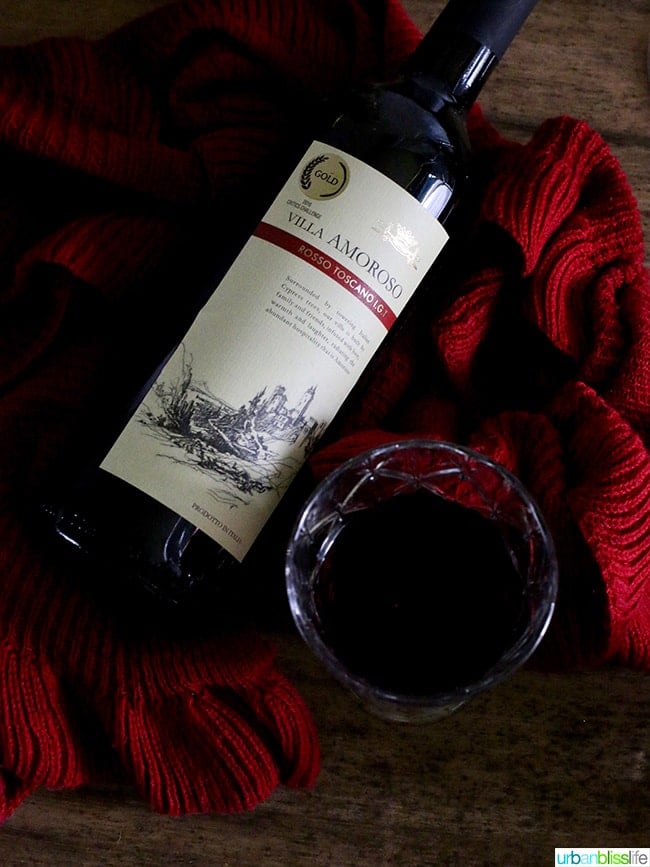 I'm more of a red wine drinker in general, and I loved all of the red wines in our Martha Stewart Wine Co shipment.
The 2016 Villa Amoroso Rosso Toscano (around $20) is a rich, full bodied red wine with cherry flavors. It pairs well with my most popular recipe, Easy, Hearty Rigatoni with Italian Sausage.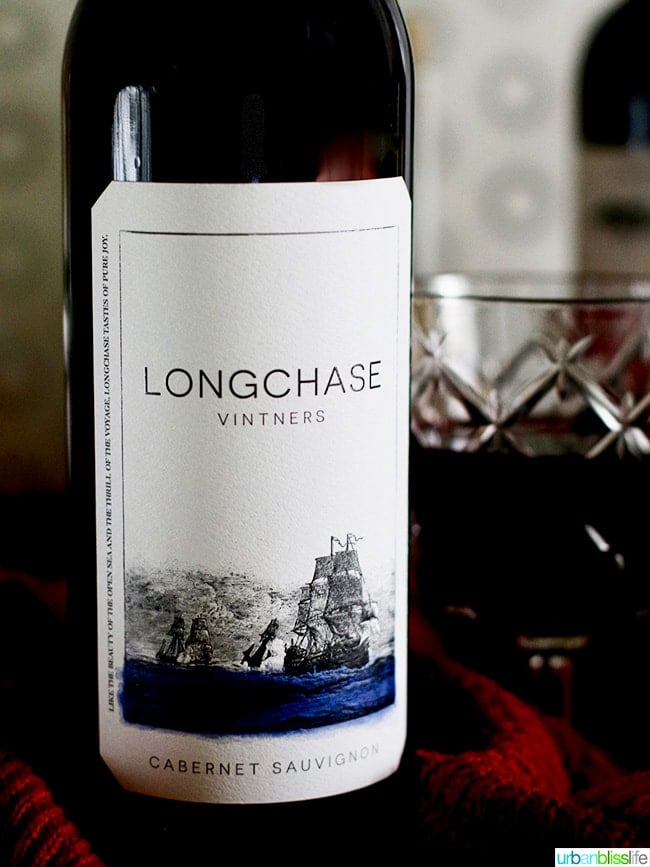 The 2016 Longchase Cabernet Sauvignon is another bold red wine, with more robust tannins and darker fruit flavors. I loved this wine on its own, but it would also pair well with my Slow Cooker Mongolian Beef or Herb-Crusted Rack of Lamb with Blackberry Balsamic Sauce.
Shipping
Shipping is free and super fast. I received my case of wine within a week. And, as you would expect from Miss Martha, the wines are shipped in a beautiful box, with unique wine packaging materials that are also eco-friendly. I also received a wine bag and tissue paper, should I decide to gift a bottle, as well as helpful wine pairing tips inside!
Customer service
Unhappy with a wine? Simply contact customer service and they will not only apply a credit to your next shipment, they'll also want to know what you didn't like about it and offer suggestions for future wine purchases more your style. They also, brilliantly, clearly state that they reserve the right to deny their Satisfaction Guarantee to those who abuse this policy.
Pricing
While I placed a one-time order, you can join a full wine club. If you do decide to join the Martha Stewart Wine Club, you have two options:
6 bottles every 6 weeks for $8.33 per bottle
12 bottles every 8 weeks for $7.48 per bottle
You can choose to have all reds, all whites, or a combination of both, and you can easily skip a shipment any time, for any reason.
Wrap up
I am extremely happy with my experience ordering from Martha Stewart Wine Co., and I will likely order again. The company offers some fantastic wine packs that would make amazing birthday gifts, holiday gifts, and client gifts, too.
For the price and the fantastic customer service experience from start to finish, you can't go wrong!
Have you or would you order from Martha Stewart Wine Co.?
---
Martha Stewart Wine Glasses
Don't forget to choose the perfect glasses to complement your Martha Stewart Wine selections. Here are some options:
Martha Stewart Essentials 12-Pc. Red Wine Glass Set